Hey guys and welcome back to my FM 2011 Brighton & Hove Albion story. My last update consisted of The Seasider's completing a memorable title win and promotion to the Championship. All sounds great doesn't it, well if you remember rightly the clubs bank balance was tipping below the black line in May. I can confirm that before the board announced expectations and budgets for our first season in the Championship my balance had dropped £900K in the red. All my upgrades were cancelled and this set the stage for my transfer budget.
The Brighton hierarchy had spoken, they wanted us to avoid relegation and seemed rather negative. But then came my turn as I announced my plans for a mid-table finish. This didn't earn me a proper transfer budget as every option showed £26K, a pointless amount IMO. However, this did allow me some breathing space in terms of wages. I had £24K a week to play with and would try to extend that as much as possible.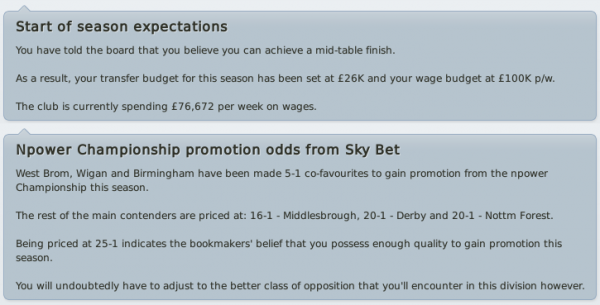 Now we'll jump straight into transfers and the players that left Brighton. There was one major departure this season which created up raw from the fans. Rule number one is to always know your rivals, I fell victim to this when selling right winger, Bennett. The 22 year old is promising but I could find better players and desperately needed cash to get out of debt. After offering the youngster out my only decent  approach was a £2 million bid from Portsmouth. I licked my lips and accepted the bid, a few days later the deal was done and I was greeted by the message below…

Whoops!! Ow well, they will forgive me eventually. Most of the other departures left on a free and were released due to lack of quality. However, I found a good right back and decided Moutaouakil could be offered out, this led to his sale for £200K. I also sold El-Abd for nothing and Elphick for £100K expecting at least 2-3 new CB's to enter the club…that was a huge mistake I'll explain later!! On the whole we raised £2.3 million from players sold, a welcome sum considering our terrible financial state.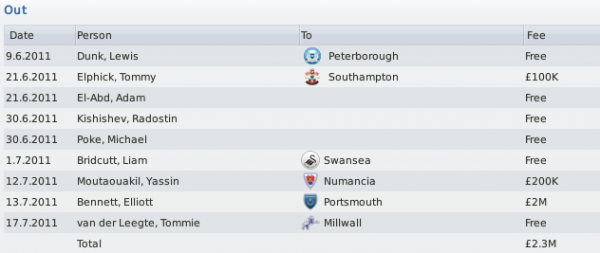 OK, its time to see how I improved the squad. The first two signings were confirmed last season and therefore came out of my 2010/11 budget. Ambrose and Colin Doyle were available from the transfer list and many top clubs were lurking around so I decided to make an early move. I also confirmed two brilliant free transfers in Bodor and Hadouir before pre-season. All was looking great until my budget was announced. We may have had a good wage budget but most of it was taken up when those four signings joined the club. That was when I realised the club was left with two DECENT defenders and one decent striker. :( I tried to correct this with the signing of Sonko but couldn't find another good CB and failed in  my attempt to sign a good striker.

New signings – Goalkeepers
With Ankergren my only decent keeper, I had to buy someone better. Colin Doyle may not be the best, but he'll do OK in the Championship after falling out of favour at Ipswich. I thought the £55K fee was warranted.

New signings – Defence
OK we'll start with the problem area, centre back. After selling 3-4 fringe defenders I eventually realised my budget was too thin to replace them and left myself in turmoil. I did find two excellent players but one rejected Brighton for a better offer and the other was Sonko who will be key to my plans this season. Sonko will start in CB alongside Greer, not a bad partnership but I have no replacements bar Painter who isn't a natural CB and Greer has a slipped disk, meaning he will miss the first few months!
Now onto the brighter news, I desperately needed to strengthen my full back positions and did so in style. We bought Zubiaurre on a free transfer to play right back, he is 28 years old but knows the game well and has an excellent free kick. Then my best signing was new left back Corrales who has great pace, can handle most Championship strikers and gets forward well also. LB was our weak spot last season, whereas this year will see it our best.

New signings – Central midfield
We had a good midfield last season, but the Championship is far more advanced and I knew at least two of these players would need replacing. I made an early bid for Bodor, who will be used as a defensive midfielder or supporting, central midfielder. The 28 year old is a real all rounder and has the ability to go toe to toe with the best players in this division, only problem is a pesky clause I missed. Bodor's wage must match the highest earner at our club which means no matter when a new player joins, if the wages are more than Bodor's, his wage will rise also.

Alongside Bodor, I found Hadouir. The 28 year old will be used as my main advanced playmaker and should light up the Championship. His passing, dribbling and general attributes caught my eye, but I failed to see the highest earner clause yet again. This will haunt me for the next two seasons I'm sure. Ow well, you can't put a price on quality lol :)

New signings – Wingers
With very strong wide players already at the club, I just needed to find that extra bit of quality. First of all I paid £45K to Crystal Palace for Darren Ambrose. Some may say I like his first name, but its the versatility that caught my eye. The 27 year old has brilliant technical skills and I'll rotate him between the wings and advanced playmaker role. My other signing was on a free, Vonlanthen will be my number one right winger and bought so I could move Soukouna to be rotated as the lone striker with Brandy. Those two strikers aren't enough in my opinion and don't hold the quality required, but I'll have to make do as all my wage budget is gone and every club demands an upfront fee for loan signings which I don't have.

There you have it, the new and improved Brighton! Below you can see my squad alongside a coaches CA and PA star rating for each individual player. Those current ability ratings would suggest I may be in for a long and difficult season, but I'm here for the long haul, so what ever happens I'm ready. :)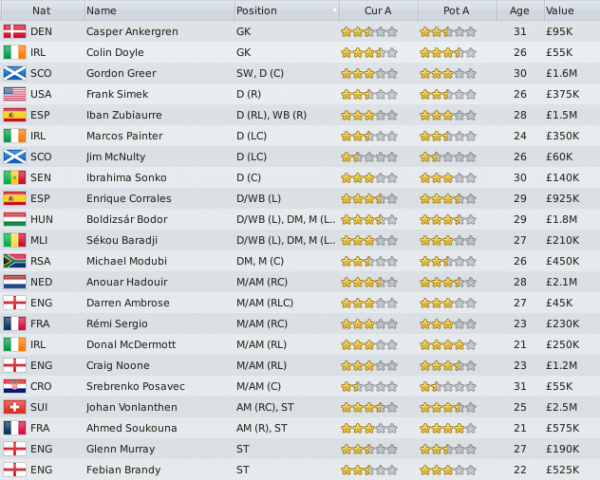 Before I explain the finances let me share Brighton's pre-season Friendly results. With the club mounting some debt, I decided to organise three high profile matches to be held at our new stadium. After drawing with Rangers, we battled through a 1-0 defeat to Liverpool before gaining a heroic 1-1 draw against the Spurs. These matches did help financially, but I wanted to enter the new season in form and arranged three easier matches before the first official ball was to be kicked. We won all three of our remaining friendlies with ease.

As mentioned, the club were in more than £900K of debt come the start of pre-season. But after selling a star player for £2 million and with the new stadium reeling in season ticket sales the balance started to look good. We finished pre-season with £2.8 million in the bank and looking far more stable. This figure will decrease through the season, but I just want to avoid any debt come the seasons end.

That is all for today's update, but please join me next time as I reveal Brighton's form up until the end of December. I honestly couldn't predict if we'll be battling around mid-table or for a top six finish, so the season is bound to be a thriller. Until then please feel free to ask any questions and I look forward to reading your comments.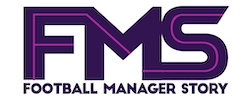 Subscribe to our Newsletter