Hey guys and welcome to what should be a very exciting post. ;) During my last update Brighton finished Christmas top of the EPL table, through to the League Cup semi-final and also to the Champions League first knockout round. With the FA Cup yet to begin we were set for a long and exciting season finale. But due to some very exciting transfers and League Cup action, I will be focusing on the League Cup results and transfer action alone today, the rest of my results will follow very soon. I just don't want to overload you with a 2500 word post ;)
January transfer window – Buy, sell, buy, sell…
As you may guess from the sub-title, my January transfer window was very hectic. The board offered me a change of expectation to 'title challenge' along with a new transfer budget of £3.5 million and £25K a week extra in wages. I accepted their offer, but started by checking the percentage of cash raked in from players sold that would be pumped back into my kitty. That was set at 90% and so started my tinkering.

After checking the transfer list I noticed Jack Wilshere available for £1.7 million. I made my move straight away and snapped the young winger up. This signing meant McDermott who was signed for £250K in our League One days became surplus to requirements. I offered the winger out for £6 million and accepted Aston Villa's offer of £5 million.

Now for a risky move to make my midfield stronger and more creative. I made a bid to sign Alan Patrick from Shakhtar for £13 million, to my surprise the offer was accepted and left me rushing to raise funds. I offered Granero out to clubs and accepted £10.25 million for the Spaniard who was slowly falling down the pecking order. I also offered Ndinga out and accepted a bid of £5.75 million from Birmingham. The CM is decent but getting old and failed to start a competitive game this season.

Some very smart business sense so far as I'd offloaded older players that weren't featuring and replaced them with younger, better players. However, this last transfer was very, very risky and involved selling my best star. Bakambu had attracted some interest from all over Europe and was starting to show signs of unrest. I started scouting for potential replacements and made a bid for one superstar in case the worst were to happen. I never expected this potential signing to be interested if I'm honest, but when he was and the opposing club accepted a very reasonable offer I was desperate to offload Bakambu. My new signing was due to join for £20 million and I had 7 days to push the Bakambu deal through as to avoid a cancellation from lack of cash. Bakambu joined Inter Milan for £19 million and six days later one of the worlds most eagerly anticipated strikers joined Brighton…

I have been trying to sign Neymar for the last two seasons, but never plucked up the courage to offload one of my best strikers to raise the funds and make room. Well January was different and everything fell into place. Below is a summary of my transfer action. So far this season we have spent £62 million but raked in £61 million from players sold to counter the investment.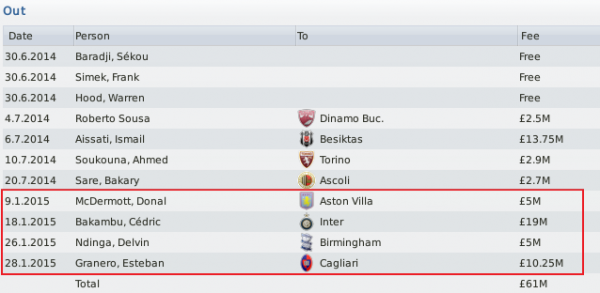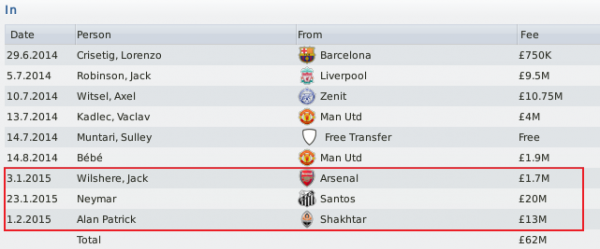 League Cup semi-final vs Liverpool
After beating Fulham, Chelsea and Leeds you could say we deserved a place in the League Cup final, but Liverpool stood in our way. The Reds fielded a decent squad for the first leg, but were stunned by our resistance. After holding strong during Liverpool's early attacks Brighton grew in confidence and went onto dominate the game. It finished 4-1 thanks to Charlie Adam's inspirational performance. The second leg was a more even affair as Liverpool went on to win but only by one goal leaving the aggregate score at 6-4 to Brighton.
League Cup final vs Tottenham
Venue: Wembley, London
Attendance: 90,000
We all know the League Cup can be used to offer youth experience and rest star players for those tough league and European matches. Well that was half the case in my final match against Spurs. I rested Micah Richards, Neymar, Fleck and Adam. While Spurs were without Gareth Bale, Lennon and Defoe.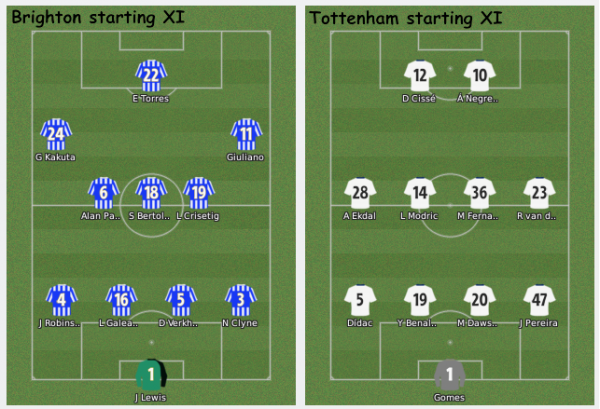 Pre-match team talk: Do it for the fans!
The game started with a boom as both sides came flying out of the traps to try and score first. Tottenham were the first to benefit from our defensive complacency as Cisse picked up a through ball to slot home. That was on the 17th minute, but we weren't behind for long. Erick Torres picked up a loose ball and ran from within our half to find himself one on one with Gomes…and he slotted home. That was that until half-time as both teams seemed to fear the counter attack. During the break I told my boys that I was pleased and sent them out for the final 45 minutes.
Half-time team talk: Pleased
Tottenham came out stronger in the second-half as they caused all kinds of trouble. Then on the 57th minute a smooth passing move led to my left back, Robinson, completely taking out Van Der Vaart…PENALTY!! The Dutchman brushed himself down and calmly slotted the ball home, 2-1 to Tottenham. We pushed and we pushed but he Spurs seemed to be ironclad in defence. This forced my hand as Witsel came on for Patrick, Bebe came on for Guiliano and Neymar came on for Torres with 26 minutes remaining. These three changes seemed to do the trick as Brighton crept further forward and came closer with every opportunity. Then the break through finally came on 88 minutes. Bertolucci launched a free-kick into the Spurs penalty area and Witsel was their to loop a header over Gomes, 2-2! The clock kept ticking and I started to plan for extra-time, but all my ideas were on hold as Brighton charged forward with seconds to go. Bebe picked up the ball in a seemingly harmless position and no one closed him down. Then from all of 30 yards he unleashed a fierce strike past Gomes. That was the last kick of the game on 95 minutes and Brighton had won the League Cup!!
Full time team talk: Congratulations!!
Match highlights: Click here to watch match highlights
Match stats:

It wasn't easy but Brighton were the best side and we got our reward with two late goals. After the match one of my players claimed the victory was down to my half-time team talk, and to be honest I was surprised the substitutions weren't mentioned as two of them scored. :)
Well that's all for today, like I said we don't want to overload you. Within the next few days I'll reveal how Brighton did in all the other competitions including the conclusion of our Premier League campaign. Thanks for reading and please feel free to comment below.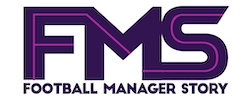 Subscribe to our Newsletter