Hey guys and welcome to my 2014/15 season finale. During the last post I showed off some massive signings and our magnificent League Cup triumph, but left you hanging on the Premier League, FA Cup and Champions League results…but don't fear as we'll correct that now. Today I will reveal how Brighton finished the season both domestically and in Europe. We will begin with my Premier League results before moving forward to the FA Cup and eventually the Champions League. Today's post is more than one page long, so don't think all is over at the bottom of the page as you'll need to turn the page in order to see the whole story.
Premier League results – January to March
Come the end of December Brighton found themselves 8 points clear of Chelsea in first place. With half a season to go I wasn't getting carried away but our title chances did look rather favourable. That was until the start of January when Chelsea won all three games after the new year, but Brighton could only draw to Arsenal, beat Birmingham and lose to Liverpool. Those two away matches had wounded us and left Chelsea to get within four points of 1st.
I needed my team to react and send the London club a message…so what did they do? They went on to win their next 7 games scoring no fewer than 21 goals. The best of this run came against Manchester United who thought scoring first would quieten my side, but instead we went on to smash 4 past them as Wilshere scored a hat trick.

Premier League results – April to May
Our new found form was nothing short of spectacular and kept going bar a few minor blips. From April till May we won five games, drew two and lost just once away to Everton. 4-1 seemed to be our favourite scoreline and late goals to rescue one or even three points were all too regular. While most would find this unnerving I saw it as a strength in character.

Premier League table
With the domestic season almost over, the league table was complete and I don't think many will need my position confirming. But for those that do, Brighton won the league by 7 points. We scored an incredible 105 goals which just goes to show how attacking we are.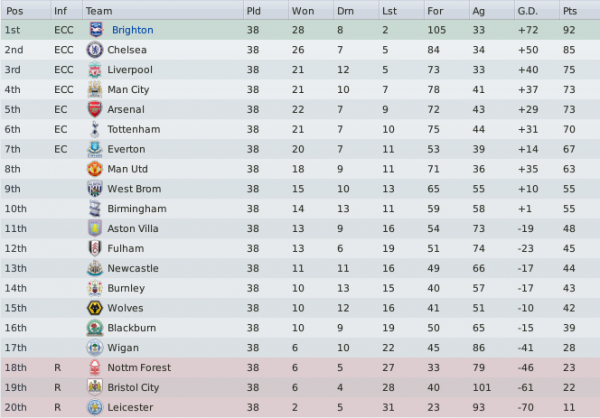 FA Cup results
After winning this competition last season I have some niggling expectations. We may have won the Premier League and League Cup, but a domestic treble would be the cherry for sure. We started the competition with a 6-0 thrashing of Port Vale, then travelled to the KC Stadium and beat Hull City 4-0. The fifth round handed us Premier League opposition in Fulham. The London based club held their own but couldn't stop my mixed starting XI as we rose 3-2 victors. Aston Villa were next up as Alan Patrick scored a nice goal to help us win 3-0 and progress to the semi-final. My boggy side, Everton, awaited and despite giving us a tough time couldn't stop my progression as we won 2-1. Chelsea await Brighton in the FA Cup final but you'll have to go to the second page for that one. First lets see how I progressed in the Champions League knockout stages.

Champions League results
OK so we know the League and League Cup have been wrapped up. We also know that Brighton will play Chelsea in the FA Cup final which leaves us with the Champions League. My boys waltzed through the first knockout round thrashing Shakhtar 8-0 on aggregate. Germany's top asset was drawn for the quarter-final and Bayern had an excellent squad. However, they seemed a little cocky during the first leg and lost 3-2 at home. The second leg was very drab and despite the Germans scoring once I always felt in control of Brighton's European destiny. We'd made our way through to the semi-final and luck seemed to favour the Seasider's one last time as Sevilla popped out the hat. The first leg was held in Spain and I felt well in control yet again. The match finished 0-0 and we won the second leg with ease, 2-0. Through to the final of the Champions League and Barcelona await.
To read all about the FA Cup and Champions League finals you must turn over to the next page. This can be done by clicking the number 2 below and believe me you don't want to miss Brighton's first ever appearance in a European final. ;)
Go to the next page for cup final results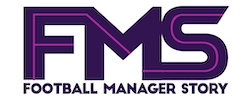 Subscribe to our Newsletter