Hey guys and welcome back to my story by the seaside. During the last post I revealed some new faces and dwelled on some misjudged departures that left my team short in defence. Either way the squad looks fairly good and capable of holding their own. The finances have finally started to move in the right direction and Brighton are all set for a season in the Championship. My personal expectations are to linger around the top eight while my board are asking for a mid-table finish. Today's post will go right through to December, so prepare for what could be a very important half season.
League Cup results
We'll begin today's post with my short lived League Cup run. After progressing through the 1st round we were drawn against fellow Championship side Leicester. As you all know, I hold the league as my main target and use the cup competitions to rest key players. This shone through as Leicester ripped through my side to win 5-0. An embarrassing defeat but one I hope will serve a far greater purpose.
Championship results – August to September
My players had been trained hard and worked well during some pre-season Friendly matches, but only the first official game of the season would confirm how good Brighton are. My first match came away to QPR and was a corker. We scored early through Brandy before QPR drew level and Vonlanthen scored a late winner to hand Brighton victory. An incredible start that continued as we beat Watford 3-0 and Swansea away 2-0. I couldn't believe my eyes, then reality came crashing in as Cardiff scored there only chance of the game to beat us 1-0. August finished on a high though as we gained revenge against Leicester beating them 1-0 on their own patch.
September wasn't as easy, but started well with victory over Norwich before a close margin loss to Doncaster. Next up Barnsley and a wonderful performance from Vonlanthen who sealed the 2-0 victory. A small break did the players wonders as a fully fit XI beat Wigan 2-0, probably my best result after Soukouna proved he can play as the lone striker. We finished the month off with a bad performance and 3-1 loss to Preston, but this wasn't going to dampen my spirits. I couldn't have dreamt up a better start.

Championship results – October to November
Onto October and a very tough set of fixtures. After beating Colchester 1-0, we managed a brilliant 1-1 draw away to West Brom. Brandy scored the equaliser and it was a special goal too (click here to see Brandy's goal.) This set the stage for the Soukouna show as my French forward scored to help us beat Middlesbrough 2-0 and then banged home a hat trick as we beat Nottm Forest away 3-0. My next match was against the Championship leaders, Birmingham, they have the likes of Scott Dann, Kadlec and Zigic but couldn't beat lowly old Brighton. :) We held out for a 1-1 draw and did the same away to Coventry at the start of November.
Brandy saw a return to scoring form as we beat Millwall 3-1 and Ipswich 4-2. Then a visit to Hull provided some exciting Football which ended in a 3-2 defeat. Brighton finished November off with a goalless draw away to Sheffield United. Not the best of form leading up to December but I expected much worse.

Championship results – December
With some tough teams out of the way, I could try and regain the winning form. We started November with a stunning performance from Soukouna and 2-1 victory over Bristol City. Then the French forward scored a brace to help us beat Derby 3-2 before we trounced QPR 3-1. Brandy staked his claim for the lone striker role after scoring a brace in a 4-2 victory away to Watford before Soukouna hit back as we beat Peterborough 1-0. December finished on a high as the winning streak was extended with a 1-0 victory over Swansea.

Championship league table
I must admit, this start has left me speechless. We endured one or two rough patches but on the whole have dominated this division. Even the toughest of teams seem beatable at the moment and I just hope we can maintain this run. More than half a season is complete and Brighton find themselves top of the table, 5 points clear of Nottm Forest in second.

Its time to see who made this early run of form happen. At first you'd say Sonko's 7 goals and Brandy's 11 have made a massive difference. But looking through the squad there doesn't seem to be a stand out performer in terms of average ratings. I personally think the team blend is just right and we all seem to be pulling in the right direction. It sounds cheesy, but I can't put our success down to individuals, it has been a team effort for sure.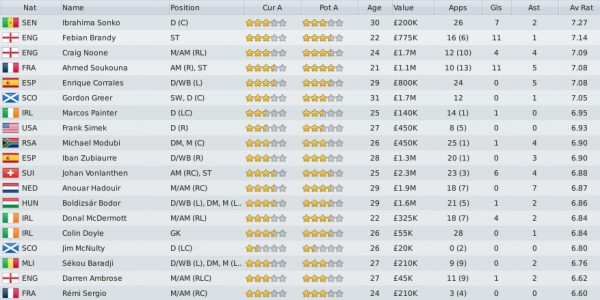 Player of the post: Ibrahima Sonko
Where the goals came from: Ahmed Soukouna
All is great on the pitch, but how things off it? My finances took a turn for the good during pre-season and although I expect my £2.8 million balance to fall I was hoping to finish the season in the black. Come the end of December I had £1.8 million in the bank, meaning we lost less than £200K per month. Not too bad I guess and we are on track to keep that balance out of the red.

Well that about does it for today, I hope you are enjoying this story as much as I am. The next update will take Brighton all the way to the end of this season. We'll see if the Seasider's can gain promotion and hold onto their brilliant form, but until then please feel free to ask questions below and I look forward to your comments as always.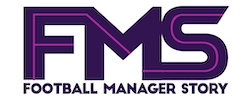 Subscribe to our Newsletter