Hey guys and welcome back to my Brighton & Hove Albion story. We finished last season by winning the Premier League crown on goal difference and securing the FA Cup after beating Tottenham 2-0. 2014 was the best year in Brighton's history, but was just the start of what I wanted to achieve. Domestic domination and challenging Europe is my aim, but we've got some way to go. I spent the first few weeks of pre-season considering my transfer options and what I needed to change…then, just before the budgets were announced I received this message.

Despite putting Brighton in their strongest position financially while winning trophies and qualifying for the Champions League my boss packed up and sold the club. A weird decision but I started to dream of massive budgets and endless streams of cash, that was when I thought 'how can thousands of fans fund my ambitions when they struggle to afford a season ticket?'
Well despite been in our strongest ever position financially and also having the riches of Europe to look forward to, my new owners offered a rather 'cheap' budget'. Just £20 million to spend, while the last two seasons saw me amassing a budget of £35 million. I was also desperately disappointed by the wage budget which was increased by just £45K per week.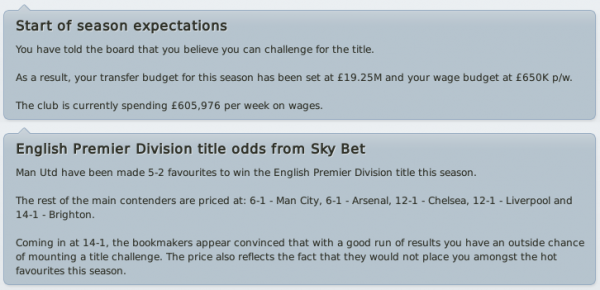 Due to this rather disappointing budget I had to offload some players, and this is where I got incredibly pissed off! I started by purchasing one player which dragged my bank balance just into the red. As a result my board changed the '% of transfer revenue made available' from 100% to 10%. Now this was despite me already agreeing to sell Aissati for £13.75 million, the only reason I agreed to sell Aissati is because I thought the full amount would be available to reinvest. However, when the deal actually went through the revenue I received back changed and instead of getting the full £13.75 million I just received £1.37 million. This obviously screwed me as I needed to bring in a world class playmaker and had lost out on £12 million to spend. I also offloaded more players but with the new % of revenue been given back to me it was a waste of time. All in all the club raked in £22 million of which I saw around £5 million…can you tell I'm bitter! ;)
Well you already know my thoughts towards the new board, I'm sure it all sounds dramatic but my job was so much easier with the previous owner…now I have to do tonnes of calculating and planning ahead to avoid such surprises as the Aissati fiasco! Anyway, enough moaning for now as it's time to reveal my new signings.
Jack Robinson (left full back) – £9.5 million from Liverpool
This position gave me a headache, I wanted someone faster and more developed but couldn't find a better player under the age of 28 available for less than £17 million. While Robinson lacks the quickness he will develop enough within the next few seasons.

Lorenzo Crisetig (central midfield) – £750K from Barcelona
Last season went well, but I felt like my European adventure finished prematurely because of poor strength in depth. I found Crisetig available on the transfer list and will try to nurture him into our new ball winning midfielder.

Sulley Muntari (central midfield) – Free transfer
Muntari was a last minute purchase, I found the CM after searching for players with a tackling attribute of 17. The 29 year old should be a good backup and fill in against the easier opponents.

Axel Witsel (central midfield) – £10.75 million from Zenit
I did actually have much higher profile targets than Witsel, but due to my board adjusting the goal posts I had to adjust my targets to replace Aissati. Axel Witsel was the best talent available within my new price range and I think £10.75 million is a snap. Axel will move ahead of Granero as my best playmaker.

Bebe (right winger) – £1.9 million from Manchester Utd
Bebe was a late signing, only brought in when I noticed him on the transfer list and wanted to strengthen further on the right flank. Bebe hasn't featured at United for more than 3 seasons and hasn't improved as a result. I reckon I can get more from this kid and still believe he has a lot of improving to do.

Vaclav Kadlec (striker) – £4 million from Manchester Utd
I decided Soukouna's time was up and that he couldn't serve my side any longer. The first place I looked for a backup striker was the transfer list and saw Kadlec available at £4 million. This was an opportunity not to be missed and my only problem will be splitting game time between three quality forwards.

So despite the board allocating £20 million for transfers, I only managed to spend a net value of £5 million. The new signings totalled £27 million but I sold players to a value of £22 million. The sale of Aissati still leaves a bitter taste in my mouth, I needed the £13.75 million to reinvest but the boards decision to keep most of the cash messed with my plans and led to a rather disappointing window in my opinion.

The squad below does look better than last season, but I am not too happy and feel like Brighton haven't moved forward in terms of quality. We certainly have more potential and depth, but potential isn't going to help us in Europe.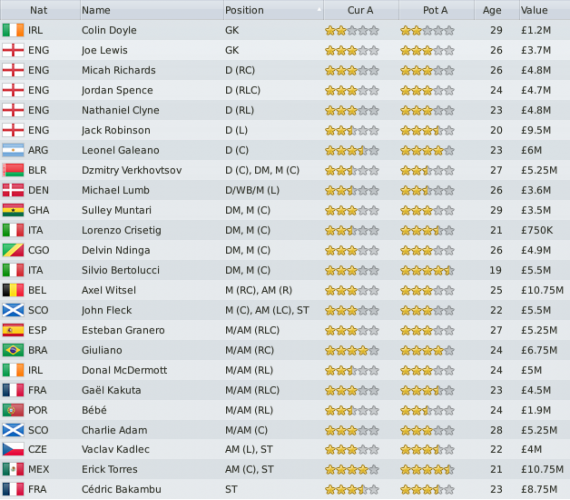 Community Shield vs Manchester United
After the usual friendly matches I had to play in Brighton's first ever Community Shield. I fielded my strongest eleven from last season with the additions of Robinson in defence and Witsel in midfield. Man United used a strong squad but did include two or three youngsters. Despite conceding an early goal care of Wayne Rooney, Leonel Galeano made a quick reply. With the score level at 1-1 my boys took control but couldn't capitalise on our possession as the game went to penalties.
The penalty shoot-out was very cruel. We kept going until my keeper, Joe Lewis, missed and United's Asenjo scored. In fact I was so prepared for this that I took a screenshot as soon as the United keeper finished his run up.

After a very productive transfer window for the clubs owners (not me!) Our bank balance reads £1.5 million and I expect this figure to increase with every month that passes.
Well that is all for today, I hope you enjoyed my pre-season and will be back to see how Brighton start the new season and Champions League football. Until next time please feel free to ask any questions and I look forward to your comments as always. Please also vote for who I'll manage in FM 2012 below.
Darren Smith: "Which team should I be managing in FM 2012?" Final poll
Malaga (SPA) (35%, 134 Votes)
Norwich (EPL) (32%, 124 Votes)
PSG (FRA) (17%, 67 Votes)
QPR (EPL) (15%, 58 Votes)
Total Voters: 383

Loading ...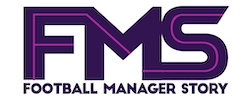 Subscribe to our Newsletter