Hey guys and welcome back to another update from Brighton & Hove Albion. My last post finished in December after Brighton had racked up 30 EPL points and lye in 8th position. The season was going well and I even reintroduced the Manchelona, the great start left me craving a mid-table finish but there was still a long way to go. Today I will reveal how the 2012/13 season finished, did Brighton finish around mid-table or did we crumble into a relegation battle?
FA Cup results
Before I reveal the EPL results, let's talk about my secondary focus, the FA Cup. This competition was used to rest key players and remained in the back of my mind. Despite my negativity, the third round went extremely well as a weak Manchester United lost 3-2 at Old Trafford. Brighton then beat Swansea 4-0 in the fourth round and walked past West Ham in the fifth round. Our journey came to an end as Newcastle forced a replay in the sixth round and my second string XI just couldn't cope.
Premier League results – January to February
Just four months remaining and 18 games to secure a respectable finish in the Premier League. January was almost perfection as Brighton beat Everton 3-1, Newcastle 1-0, Aston Villa 3-1, West Ham 3-2 and eventually drew to Blackburn 1-1. During this amazing run Bakambu was on fire scoring 5 goals from 5 games. February wasn't as good though, Manchester United beat us 2-1 before Tottenham thrashed my boys 3-0. We then finished the month with a 3-2 victory over Wolves but the wheels were already in motion and the squads morale had taken a turn for the worse.

Premier League results – March to May
After two top teams taught my boys a lesson, I hoped and prayed for a positive reaction. What I received was far from that as Brighton were lacklustre when drawing 1-1 at home to Fulham. Then a thrilling match at Anfield ended in a 3-2 defeat before we thrashed Stoke 3-0. We did then beat Nottm Forest 2-1, but the performance was far from convincing and Brighton then struggled to draw 0-0 at home to Burnley. This led me to make some changes and I decided to adjust my starting strategy based on the opponent and squad morale. The first test came against Blackpool as I swayed away from the usual attacking strategy and selected 'control', due to the players backing off a little we found more space and won the match 3-0. I then chose a counter strategy against Man City but that backfired and Brighton were thrashed 4-1. I chose a standard strategy against Bolton as we won 3-0, but the old counter didn't work well against Arsenal as the London club eased past us 2-0. Brighton then finished the season with a standard strategy against West Brom and were rewarded with a 2-0 victory.

Premier League table
After a shaky start we managed some solid form before failing to impress at the seasons end…but how did this relay in the league table. Brighton were predicted to fight against relegation, but I was hoping for a mid-table finish. Well we actually performed above everyone's expectations and finished the season in 7th. A great position and one I hope to build on next season, we were just 4 points away from European football :(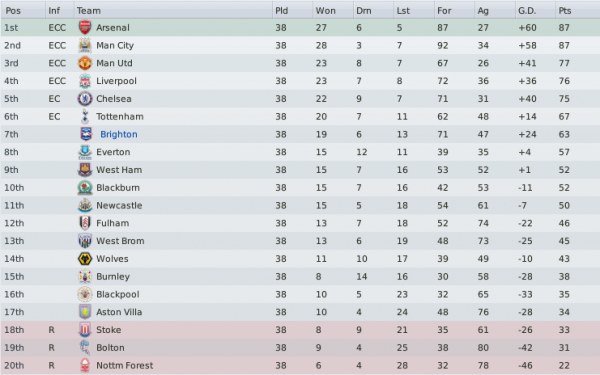 With the seasons conclusion comes my final squad stats. We have Galeano to thank not only for clean sheets but also 10 goals. Bakambu was my top striker, finishing the season with 16 goals and 6 assists while Erick Torres came off the boil and finished with just 10 goals. McDermott was my shock of the season, the winger joined Brighton when we were at League One level and has scored 10 goals and added 8 assists in the EPL. Charlie Adam also played a key role from set pieces with 5 goals and 11 assist.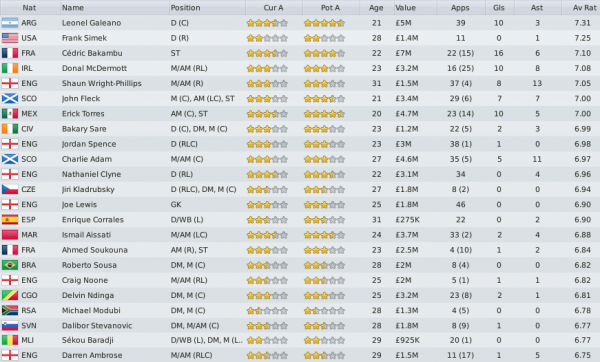 Player of the season: Cedric Bakambu
After such a great season my board were obviously filled with ambition and announced a stadium expansion of 4500 seats. This will increase the capacity to around 27000.
After December I showed you a rather shocking bank balance. Brighton were more than £14 million in red and this stadium expansion had set us back a further £5.5 million. So how did this leave us come the seasons end, well not as bad as you might think. My bank balance now reads £2.5 million, not too much but we are finally out of the red.
Well that concludes the update guys, thanks for reading and I hope you'll return for my second pre-season in the EPL. Until then please feel free to ask any questions below and I look forward to reading your comments. Please also show your support and vote below for who I should manage in FM 2012.
Darren Smith: "Which team should I be managing in FM 2012?"
Norwich (EPL) (27%, 80 Votes)
QPR (EPL) (23%, 68 Votes)
Leicester (CH) (16%, 46 Votes)
Stoke (EPL) (15%, 44 Votes)
Derby (CH) (14%, 42 Votes)
Bolton (EPL) (5%, 15 Votes)
Total Voters: 295

Loading ...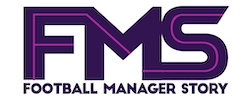 FM 2022 Latest
Welcome to this Football Manager lower league tactic guide. Intro: Hi, I've been playing...

Hi, welcome to a new episode of my save managing Gateshead from Vanarama National...

After the great first three seasons of the Gateshead to Glory story, now it's...

After the great first and second seasons of Gateshead to Glory, in which we...

Welcome to a new series, where Andrew goes Head-to-Head in a Tactics Test. This...

Here at FMS we will be testing and creating the best FM22 tactics throughout...
Subscribe to our Newsletter