Hey guys and welcome back to my Football Manager 2011 story with Brighton. During the last post you saw me deflated and angry with the new board. Not only did they screw me out of transfer money, but they refused to give a fair share to reinvest from players sold. This led to a rather boring summer and one I certainly wouldn't class as my best. While Brighton seem stronger in depth, we certainly haven't moved forward in terms of quality. But the question remains, how will this effect my new season? Have the current youngsters improved enough to mask a poor pre-season, or will the lack of fresh, new quality give wind to my rivals? Keep reading to find out as I take you through August to December.
Premier League results – August to October
The season started very badly, Brighton travelled to Burnley and conceded two first half goals. A couple of super subs were required as Torres rounded off a great performance to secure us a 2-2 draw from the bench. After that disappointment I  then watched as my boys fell a goal behind at home to Arsenal, however we replied much quicker this time. After some entertaining Football the match finished 3-2 in our favour. This comeback was the catalyst for our 3-1 victory over Birmingham. That good result was followed by a decent one as Liverpool held us to a 2-2 draw at home. Wolves and Nottm Forest were both beaten with ease before an enthralling match at Saint James Park. Despite taking the lead three times, Newcastle kept pegging me back in a match that finished 3-3. October was then finished with the 4-0 thrashing of Leicester and shock 1-0 victory away to Manchester United.

Premier League results – November
So a rather mixed start to the season saw complacency mixed with some very surprising results. However, Brighton were mixing it at the top of the table and just needed to find some solid form. The first match in November didn't help my cause as Fulham went 2-0 up before half-time. I was at home and gave the lads a bollocking during the break, this seemed to do the trick but we could only pull two back to draw 2-2. We then found some form, beating Blackburn 5-1 away, Tottenham 3-1 at home and Aston Villa 2-1 away. All great results until my boggy team, Everton, held us 0-0 at home. That draw was soon behind me though as the lads treated us all to a 6-1 thrashing of West Brom.
Premier League results – December
Just like a steam train, Brighton were picking up the pace and could prove tough to catch. If we were impressed by the unbeaten run, then December would certainly prove a welcome surprise. My boys slaughtered Wigan 4-0, then eased past Chelsea 2-0 before dispatching Bristol City 3-1. Our fans had been treated during the festive season, but that was nothing compared to what lye ahead. Manchester City were beaten 1-0 at the Eastlands and Burnley were hung out to dry 7-0!! A perfect record and my unbeaten run remains in tact.
Premier League table
After a shaky start, Brighton finally shook off the shackles and started to play their free flowing football to deadly effect. Lying top of the table and looking back you can see Chelsea eight points off the pace in second. I'm delighted with the start but not taking anything for granted. Chelsea entertain the likes of Torres, Hamsik, and Pjanic so they could go on a winning streak at any point.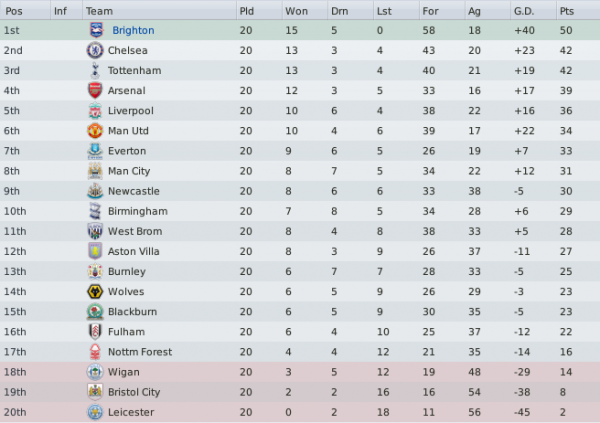 League Cup results
After spending the last four seasons neglecting this competition and falling at the early hurdles, this year proved a welcome change. While I still fielded a weak XI, the depth in my squad seems to have added a little more quality to the second string XI that was missing in years gone by. We started by beating Fulham 3-0 at Craven Cottage. Torres carried his scoring form into the fourth round against Chelsea. Despite the London club fielding a decent XI, we came back from 1-0 down to win 3-2 at Stamford Bridge. A much easier tie awaited us in the fifth round as Leeds were beaten 3-0 thanks to a Kadlec hat trick. My semi final is against Liverpool and I expect some tough opposition over both legs.
Champions League results and group standings
This is the first time Brighton have ever played in the Champions League, so you can imagine my excitement as the group draw was made. Being the third seed meant we could have had a disastrous draw, but somehow avoided all the elite clubs. My group consisted of At. Madrid, Sporting CP of Portugal and U. Craiova of Romania. I'm sure Johnny will be happy with the last club mentioned, but you shouldn't read the results mate. ;)
We started the campaign in exciting style drawing 2-2 away to Sporting CP. The Portuguese club equalised with seconds to go so I was a little disappointed to be honest. However, that feeling drifted away as Craiova were thrashed 6-0 and another injury time goal prevented Brighton from beating Atletico Madrid in Spain. Exactly the same thing happened again as Atletico Madrid travelled to England, we dominated the match but conceded a late goal to draw 1-1. Thankfully the last two games involved no such bad luck as we beat Sporting CP 2-0 and Craiova 4-0 (sorry Johnny!)

After finishing top of our group we drew Ukrainian side Shakhtar in the First Knockout round. It is also worth mentioning that I rested key players for three of my six group matches so I'm delighted with the outcome. We were written off as using this competition for experience alone, but if Brighton can beat Shakhtar the media may need to rethink their odds. :) We certainly won't go past the semi-final stage but could get that far with a little luck.
Squad stats and finances
With so many competitions to think about, I had to switch and change my squad. This meant every player got his chance and some of the ratings below are false due to them been earned against easier opponents. Charlie Adam is the exception to this rule, the playmaker managed 16 assists and 3 goals. I was also impressed with Torres who bagged 16 goals from 9 starts. Bakambu maintained his scoring form with 13 goals and centre back, Verkhovtsov has chipped in with 10 goals from set pieces.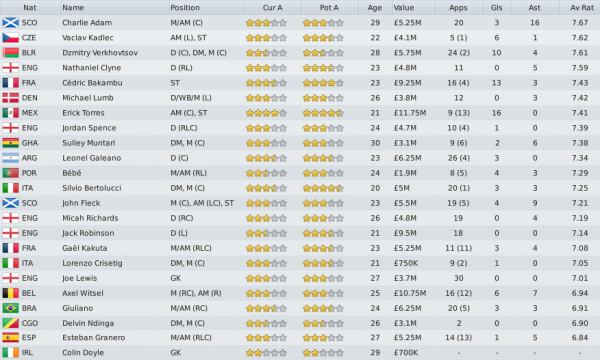 Player of the post: Charlie Adam
Where the goals came from: Erick Torres
All is well on the pitch, but after a disappointing pre-season has my bank balance stayed in the black? Of course it has, Brighton currently hold £1 million, but this figure will go through the roof come our seasons end. I think Brighton will maintain that figure until the season finishes, then we could rake in around £30 million extra in prize money and TV revenue.
Well that concludes today's post, I hope you are still enjoying the journey and will tune in next time to see our season finale. I'll reveal if Brighton retained the EPL and how we did in Europe. Thanks for reading and please feel free to leave a comment below. Also don't forget to vote for who I'll manage in Football Manager 2012. You can vote within the poll below.
Darren Smith: "Which team should I be managing in FM 2012?" Final poll
Malaga (SPA) (35%, 134 Votes)
Norwich (EPL) (32%, 124 Votes)
PSG (FRA) (17%, 67 Votes)
QPR (EPL) (15%, 58 Votes)
Total Voters: 383

Loading ...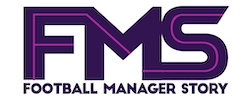 FM 2022 Latest
Welcome to this Football Manager lower league tactic guide. Intro: Hi, I've been playing...

Hi, welcome to a new episode of my save managing Gateshead from Vanarama National...

After the great first three seasons of the Gateshead to Glory story, now it's...

After the great first and second seasons of Gateshead to Glory, in which we...

Welcome to a new series, where Andrew goes Head-to-Head in a Tactics Test. This...

Here at FMS we will be testing and creating the best FM22 tactics throughout...
Subscribe to our Newsletter