Hey guys, welcome back to the south coast and my FM 2011 story with Brighton. During the last post you witnessed me build towards a brighter future, the 2013 pre-season saw a record amount of cash spent but also some quality players to warrant my bold decisions. With the squad looking strong and full of youth I was prepared to launch Brighton towards a European place. Whether that be the Europa League or Champions League remains to be seen, but there's one way to find out. Today we'll be learning my results from August to December, including our Europa League campaign.
Premier League results – August to October
With the opening match upon us, I started to worry about that dreaded second season syndrome. My thoughts were justified as West Brom scored two first half goals on Brighton's own patch. However, a tough team talk and two super subs led to the Seagulls winning 3-2. We then beat Birmingham 2-1, Blackburn 5-1 and Liverpool 1-0. All these results were massive and Giuliano seemed to hit the ground running.
Brighton's first loss of the season came in a close encounter as Arsenal beat us at the Emirates 2-1. There was no time to sulk though and my boys jumped straight back up to beat Blackpool 3-1. This result seemed enough to rejuvenate some morale as we despatched Newcastle 5-1 and Manchester United 3-0. Bakambu scored four goals in these two matches and was starting to look very, very dangerous.

Premier League results – November to December
Brighton enjoyed such an incredible start to the season I felt a little dumbfounded. Was this pure luck and misleading, or should I really be aiming for a top three finish? Either way I couldn't let this confusion disrupt the teams rhythm and decided to keep everything the same. Brighton showed their first signs of complacency during a 1-1 draw to Wolves. We were very poor during that match but revived our form quickly beating Burnley 4-0, Everton 2-1, Aston Villa 3-0 and Fulham 4-1. Bakambu was stunning, but unavailable as we drew 3-3 to Tottenham in our next match. We then beat West Ham 3-1 but also lost to Man City 2-0 after some defensive frailties. December finished on a high as we beat Wigan 3-0 and Sunderland 2-1.

Premier League table
After the most shocking start Brighton found themselves in unknown territory. 18 games played, 44 points on the board and top of the table can only be summed up as overachieving. The top six are still tightly knit and despite the amazing form I haveno grandeurs of a title challenge and even feel pessimistic over a top four finish. To be honest I am just trying to play every game on its own merit and ignore the teams around me. On a side note Brighton were eliminated from the League Cup early on due to my weak starting XI.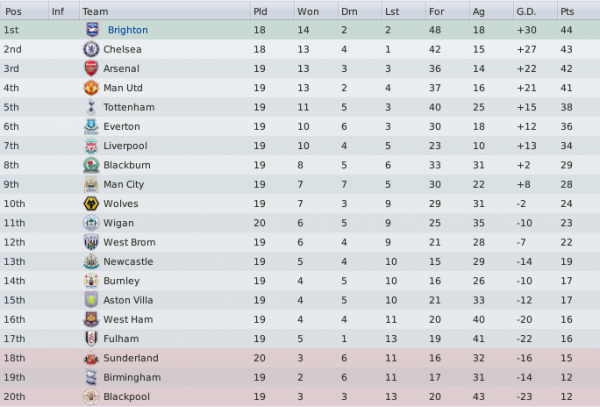 Europa League results
Brighton still had one more qualifying round before the group stages. But this was little more than a formality as AEL were beaten 5-1 on aggregate. When the group stages were drawn I didn't know what to make of my opponents. Out of the hat came Turkish side Eskisenhirspor, Spanish side Sevilla and the French club PSG. An interesting group but one I could aim to qualify from for sure.
Brighton were exceptional during five of our six matches thanks to some set piece prowess. Verkhovtsov and Spence made sure of victory against Eskisehirspor home and away, Sevilla home and away, then PSG at home after losing the away tie. Five victories from six and some very nice displays along the way. Not to mention I rested a few key stars during these matches.

The table says it all, Brighton finished top with 15 points scoring 14 goals and conceding just one. An awesome achievement and my reward is a knockout round tie against Trabzonspor of Turkey.
Squad stats and finances
A lot of players deserve praise after such a start to the season, but I'll pick a handful to highlight. To start with, you may notice my top four players are defenders. This is slightly misleading due to Spence and Simek playing against the easier opponents. Verkhovtsov is top dog at the back scoring 9 goals and reaching an average rating of 7.93. Bakambu is starting to look more and more like Sanogo with every game, the Frenchman has scored 14 goals from 16 starts while Torres follows behind him with 12 goals from 13 starts. Charlie Adam has also done well with 13 assists while Giuliano likes to score from the right with 9 goals already to his name.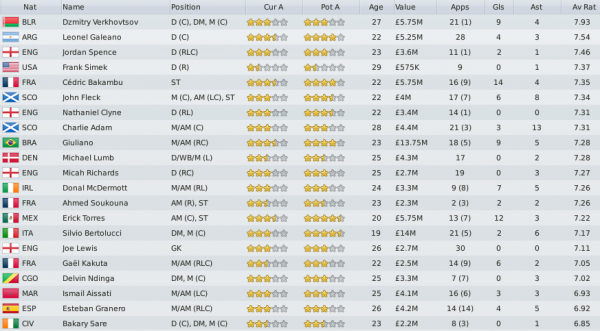 Player of the post: Verkhovtsov
Where the goals came from: John Fleck
Things couldn't be better on the pitch, but off it is a different story. Brighton are in dyer straights financially, part of my grand plan was to get to the Champions League no matter the costs and then build from there. However, this plan has left Brighton £26 million in the red and not making much money with the months that pass. I could finish the season breaking even, but I may need to evaluate the finances before spending big again in the summer. One thing is for sure, Brighton will not be investing in the squad come January.
Well that concludes the update, I hope you are enjoying the ride and will be back to see how the season finished. Until then please feel free to ask any questions below and I look forward to reading your comments. You can also vote for who I should manage in FM 2012 below. I am now accepting votes for which two European clubs will join Norwich and QPR in the final poll. Thanks for reading :)
Darren Smith: "Which team should I be managing in FM 2012?" European poll
Malaga (Spain) (48%, 130 Votes)
PSG (France) (21%, 57 Votes)
Roma (Italy) (19%, 51 Votes)
Napoli (Italy) (13%, 36 Votes)
Total Voters: 270

Loading ...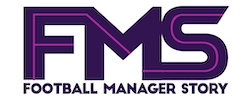 Subscribe to our Newsletter