Hey guys and welcome back to my FM 2011 Brighton story. During the last post you saw me spend more than £30 million in pre-season. This money was spread over many positions but mainly focused on youth and securing Brighton's future. Players such as Charlie Adam, Galeano, Bakambu and Erick Torres joined my team. Thirteen new faces joined the club and despite the obvious problem of blending them into the first team, I feel like these guys are the future. But today we'll concentrate on the present as I reveal how the Seasiders started their first season in the Premier League. Before that, let me say a quick thank you to everyone who participated in the FMS Live chat yesterday. I think the event was a success and hope you all enjoyed it as much as I did. :)
League cup results
I have made it clear from day one that this competition isn't a priority. Until my side have more strength in depth I can't afford injuries or fatigue in any of my EPL games. We enjoyed a reasonable cup run, but after beating Southampton and Bolton we lost to Burnley. That was a bad match, but I had to rest my entire first team due to fixture congestion. I didn't see this as been eliminated from a competition but looked at it as more time to prepare for my big EPL matches.
Premier League results – August to September
And it's finally here, my first venture into top flight Football with Brighton. The dream start almost became a reality as Aissati scored our first goal against Chelsea, but a wonderful performance from Fernando Torres ruined our day and resulted in a 2-1 loss. That first match hardly saw my boys get the ball and this left me contemplating tactics. Was my old cautious 4-5-1 really going to work again, or should I go for broke and reinstate the Manchelona? While the results improved with a draw to Everton, 2-0 win against Newcastle, loss to Aston Villa and 2-0 win against West Ham, the performances got worse. My side couldn't keep the ball and I found myself expecting defeat against most opponents.
The final straw came against Manchester United at Old Trafford. I decided that changing back to the 'Manchelona' wasn't a good idea against such strong opposition. However, due to the current tactics direct passing and cautious style of play we didn't get a single shot off on target and were ripped to shreds. The game finished 4-0 and I was extremely worried, this was the game that brought about change in the Brighton camp.

Premier League results – October to November
The time had come, I slowly scrolled through my archived tactics and selected…the 'Manchelona'. No more defensive thoughts, sitting back or quick break away's. From here on out Brighton would be all about attacking football and playing the passing possession game. For any newbies you can read all about and download my Manchelona tactic here.
While my Manchelona suffered a defeat at White Heart Lane to the Spurs, things started to pick up from there. We beat Blackburn 3-0, drew 0-0 to Liverpool and slaughtered Wolves 4-0. Fulham then robbed me of a point as Brighton lost 2-1 away, before Burnley held us to a 0-0 away draw. Stoke took the full force of my frustration when we won away at the Britannia 7-0!! Then Nottm Forest were next to fall after John Fleck secured the 1-0 win late on.

It took a few games to be sure, but after watching the 4-0 victory over Wolves I was convinced I had changed tactic at the right time. You can see why below, I have provided the highlights and all four goals. There is so much variety in our play and the Manchelona really harnesses that.
Premier League results – December
Due to an extended International break October was filled with just three matches, meaning December became a very clustered month. We started well beating Blackpool away 3-0, before a valiant performance against Man City finished in a 3-2 defeat. Next up my boys thrashed West Brom at the Hawthorns 5-2 and then beat Bolton at the Reebok 2-0. We finished December with two very narrow losses to both Arsenal and Chelsea. In my eyes this was a brilliant month, we dropped points to three of the best four teams in the league and also managed three away victories.

Premier League table
OK, I know there's a lot of white and yellow circles this post, but remember Brighton have just entered the Premier League after two consecutive promotions and need to settle thirteen new arrivals into the team. I personally feel like our start has been incredible and just look at the league table below. Brighton lye in 8th place and need just 10 more points to secure survival. This will be done with ease and the main aim has to be mid-table.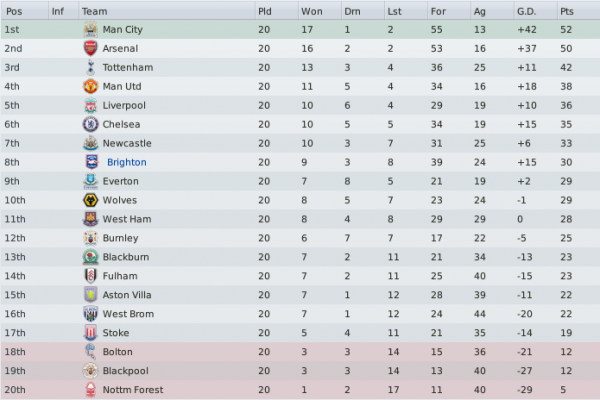 None of this would be possible without some amazing new arrivals. It took the new boys 5-6 games to settle in but we're now playing some very attractive football and offering every opponent a fight. Galeano has an average rating of 7.47 and scored 6 goals alongside been solid in defence. Charlie Adam has chipped in 8 assists and 3 goals while Wright-Phillips has scored 6 and assisted 4. The same amount as Erick Torres who looks to be full of potential.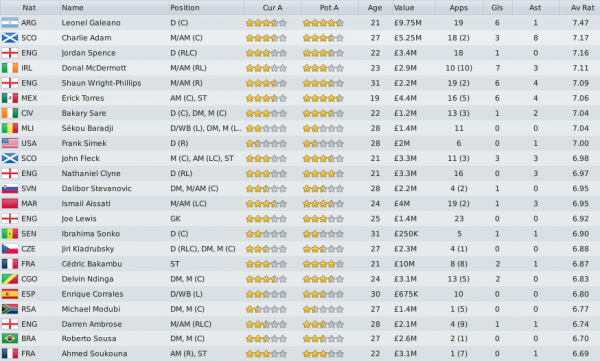 Player of the post: Leonel Galeano
Where the goals came from: Erick Torres
With everything going so well on the pitch, we are just left to see how the finances look. The current bank balance is £14.3 million in the red. The initial figure doesn't look good but if you look closer, you'll notice we are starting to gain money back and that upwards spiral is increasing with every month. By the seasons end I reckon the club will be out of debt and may even have around £5-10 million in the bank. I would be happy to keep experiencing these ups and downs until Brighton attain Champions League football…because then I know the club can start to make some nice profits.
Well that concludes today's update, thank you all for dropping by and I hope you enjoyed the post. I'm not sure what the end of season will bring but join me next time to find out. Until then please feel free to ask any questions and I look forward to reading your comments.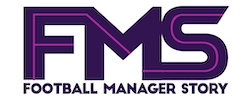 Subscribe to our Newsletter