Hey guys and welcome back to my FM 2011 story with Brighton. Last time we ended with not only promotion to the Premier League but the Championship title. After a truly incredible start my boys wrapped up two league titles in the space of two years. Despite the positives I had financial problems and this led to small budgets. With a fairly small squad lacking pedigree I hoped and prayed for my board to trust me with money that wasn't there. :)
I'm nothing if not honest and can tell you now that I will be going crazy with Brighton's cash. But for anyone who has read my financial guides, you will know why. I always say you should do anything and everything to get Champions League football…then you can start focussing on the bank balance and build it back up. You all saw me do this with Newcastle and I'm not afraid to try such risks again. This brings me onto the boards expectations and dreaded transfer budget. While I was expected to fight bravely against relegation, I took a huge risk and told the board I could achieve a mid-table position. This earned me £28 million for transfers and an extra £50K a week in wages.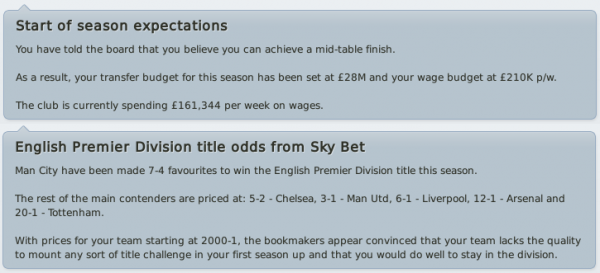 We have a lot of transfers to get through, so I won't spend too much time talking about each individual player. Lets start with transfers out and wave bye bye to those departing Brighton. We won't go through them all, mainly because each player failed to figure in my plans and were offered out to clubs. A total of £7 million was raised and we managed to increase the wage budget slightly.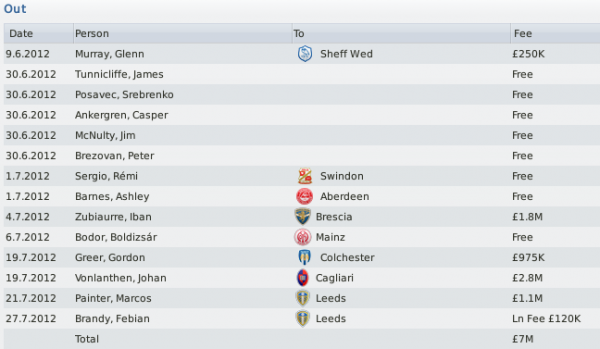 Now we move onto what really matters, this was my most active transfer window since playing FM 2011. And I'm delighted to report Brighton have a great future with this crop of players. I will reveal the signings by position and suggest you read through the post as some players will just be viewable from clicking their names.
New signings – Goalkeepers
Last season revealed that my current keeper, Doyle, is not good enough for the top flight and I desperately needed a replacement. Enter Joe Lewis, this young goalie joined us from Peterborough for £1.3 million. A bargain when you consider his ability and potential.

New signings – Full backs
With Corrales looking solid at left back I decided to press on and find a young right back. The EPL has skilful and pacey wingers meaning the full back positions could make or break my season. I found Nathaniel Clyne at Championship side Swansea and snapped him up for £2.5 million. The 21 year old can defend and attack equally as well and is a bargain that will stay in my squad for many years.

New signings – Centre back
My weakest area and one I had to improve or face relegation. I will introduce my first signing last, but lets start with a young Englishmen who has already played for Brighton. Jordan Spence joined my side for his second spell from West Ham. Only this time its a permanent deal worth £3.4 million. Now we move to my best signing, I have raved about this kid since the start of FM 2011 and seen his worth with Man Utd and Real Madrid during other saves. I introduce Leonel Galeano, the 21 year old Argentine wonderkid will be the best around. Independiente were demanding £9.75 million and after two weeks of negotiating I finally got my man.

New signings – Central midfield
All my tactics require a solid midfield three, so you'd expect some big signings in this area and I don't like to disappoint. :) We'll start with the fringe signings, Bakary Sare joined from Anderlecht for £1.2 million and will be rotated in the more defensive roles. Roberto Sousa was found on a free transfer and the Brazilian will be used as cover in the supporting midfield role.
Now we move onto the big signings and lets start with my new ball winning midfielder. Delvin Ndinga was available for free and I snapped him up before anyone else got a sniff. I also found one hell of a bargain on the free transfer list…Charlie Adam will join the club as my deep lying playmaker and free kick specialist.

Now lets move onto my best signing in midfield, another free transfer might I add! He comes from Morocco, can play as the advanced playmaker and is just 24 years old. Ismail Aissati was released from Ajax and I secured his signature just after confirming promotion to the EPL. What a signing for the boys in blue!!

New signings – Wingers
With Noone, McDermott and Soukouna all looking dangerous on the wings I didn't need to add much in this area. However, I did sign John Fleck from Rangers for £3.2 million. Then after messing around with the player search filters, I found Shaun Wright-Phillips as a free agent. I couldn't believe my luck and snapped at the 30 year old for a signature. His pace and dribbling ability will make for a deadly weapon on the right wing!

New signings – Strikers (just wait for this!!!)
I love saving the best for last and anyone who reads through our scouting network will know these names well. I signed Cedric Bakambu from Arsenal's reserves for £10 million. The profile below may not look like much, but just look at Bakambu's scouting network profile!

Just like Bakambu, my next striker looks decent but not world class. However his talent is beyond belief and this 19 year old will be massive within the next four years. Let me introduce my new Mexican forward, Erick Torres signed form Chivas for £3.3 million. He looks promising below but just check out Torres' profile on our scouting network.

And that concludes my transfer activity for the summer, I signed a total of 13 players and spent £34.5 million. The board have been fantastic and even accepted a request to increase my wage budget. I know they won't regret it and feel optimistic for the new season. We won't be reaching Europe any time soon but the next two seasons will see massive improvements and I am looking for a mid-table finish this season.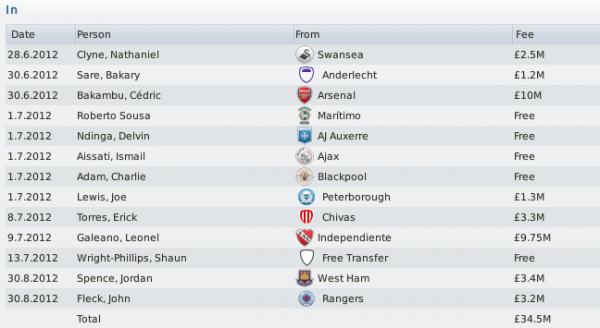 Now you've seen all the ins and outs, let me introduce the new look Brighton & Hove Albion. I am covered in almost every area and the squads average age is 24 years old.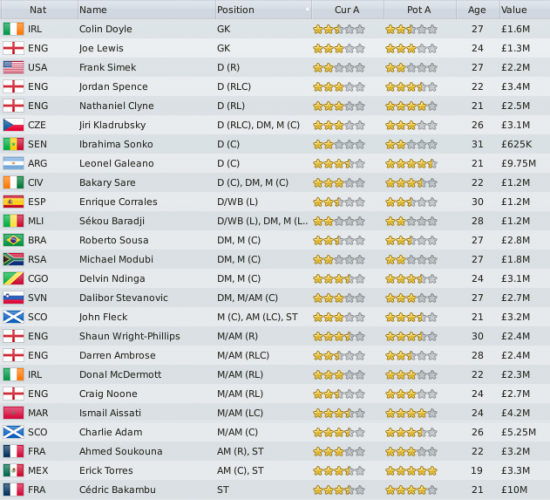 After so many signings you would expect my finances to be a disaster. There not as bad as you'd think but certainly don't look great. Brighton are now £14 million in the red, however I expect this figure to tip back into the black by the end of this season.
Well that's it for today's update, I hope you enjoyed the read and will be back next time. Don't expect Brighton to hit the ground running as a lot of players will need to settle in, but I have some great news ready for the next post…it includes the return of a certain tactic. :) Thanks for reading and I look forward to your comments as always.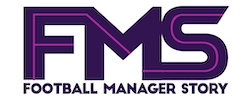 Subscribe to our Newsletter