Here we go again my friends, the Blyth Spartans Football Manager 2009 story continues! Last month we played only three games in Coca-Cola Championship and judging by the results one could predict that we would be in for a very difficult season. We only won one of the three games and lost the other two and we were also knocked out from the Carling Cup by Fulham in the 2nd round. We have 5 league games to play in September so I guess these next games would give us a better view of our abilities.
The first game of the month was against 7th placed Peterborough. Although they were strong favorites to win the game we dominated the first half. Despite that the half time whistle found us down by one goal, very frustrating. We kept on attacking after the break but it seemed that we were too nervous in front of their goal, my boys were shooting like crazy but most of the shots were going wide. The penalty kick that Adam Clayton converted in the 77th minute unleashed my lads, we scored another 3 goals until the final whistle! A great win that might give us more confidence.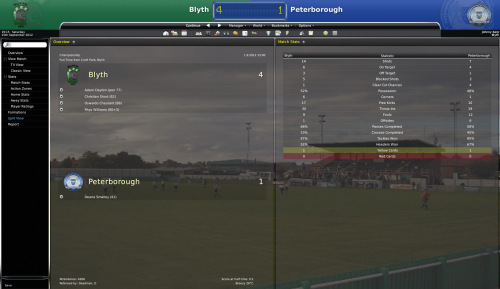 Next up, a difficult away game at Ipswich. Although they were on a disastrous run of five games without a win Ipswich were still the favorites to win this game. But they were quite nervy and it showed… Their keeper punched a powerful cross by Sandor Vaida but it went straight into the net! Nine minutes later my young quick striker, Christian Short, left their defender no choice but to commit a foul in the penalty area! The defender was sent off but Vaida hit the post from the penalty spot! We made sure of the win in the second half, they didn't have the strength to cause us any trouble with only 10 men on the pitch.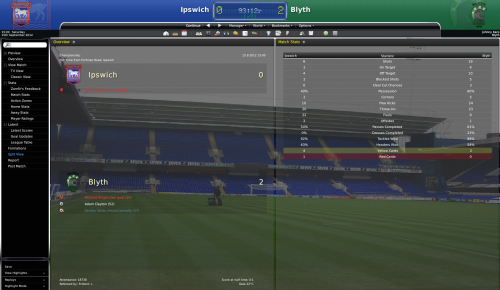 We started off the month very well, two wins out of two games but the next game was even more difficult. We had to play at home against 3rd placed Stoke, a team that was relegated from the Premier League last season and that had a dude called David Beckham in their squad… I was hoping for a draw but everything turned upside down right from the first minute! My centre back Rhys Williams was quite nervous and he fouled their striker, Alan Smith. The ref thought of it as a professional foul as Smith was heading towards our box, so Williams was sent off right from the first minute! A solid team like Stoke immediately took advantage of that and they scored twice before the break. Despite that we didn't play bad at all. As a matter of fact after the break we dominated the game and created several chances to score but their keeper was in fantastic shape. We lost the game but we played well considering the circumstances. Oh and btw, David Beckham was not even on the bench for this game although he wasn't injured!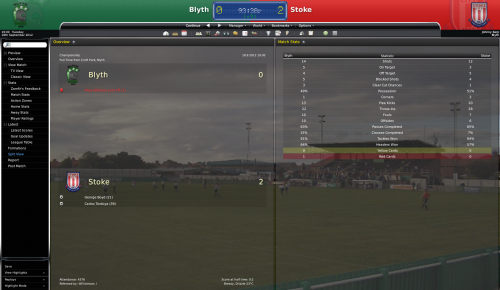 Next we had another difficult away game at Huddersfield. They were in 14th place but they were quite strong at home. We played a very good first half and Oswaldo Chaurant scored the goal that gave us the lead at half time. Unfortunately they scored the equalizer from a corner kick 20 minutes before the final whistle. We had our chance to get back in the lead but we hit the crossbar in the 89th minute. It ended 1-1, a decent result for us.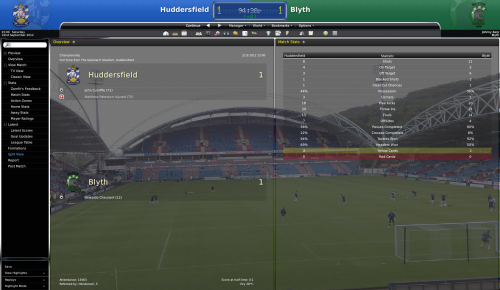 The last game of the month was going to be the most difficult too, a home game against the Championship leaders, Portsmouth. They had Peter Crouch upfront and a very dangerous Levan Kenia in midfield, so we had to be careful with those two. Unfortunately tackling Kenia when he strikes a free kick is not allowed by the rules :( He scored an early goal by whipping in a perfect free kick, it was going to be an uphill struggle again. Portsmouth were on a 7 games unbeaten run and it seemed that the good run will continue. Right after the half time whistle my Romanian attacking midfielder, Dimitriu Copil, took a free kick from the left, he swung it in perfectly… My tall centre back Daniel Sanchez Ayala was there, he banged the header right in! Portsmouth reacted furiously, they created several chances to score but my defenders were heroic. And when they were not able to do anything my keeper, Fraser Forster, locked the goal, he was fantastic. I would have been happy with a draw but the same two players brought us more than we expected. Dimitriu Copil whistled in a perfect corner kick from the left side and Daniel Sanchez Ayala was there again to bang it home! Get in! It wasn't the best game that we played so far but we played with so much determination in defense that we deserved a good result. No, not a good one, a great result as Portsmouth were not beaten before this season!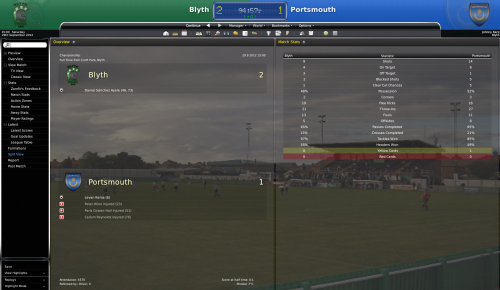 We were in 10th place at the end of the month with 13 points. A good run in the next games might bring us close to the playoff places, a bad run could push us back towards relegation.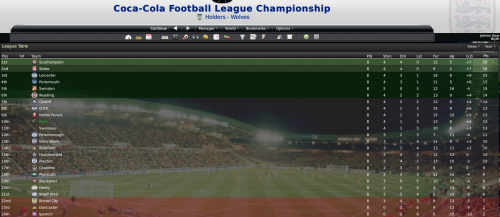 Despite the crazy red card that he produced in the Stoke game Rhys Williams was our best player so far. I signed him last summer after he was released by Middlesborough and he adapted to our squad perfectly. I hope that he will keep up the great performances he showed so far.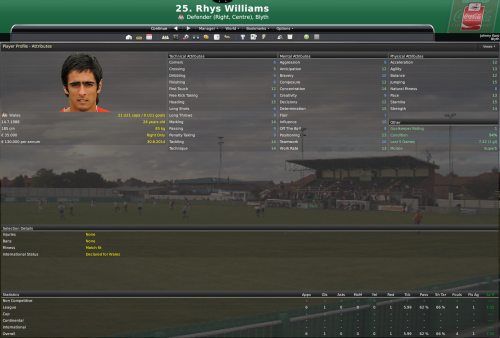 That was September my friends, a very good month with 3 wins a draw and only one defeat! I was quite pleased with the way my team played in these last 5 games and I definitely hope that we will get better and better as the season goes on. If we won't have too many bad injuries we might be able to make a very good season indeed.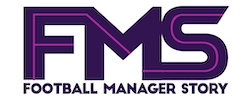 Subscribe to our Newsletter