Hello my friends! After another miraculous season in League One and yet another fantastic promotion me and my Blyth Spartans are preparing for the toughest challenge yet in my Football Manager 2009 story – the Coca-Cola Championship, a very strong league with solid teams and some star players. Unfortunately the Championship TV rights were quite low, only 1.1 million euro, so our financial balance didn't improve too much. As a result of that, although I told my board that we could get a mid-table finish they gave me a fabulous transfer budget: 1,000 euro! The wage budget isn't too fancy either :(

It was quite obvious that with such a wage budget I couldn't sign too many good players, so I had to let go some of my players. The saddest decision that I had to make was to sell our top goalscorer from the last two seasons, Laszlo Csongor. He was one of my favorite players and I would have liked to keep him but there were two reasons that made me accept the offer for him. First of all 250K were a lot of money for us. Secondly my young strikers, Chris Short and Yoneyama, were showing good signs of progress and I thought they would reach Csongor's lever of ability soon enough. I also sold both my goalkeepers and 4 other players that don't have enough quality to play in Championship. We got quite a tidy sum for them, a bit more than half a million euro but only 10 percent of that money came back into my transfer budget.

The first big transfer that I made was that I persuaded Oswaldo Chaurant to extend his contract with us until 2014 :) After that I was forced to go hunting for free transfers again, and after long negotiations I signed 6 free players. I also paid for two players that I think will have a great future.

But let me present my new "stars". My new goalkeeper is Fraser Forster, he was a Newcastle player at the beginning of his career and I signed him after he was released by Hull. He's a giant with good reflexes, I think he will do well. The second keeper that I signed was Bulgarian Mario Kirev from Juventus! There will be quite a battle for a first team place between these two but right now Forster is slightly better.

I also needed a new right back and it was not easy to find one. Finally I chose Javan Vidal, an experienced youngster that was released by Manchester City.

It was obvious that I needed at least another centre back in my team. I found quite a few good ones but I couldn't offer them the wages that they desired. After some negotiations I got Rhys Williams from Middlesbrough, an experienced centre back that could add some weight to our defense.

And now the best signing so far. I wanted another central midfielder but the options available on the market were too expensive for my tiny budget. One day, somewhere in July, my scout told me about Linas Urbsys, a Lithuanian player that he watched during a Champions League first preliminary round game involving FB Kaunas. I made an offer immediately and I was very happy that the transfer went through very quickly for only 9,000 euro! The lad is only 17 years old and I think that with good training and regular first team football he will become a star soon.

Next up, my new South American right winger… He comes from Colombia and I've been keeping an eye on him for the last two years. I even tried to sign him last year but he didn't get a work permit. Now he had more international apps and he got that permit! He's a quality youngster that maybe still has some margins for progress.

I needed a backup player for the attacking midfielder position and I decided to get another promising youngster, although he was quite expensive for us, 35,000 euro from Port Vale ;) His name is Josh Bell, he's only 17, and I signed him for only one reason: my scout told me that he could grow to be better than Oswaldo Chaurant.
Last but now least I thought it would be necessary to get another promising striker to keep Short and Yoneyama on their toes. I had a few free options available and after some thinking I chose Gary Horner from Burnley, a hard working striker with some hopes of becoming a future star.

… and that's about everything I could afford. I have 24 players in my squad and I feel that it's a well balanced squad, with some experienced players along with some very promising youngsters that might blossom this season. My assistant manager thinks that we have a problem upfront and he might be right. I forgot to mention that I made around 30 offers to loan Premier League reserve players and not even one of them agreed to come to Blyth! Either they don't like the city or they don't like me, I don't know what to think about this :(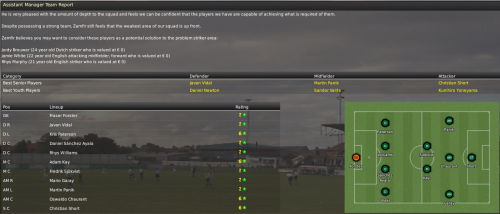 The bookmakers believe that we will struggle to avoid relegation, nothing new here.

Again the media predict that we will finish 24th, I would have been surprised if they said something else… Now you know which are our new players and I'd like to start a prediction contest with you. Post in a comment which is the place that you think we'll finish in! The one who will guess the exact place won't get any prize at all :) The media already lost, I can't imagine that we'd finish 24th out of 24 teams, that's impossible.
So far I don't know what would be possible for us next season. The other teams are quite strong and you'll understand that only if I'll list a few of the players that we'll be facing: David Beckham (he's 37 years old and he plays for Stoke), Levan Kenia (Portsmouth), Peter Crouch (Portsmouth), Nicolas Anelka (West Brom), Darius Vassell (Nottingham Forest) and I could go on and on… Meybe we'll get a better picture of what we could do this season after the first few games. Until then, place your bets!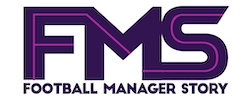 Subscribe to our Newsletter