Here we go again, the toughest month of the season was about to begin. We were in 5th place in Coca-Cola Championship at the end of January and three of the next five games were going to be against our main contenders for a playoff place.
But before that we had to play a less difficult home game, against 19th placed Huddersfield. We drew 1-1 when we played against them away from home in September, so I was expecting a less problematic home game. In fact, we didn't have too many problems with Huddersfield, we scored 5 goals! Unfortunately one of them was past our own keeper ;) However, it was a good win that gave us a good morale for the tough challenges ahead of us. With these three points we also made a step forward in the league table, we were 4th.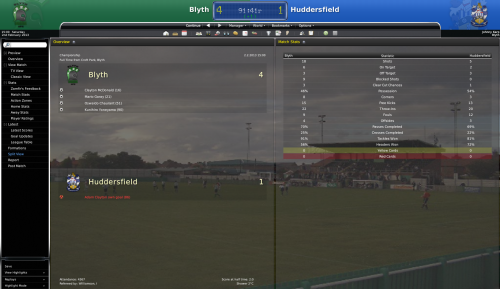 Portsmouth were right behind us in 5th place and we had a difficult game against them away from home. Back in September we won the home game 2-1 and that gave me some confidence for the away game. We played well in the first half, it was an even game and I hoped it would finish all square after we managed to equalize in the 28th minute. Unfortunately we conceded a goal from a corner kick right before the break. We played quite OK in the second half too but we were not able to create anything important. I guess a draw would have been fair considering that it was an even game but that's football, you have to take your chances when you have them.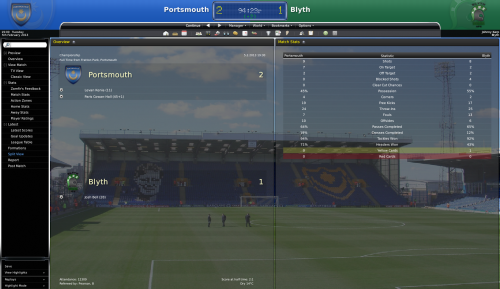 A win in the next game was absolutely essential, we had to beat Q.P.R. at home to get the three points and keep the 5th place. Queens Park Rangers were in 11th place and in the previous meeting we drew 2-2 away from home. The game started well for us, we were 2-0 up at the break and we even made it 3-0 after half time. At that point Q.P.R. attempted a furious comeback and they went pretty close, it finished 3-2 with my players looking very tired in the last 20 minutes of the game.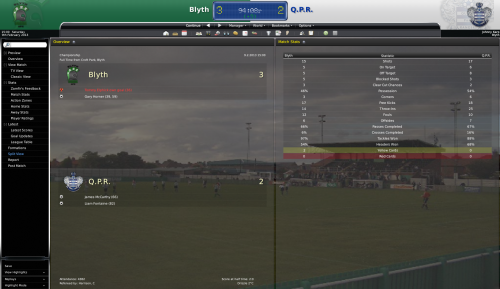 Next up, another decisive game, away at 4th placed Cardiff. We managed to beat them 2-1 in the previous meeting but this time I expected a much more difficult game. They played very well in the first part of the game and it seemed that we had very little chances to get something out of this match. Fortunately we managed to score one goal before the break so the first half ended 2-1. We came out looking way better after the break and we scored another one right in the first minute of the second half. We kept on pushing forward and Sandor Vaida rewarded our efforts in the 76th minute with a superb left footed shot from 20 yards out! We just had to keep cool and defend the lead. There was less than one minute to go when their veteran striker Bobby Zamora picked up a ball in our penalty area and did what he knows best, scoring. It was a crazy game that we could have won, we went very close…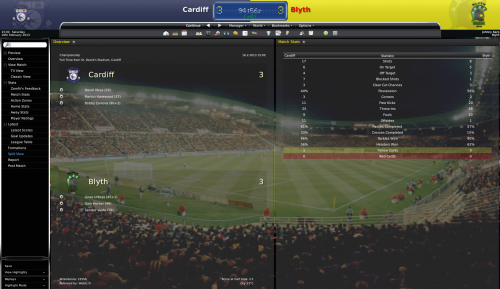 The last game of the month was another difficult one, at home against 6th placed Southampton. We had to win this to consolidate our 5th place. Unfortunately my one of my centre backs, Rhys Williams, picked up two yellow cards in the first 16 minutes of the game! I think that the second card was a bit harsh, he got that one for barging a player in the back… Fact is that we were down to 10 men and the game was looking even more difficult than it was supposed to be. At that point I would have been happy with a draw but what happened after that 16th minute shocked both me and our opponents. Right winger Mario Garay and striker Gary Horner were looking like extra terrestrials, they were making their opponents look like amateurs. That was the best display of football I ever saw at Croft Park and the scoreboard at half time was showing a thrilling 3-0. Southampton tried to make a comeback in the second half but my lads continued to play very well despite the one man disadvantage and it finished 3-1, one of the most beautiful games in my career.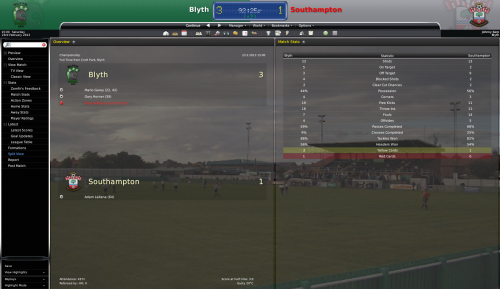 That result relegated Southampton to 7th place and pushed us up in 4th! There are still 12 games to be played and a lot of things can change in the league table but I think that the playoff place is well within our reach now.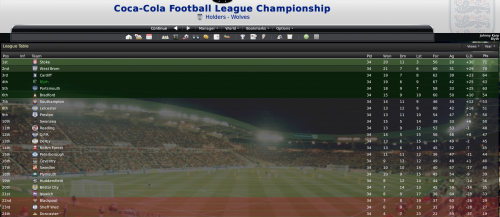 Young striker Gary Horner was our main man this month, he scored 4 goals in the last 5 games! I brought him last summer from Burnley to provide decent backup for the striker role but this month I decided to give him a chance to play after he showed some good performances for the Reserves squad lately. He took his chance and now I have a fierce competition for the striker place between him, Chris Short and Kunihiro Yoneyama.
We have to play 6 games in March and if we could get around 12 – 15 points from these the playoff place would be virtually in our bag. If we keep playing like we did against Southampton we'd have nothing to fear, but I'm sure that some setbacks are waiting to happen just around the corner.
P.S.: I just noticed that this is the 100th post that gets to be published on this blog! It all started at the end of 2008, on the 28th of December… I was sick and the doctor said that I had to stay inside the house for about 10 days. A bit sad and with nothing better to do, I started this blog :) I didn't expect back then that it would become an addiction, for me and for quite a few other people. Right now there are around 400 to 500 people from all over the world that come to visit this blog every day, some to read the stories, others to download graphics or tactics. I'm very grateful for that and I wish to thank you, my readers, for keeping this blog alive and for spreading the word about it. I'll do my best to give you great things to read or download from now on too.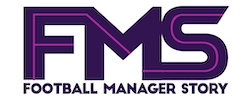 Subscribe to our Newsletter