Well, we're there, finally. We were a bit unlucky to finish 3rd in Coca-Cola Championship after a long difficult season. We played very well lately but it wasn't enough, we had to fight for promotion in the playoff. The first step was the semifinal against Southampton, the team that finished 6th. I was happy to play the first leg away from home, I think that's always an advantage.
I was hoping for at least a draw since the last away game against them finished 1-1 back in October. And we played pretty well in the first half but my defense was a nightmare, we were making huge errors and Southampton didn't need an invitation to score. At half time the scoreboard indicated a disaster for us, it was 3-1. I made all three substitutions at half time, we had to show some determination out there. Immediately after the break one of the players that came in as a substitute, midfielder Adam Kay, stepped up and banged in a shot from 25 yards out! His first goal of the season! We kept piling up the pressure but also kept on missing shots from all around their penalty area. That was the game until the 77th minute when the unlikely hero stepped up again – another shot from 25 yards out and another goal from Adam Kay! He didn't score all season long and now he was making an exhibition!
It finished 3-3 but we could have won it if we would have paid more attention in defense. However, it was a good result that gave us a lot of confidence for the second leg.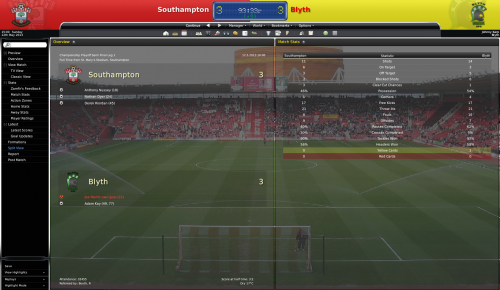 A few words about our unlikely hero, Adam Kay. I brought him on a free transfer in 2010 from Burnley and he was a constant presence in our team throughout the last few season. This year he was a backup for the first team but he did well every time I needed to send him in. He never argued about deserving more first team football, he continued to work hard in training and I guess he got what he deserved, a moment of glory for the anonymous midfield worker.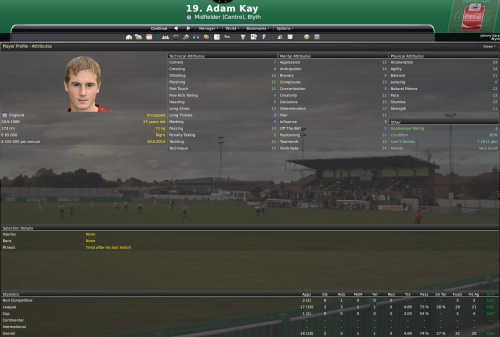 We had to win the second leg at Croft Park and I felt that it was entirely possible, we defeated Southampton 3-1 with only 10 men in our last league game. They looked better in the first half and even scored the opening goal in the 25th minute. We reacted well and the first 45 minutes ended all square, 1-1. We had to do more in the second half, it was a big opportunity for us and we just couldn't afford to miss it. My players fully understood that and produced a thrilling display in the second half, superb 45 minutes of football. Southampton were looking powerless as we scored 3 goals! A great victory, and we were through to the final!
The bad news was that we had to play against Stoke in the final, they defeated Cardiff quite heavily in the other semifinal (2-0 away and 3-1 at home). Stoke were the only Championship team that defeated us both home and away in the league games. In fact, they were the only side that defeated us at Croft Park, 2-0 in September. I knew their team by heart, their numerous strengths and the few weaknesses but in the end it was all up to my players, they had to prove that they deserved promotion. We had good morale and I hoped that it could make a difference in what I expected to be a very even game at Wimbledon.
It began perfectly for us, left back Kris Paterson sent in a shot from 25 yards out and their keeper could only push it off the underside of the bar! We continued to push forward and we scored again in the 9th minute! But the linesman had nothing better to do than flagging, it was offside, the goal was disallowed :(
Stoke seized control and they pegged us back immediately, Danny Pugh placed a perfect shot from 25 yards out in the 12th minute.
Seven minutes later my left back managed to ruin everything he did by scoring a goal, a big marking error and Nikola Drincic made it 2-1 for Stoke.
We went back to attack and we did pretty well, we were creative and determined enough to create chances. But unfortunately we missed three huge ones before half time, it ended 2-1.
I expected my lads to keep on going forward in the second half but for some reason Stoke took control of the game again. We just couldn't find the right tempo, they were winning all the tackles in midfield. Things were looking bad and they got even worse in the 70th minute… Alan Smith picked up a through ball, everybody thought he was offside! Everybody except the linesman… Smith banged it in, it was 3-1.
I wasn't hoping for anything at that point but my players showed a great deal of determination, they immediately went forward and we were piling up the pressure on the Stoke defense again.
75th minute… Dimitriu Copil curled in a perfect cross from the right, it went past the keeper, Christian Short was in the box, ready to push the ball in… Tordoya got to the ball first but could only push it into the net! We clawed one back!
Three minutes later Christian Short was running on the left wing behind their defenders, he passed the ball into the middle, Gary Horner blasted it on the volley… Westwood pushed it away with a fantastic reflex… But it only went a few yards to the right… Copil was there and couldn't miss… It was 3-3! Get in!
Stoke were looking shocked! Their manager changed the tactic, they switched to a 4-2-4 immediately after our third goal, they desperately wanted to score.
But they just couldn't get forward, my defense and midfield were intercepting everything!
Only two minutes to go and we are still attacking. Chaurant picks up a ball, takes a look and then sends in a through ball into the penalty area. Perfect pass, Christian Short picks it up, swivels on the ball to get clear of their centre back… And shoots! It's past the keeper, heading for the far post… It hits the post… and goes in! It's in! 4-3! Magnificent fightback! Superb!
The referee signals 3 minutes of injury time, we're hanging on in there… The clock shows 94 minutes and 30 seconds… Come on, ref, blow that damn whistle! Just breathe in and out, into that whistle! 94 minutes and 46 seconds… What's that sound? The whistle, it's the final whistle! We're through, my Blyth Spartans will play in the Premier League! It's a dream that is finally coming true, fantastic!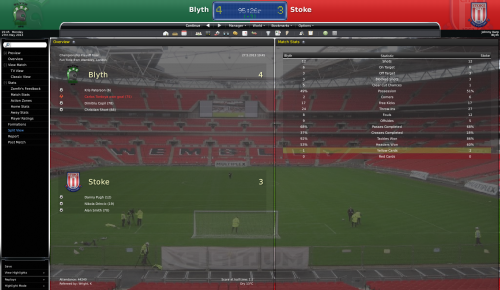 I just can't describe the joy, it's beyond words. From Blue Square North to the Premier League in 5 seasons, that's what I call a fairytale!
Striker Christian Short, our hero from the final game, was also our top goalscorer this season. He scored 13 goals but I expected much more from him.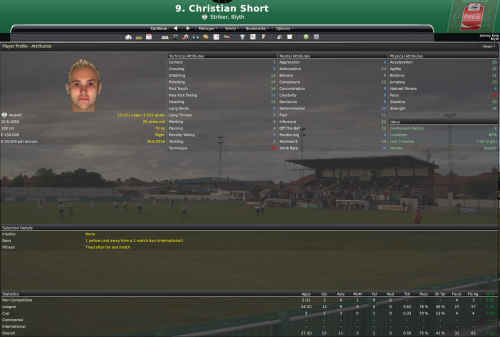 Our Colombian right winger, Mario Garay, made the most assists, 17, and also scored eight times!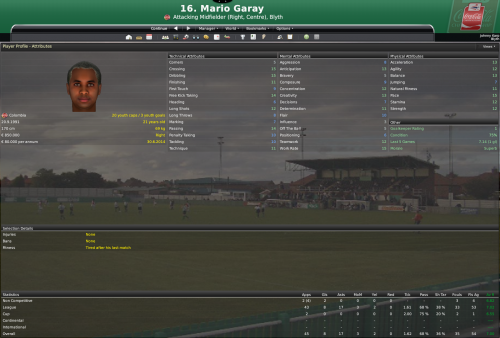 But our best player was undoubtedly Rhys Williams, our rock-solid centre back. He scored six goals and finished a season with an average rating of 7.19, the best in our squad.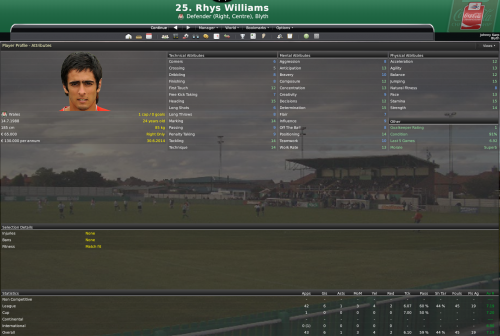 Here's our squad, the 24 men that made history!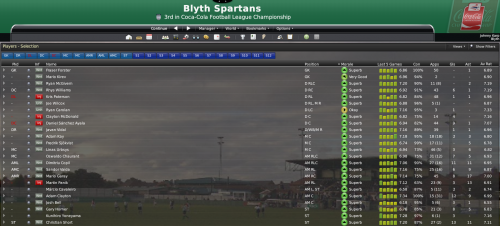 Take a good look because I'm sure you won't see many of them again next season. After getting promoted I checked my assistant's team report, and all those fancy 6 and 7 stars that he displayed at the beginning of the season turned into 3 or 4 stars for the Premier League. I agree that the squad needs to be heavily strengthened, but I'll need some money to do that…

To prepare for the big stage of English football my board announced that the stadium will be expanded. Until the completion of the work we will play our home games at Sunderland.

I was happy that the board decided to expand our Croft Park, our fans deserved that. But the investment put a big hole into the club's finances, we were 13.5 million euro in debt! I decided to sell a couple of players right away and that gave me some transfer money in return, before the new season. With that money I made the first signing, let me introduce young regen Spanish left back Andres Lara. He's way better than my current centre back and I only paid 375000 euro to Barcelona for him! (I competed with Celtic for his signature) He is also very likely to improve in the future, he's only 19 years old!

I'm waiting to find out how the transfer budget will be. As far as I know the club will get around 30 million euro in TV rights for the Premier League season and I hope the board will give me at least half of that for transfers. I don't think that any of my current players have what it takes to be a first team regular in the Premiership, so right now I think that I'll try to get at least eleven better players. My scouts already recommended me a plethora of great Brazilians but I'll have to wait for the transfer budget to decide. If it will be around 15 million euro I'll have an average of 1.5 million for a player and that's not luxurious by any means… What would you recommend, sign only 3 or 4 good players or go for a full first eleven?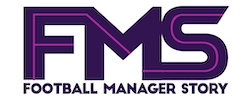 Subscribe to our Newsletter