Here we go, our long difficult season in Coca-Cola Championship is down to the last six games, six matches that can make or break our season. We were in 3rd place at the end of March, only two points behind the second placed team, Stoke. We had a chance to fight for that second place but it was going to be very tough because Portsmouth were in with a good chance too. Let's see how the battle went.
Our first game was a less difficult one, away at 17th placed Bristol City, a team that we defeated 3-0 at home back in November. And it all went smoothly this time too, my centre back took advantage of the poor marking and of his height and strength by scoring twice in the first eleven minutes! We dominated the game quite easily and we scored another one after the break, a good start for the final dash towards promotion. The bad thing was that we had 3 injured players after that game, including our main right winger, Mario Garay :(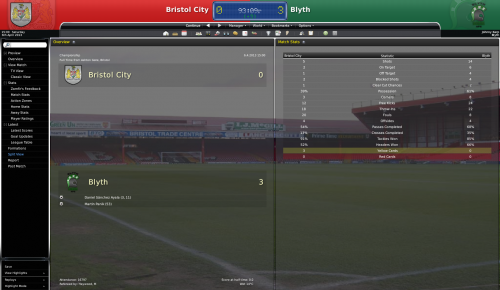 The next game was going to be a difficult one, away at 12th placed Swansea. They had a solid team and we had a lot of trouble with them at home, we won 2-1 after a hard fought game in December. We also had a few first team players injured, so it was going to be even tougher. Swansea scored the first goal after a marking error from my defenders but we managed to get the equalizer before the break, Sandor Vaida provoked an own goal. Both teams showed some good football in the second half but neither of them converted any of the chances, so it finished 1-1. I was satisfied with the result, it was quite OK given the circumstances. With that point we secured a playoff place but Stoke were now 4 points ahead of us in 2nd place, while Portsmouth climbed up to the 3rd place, 2 points ahead of us.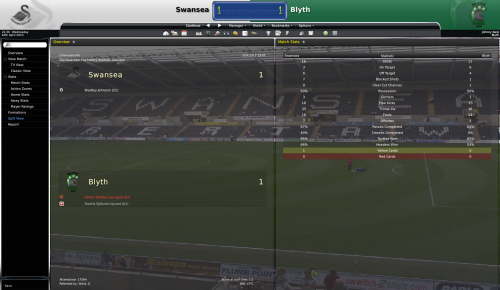 The next game was the most difficult of them all, at home against the league leaders, West Bromwich Albion. They certainly were the best team in the league, unbeaten in the last five games. On the other hand, we were unbeaten in the last 11 league games! The problem was that most of my first eleven players were very tired and I had no replacements due to the recent injuries. I told my lads to fight for their future and for the fans, we had to give everything out there, every last drop of energy. It was a beautiful football game, with both teams looking to score. My boys were doing great, even heroic at some points, they fought for every ball and tried to get it forward. When it seemed we were heading for a certain draw attacking midfielder Dimitriu Copil invented a great shot from inside the penalty area, it went straight under the bar! It was his 10th goal of the season and he picked the perfect moment to score it. The last 10 minutes were like scenes from a battlefield, WBA kept coming forward and my lads fought with everything they had to get that ball away from our area! The last four minutes of injury time seemed endless, West Brom were attacking desperately while my defenders were pushing themselves to the limit to keep them away. It was a heroic victory, a great display of determination and love for the club by my players. We had a week to patch our wounds and get ready for the next battle.
After this great result the table was even tighter at the top:
1. West Brom – 89 points
2. Portsmouth – 88 points
3. Stoke – 88 points (they drew 2-2 at home against Q.P.R.!)
4. Blyth – 86 points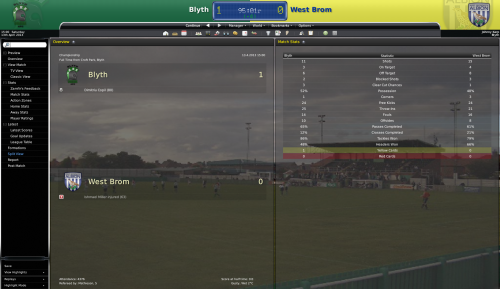 We had another home game coming up, the last match at Croft Park this season. We had to play against 7th placed Bradford, the team that won the League One title last season. They were fighting for the last playoff place, 3 points behind Southampton, so they had to get something out of this game to stay close to that 6th place. It was an even game and in these kinds of games the best players can make a difference. Luckily for us we had two players in great shape: Christian Short, our striker, and Fraser Forster, our goalkeeper. Short scored two great goals to give us a 2-0 lead and Forster made some miracles to keep that lead. It wasn't the best game but we just had to get those three point, it didn't matter how.
Portsmouth drew 1-1 at home with Southampton, so the situation was even tighter.
1. West Brom – 92
2. Stoke – 91
3. Blyth – 89
4. Portsmouth – 89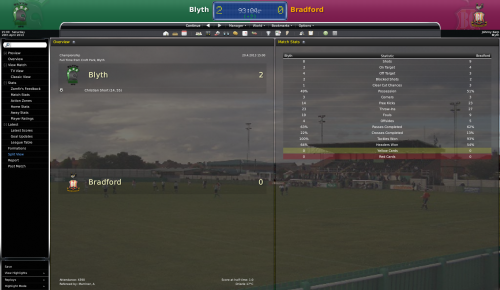 There were two more games to be played and the situation was still wide open. Our next game was away at Plymouth, a team that was having great difficulties. They were in 20th place with a terrible run of 14 games without a win. It was one of their last chances to get some points to stay clear of relegation. But we had higher goals and honestly we just couldn't miss the opportunity to beat a suffering team. Everything went OK, we were 2-0 up just before the break. That's when I should have decided to pull back and play on counter attacks but, for some reason, I wanted to score one more goal. It went wrong and it was my mistake. They made it 2-2 after the break but we had the strength to make it 3-2 immediately. My left winger got injured 20 minutes before the end of the game and I had already made all the substitutions. We did well to hang in there and finally we got the three points. We should have won by a bigger margin and it was only my fault that we didn't :( After the game I received some terrible news, Martin Panik's leg was broken, so he's going to be out for at least 7 months!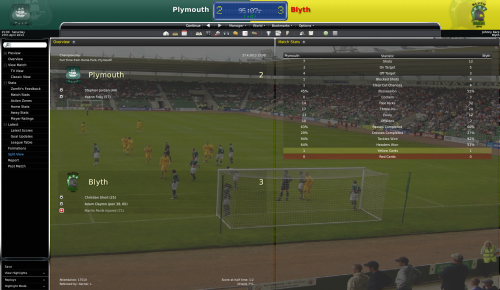 But there were some good news too. Stoke lost their away game at Reading, it finished 4-2! Unfortunately Portsmouth scored a lot of goals in their game, so they had a better goal difference than ours now!
1. WBA – 95
2. Portsmouth – 92 (+ 44 goal difference)
3. Blyth – 92 (+ 42 goal difference)
4. Stoke – 91
There was only one more game to be played and our chances of getting that 2nd place were quite slim. Portsmouth had to play at home against Reading, everybody predicted and easy win for them. West Brom were playing away at Peterborough, so they were in for at least a draw. We had to win our game, away at 16th placed Coventry, and hope.
We defeated Coventry 3-0 in December and they had nothing to play for now, they were not threatened by relegation. We did just enough to secure a win, we scored through a deflected shot in the first half. We couldn't do more than 1-0 and our chances of finishing 2nd were almost zero.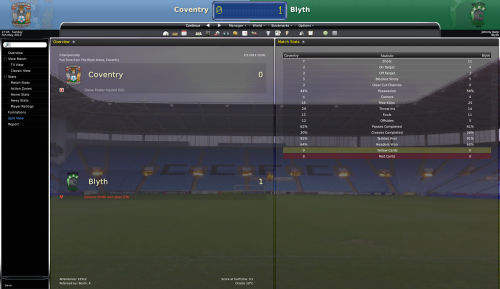 In fact, Portsmouth won their game 2-1 and West Brom drew 1-1, so we finished 3rd because of… two goals :( The good thing was that this 3rd place gave us a better chance of reaching the playoff finals. I'm a bit disappointed by the way it went, we were very close, too close to that 2nd place…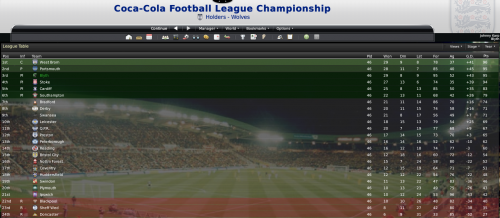 We will be playing against Southampton in the semi finals and the first leg will be away. If we'll repeat the league results against them, 1-1 away and 3-1 at home, we'll have no problems in getting to the final. I'd prefer to meet Cardiff in the final, but since Stoke had a poor run lately we could be able to beat them too. We'll see how it'll go, stay tuned to find out!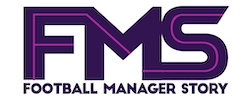 Subscribe to our Newsletter