Here we go, what did chilly February bring for my fabulous Blyth Spartans? Our fans could not believe what they were witnessing, their Spartans were the Premier League leaders at the end of January! Although I like to keep them optimistic I urged them not to get carried away, our goal was a Champions League place, not the title. I was a bit uncertain regarding the strength of my squad and I was a bit afraid of the tough matches that we had to play.
The first big test was at home with Liverpool. They were in 7th place but I couldn't forget that they defeated us 1-0 back in October at Anfield Road. Fernando Torres was injured now, so we had a big chance to get a better result. The way my players fought was unbelievable, they played really well and pushed Liverpool back throughout the game. We were quite unlucky though, very unlucky. It ended 0-0 although we had huge chances to score… We should have won this and the two points that we lost could be costly.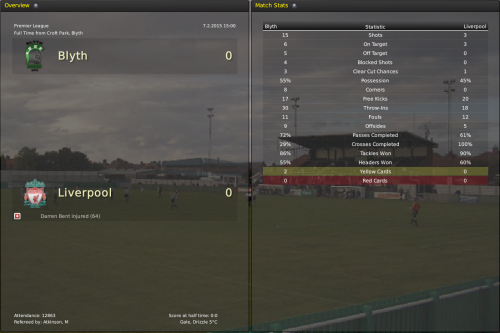 Next up, the first leg of the Europa League first knockout round, away at Dinamo Zagreb. I received some bad news before the game, my centre back Tiberiu Radulescu got injured, he'll be back in training after a month! That was a big blow, he played extremely well so far. We had to score at least one goal, that was what I was thinking before the game. My players did a lot better than that :) Cristian Suarez scored a quickfire double in the first half and then Mickey Wordsworth and Nicao scored another two in the second half, superb goals from both of them. There were also some bad news, left winger Tom Chapple got injured, he'll be out for 5 weeks!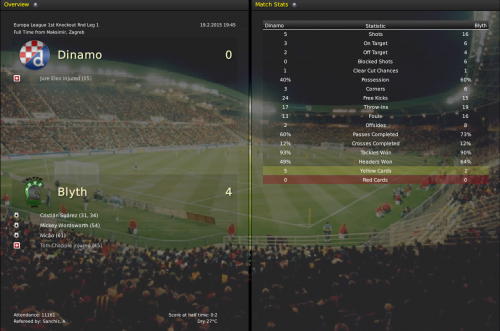 Our next game was surely not going to be as easy, we had to meet Arsenal… They were in 4th place and we didn't win against them this season, we drew 1-1 in September and got beaten 3-1 in the Carling Cup quarter final in December. We didn't beat them this time either, although we had a pretty good chance to do that. We were leading 2-1 at the break but my defenders had to work very hard in the first half to keep up with their amazing strike force. My fullbacks were pretty tired at half time but I was afraid to bring in the substitutes and maybe that was an error. I guess you'd better watch the highlights and judge that for yourselves.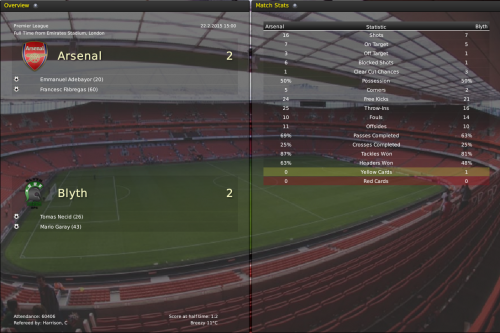 Despite the two draws we were still the leaders, two points above Manchester City!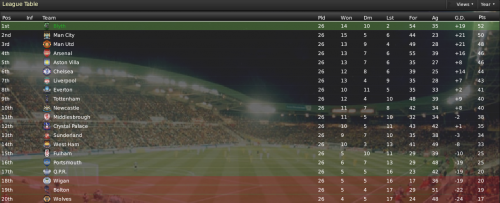 The last game of the month was the second leg of the Europa League tie, but the problem was already solved from the first leg. I had the chance to give the reserves and under 18 players an opportunity to prove themselves and they did pretty well. Midfileder Danny Osman (18 years old) and striker Jason Warren (21 years old) scored their first goals for the club, I guess the future looks good :)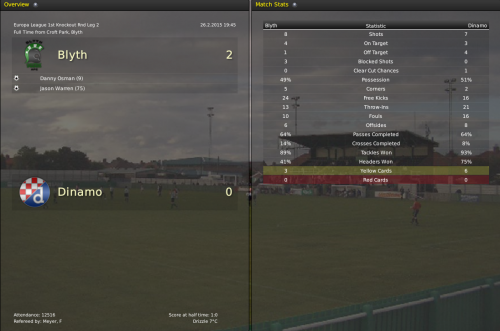 We will play against Dutch side AZ Alkmaar in the next round, they knocked out Atletico Madrid! It won't be easy but what will be even more challenging is the first game in March, away at 2nd placed Manchester City! Then we'll have Chelsea coming at Croft Park, there will be great entertainment!

Now I have to think about a way to neutralize Vagner Love… Any ideas? :)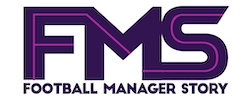 Subscribe to our Newsletter