Hello my friends, we're getting closer and closer to the conclusion of this fantastic season with my Blyth Spartans in Coca-Cola Championship. Instead of battling bravely against relegation as everybody predicted at the start of the season we were in 4th place at the end of February! We had a good chance to get a playoff place at the end of it, but the six games that we had to play in March were going to be decisive.
First we had to play away from home at 23rd placed Sheffield Wednesday. You could say we had an easy one ahead of us, but after I checked their latest results I was quite worried. They just defeated Portsmouth 2-1 at home! However, I told my players that we had to win this. They didn't play particularly well but it was just enough to secure a 1-0 win and three important points.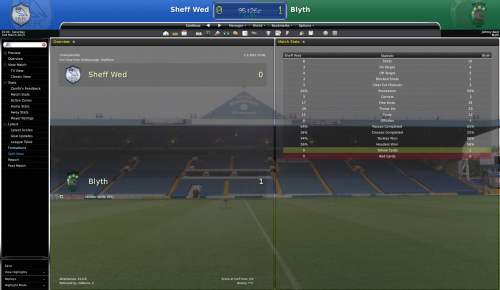 The next game was against one of the biggest disappointments of the season, Nottingham Forest. They were in 14th place but they still had very good players that could cause problems to any team in the league. They defeated us 2-1 in October, so we had to get revenge with the help of our fantastic fans. I had to bring in several backup players in the first eleven for this game, many of my first team regulars were beginning to show signs of fatigue after the last tough games. We had the game under control throughout the 90 minutes but we conceded two goals which we could have easily avoided. We could even have scored more,  but at the end of the day it's the three points that matter. However, our defensive display was a bit concerning.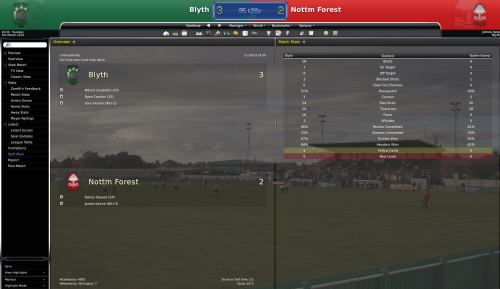 Next up, a very difficult away game at 12th placed Derby County. We defeated them 2-1 back in November but it wasn't easy, so I expected a very tough game at Pride Park. Derby were all over us in the first half but didn't do enough to score a goal. We had a few good chances on counter attacks but we just couldn't get it in. The second half was the exact opposite of the first. We came out all guns blazing, it seemed like we were going to score but a quick counter attack gave Derby the lead. We continued to pile up the pressure and we finally hit the net when there were less than 10 minutes to be played. It was a very good game, highly entertaining with both teams playing well.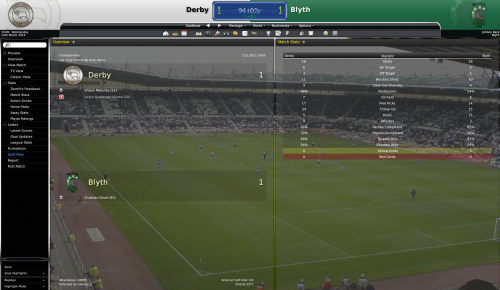 After the good away draw we had to win the next home game but it wasn't going to be easy. We had to play against 13th placed Reading, a team that defeated us 2-1 in November. The game began in the worst possible way for us, Reading scored exactly 16 seconds after the first whistle! We scored the equalizer pretty fast after a good run on the right wing from Mario Garay, he forced Shittu to put the ball into his own net. Shane Long punished us again after 20 minutes, it seemed that my defenders just couldn't keep him at bay. We came back again before the break so the first half ended 2-2. We were losing the ball easily in midfield, maybe because Oswaldo Chaurant was out due to an injury… The game was quite even in the second half but Rhys Williams was determined to compensate his errors in defense with a good performance in the opposition box. He was absolutely outstanding in the last 20 minutes, he scored two identical goals from corner kicks! He also played a lot better in defense after scoring the first one :) We suffered a lot in this game but we earned another three points.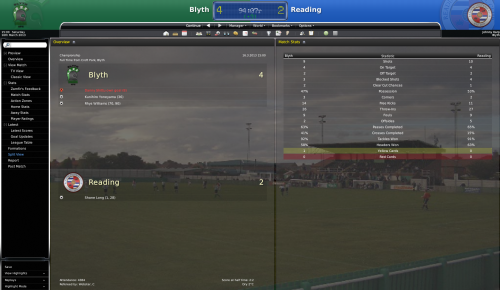 Next up, an easier away game at newly promoted Swindon. They were in 18th place and we had a lot of fun with them in November at Croft Park, we defeated them 3-0. We controlled the game from the first minute to the last and it was young striker Christian Short that opened the scoreboard with a powerful shot from 25 yards out. We played economically in the second half, not spending too much energy because we were going to need that later on. A solid away win that kept us in 4th place.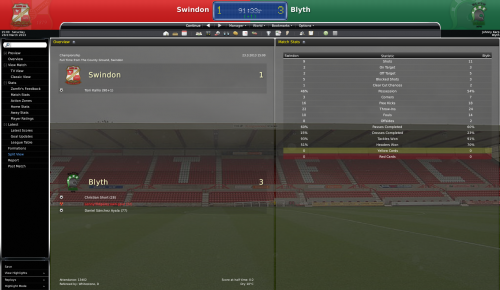 The last game of the month was going to be another easier one, at home against last placed Doncaster. They were almost relegated and everybody thought that they were by far the weakest team in Championship. However, we had to do enough to secure a win and since I had first team players away on international duty it wasn't going to be that easy. I felt more relaxed after the first 15 minutes, we were already up 2-0 and playing well. We conceded a free kick goal but we kept their defense busy throughout the match.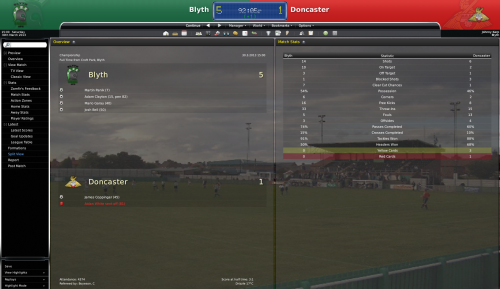 And now, take a look at the table! The biggest surprise is that Stoke had a bad run of results lately so they lost the first place to West Bromwich Albion. We were in 3rd place, only 2 points behind Stoke! It's going to be a tough battle in the last six games and we have a chance to get automatic promotion to the Premier League! Somebody please pinch me, I might be just dreaming :)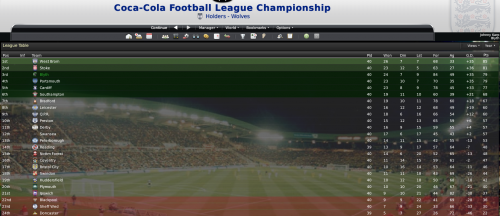 My very young Lithuanian midfielder, Linas Urbsys, was picked as Young Player of The Month, a good achievement for the youngster. He's one of the best prospects in my team and I hope that he will become a very good player in a few years.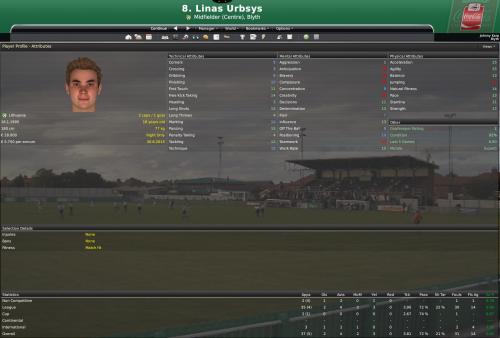 There was an award for me too, Championship Manager of the Month. Five wins and a draw, I guess I deserved a medal :)

We have another 6 games ahead of us and the bad thing is that only two of these will be at home. And one of those two is against WBA, so it's going to be incredibly tough to get a win. The away games are not against very good teams, most of them are mid-table sides, but every one of these matches will be very difficult to win. Considering the fixtures I don't think that we have a big chance to get that 2nd place, it would be very good if we could hang on to the 3rd in order to play against Southampton or Bradford in the playoff semifinal.

What do you think? Can we get the second place and automatic promotion?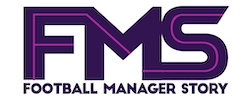 Subscribe to our Newsletter