Hello my friends and welcome back to my Football Manager 2009 story. The year 2012 ended quite nicely for my Blyth Spartans, we were in 5th place after 25 games played in Coca-Cola Championship. Our main weakness so far have been the away games, we only managed to win twice away from home in the first half of the season.
But we had a chance to improve that record right on the 1st of January 2013, we had to play away at Blackpool, a team that we defeated 3-0 in August. Blackpool was in 22nd place before the game and I definitely hoped for an away win. We dominated the first half and it finished 2-1 as Oswaldo Chaurant celebrated his return after an injury with a great goal. We had a lot of fun in the second half and young attacking midfielder Josh Bell had the chance to score his first goal for the club. And he didn't miss it. A good solid away win, just what the doctor prescribed ;)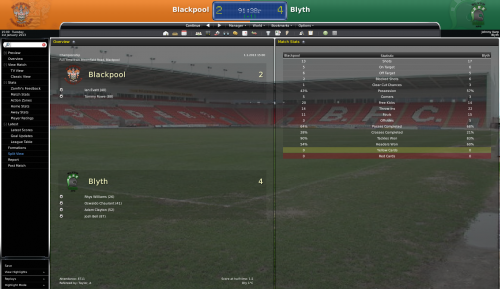 The draw for the FA Cup was made and we were quite unlucky with that: we got to play against Arsenal at the Emirates Stadium! Well, we had nothing to lose and I told my lads to have fun out there and maybe learn a few tricks from their illustrious opponents. We fought bravely, we even were quite heroic in defense at some points but finally we were not able to get more than a 2-0 defeat. The man of the match was French striker Kevin Gameiro, bought by Arsenal for 10 million euro from Lorient, he scored two fantastic goals. The big and nice surprise came after the game when I checked my club's financial status again. We received around 1.3 million euro in gate receipts from this game! Hurray! We were no longer in debt!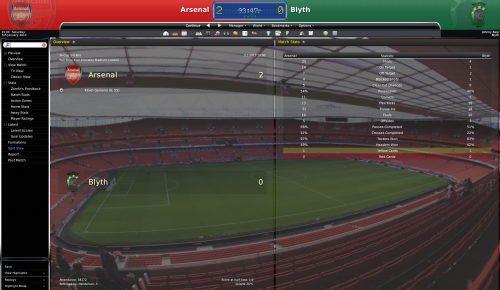 After the nice trip to London we had to get back down to earth as we had a crucial home game ahead of us, against 7th placed Preston. They defeated us 3-1 back in August, so I was sure that it was going to be a tough game. We played very well in the first half and Oswaldo Chaurant was again the main threat to their defense. By the time the first half was finished he scored a goal and produced an assist, a great performance. Unfortunately we conceded again just after the break and it was all square, 2-2, although we were playing better than our opponents. My young striker Gary Horner decided to show a bit of courage and a glimpse of his talent in the 76th minute and scored a wonderful goal, a powerful shot from the edge of the area. An important win for us and another 3 points that took us to the 4th place in the Championship table!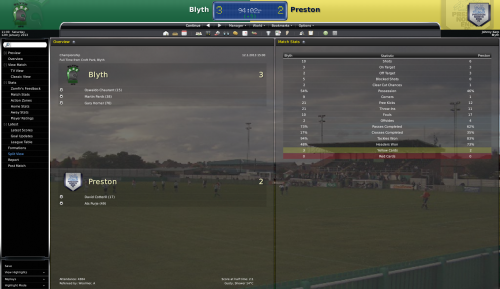 We were looking good and playing well, we had to keep up the good form in the next game. Fortunately it was an easier task, a home game against 21st placed Ipswich, a team that we defeated away from home 2-0 in September. The game was pretty quiet indeed, we didn't have to show too much skill to win it 2-0. It was our third win in a row and that brought us to the 3rd place in the table!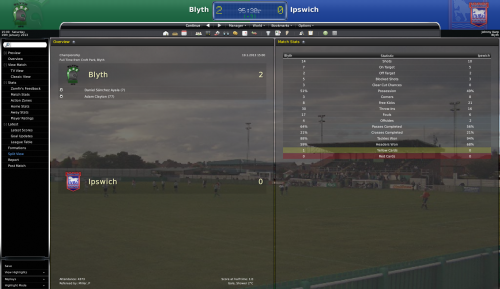 The last game of the month was again the most difficult, away at the leaders of the league, Stoke. They were the only team that managed to beat us at home, a clear 2-0 defeat in September at Croft Park. They were in great form, unbeaten in the last 10 league games, it was going to be a tough match. It got even tougher after Alan Smith proved his skills by scoring an early goal. I was pleased to see that my players reacted well and dominated the game after conceding the goal. We managed to score an equalizer before the break and things were looking good, we were dominating Stoke in front of their own fans! The second half began pretty well too, we created some chances but we just kept missing. Stoke punished us in the 68th minute and we were not able to react again, they dominated the rest of the game. Maybe we deserved to get a draw but that's football, you can't score if you don't get the shots on target.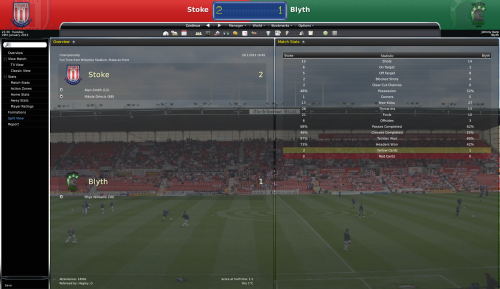 The defeat, our first in 8 league games, brought us back in 5th place. Still looking good for a playoff place but we had to be more accurate in attack.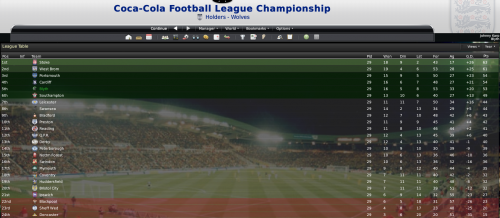 The player that impressed me this month was Czech regen left winger Martin Panik. I bought him last season because I believed in his talent and he seems to develop nicely although he had a few injuries that kept him out for quite some time in the first half of the season. Now he seems to be back in top form and I hope that his great pace will produce a lot of goals for us from now on.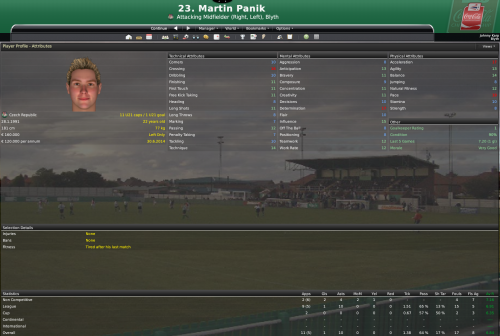 I tried again to get a few players on loan to make my squad better but unfortunately I didn't have any luck, all the good listed for loan players refused to come on loan to Blyth. And now I made offers for players all over Europe, from England to Scotland, Italy, France, even Romania. It seems that I have to do my best with the current squad and so far it went quite OK as we didn't have too many injuries. If my lads will be in good health until the end of the season I think that we have a good chance of getting a playoff place. Next month will be decisive because we have three crucial games: away at Portsmouth (3rd) and Cardiff (4th) and at home against Southampton (6th).  It's important not to lose any of these games, I'd be happy with two draws and a win but I'd settle for three draws :)
Thanks for following the story, I'm looking forward to reading your comments ;)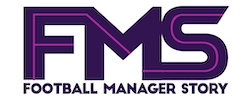 Subscribe to our Newsletter