Hello my friends, here we go again… My Blyth Spartans had to wake up after the endless parties after bringing home two unexpected triumphs, the Premier League title and the Europa League. We were no longer an anonymous club somewhere in Northumberland, we were a well respected and feared team. I knew that I had to consolidate our position and maybe go for another title.
I expected a nice transfer budget, around 50 million euro, but the board proved to be kinda cheap again. They only gave me 37 million euro after promising them that we would challenge for the title. I was a bit disappointed to be honest.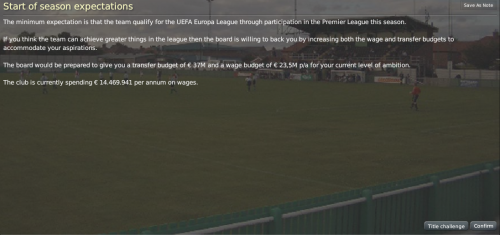 Anyway, I went on and sold some of the backup players to get more money for transfers and also for the wage budget. The only player that I didn't want to sell was right winger Mario Garay but since he had some arguments with a few teammates I decided to let him go. I also decided to let Roman Pavlyuchenko move to another club, his contract expired and although I liked him a lot I just couldn't keep him in the reserves squad.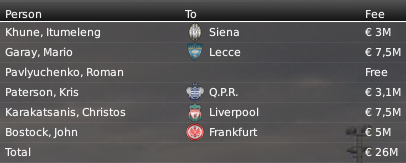 I brought in 10 players instead, three youngsters for the future and seven lads for the first team.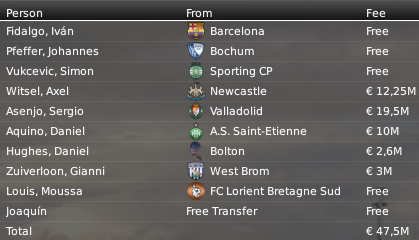 I was obsessed with getting a better goalkeeper, although Silviu Lung did pretty well last season. I just wasn't satisfied with his slow pace when coming off the line to intercept long balls, I wanted a world class goalkeeper. And they don't come cheap, you know… After long negotiations I persuaded Valladolid to sell Sergio Asenjo, last year's European Goalkeeper of The Year. He did cost a lot and maybe it wasn't the wisest decision to spend almost 20 million euro on him but as I said, I was obsessed…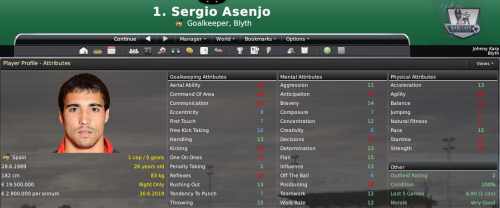 I also needed another experienced centre back to fortify my defensive line and since the price tag was quite affordable I chose Dutch player Gianni Zuiverloon. He's a reliable defender that can also provide backup for the right back role.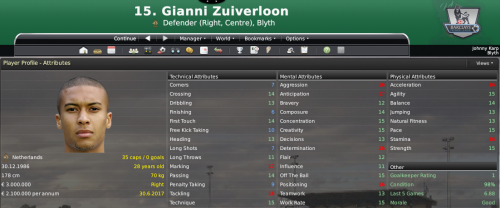 I wanted another central midfielder too, we had a lot of problems there last season due to the lack of depth. Belgian intelligent midfielder Axel Witsel was transfer listed at Newcastle, so I made an offer and I was delighted when he chose our offer over Arsenal's bid! He is creative and hard working, that's what I want from my midfielders.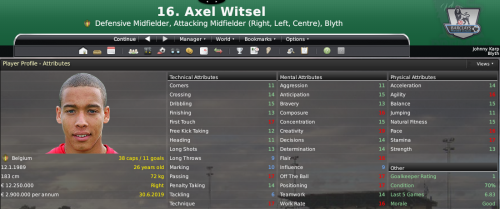 I really didn't need another midfielder but since Simon Vukcevic's contract with Sporting Lisbon expired I had to act, it was a bargain! He will be an important jolly joker in my midfield, a player with enormous talent and unbelievable skills, he could clinch important games for us.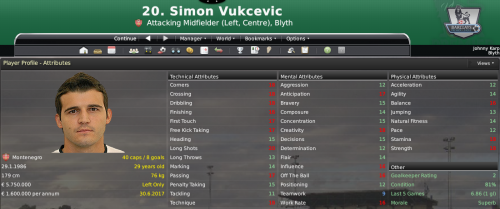 I also needed a backup player for the right wing but since I had no money left I had to go for a free transfer. The best player I found under the circumstances was veteran Spanish winger Joaquin… He doesn't have the pace anymore but he still has the skills to cause trouble to the opposition. Anyway, he's a short term solution, I might replace him in January if I get some transfer money by then.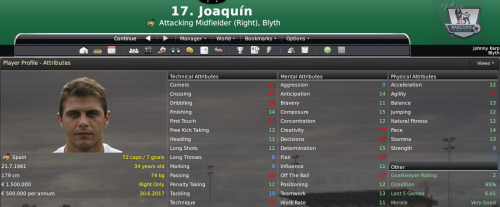 Last but not least, a new striker. I wanted a quick creative striker that could also be a backup solution for the left winger role and after some searching through my shortlist the choice was narrowed down to two players: John Fleck from Rangers and Daniel Aquino. Fleck was out with a bad injury, I couldn't sign him, so I went for the Spanish striker. I'm satisfied with the choice though, he has great skills and I can't dare to imagine what he'll do with Nicao alongside him…
Meanwhile Arsenal spent almost 100 million euro on 4 players!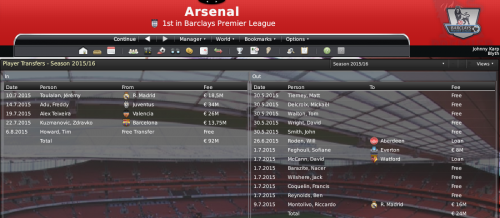 Maybe that was the reason for the bookmakers' choice, Arsenal were the favorites to win the title according to them.

They predicted that we had a chance :) Well, we won it when we had no chance at all, didn't we? I'm pleased with the squad depth overall although a bad injury crisis could pose us a lot of problems. Anyway, let's be optimistic, we have the UEFA Super Cup in August, we'll face Real Madrid!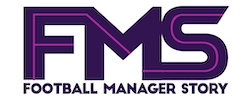 Subscribe to our Newsletter