Here we are, the final month of a glorious season for my Blyth Spartans. We already had the Premier League title and the Carling Cup in the bag but since we liked the sweet taste of success we thought that it wouldn't hurt to go for the FA Cup and the Champions League too :)
We started off with an entertaining home game against Liverpool, my boys had fun out there and Nicao produced another wonderful display.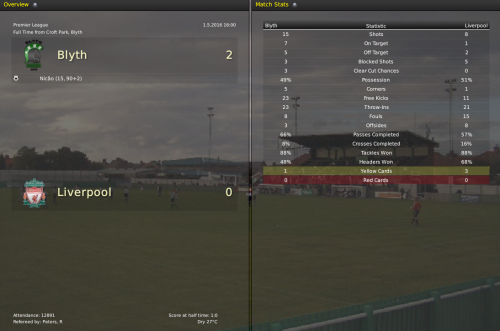 It was just a rehearsal for the Real Madrid game though… We won the first leg convincingly at Croft Park, 4-1, and their best midfielder, Lassana Diarra, was suspended for the second leg. We had a huge chance to get through to the final so I decided to protect my centre back, Tiberiu Radulescu, as he was only one yellow card away from suspension.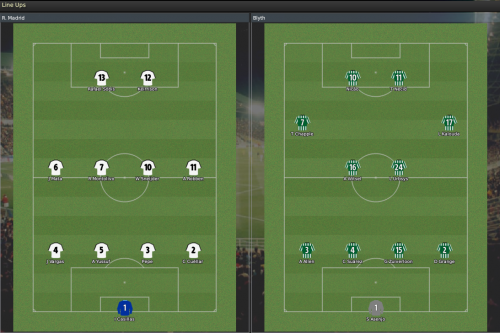 The game started perfectly for us, Tomas Necid produced a penalty kick and Damien Grange converted it, he never missed from the penalty spot in the two seasons he played for the Spartans. Juan Manuel Mata was sent off a few minutes later, he made a horrendous tackle. We scored again in the 18th minute and it was all clear, we couldn't lose it anymore. That's why I decided not to pull back, there was great entertainment at Santiago Bernabeu. I admired Real Madrid's determination to fight on even though the game was lost for them, that's how a big team should behave. We were through to the final, you can't imagine the joy I felt…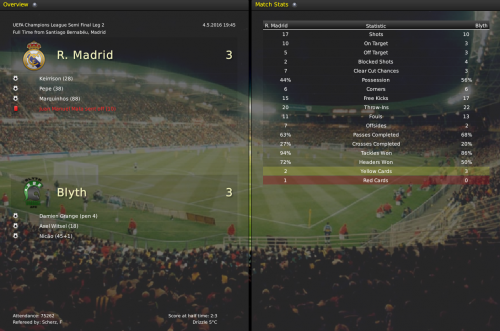 We were going to meet Olympique Lyonnais in the final at Nuevo Mestalla in Valencia. They had a very good team, with Benzema and Pjanic as their stars but also with a great keeper, Hugo Lloris. They knocked out great teams on their way to the final, I expected a very tough game.

Until then we had the last three league games to play. I rotated my squad carefully in those three games in order to have all my important players healthy for the final two games, the FA Cup final and the Champions League final. We played pretty well even though we lost at Aston Villa, my young backup players were showing signs of getting used to the pressure of first team football.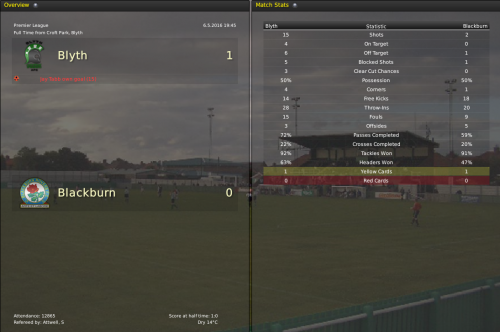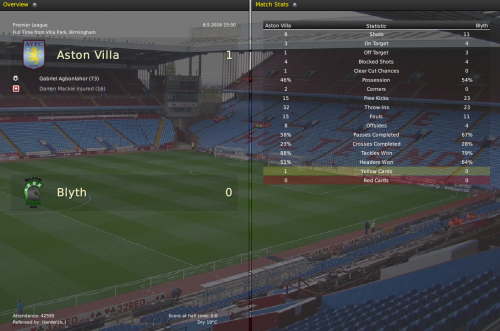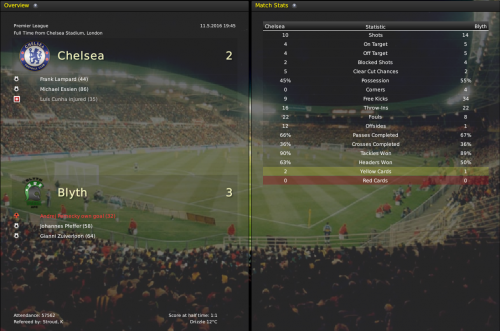 Here's how the final Premier League table looked like, with considerable daylight back to the other title contenders :) Twenty points above Arsenal, who would have thought about such a thing…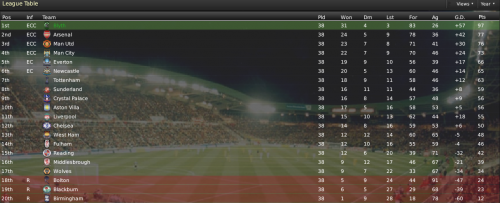 Now let's get back to the more serious business, the FA Cup final was around the corner, we were going to meet Tottenham at Wembley Stadium. We always had difficult games against them and I didn't expect this one to be different. We played very well though, I ordered my players to mark their two strikers tightly, Acquafresca and Sukuta-Pasu, they possess great pace and skills. We scored a beautiful early goal, Suarez made a great interception, Chapple played a nice direct pass and Nicao finished it off with a perfect strike. In the second half I decided to send in Daniel Aquino, he slowly recovered from his terrible injury, and he produced a breathtaking display! Pay attention at his second goal, absolutely magnificent!
We won it! Another trophy in the bag, just what we needed before the Champions League final battle! Tottenham had a happy ending to their season though, they won the Europa League after they defeated AC Milan on penalties!
And now, the biggest game of them all, the Champions League final! Lyon were missing an important player, Karim Benzema was injured. They still had great players in the starting eleven though, a great goalkeeper and a very strong midfield. On the other had I had all my important players in good health, so I was quite optimistic before the game.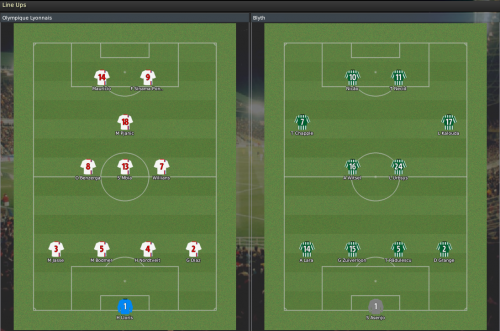 The first half was fairly even, Lyon missed a couple of chances but I have the feeling that we could have taken the lead before the break. Anyway, it was an entertaining first half with some great attacking plays. Have a look!
At half time I decided to send in Mickey Wordsworth to replace Axel Witsel and I got lucky again, Wordsworth played a perfect pass for Nicao and the Brazilian passed into the net! We controlled the second half and never allowed Lyon to create too much danger…
The Blyth Spartans won the Champions League! How does that sound? :)
I'm also going to reveal a funny aspect… When Nicao banged that one in I found myself shouting "goal, goal, get in!" :) My girlfriend wasn't aware of the fact that I was playing the Champions League final, so she rushed into the room looking pretty scared :)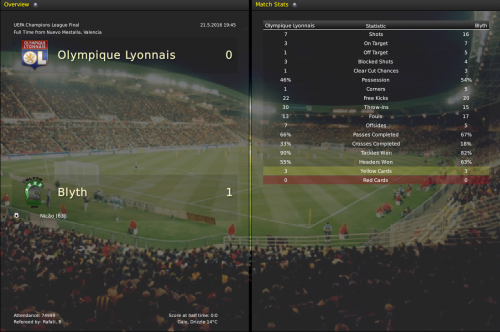 With these great results I was announced that I made it into the England Hall of Fame!


I was already a legend for the club, I guess they love me :)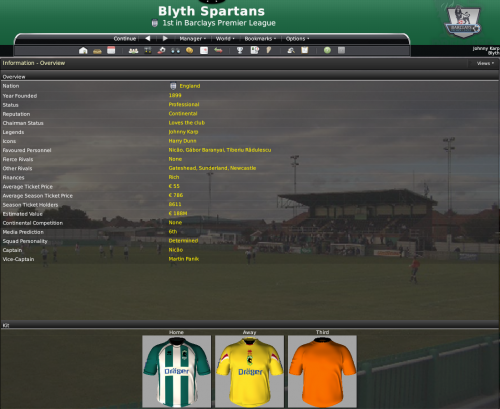 With all the prize money the club was in a pretty healthy financial position, 65 million euro in the bank at the end of the season!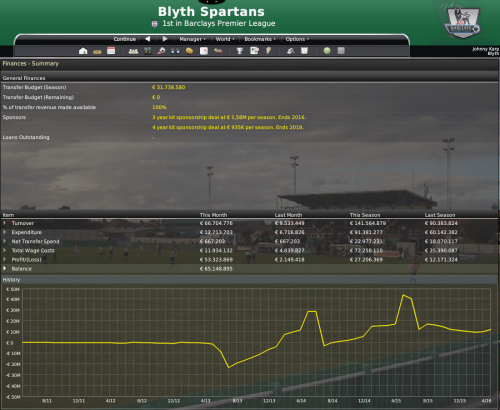 So, what's next? Well, I might need a day or two to chill out :) Then I'll try to think about a strategy for the next season, some of the players might want to leave the club to seek new challenges, so I guess I'll let some of them go and look for better replacements. I can't think about transfers right now though, I'm too friggin happy!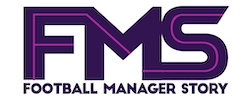 Subscribe to our Newsletter