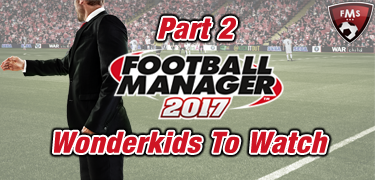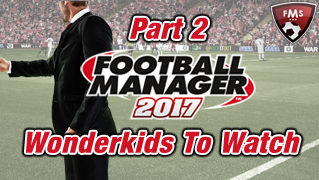 Follow this link for our full FM 2017 best wonderkids shorlist featuring 217 hot prospects. Or follow our in depth player profiles on the Scouting Network.
Welcome to part two of our top ten, looking at some youngsters that we believe can be FM 2017 wonderkids. As said in part one, we won't list players that have already been great in FM 2016, we'll be focusing instead on some lads you might not know about but that have proven in real life that they have great potential. Let's see what we have…
Oliver Burke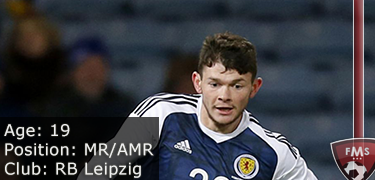 This lad has been compared to Gareth Bale, even though he is not Welsh. He is Scottish and he has already broken a record as he became the most expensive Scottish player in history. He had joined the Nottingham Forest youth academy as a kid and made his professional debut in 2014, at the age of 17. He scored 6 goals in 25 league appearances for Nottingham Forest, broke into the Scotland senior national team and then made the big move. This summer he was being linked with several big clubs, including the likes of Arsenal, Barcelona, Bayern Munich, Manchester United and Tottenham Hotspur. Somehow Bundesliga club RB Leipzig beat everybody to his signature, they gave him a five-year contract and Nottingham Forest got around 13 million pounds.
He is a right winger that many compare to Gareth Bale, simply because he displays the same power and speed on the flank, making his opponents shiver just at the thought of facing him. He had -7.5 potential in FM 2016, I'm pretty sure it will be quite a bit higher in FM 17.
What can we expect from this FM 2017 wonderkid? He is a fast lad, strong and always willing to take the ball and run with it, plowing that right flank for 90 minutes. Unfortunately we won't be able to sign him at the start of a new FM 17 save since he has just signed the contract with RB Leipzig and most likely they will want a whole lot of money for him.
Oliver Burke stats
2014-2016 Nottingham Forest: 25 appearances – 6 goals
2016 Scotland national team: 3 appearances
Oghenekaro Etebo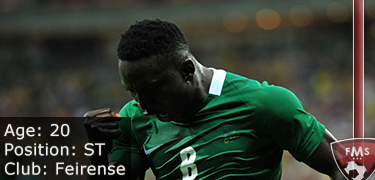 This youngster seems to be the latest piece in the collection of great Nigerian strikers that have produced loads of goals throughout the recent history of football. Until this summer he has only played for his boyhood club, Warri Wolves back in Nigeria. From 2013 he started to play for them in the top flight and bagged an impressive 23 goals in 64 appearances. Where he impressed even more was at the Nigeria Under 23 national team, he scored 11 goals in 17 matches while at the Rio Olympic Games he bagged four in a single match. In January he joined Portuguese top-flight outfit Feirense on a free transfer, made four league appearances for them since and scored three goals!
He has also broken into the senior Nigeria national team, scoring five goals in seven appearances. It seems he can score for fun pretty much everywhere. He has won two awards already, the Most Valuable Player of the U-23 Africa Cup of Nations last year and the Most Promising Talent of the Year in January 2016.
What can we expect from this wonderkid in FM 17? He had just -7 potential ability in FM 16, that will surely change because he has proven to be a lethal striker with a lot of potential. He still plays for a small club, so signing him might prove quite doable, even cheap (hopefully). He is not tall, but he is very strong and quick, similar to Carlos Tevez to that respect. His nickname back in Nigeria is "Thunderbolt".
Oghenekaro Etebo stats
2013–2015 Warri Wolves – 64 appearances, 23 goals
2016 Feirense – 4 appearances, 3 goals
2015 Nigeria U-23 – 17 apps, 11 goals
2013-2016 Nigeria – 7 apps, 5 goals
Franck Kessié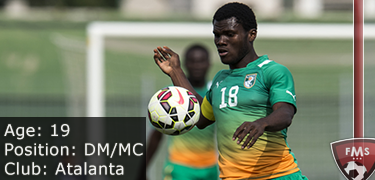 This lad is an emerging talent from Ivory Coast, signed by Italian side Atalanta in 2015 from Stella Club. He has already scored twice for Atalanta, even though he is a defensive midfielder. Last season he was sent on loan to Cesena in order to get more first-team football and he did, scoring four times in 37 league appearances. He has been already called up at the Ivory Coast senior national team, a squad where there surely is fierce competition for places given the amount of talent in the nation. This summer he has been linked with a move to AS Roma but the transfer never happened, so he started the season with Atalanta. In fact, he has already scored three goals this season in just two league appearances!
What can we expect from this FM 17 wonderkid? I surely expect a much better potential ability, as he had just -7.5 in FM 2016. He is a strong and quick lad, capable of playing at the heart of the defence and also as a midfielder. He has good ability on the ball, great passing it seems and also very good positioning and decent heading as well.
Franck Kessié stats
2015-2016 Atalanta 2 apps, 3 goals (3)
2015–2016 Cesena (loan) 37 apps, 4 goals (4)
2013 Ivory Coast U17 5 apps
2015 Ivory Coast 4 apps
Enes Ünal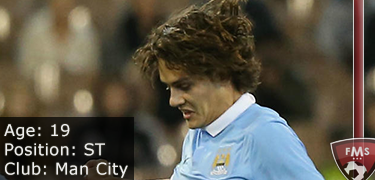 This young striker has been on our radar for quite some time, he had decent potential in previous editions of the game but never really that of a world class wonderkid. This time things could be different though. He was the crowd's favourite at Bursaspor back in Turkey and his talent attracted scouts from the world's biggest clubs. Manchester City bought him in the summer of 2015 for 2 million pounds and then started moving him around on loan. His last two spells on loan in Holland were quite productive, he scored a bunch of goals and also made his debut in the Turkey senior national team.
What can FM 2017 bring for this wonderkid? Well, he starts on loan at Twente, so he most probably will be impossible to sign at the start of the game. In FM 2016 he had -8 potential ability, pretty good but it might be slightly better in FM 17. He has started to score goals on a regular basis, something that he lacked in previous years. He is just 19 years old, so plenty of room and time for him to progress.
Enes Ünal stats
2013–2015 Bursaspor 35 apps, 4 goals
2015–2016 Genk (loan) 12 apps, 1 goal
2016 NAC Breda (loan) 11 apps, 8 goals
2016– → FC Twente (loan) 3 apps, 3 goals
2012–2013 Turkey U16 24 apps, 25 goals
2012–2014 Turkey U17 12 apps, 9 goals
2014– Turkey U19 4 apps, 6 goals
2013– Turkey U21 13 apps, 3 goals
2015– Turkey 2 apps
Diogo Jota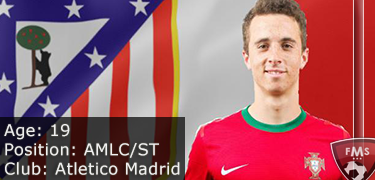 This youngster is one of the most promising talents in Portuguese football, elected young player of the year last season in the Primeira Liga. He started his career at Pacos Ferreira and after producing 14 goals and 10 assists last season he was bought by Atletico Madrid for 7 million euro. He was immediately sent out on loan back home at FC Porto, but Atletico expect great things from the lad. Apparently he also had offers from Arsenal and West Ham but eventually chose the Spanish club. He is a creative attacking midfielder, with a strong right foot and excellent passing ability.
What can this FM 2017 wonderkid produce in the game? In FM 2016 he already had a very good potential ability, -8.5, and that might become even better in the new game considering his high-profile transfer this summer. The talent is surely there so it's worth keeping an eye on this 19-year-old talent.
Diogo Jota stats
2014–2016 Paços Ferreira 41 apps, 14 goals
2014–2015 Portugal U19 9 apps, 5 goals
2015– Portugal U21 1 app
2016– Portugal U23 1 app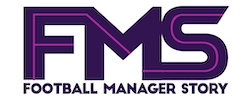 Subscribe to our Newsletter