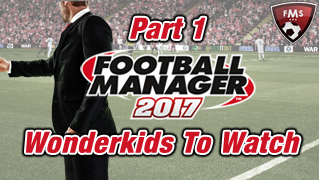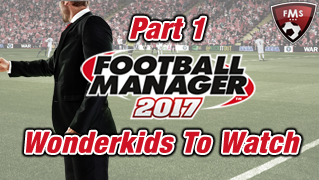 Follow this link for our full FM 2017 best wonderkids shorlist featuring 217 hot prospects. Or follow our in depth player profiles on the Scouting Network.
Hi guys and welcome to the first of a two part series on FM 2017 wonderkids to watch. We may have a month to endure before Football Manager 2017 is released, but here at FMS we have a decent track record of predicting the 'new kids on the block'. This list will not include the likes of Barbosa, players who established themselves within FM16, instead we aim to predict the new generation of FM 2017 wonderkids. Players who were underrated in previous years or enjoyed a very successful 2016.
Leon Bailey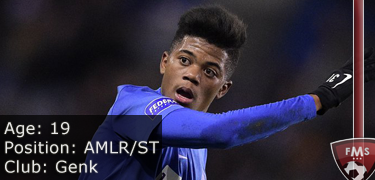 Leon certainly has a story, reportedly faking his own kidnapping in Mexico before turning down Chelsea to remain with Genk the kid is nothing if not controversial. He is however extremely talented and should join the elite list of FM 2017 wonderkids. Legend Ronald De Boer once said of the Jamaican "He's got it all. Like all the other players, he underwent a series of tests at the club. When it came to speed and agility he did better than several first team boys. He's so quick, it's not normal. He couples that with great technique, an exceptional combination. What are his weaknesses? I couldn't tell you.
The SI scouting team awarded Bailey -8 flexible potential for FM16, this has to increase for FM 2017. Bailey played the entire season, lighting up the Jupiler Pro League and started the new campaign with a bang. I reckon SI may stretch to -9 potential but should settle for a minimum of -8.5.
What can you expect from Bailey in FM 2017? The kid is fast, very fast and extremely agile. Expect flair, dribbling skills and creativity. The young Jamaican is left footed and prefers playing from AML, so may be best used as a winger but inside forward could suit as well. I'll put my neck out on this kid, expect one of the best FM 2017 wonderkids, he'll form part of my first search!
Leon Bailey stats
2016/17 Genk (until September): 11 appearances – 4 goals – 3 assists
2015/16 Genk: 42 appearances – 7 goals – 11 assists
Amadou Diawara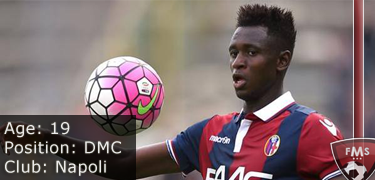 Amadou Diawara is a defensive midfielder spotted in the Italian lower leagues while playing for San Marino. Bologna payed a nominal fee before throwing Diawara straight into the fold. The hot prospect took to life in the top flight of Italian Football, increasing his stock during 34 appearances, which led to heavy interest from Chelsea, Aston Villa, Napoli and even West Ham. At the time of writing Amadou has just agreed a deal with Napoli, good news for Amadous career, bad news for FM17 enthusiasts.
Diawara was rated -7 flexible potential in FM16 but I'd expect this to rise massively. SI should most likely award him a -8.5 to -9 flexible potential or fixed amount to the same effect. FM researchers only had Diawara's lower league form to go off last year, so his rapid rise in Serie A should show come FM17's release.
What should we expect from this FM 2017 wonderkid? Lightening fast this kid can tackle and read the game. His ability to intercept play will be excellent, Diawara should also posses good passing ability and decent dribbling. At times a ball winning midfielder he will most likely be best used as defensive midfielder or regista. This kid gets involved in all phases of play and expect handy mental attributes, he has a mature head on young shoulders.
Amadou Diawara stats
2015/16 Serie A (Bologna): Appearances: 34
2014/15 Lega Pro Girone B (San Marino): Appearances: 15
Kasper Dolberg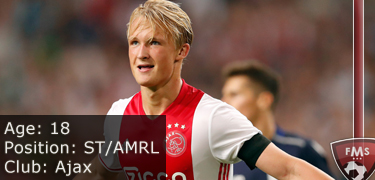 Ajax signed Dolberg in 2015 shortly after making his first team debut for Silkeborg. The young Dane hasn't looked back since, establishing himself as a creative force around the Ajax Jong squad in 2015/16. Promoted to the first team this season promises great things for Kasper, demonstrated by a quick 3 goals from his first 5 senior appearances.
SI awarded Dolberg a potential rating of -8 for FM16, we can expect at least -8.5 this year and an exciting player in the making. The Dane may reach even dizzier heights
Dolberg is fast, light on his feet and possess a fair amount of flair capping off great all round technique and dribbling ability. I reckon false nine, deep lying forward or other supporting roles will suit best but the Dane is sure to possess reasonable finishing and a secondary role of inside forward could be possible.
Kasper Dolberg stats
2016/17 Ajax 1st team (until 24/08/16): 8 appearances – 3 goals – 1 assist
2015/16 Ajax U19's: 22 appearances – 8 goals – 1 assist
Ousmane Dembélé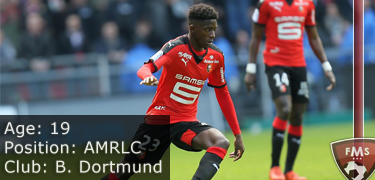 Dembele spent his early years with little known Evreux before joining Stade Rennais in 2014. One season in the second team was enough to convince the clubs hierarchy they'd hit gold, Dembele then lit up Ligue 1 during his debut season last year. 12 sensational goals and some magical assists attracted the attention of every top club in Europe, but Ousmane opted for Dortmund in 2016.
Ousmane started FM16 with -8 flexible potential, fair considering his club form in France. This should rise to nearer the -9 mark for FM17 however, Dembele was scintillating during 2015/16 and attracted a move to Dortmund.
We can expect a lot more than pure potential from one of the best FM 2017 wonderkids. An attacking midfielder by trade I expect his best role to be inside forward from the AMR position. Comfortable with both feet, amazing ball control, dribbling and flair Dembele caps this list off with lightening pace and deadly instincts in front of goal. A true technician with creativity in abundance, this kid will be the magic and spark. Don't expect much defensively, though it would be a crime to deprive him of attacking the goal so that isn't a bad thing.
Ousmane Dembele stats
2015/16 Stade Rennais: 29 appearances – 12 goals – 5 assists
Victor Osimhen
Victor Osimhe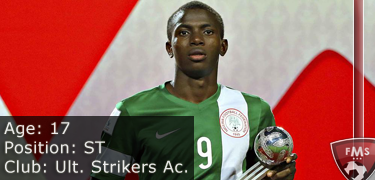 n could be one of many FM 2017 wonderkids. A Nigerian striker, Victor has agreed to sign for Wolfsburg from Nigerian based Ultimate Strikers Academy in January of 2017. Osimhen starred during Nigerias 2015 under 17 World Cup with some stunning displays. 10 goals followed 7 appearances, doubling the tally of his nearest rival to the Golden Boot award. As the suitors lined up, Arsenal, Anderlecht and Tottenham were reportedly turned down in favour of a move to Germany.
Osimhen deserved a better potential ability rating in FM16, awarded just -8 maybe due to his lesser known club status. However, a move to the Bundesliga will lead to high exposure and may convince the scouting team to lift this lads ability. He has received many plaudits in the real world of Football including the 2015 Confederation of African Football (Caf) Youth Player of the Year.
What should we expect from this FM 2017 wonderkid? Great all round ability, I'd expect Osimhen to be a threat in the air, possessing great pace and strength. He should be an out and out forward with good finishing and if reports can be trusted good dribbling ability.
Victor Osimhen Nigeria stats
2015 U17 World Cup: Appearances: 7 / Goals: 10 (Golden boot award)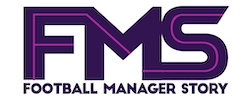 Subscribe to our Newsletter