Hey Everyone!
Finally I have managed to play my Valencia CF save and I am pleased to bring you the results up to the half way point of the first season. If you remember in my opening post I was going to try and help this debt ridden side get out to the red but, with everyone knowing FM2012 is fast on its way, this save will only be a few seasons old. So with that in mind I have changed my target to…
– WIN ALL POSSIBLE TROPHIES
So with this new approach to the save, I decided to splash the 6.75m I recieved his the Vicente deal (and a little more) on strengthening the Valencia defence.
Transfer IN

The defence definitely needed a BEAST and Kader Mangane fills them boots with ease! His strength, acceleration, jumping, heading and marking are amazing…worth 10m? OOH YES!!!
Now…with me losing my other save i'd started the Champions League group has changed, so I will reveal the new group…

WOW! I was handed a very difficult group. The trips to Schalke and Arsenal would be very difficult indeed. Wish me luck :)
Now its time for the results and i'm going to run through them by each competition, so i'll start with our Copa Del Rey results
COPA DEL REY RESULTS

Well it was a short competition, with Real Madrid knocking us out in the 5th Round. Can't be too disappointed with the Real Madrid result, them and Barcelona are in a league of their own…at the moment.
LA LIGA RESULTS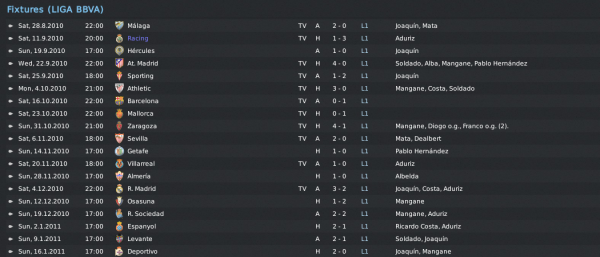 I cant complain with 13 wins from 19 games can I. We had thrown points away against the likes of Mallorca, Osasuna, Racing and Sporting but you cant win them all. We enjoyed a nice 6 match unbeaten won from the end of October to the beginning of December. So with 13 wins…where did that put us in the La Liga Table…
TABLE

So our first half performances had put us in 3rd place. If only we hadnt have drop stilly points against mid table teams we could have been 2nd or even 1st. We had a nice 6 point gap over the chasing pack.
CHAMPIONS LEAGUE RESULTS
We'd managed 4 out 6 wins, only losing out to Arsenal…So had we qualified for the Knockout Stages…
CHAMPIONS LEAGUE TABLE
Course we had…I couldnt believe that Schalke hadnt picked up a point in the group stages. So with us comfortably through with Arsenal…who did we draw in the 1st Knockout Round?
Hmmmm Manchester United, not the team I was looking to be drawn against and it could be the end of my European Dreams :(
Well thats it for this post i'm afraid, the next one will show how well or bad we finish the season. If you have any comments, please post below. Thanks for reading :)
Pickard

Subscribe to our Newsletter