Hey Everyone!
Before I bring you the latest update to my Valencia CF save, I just want to apologies for not reponding to your comments on my last post. My girlfriend has been very poorly over the weekend and it resulted in me having to take her to hospital, but she okay now it was just a bad reaction to the medicine. So with that not so brilliant weekend out of the way, I have had chance to play my save and its now time for an update.
In the last post, I posted our progression in the first half of the season. We were a comfortable 3rd in the league, into the knock outs of the champions league…against Manchester United though and we'd been knocked out of the Copa Del Rey in the 5th round against the mighty Real Madrid. So how well did the second half of our season go? Well let me show you…
First I will bring you the January Transfers…
Transfers OUT

Now you might think I'm crazy selling my best rightback but I have reasons. Miguel and I have been at war with each other since the 2-1 lost to Gijon (near the start of the season), we we're 1-0 up and cruising to another victory until Miguel got himself a straight red and gave them a penalty. I was absolutely fuming and ended up fining him 2 weeks wages as I felt he single handedly lost us the game. He was very unhappy and the conversation did go well and after he wouldn't speak to me. He then started not turning up for training and in the end, I transfer listed him and he then continued to miss training, in total he was fined 550k for not training. Fulham approached with a nice 3.5m offer and he was gone. Nacho Gonzalez wasn't registered for the second half of the la liga season so a move on loan to Racing was a good move for all and the Isco deal, I didn't have much say, I didn't realise he had a 800k release clause on his contract.
Transfers IN

Now just one in for me and it was an expensive one…Andoni Iraola, he is a fantastic Rightback with good pace, crossing, tackling and stamina. His other stats are also very good but I just pointed a few key ones out. Yes I know 11m is alot to spend on a 29 year old but I think hes worth it and I was kind of desperate.
So with the transfers out of the way its time for the results…
LA LIGA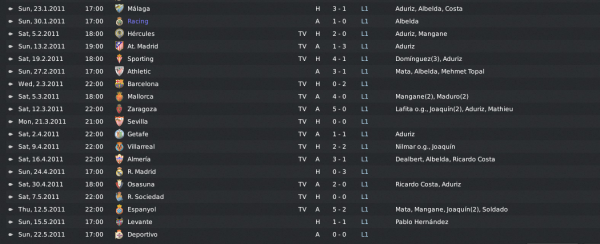 A further 10 wins to go with the 13 in the first half of the season and also fewer defeats in the second half, those coming against Real Madrid, Barcelona and Ath. Madrid. I was a little disappointed with drawing our final 2 games of the season, Levante we're already relegated and Deportivo we're a struggling mid table team. But all in all some good results. So where did Los Che finish in my first season in charge???

A fantastic 3rd and a place in the Champions League for the 2011-2012 campaign. We finished absolutely miles behind Real Madrid and Barcelona, but with a few additions in the pre-season I was confident that we could reduce that gap.
CHAMPIONS LEAGUE
With us pitted up against the mighty Manchester United in the 1st Knockout Round our Champions League dream could be over before it really started, but here we go…
1st Knockout Round Leg 1 vs Manchester United @ Mestalla — 53,616
Both teams started the match shakily with neither team wanting to conceed the first goal. In the early exchanges it was Manchester United that look the more likely, the score was 0-0 at half time and I was rather pleased. I felt we had nothing to lose and told the player ' you can win this' and sent them out for the second half. Within 10 minutes of the restart we'd raced to a 2-0 lead and I coudn't believe my eyes, Mangane scored a header from a free kick and Aduriz added the second. Manchester United then came out of their shell and Nani scored a wonder strike on 70 minutes and 2 minutes later Jonny Evans converted a United corner, 2-2 and with 20 minutes I feared the worst but we managed to hold on, even with Ricardo Costa getting a straight red, but United took away 2 away goals…not what we wanted.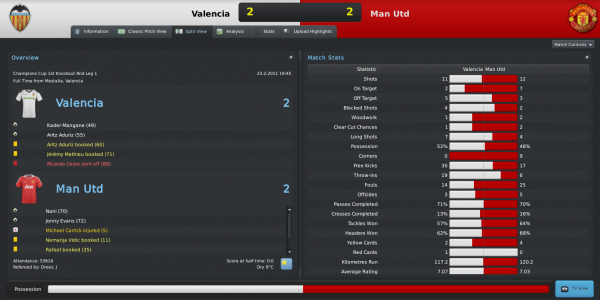 1st Knockout Round Leg 2 vs Manchester United @ Old Trafford — 74,469
This was it…we we're 90 minutes away from a Champions League upset or our Champions League departure. The game started, and before I could get comfy in my chair Soldado rounded the keeper and we we're 1-0 up, an amazing start and I had a huge grin on my face. Rooney so wiped that off with a goal 10 minutes later 1-1. Manchester United turned up the pressure as Rooney missed a glorious chance, Iraola picked up the loose ball and floated it into the path of Alberto Costa who then shot from some distance to make me jump out the chair, we we're 2-1 up and bang went Manchester United's away goals! The referee blew for half-time and I took a deep breath, I told the players to 'do it for the fans' and sent them back out. United came out all guns blazing and missed two more clear cut chances as they looked for the goal to take the match to extra-time but, a mistake from Jonny Evans gifted us a chance on 60 minutes and Joaquin tooked the ball away 3-1! Manchester United now need 3 goals to win. I couldn't stop punching the air (by this time I think my girlfriend was thinking I'd lost the plot…pfft they just dont understand lol). The 3rd goal fizzled the game out and nothing much else happened and we'd knocked the Red Devils out on their home soil. 5-3 on aggregate.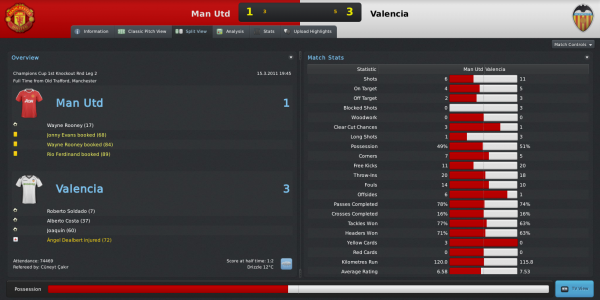 So after our heroics at Old Trafford, would the Quarter Final Draw be kind to us…
I was made up with getting Tottenham to be honest, we managed to avoid Inter Milan, Arsenal, Real Madrid and Barcelona so who wouldn't be. Also the draw was in our favour, the away leg first.
Quarter Finals Leg 1 vs Tottenham @ White Hart Lane — 34,040
I had chance to get comfy for this match as nothing really happened in the half time. I gave the player a kick up the beside at half time and they instantly responded Juan Mata put through Soldado to give us an all important away goal. We grew in strength and could have added to our talley but the woodwork came to Tottenham's rescue, but we still got the away win 1-0 :)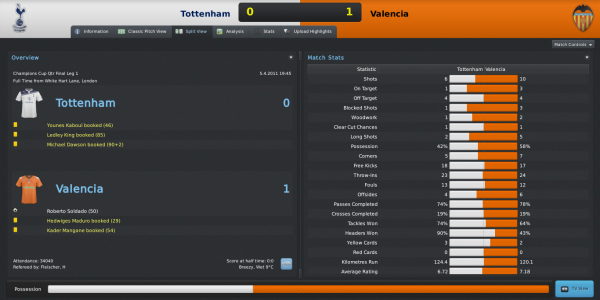 Quarter Finals Leg 2 v Tottenham @ Mestalla — 52,969
I was more nervous now then I was in the previous return leg. I knew Tottenham were a difficult team with alot of pace, so a 13 minute Joaquin goal eased them a little and then all nerves disappeared when Aduriz made in 2-0 on the night. We we're crusing and to make thing even sweeter Aduriz tucked in his 2nd of the match to make it 3-0 after just 30 minutes, it was almost game over, but a Defoe goal just before half-time brought me back to earth a little but the tie was pretty much over. Well it was when Aduriz completed his hat-trick in te 64th minute. I couldn't have dreamt of a better result, 5-1 on aggregate :)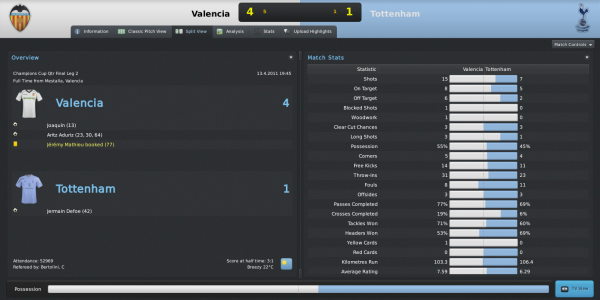 I couldn't believe I'd managed to get Los Che into the Semi Finals of the Champions League, we we're 2 games away from the Final…could I win the Champions League with Valencia? I was soon brought back down to earth…Real Madrid in the semis…GREAT :(
Semi Final Leg 1 vs Real Madrid @ Mestalla — 55,000
I wasn't looking forward to this match up one bit, last time we'd faced Real Madrid it ended in a very one sided 3-0 defeat and I really expected much the same when Pepe headed in from Real's only corner of the game but, we bounced straight back and it was an own goal from Mr Madrid himself, Iker Casillas fumbled the ball into his own net. The match was level at half time, I could sniff a victory and told the lads they could do it! It took a while but Joaquin who had been on awesome form all season sent the Los Che fans into raptures when he slotted in from close distance to give us the lead 2-1. Real Madrid piled on the pressure and it paid off, Cristiano Ronaldo also tapping in from close range levelled the tie and thats how it finished, 2-2. For the second time we had to travel away and again are opposition had 2 away goals, but I felt that this was more difficult than going to Old Trafford.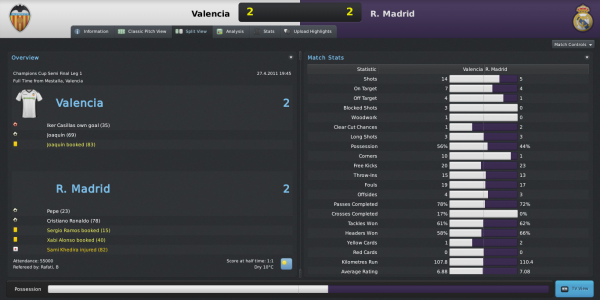 Semi Final Leg 2 v Real Madrid @ Santiago Bernabeu — 79,904
We we're 90 minutes from Wembley, could we overcome the mighty Real Madrid and reach the Final…It didn't look like it when Higuain made 1-0 to Madrid in the first 5 minutes, we hadn't got going in the match and we're already losing. Minutes later Kaka burst through, rounded Cesar and……HIT THE POST! What a let off that was and this spurred on the players and we managed to scored through Soldado after 30 minutes…the game was back on! Minutes later we won a corner and like the last game Iker Casillas fumbled and put into this own net…we'd managed to cancel out Real's away goals. We went in at half time in the lead, 2-1 on the night…4-3 on aggregate. I told the players 'you can we this' and out we went. We we're now only 45 minutes from the Champions League Final. Real Madrid must have had the hair dryer treatment at half time because in the early minutes of the second half they we're all over us, chance after chance went begging and I felt it was only a matter of time. As the full time whistle approached it was end to end football and then in the 91st minute…GOAL!!! I paused, it took ages to register…GOAL SOLDADO!!! We'd done it Soldado had put us into the Champions League Final…with the 3rd goal it was GAME OVER, Real Madrid had to score 3 times in 3 minutes…I was dancing round the living room, screaming at the top of my voice (Girlfriend NOT IMPRESSED). Kaka got a 94th minute concelation goal but I didn't care…We we're in the FINAL 3-2 on the night, 5-4 on aggregate!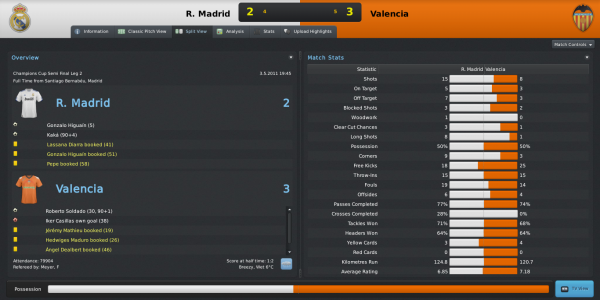 With that amazing Semi-Final victory we'd reached the Final, but who would be our opponents…



Champions League Final v Inter Milan @ Wembley — 90,000
This was it, could the underdogs win the Champions League for the first time, could I win the Champions League in my first season as manager…Well we definitely started the better side…with Soldado having a couple of half chances but, it was Inter Milan that struck first and it was an Giampaolo Pazzini head that gave first blood to the Italians. The Italians managed to hold on to the lead and at half time the scored was 1-0. I rallied the troops and told them to 'do it for the fans' and it was superstar Juan Mata that levelled the match with a solo effort that Messi would have been proud of. Minutes later Ever Benega missed a clear cut chance, we we're on top, then suddenly Eto'o was tripped…PENALTY!!! I couldn't believe it! It look outside of the area, but the referee had given it and up stepped Diego Milito…GOAL 2-1 Inter…my head hit my hands…did we have one last push to get a goal to take it to extra time…No the score finish 2-1 and Inter Milan had won the Champions League for a 2nd consecutive time. I was so proud of the players…what a fantastic Champions League campaign!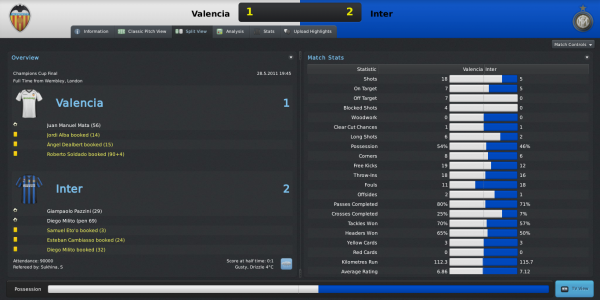 We might not have won the Champions League but we definitely got a massive benefit from reaching the Final…

Well thats it folkes! Thats the end of my first season in charge…and what a season, I couldn't have asked for anything else from my players, Champions League Finalists and 3rd in the League is a brilliant achievement. Thanks for reading and comments are always welcome! I promise I will respond to them :)
Next post will see all my Transfer activity and Friendlies as I prepare for my second season in charge of Los Che :)
Pickard :)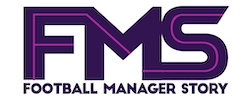 Subscribe to our Newsletter