Hey everyone!
Welcome back for another installment of my Valencia FM11 Story. In the last post I showed you our amazing finish to my first season in charge of the debt ridden club, a season I will never forget. We managed to finish in 3rd place in La Liga but the best of all we also managed to reach the Champions League Final only to fall at the last hurdle to the mighty InterMilan…an amazing achievement. So lets get on with the post and let me show you the new faces who I will try and recreate the excitement of last season with, also the Friendlies and our fate in the Champions League Group Stage Draw…
But first some BREAKING NEWS…

Yep I met with the board and they were pleased to hand me an improved and longer contract :)
So before I introduce you to our new signings let me share with you there two profiles…


Both these players were on season long loans last year (not organised by me] and return toValenciafor the coming season. Rami is a fantastic Defender with bags of pace and strength and his tackling is also brilliant and Renan will be my no.1 this season with Cesar leaving the club at the end of last season, now on to the transfers…
Transfers OUT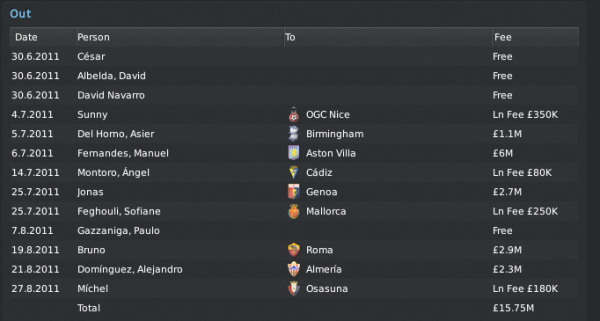 With Cesar, David Albelda and David Navarro all over 30 and all on silly wages it was time to let them go, I was a bit reluctant to let Albelda leave because he had performed so well but I couldn't justify keeping a £92,000 a week 30+ year old. Navarro was also a high wage but I knew Rami would be coming back to Valencia so losing him wasn't a problem and it was the same with Cesar plus he was 39 years old. Aiser Del Horno and Manuel Fernandes were never in my plans and the 7.1m I managed to get for them would definitely help improve the squad. There were also departures for Jonas (2.7m), Bruno (2.9m) and Alejandro Dominguez (2.3m), these players never really made an impact and wouldn't really be missed. There were loan deal for Sunny, Angel Montoro, Sofiane Feghouli and Michel, none of these players are in my plans but no offers came in for them so loans deal it was to bring in so cash. In total I received £15.75m from sales and loans. Now on to the important bit…the ins :)
Transfers IN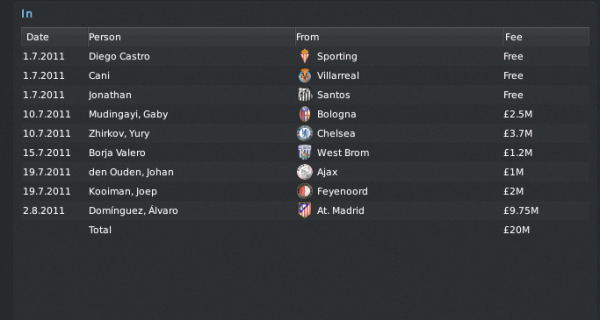 I was a busy manager, bringing in 7 players and 2 youngsters coming into the Valencia squad. Let me introduce you to them…

Diego Castro is a fantastic La Liga winger, he's small and fast and has a fair decent long shot on him. Castro put pen to paper in January and now joins us on a free and his contract is ridiculous, only £14,500 per week, in my eyes he's a bargain and one of the main reasons Alejandro Dominguez was sold. He'll act as cover and can play both Left or Right Wing.

Like Diego Castro, Cani signed in January and joins on a free. I felt Ever Banega didn't perform at times and there were times where I nearly offered him to clubs, so in come Cani to give my an option. He is very creative and also has good technical attributes and I know him well from my Club Brugge save.

Another free and also another player I bought during my time at Club Brugge, Jonathan is a strong looking Rightback who possess the right stats to be able to get forward and put crosses into the box. He's just as good as Iraola and I'll be able to rotate these two and also be confident that they'll both do a similar job.

I hadn't even heard of this player until I was reading someone's post in the forum (sorry I can't remember who you are but thanks :)). With David Albelda leaving I needed a replacement and Mudingayi would fit the bill just nicely. I honestly think 2.5m is a steel, his stats are brilliant and £22,500 per week is brilliant compared to Albelda's £92,000.

Zhirkov was offered to me by Chelsea and I didn't hesitate to accept, Yury is a brilliant left sided player and will provide excellent cover whether its Leftback or Left Wing. The price tag is a bit steep and his £55,000 per week wages are a little high but, if it doesn't work out I'm sure I'll be able to sell him for more than the money I paid.

His guys stats don't do him justice. I scouted him a few times last season as he was on loan at Villerreal and he performed near enough week in week out. When West Brom offered me him for 1.2m I didn't hesitate one bit. Both he and Cani played together at Villerreal so hopefully they'll be able to link up again but this time at Valencia:)

I still thought even with Adil Rami returning to Valencia the defence was a bit weak if Rami or Mangane picked up an injury, I didn't feel the other centrebacks would be up for the task, so in comes Alvaro Dominguez. He's a young homegrown talent and already has good stats and has bags of potential. He is a bargain at 9.75m and will be great cover.
Now on to the potential wonderkids…

This chap was found on the processing screen…yes processing screen. I was waiting for the game to process and the a friendly match result appeared and he'd score 6…yes 6 goals in a friendly…I quick scouted him and he has 4 star potential. He doesn't currently have brilliant finishing stats, so they may have been 6 tap ins lol.

This youngster is special however. At only 17 he is already nearly as good as my reserve keeper Moya. After finding Johan den Ouden, I sent my best scout off to report of Kooiman (Once I'd messed with player search and using Darren Smith's wonderkid search filter). He'll benefit from first team football but can also drop in to the u19s to gain some game time. Sadly with FM12 around the corner, we probably would see him mature into a world class keeper :(
So that's the transfers done…now lets look at the Friendlies…

Again I chose to tour the USA, the amount of money a tour generates is amazing, for just them four matches we received just short of 900k which is brilliant. With 3 win from 4 matches in US, I then picked us to play against Ajax who are a tricky team to beat but, they were no match for us at the Mestalla and we'd ended the pre-season with a comfortable victory.
One of the good things about the Spanish season is that the Champions League Group Draw is before it kicks off, I was hoping for another thrilling campaign…a possibly final? Ha no I'd be happy with a quarter final appearance at least. So let take a look at who we were drawn against…

Oooo Porto, Spartak Moscow and Young Boys. Now you might think that group is fairly straight forward BUT, Young Boys knocked ManchesterCity out the play-offs so I was I tad nervous. FC Porto are a difficult team to beat and Spartak were Russian Champions and wouldn't be in the competition just to make up the numbers. Wish me luck :)
Just before I end the post…what did the bookmakers make of our chances in La Liga and the Champions League…


So that's it for this post, thank you again for reading it fantastic logging on and seeing that people have commented on my post…really means a lot people :). The next post will bring the results up to the mid point in the Spanish League.
Thanks again
Martin Pickard

Subscribe to our Newsletter