Hello everyone  and welcome to my first post on the main site for a while, as I start my second week on holiday from work I have had time to think mostly about the situation back home in Spain.
Financially the country is in bits, with a very high unemployment level of over 6 million people, and young people having little or no future it almost pains me to watch Real Madrid's pursuit of Gareth Bale. Tempting him over with a world record transfer fee and alleged wages of over £300k per week I ask myself what have we done so wrong in our country and is football aware of the countries struggles, it would seem not.
I ask the question, what has La Liga done so badly?
I was born in Barcelona on the 10th of June 1986, I lived for most of my life until the age of around 14 with my six other brothers and my parents who would often struggle to support our family. We were not poor in the real sense but we had very little money until my father was given the opportunity eventually to work in England.
From as far as I can remember football was our life, my father played for local teams as a goalkeeper mostly as is he quite large! I think the running was not to his style but he loved the game as most people do. Later he became a teacher and coach of our local team where my brothers played all with the same dream to make it as a professional. The Camp Nou stood like a beacon of what might be, the dream to play for one of the most famous clubs in history and the day my father got two tickets to see them.
He just couldn't select between all my brothers so I was the easy choice! Anyone who has brothers or sisters that outnumber them will probably feel left out like I did, like I was born the wrong gender for my family so it was me and my Mother for the most part until then. The game was a La Liga match against Athletic Bilbao I remember the people, lots of people! I grasped my fathers hand very tight and he put his arm around me and bought me a scarf which I still have to this day!
It might sound stupid a simple scarf but like I said we really had no money so for my father to spend what was so much to us on me, made the day feel even more special the game was brilliant the final score was 4:2 to Barcelona, my favourite player at the time Luis Enrique scored the opening goal in a team that included Guardiola, Kluivert and Rivaldo I even think Xavi came on as a sub but my memory isn't the best! :)
After I was just so excited, I just kept talking to my Mother about how amazing it was (and to also annoy some of my brothers!) and from then on I became a proper fan, even though I wouldnt see them play live for another ten or so years.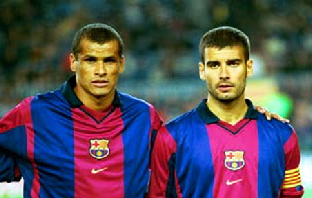 So I know what your thinking, nice story Ana but what does it mean!? I guess nothing am sure most have had a very similar experience but for me that moment was the moment I became a fan and a loyal La Liga supporter, and like with most things I will often defend my love and passion despite the cracks and problems.
Some have even felt my passion on these subjects which can seem aggressive but is never my aim, is just my poor choice of English and maybe the idea that I am wrong and La Liga isnt as great as I think it is. When the season started I was excited as always, my boyfriend who also enjoys it simply made a statement without trying to wind me up which made me think and even have the idea to wrote this post. I cant remember his exact words but it was all about Real Madrid and Barca the only teams in La Liga.
Is not right but the idea is the same, to steal and English phrase 'is a two horse race' and it has been for years. I could argue that say Germany is two horse race but before I blindly defend I first must look at Spain and relise I am wrong. Money is the problem I guess in history it always has been those that have it and those that dont.
Looking through La Liga this season and is almost bare, any established our young talent not from the 'big two' is gone from top to bottom La Liga has lost players.

Top Spanish Players Moving To England
Once upon a time La Liga was very secure financially and would often compete with the world for top transfer targets, competition was also very strong as in 1999-2000 a team from Galicia claimed the league title, and would finish runner up for the next few years in Deportivo la Coruna then two seasons later it was Valencia turn to win the title after Real Madrid mashed between them, 2005-06 would be the final time a team outside the big two would compete for the title.
It felt open and exciting, watching Real Sociedad as they heart brokenly fell just short of winning La Liga, with the likes of Valencia, Depor even Mallorca at the times alongside Villarreal and even Sevilla alongside Barca and Real made for an exciting open competition. So what happened? If I knew I would tell you but looking around the league now and any top talent has gone it seems, like a wasteland.
Its easy for me to blame the Premiership, the reckless spending and inflated transfers and wages is an easy target which has destroyed the market. The fact a team that is just promoted can easily out-spend any team outside the top two in Spain even finishing third,  annoys me but is not all the fault. Money is and will always be the deciding factor which brings me on to the new 'fair play' rules.
In theory is an excellent idea, I mean you only spend what you can earn and if you dont comply you are banned from Europe the opportunity for smaller clubs to succeed, or is it?
Lets take Atletico as an example, in recent season are one of the most exciting teams in world football with the star name Radamel Falcao, bought to replace the departed Sergio Aguero. The recent success are there to see, Europa league winners twice in three years, a few good finishes in La Liga, winning the Copa del Rey last season and of course the Super cup winners with that incredible performance against Chelsea but all for what?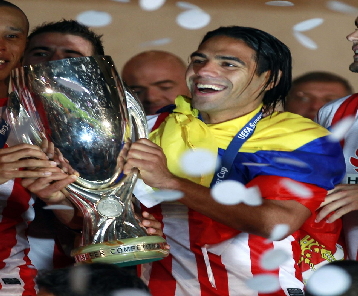 Well for nothing, Atletico are in debt with there only salvation is doing well in Europe as they cant rely on a rich owner to protect them. Fair play was brought in and clubs had to fall into line which most did but Spain didnt plan on an economical crash, the whole country affected not just football. As always everything is increased so those in debt became in even greater debt like Atletico who had all there Europa league money frozen for failing to fall into the fair play rules.
With the new rules with the supposed idea to protect the smaller clubs, they had to sell their superstar Falcao for a massive fee over over £40 million pounds but to which giant of football did he decide to leave for, thats right Monaco…..
Now not to be unfair on Monaco at all, but last season they were in the first division in France with an attendance of around 12,000 and over recent season have fallen on hard times with the obvious relegation. So I ask how can a team like that afford to spend so much money with fair play on the way I mean they wouldn't have a super rich owner would they?
Which is my point, Monaco dont need European money as there owners will probably make ten times more than all the prize money available in a few months hence why they are so rich they make lots of money, a team like Atletico cant and wont survive without European money so freezing it whilst they struggle in debt is the supposed savior of the financial fair play system and the way to help the smaller teams by letting them slowly die, blocking their only way to try and save themselves.
All teams in La Liga are in the same position, we cant compete financially as our country has not got any money or at least not enough and teams now will almost have to sell, any half decent player now is a target provided they dont play for the big two. For me is not right and not fair our league is in huge danger of falling apart and the governing body which should help and protect is instead punishing teams for mistakes made before the fair play ideas and not showing common sense in the financial decline in Spain.
Then I watch PSG, Monaco, Manchester City spend without regard, millions of pounds and yet nothing is said or done. How did Monaco turn over the amount of money to provide the funds to seal the signings of Falcao, Moutinho and James Rodriguez? They only sold around £4 million pounds worth of players so not there, they are newly promoted so not in prize money and the TV rights will be bigger than most super clubs so not that either yet nothing seems to be said or done, is not fair.
I know, is not my usual happy self! Is more annoyance of what I see from that first moment I saw Barca play it was like a dream, I found my love of football something I thought was amazing. Sadly now La Liga is slowly dieing, ran by incompetent fools who instead of trying to help and encourage the teams that need it are punishing and destroying for now is always a 'two horse race' it always will be.
I did my best to try to encourage, to try to promote Spanish football to all but was all a joke, is all a joke and it breaks my heart, is not all big money clubs fault is our fault for leaving clubs on their own then slowly watching them struggle. We are now a joke league of two teams, the rich get richer and the rest battle for scraps with no hope to compete, we watch our superstar players depart from clubs falling to pieces with no hope of ever holding them and every season becomes a survival.
Farewell to the La Liga I knew, the one I loved and the one I grew up with and welcome to modern day football where money is king.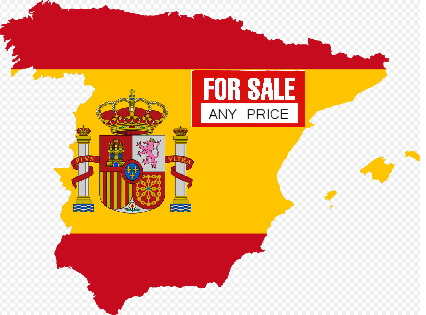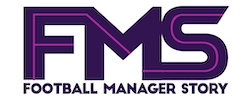 Subscribe to our Newsletter