Hello friends! My sincerest apologies for being gone for so long. It is exam time so I haven't been able to devote as much time to playing or writing as I would like. But I finally have some downtime so here is a long overdue post.
So at the end of last last, 2017 – 18, Gladbach completed a very unlikely double, my proudest achievement to date. Since I had won every trophy I could in Germany I decided it was time to move on to the third nation out of five in my European challenge. To recap, I want to win every top-flight trophy in Europe's "big 5," England, Spain, Italy, Germany, and France. I completed France with Evian in two season, which was absolutely insane, and now Germany in four. I quit my job at Gladbach so that the next manager has the whole off-season to mold the team to his liking and I am now in the job market. Sadly, I got no offers in any of the three remaining nations, so I took a job with the Jamaican Under 20's for the chance of leading them through Under 20's World Cup!
Jamaica Under 20's
I actually had a couple of countries competing in this tournament approach me, but almost all of them did not even have a full squad of players; a large number of the squads were grayed out players. Jamaica was one of the few that had a full team and they seemed the strongest squad of the nations to approach me. Here is how we did in the tournament:
We were pretty unlucky to get such a tough group; Ghana and Switzerland are strong nations. Even though we finished third, for having more points than most other third place nations, we qualified for the knock-out stages, only to be drawn with the juggernaut that is Portugal. We didn't play as terribly as the scoreline suggests, but we were certainly no match against Portugal. I wish the team could have done better in the group stages, because then we could have been drawn against a weaker nation. The team did have the skill to at least draw both Ghana and Switzerland, but I just didn't have any time to prepare them for the tournament so we fell by the wayside. I really didn't feel like sticking around with an U-20 side after this U-20 World Cup debacle but I still was not getting any offers so I signed for:
Brazil
I thought it would be fun to take charge of Brazil. The only other country that offered me a job was Cyprus and I wasn't too keen on them so I head to South America to take control of the selecao. I was really relishing the prospect of guiding them through qualification for the next World Cup only to find out that they already qualified. This was a big disappointment for me. Brazil steamrolled all of South America to become the first team to secure qualification for the tournament in Russia. I was surprised then why they sacked their manager Tite. It was because he didn't do very well in the Confederations Cup . . . Well, at least now I don't have to worry about results; I can focus on experimenting with the squad. I can see right now that Neymar is my star so now I want to identify my other strong players. I think I will stay on with Brazil until at least the World Cup that will happen at the end of this season. I just hope I can find a club team soon since the season is just about kicking off . . .
Here are my meaningless results with Brazil, by the way. I have fielded almost completely different squads each time. I am just doling out caps :P
As it gets closer to the tournament I will start establishing my real squad and getting them used to my tactics (or rather Johnny and Darren's tactics).
Just when I had given up hopes of taking charge of a club this season, offer from Italy started to pour in. At the seasons half (Italy has a winter break as well), A.C. Milan, Inter, Cagliari, and Siena all approached. I immediately ruled out the two teams from Milan. I was actually trying to hold out for Udinese, whose manager was on the verge of being sacked but in the end I chose:
Cagliari
So it is with Cagliari that I will hope to achieve glory in Italy. With half the season gone they find themselves in 17th. Siena are one below them while Udinese are one spot above and Inter Milan is only one above Udinese. I decided to pull the trigger on signing with them because It was already January 5th and 5 precious days of transfers have already gone. And I an glad that I did not delay any longer because this team is in serious need of an overhaul. I was spoiled at Gladbach because they had a great team and an incredible backroom staff. If you remember when I first started, they had a brilliant and extensive scouting system that I barely needed to touch. Evian, while the backroom was awful, the first team squad wasn't that bad, but here I am out of luck in both respects. The squad was old and just not very good and since I am still sticking with Johnny's Barcelona tactic, I needed more strikers. I think this would be a good time to mention that I am taking a quick break from UGO's schedules and trying our Raikan007. UGO's schedules are great but I want to give Raikan007's a try as well because I've heard great things. Anyway, back to Cagliari. Their nickname is the Rossoblu and the stadium is the Sant'Elia, which seats 21,530. They are located in Cagliari, which is the southernmost city on the island of Sardinia. I guess I am continuing my trend of being on the border of the country I am coaching in. Evian is on the Franco-Swiss border, Gladbach is on the German-Dutch border, and Cagliari is near the border between Italian and Algerian waters (kind of). Cagliari had their glory days in 1970 when their greatest player, Luigi Riva, who is also the leading scorer for the Italian national team, led them to their only Scudetto. They were runners-up the year before they won the Italian top-flight and their only other major accomplishment is being semi-finalists of the 1993-94 UEFA Cup, which is today the Europa League. Hopefully, I can help them fill up their trophy case.
Onto my squad and transfers! It was a very tense transfer season because I did not have very much time and I had to reshape the club from top to bottom. And hiring a solid backroom put extra pressure on me, but in the end I managed to assemble a squad that I think should see us finish somewhere around 10th. Since Cagliari are a mid-table team, was cause was helped by a transfer budget that was a little over £7 million. Oh, before I forget, so the Cagliari senior team was not good but the youth and reserves are AMAZING so I had the luxury of being able to promote quite a few players, which gave me a little more room in the transfer market. One thing that was kind of unfortunate was that some of my brightest stars are co-owned, something that is quite common in Italy. I will definitely not be taking advantage of this because I don't really know what the rules are that govern co-ownership. For now I will try to buy out the rest of these players' contracts. One of the things I will miss about Germany is the lack of restrictions on foreign transfers. France had the rule that no more than 4 non-EU players can be registered in your squad, while the rule in Italy is you can sign no more than 2 non-EU players during a season. So it's good that I can register as many foreign players as I want, but I can only sign 2 a season. As you might remember from my time in Gladbach and Evian, I cast my eyes towards Africa quite a bit . . . Anyway, here are my finances, my squad, and my transfers:
This was easily my most stressful and extensive transfer window. The team was made up of ageing players who were fine a couple of years ago but are now over the hill. Here is my squad for the second half of the season"
GK: Michael Agazzi and Martino Castelli
So I retained the number 1 keeper, Agazzi and promoted Castelli from the youth. He has solid potential and Agazzi isn't a terrible choice between the sticks for the rest of this season. I doubt I will retain him at the season end but for now I hope he does his job well and tries to change my mind.
DC: Mehdi Benatia, Cesare Bovo, Vittorio Basilicata and Lucio Rizzo
Benatia was bought for £4 million from Evian. I was desperate for a central defender because none of my targets would sign for me, so I had to shell out for this player. The annoying thing is I was forced to pay his kingly salary of £2.1 million a year. Because of the intense financial strain one player is causing (Jese's salary shot up as a result because his contract has a "match highest earner" clause) I could only afford him for the rest of this season. I essentially payed £6 million for the services of one player for half a year . . . I was desperate and he is a very good center-back so I am trying to let it go. Bovo was another desperation signing. I wish I held onto my original central defenders a little longer . . . Anyway, Bovo still has some life left in him and I think he will be adequate for this remaining season. Vittorio Basilicati. Now we're getting somewhere! This kid was co-owned with some Serie B team and I had to pay £1.2million for the rest of his contract. I really didn't mind because he is going to be a top defender some day. He already has the ability to be a reliable defender in my opinion. I expect big things from him. Rizzo is a player I promoted from my youth system. He is not as magical as Basilicati but he will make a solid if unremarkable defender.
DL: Pablo Armero and Eduardo Sanchez
Left-back is one of the hardest positions to buy for because there simply ins't that much quality. That being said, Pablo Armero is a player who I deemed definitely worthy of retaining from the old squad, at least until this summer. His understudy is the extremely talented Sanchez, who I believe could be the next best left-back in the game. He is rated by both my scouts and assistant as a 5-star player!
DR: Ivan and Stavros Papoutsis
Ivan was an expensive signing, £1.3million to Girona, where he was a first team regular. As you can see, despite his youth he is a player who can already hold his own in the top flight. He is already worth more than I paid for him due to his strong performances during his first couple of games. Papoutsis was the last player to join my team. Finding a back-up right defender was almost impossible. In the end I had to give in and bring this kid from Olympiakos, but I got him on the cheap.
MC: Vladimir Gadzhev, Matheus, Josue, Gabriel Pimba, Michael Serafini, and Oliveira
This is, in my opinion, the most important position, so I normally take care to make sure it is as stacked as it can be. I was surprised because Cagliari had some decent central midfielders. Matheus and Josue are absolutely terrific and the captain Gadzhev isn't too bad himself. I am not too comfortable with Pimba as a back-up because of the history of his ratings but his stats show that he has some solid skill. Serafini was promoted from my reserves and seems like he is of similar quality to Pimba, but with room to grow. Oliveira is a player who I am very excited about. He is making waves in the Brazil Under 20 squad, so there must be something to him. As a 4.5 star player, he can't be that bad ;) I think he could turn out to be my greatest transfer.
ST: Jese, Daniele Ragatzu, Sebastian Ribas, Thiago Ribeiro, Savino Esposito, and Nicolas Floris
Every team needs its talismanic striker. Evian had Yaya Sanogo, Gladbach had Marco Reus, and Cagliari has Jese. He will spearhead our attack. Overall, this position did not have too many changes, partly due to the cost of replacements. Ragatzu and Ribas will join Jese, but Ribas is likely to leave at the end of the season. Ribeiro is my super-sub and he too will probably leave during the summer. I promoted Esposito, after buying out his co-ownership, and Floris from the youth set-up. Esposito looks like he could develop into quite a player.
So for now, this is my squad. Our first goal is to avoid relegation and my second goal is to finish around 10th. We are especially lucky because this is the only competition we have to worry about since the previous coach helped alleviate us from cup duties ;)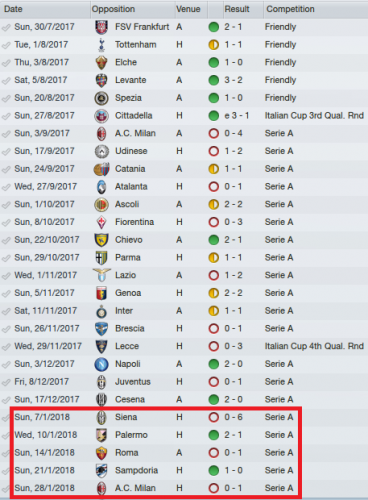 As you can see, Cagliari hasn't exactly had the best of times this season . . . The red box are the fixtures that I took control of. The loss to Siena was annoying. The team was not used to my strategy and we were in personnel transition, so there was nothing to do about it. Roma and A.C. Milan are both a cut above us so there was little chance of winning to begin with but my boys lost without bleeding too much. Both wins were somewhat fluky as well. We beat Palermo thanks to an own goal and their terrible discipline, which saw 6 of their players get a yellow card. During the Sampdoria game, we scored within just 3 minutes and rest of the game was a pointless back and forth.
Here is the table, for your consideration: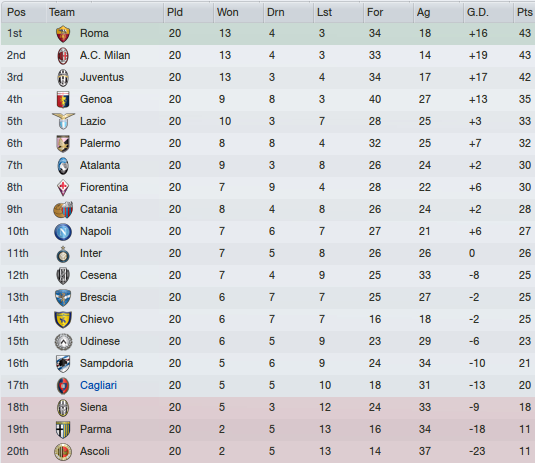 Obviously we would like to see a change in our position on this table. Only upwards, please!
I must apologize, this is all I have for now. I am quite sleepy and I need to finish the last couple of games of the season so expect to see the conclusion of my first season with Cagliari sometime tomorrow. I promise not to leave you all hanging!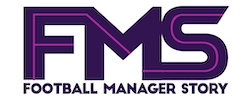 Subscribe to our Newsletter