Hello my friends! Here is another edition of my European Challenge. Last season Gladbach won the Bundesliga, which came as quite a shock. This season, my goal was to focus on the Champions League and on the German Cup. I don't have too much time so this post will be a departure from my normal style. So here is how the season went: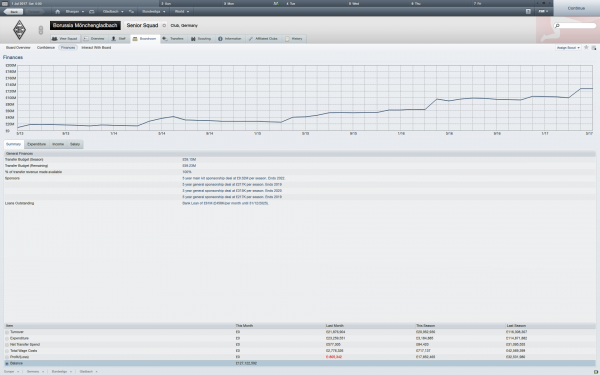 We are doing very well financially, as we should, having just won the Bundesliga. We are now the 18th richest club in the world!
In terms of post-season awards, Reus was the second best scorer in Europe, I came third in the Bundesliga Manager of the Year, Boris, Reus and Horn were part of the Bundesliga Team of the Year, Reus was the top scorer in the league, Benitez was 3rd in the Players' Striker of the Year, Boris won the U17 of the Year award again, and we are now the 68th best team in Europe (Chelsea are first).
The stadium is being expanded by 2,300 seats, bringing the capacity to 54,000, 43,000 of which is seated. The club is also upgrading youth and training facilities and junior coaching.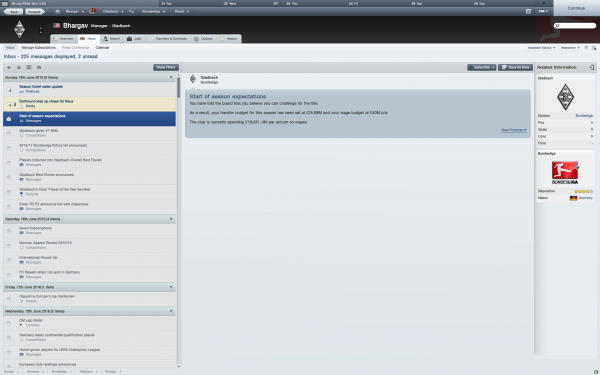 Here is the transfer and wage budget I've been given. To be clear, I have my salaries in annual form, so I am actually getting around £800,000/wk. My squad is currently predicted to finish in 3rd, so maybe my transfers can see me defend the title?
It really tore my heart to have to sell Boris and Horn, who both came through the youth system. But we got quite a bit of money from it and I secured some decent replacements. As you can see, in January we lost Wiesner, for a club record to Chelsea. He lasted only a season with us, after I bought him during January last year for £8mil.
Squad:
Gk: ter Stegen, and Schalle
DC: Obih, Bamba, Wiesner (Later Frederik Sorensen) and Bernd Eckl
DL: Kocian (later Hans Schlosser) and Jorge Torres Nilo
MC: Abdulrahman, Stevanovic, Garvan (later Morgan Amalfitano), Hossain, Di Stefano, and Soylemez
ST: Andy Carroll, Abishek Coutinho, Reus, Allagui, Prakash, Nicklas Bendtner (In January), and Herrmann
So here is my full squad over the entire season. I decided to include everyone's profile so that you could see how they've grown. Eckl and Schlosser are from the youth team, and Bendtner, Amalfitano, and Sorensen were brought on loan, all in January. Coutinho is the best Indian player out there and I really wanted him last season but he wouldn't join. I don't understand how he is so good at the entire middle of the pitch. Carroll came on free from Liverpool, which was really awesome.
Another tough draw. I see ourselves possibly getting knocked into the Europa League, but we will push.
First Half of the Season: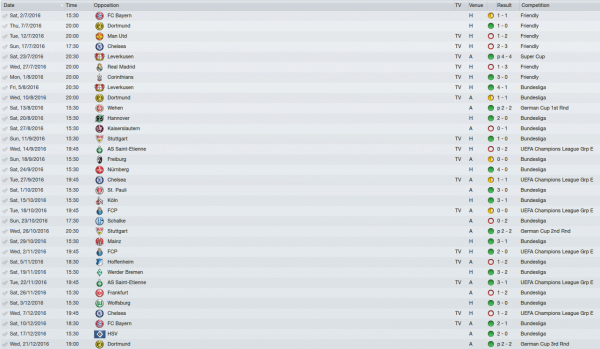 So after half the season we are at the top on goal difference. There were a few games that I was not pleased with. All our cup games, including the German Super Cup (which we won :D) were settled on penalties. It was especially frustrating because our first one was against 3rd tier Wehen! I was really disappointed with the team, and overall our performances during the first half of the season were pretty inconsistent. I understand the team needed to gel, which was a major portion. The other big factor were injuries. We lost Carroll for 2 months and Di Stefano for 4. Reus also got hurt for a few weeks as did Bamba. We were just unlucky with injuries. We also weren't winning by the same margins as last season, but I guess that's because my best striker were hurt.
In terms of the Champions League, we were all over the place. Chelsea easily won the group and thanks to us beating Porto once, we made it in second place on goal difference. I was expecting us to beat Etienne on both legs but we lost one and won one. So we will be going to the knockout stages but for our first round we are facing Barcelona.
Second-Half


Much better. This is the Gladbach I'm used to. I won't tease you; Barca destroyed us. We somehow found a draw in the first match, which was at home. But we barely earned that draw. At the Nou Camp, we got to see Barca in all their glory. In terms of the league, thanks to starting the break with an 8 game unbeaten streak and ending with a 6 game unbeaten streak, we managed to just pip the might Bayern. I thought the losses to Koln and Mainz were the end of the season, but Bayern played terribly and we beat them and took the title away. They just kept attacking. Even when they went down they kept going at it with insane desperation. I was pleased to say that our cup performances also got much better. GLADBACH HAVE DONE THE DOUBLE!!! The team had some starting trouble, I guess because of injuries and team chemistry (which is odd because at the beginning of the season we had only 4 new players).
I had 13 players break 7, just like last season. Reus led the scoring charts, but he didn't do as well as last season. Carroll and Allagui were right behind him. Reus was also my best player over the whole season.
Awards: Carroll came second in the Player of the Year, Nilo, Bamba, and Reus made it to the Team of the Year, Nilo was third in the Players' Defender of the Year, Reus won the Players' Striker of the Year, Carroll won the Champions League Goal of the Season, Eckl came third in the U17 of the Year, Stevanovic came second in the U18 Player of the Year (losing to Olfa Boris, who we sold to Bayern). Gladbach are now the 45th best team in Europe and the 13th richest.
Since I have won all I can in Germany, I will be looking to go to a new country to continue my challenge. I have left Gladbach before the start of the next season because I want the new manager to have ample time before the season starts, especially because 10 staff members left with me. The team has really made me proud and I believe I've left them in a great place, with a balance of £130mil. I am also leaving them as a favored personnel (just like at Evian). I think Germany might be one of my favorite leagues.
I am sorry for the terseness of this post, I simply did not have the time to write it in my normal fashion. My next post, which will likely be over this weekend will be the same as before. As always, please give me your feedback.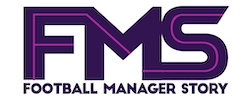 Subscribe to our Newsletter