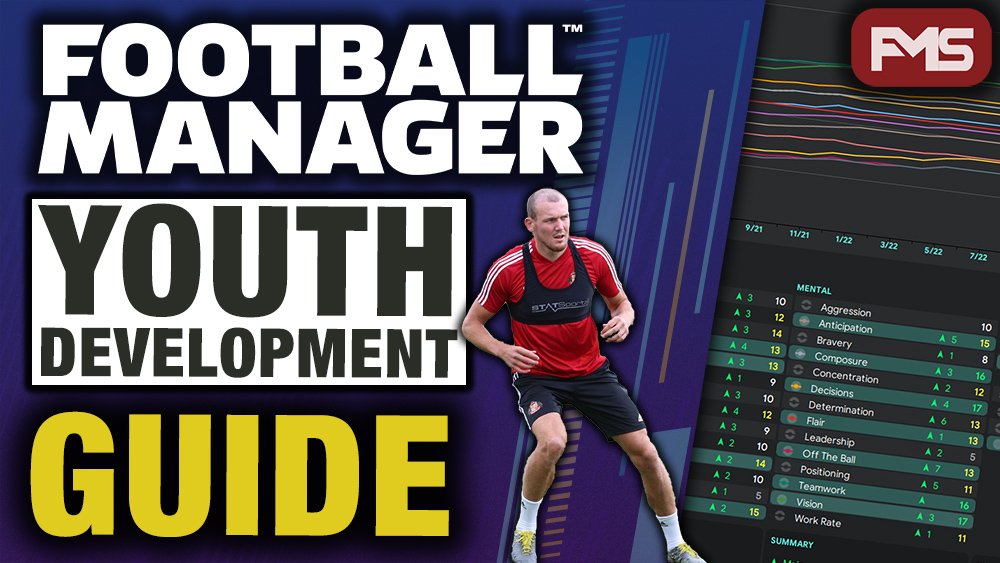 Hey guys and welcome to my Football Manager youth development guide. Here we go into great detail on a wide variety of subjects from training, game time and facilities to attribute weight, workloads and mentoring. This guide includes advice from Sports Interactive alongside my own personal experience.
Developing youth in Football Manager is far from simple but a few universal rules apply. This guide explains what influences development while sharing the growth of some wonderkids who gained six back to back promotions. So what actually impacts youth development in Football Manager?
Training Facilities
Training schedules
Coaching staff
Individual training
Targeting right attributes at the right time
Appropriate game time
Workload
Player potential and personality
Mentoring
Before we address the above, lets wet your appetite. The screenshot below is taken from my Seadogs Can Fly save. It shows how Salthella – a 20 year old False Nine – has developed over 5 years from the age of 15.
Salthella started in the seventh tier of English Football and played week in week out at every level until the Premier League. This guide explains what influenced such development.

We also have a video version of this guide shared below, for the full version carry on reading or watch the video for a more condensed version.
Football Manager Youth Development Guide: Facilities
Many external factors influence youth development in Football Manager and most are misunderstood. Lets begin with your club infrastructure and what each facility actually affects.
Training Facilities
Training facilities are used to train every player within your club. Every player being just that, senior and youth teams. Youth facilities are not used to train youth squads, a common misconception.
Youth Facilities
Training facilities for juniors, junior players are not visible until brought through your youth intake. Youth facilities impact the development of newgens you are not yet aware of, they do not impact players already visible at your club.
Youth Recruitment
The intake of juniors which impacts the quality of Newgens entering your club.
Junior Coaching
Dictates the quality and quantity of junior coaches, to be clear junior coaches are not visible. Junior coaching impacts Newgen quality, not your under-X teams.
In a nutshell
To improve the quality of Newgens entering your club improve the youth recruitment, junior coaching and youth facilities. To improve the development of youth already at your club improve the training facilities.
FM Youth Development Guide: Training vs game time
The age old debate, should you prioritise game time or training? We will discuss Football Manager's official advice in a second but remember this will vary on a club by club and player by player basis. Lets begin with my, against the grain, approach with Scarborough.
Lower League Approach
Game time is key within the lower leagues because you lack the facilities and staff to influence development through training. My Scarborough youngsters dubbed the 'class of 2020' are proof.
The youngsters who performed well developed and grew with the club. I offered first team Football to several young prospects aged 16-17 at every level from the National League North to Championship. These players trained with the first team and were treated like seniors despite, in large, being 18 and under.
I attribute game time to their development but more importantly match experience at a level just within their current ability. Quality performance is key and you can use the average match ratings as a yard stick.
To prove the importance of match experience over training in the lower leagues consider the fact I left team training to my Assistant Manager. Other than assigning players to work on relevant roles and individual training I played no role in training development.
Ryan Williams is a prime example of someone who excelled on the pitch year in year out, while remaining challenged enough to stimulate growth.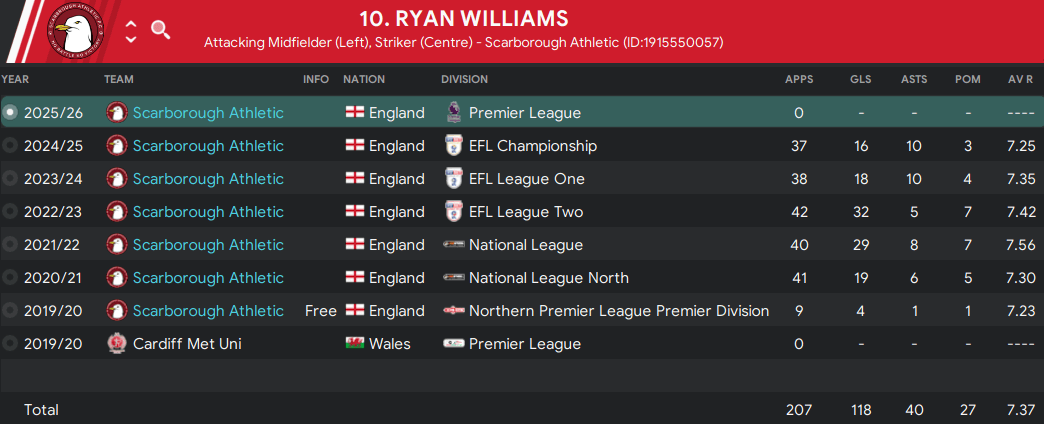 The best developers had Championship or Premier League potential, those with League Two and lower potential were slow burners and struggled to keep up. You should look for players with a high ceiling regardless of your current level. Another example from my Scarborough save is Salthella who now looks capable in the Premier League.

Top Flight Approach
While I chose to train youth in the first team and play them week in week out, Sports Interactive recommend a different approach which I feel is very relevant to top flight teams training under 18's.
This approach only applies if you have great facilities and coaches, I will use @SebWassell's Twitter feed to explain. Seb is a Designer for Sports Interactive so if anyone knows FM game mechanics, its him.
According to Seb young players need both training and playing time throughout their career to develop. Under 18 year olds should focus on quality training while over 18's should focus on an appropriate amount of game time.
Equally as important is the type of training, young players need more rounded training and can handle more physical work which ties in with their capacity to improve physicals more during earlier years.
The key to all of this of course is managing workload. Fatigue your players with too much game time and they will not develop as well in training through their optimum growth years.
– Training

Appropriate schedules, quality facilities, good coaches and suitable workloads

Young players need more, well-rounded, training than senior players. They can also handle more physical work.

Working With Youngsters applies to coaches in the Under-X team pic.twitter.com/VbPpuvGEdO

— Seb Wassell (@SebWassell) May 18, 2020
Develop The right Attributes At The Right Time
Attributes grow at a varying rate through the age groups. Understand the guidelines below and you could dramatically improve your Football Manager Youth Development but bare in mind some players can be outliers and this is a guide not a rule.
Physicals generally develop by 24
Acceleration, pace and agility develop earliest
Strength & jumping reach can develop later
Technicals develop at any age.
Mentals develop best from mid to later years but could grow early on.
Physicals

Physicals will generally be developed by the age of 24

❗️ This is a guide not a rule ❗️

– Acceleration, Pace & Agility develop and decline earliest

– Strength & Jumping Reach can develop and be retained later

⚖️ – Balance will decline slower than quickness

— Seb Wassell (@SebWassell) May 20, 2020
Mentals

Mentals develop best from mid to later in the player's career, but this does not mean they cannot develop early on

Most Mentals are retained well as the player ages

– Bravery may drop with serious injury. It can be recovered – https://t.co/lb0ll7jgYp

— Seb Wassell (@SebWassell) May 20, 2020
Train Youth & Seniors Apart
So we should target different attributes for youth team players; with this in mind I would suggest training youth players separate to the first team.
Our focus should be on developing physical attributes in that optimum age range (upto 24.) If you have great 'training facilities' and 'under 18 coaches' I would recommend training under 19's using 'youth schedules' tailored to physical development and well rounded training.
Note: Unless you have a full compliment of U18 coaches with minimum 4 star training development will be hindered and it may be worth reverting back to first team training. This was the case with my Scarborough save.
Not All Attributes Are Equal
Not only do attributes develop differently for each age group, they are weighted. By weighted I mean the amount of current ability they command, Acceleration for instance takes up more current ability than balance and the exact amount can vary by position.
I go into more detail on attribute weight in this post but the table below summerizes well (all credit to MikaelinhoFM.) Consider how much current ability each attribute costs.

Individual Training & workload
Optimizing workload is vital; I rotate first team youngsters to a) spread development and b) avoid fatigue. I set each players training intensity to 'automatic' so it picks up on the team intensity guidelines, which are set to the screenshot below. The idea being we work hard when feeling fresh and ease off as fatigue builds up.

Each player trains in the most appropriate role, this is not always the role they play in but the role which targets a group of attributes I would like to increase. Role training develops the attributes for said role but does not aid a players familiarity within the role, role familiarity does not really exist. You can however aid positional familiarity through training and I ensure each player trains in their matchday position.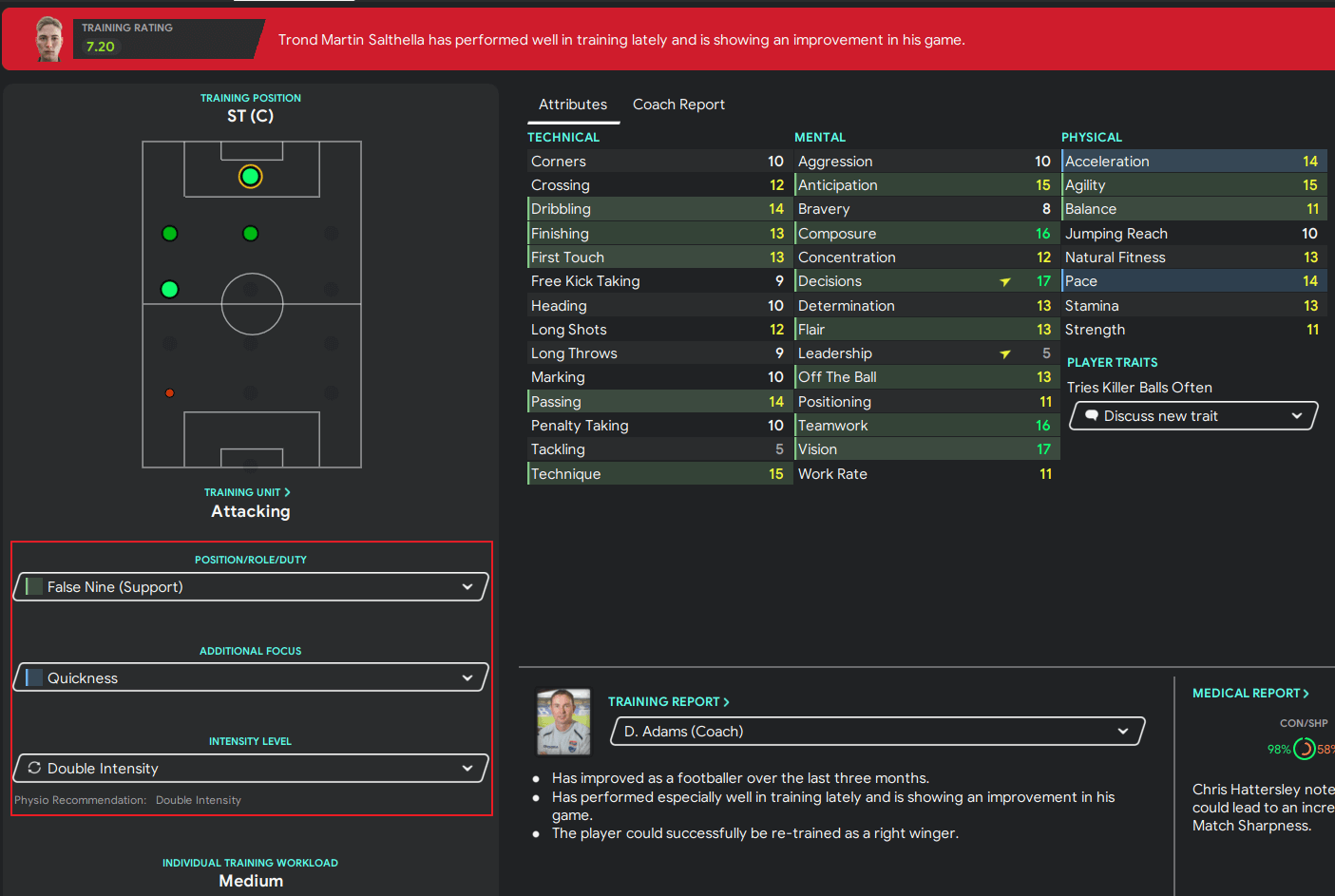 Finally I always set individual training and use Seb's age specific guidelines as a pointer. Under 19's work on quickness or agility unless neither are a weakness, I then target specifically low technical attributes and lastly mentals. Salthella for instance had low speed, off the ball and finishing so I switched between the three periodically favouring quickness training early on.
Find The Right Players: Potential & Personality
The higher your players potential the faster he will develop to reach it, add a great personality and he could jump through the Divisions season in season out. Trying to develop a player with poor potential or a limiting personality is pointless. I targeted the player types below with Scarborough and found those falling outside the mould failed to progress.
Minimum Championship potential
Personalities with good professionalism, ambition and/or determination
Capable within my system
To better understand what to look for in wonderkids read our scouting guide and understand the best personalities for development here.
Football Manager Youth Mentoring
You can of course mould a players personality and while this is limited it can be effective. Seb explains best below.
– This shift happens between players in the same squad

– It is more likely to occur between players in the same Social Group and/or Training Unit

❗️ This happens regardless of Mentoring ❗️

– Mentoring allows you to bias it towards a specific group of players pic.twitter.com/AtLlUhzFxU

— Seb Wassell (@SebWassell) May 25, 2020
Factors that impact a player's estimated influence include…

Captain/Vice-Captain
Hierarchy
Age
Appearances
Time at Club
⭐️Reputation

⌛️ – Players are less likely to be influenced by others after the age of 24 pic.twitter.com/NpWfDcg3mg

— Seb Wassell (@SebWassell) May 25, 2020
I bought the four highlighted players below purely to pass on their desirable personalities, none will feature for Scarborough. I throw such players into a mentoring group with the youngsters requiring improvement. This only works for older players because new signings have no real influence other than age.
While your entire squad influence each other, mentoring groups can hone in on specific traits you'd like to pass on. Players from the same social groups will pass on traits best so I try to sign as many of these 'carriers' as possible in the hope we cover all social groups. I look for personalities with high professionalism, ambition and determination as these impact development directly.
It is best to mentor by position, but this requires a large number of leaders and desirable personalities.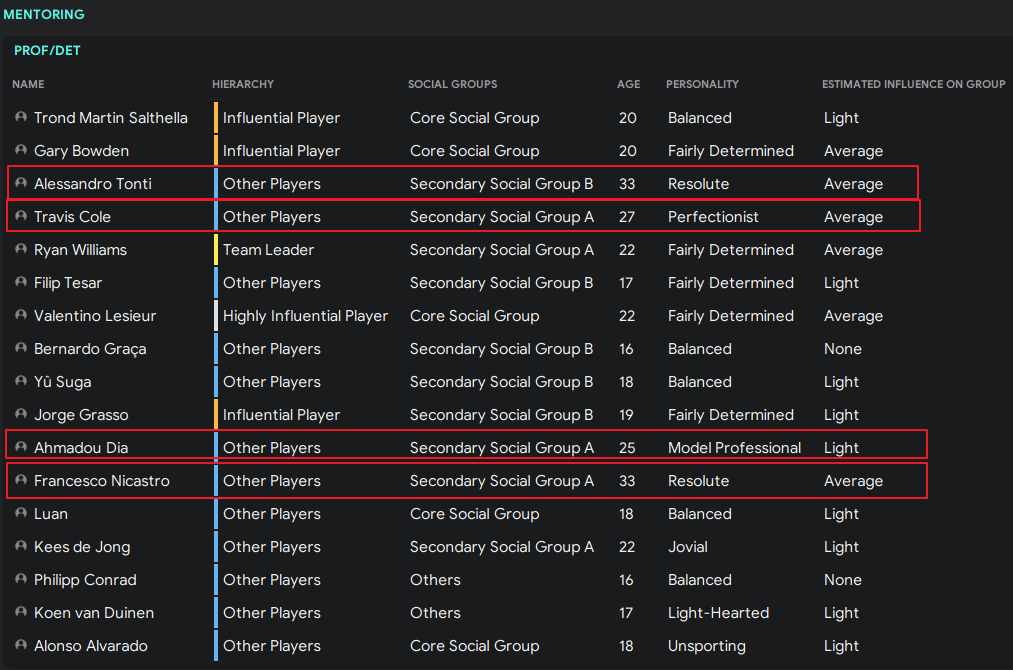 Summary
In summary you should approach youth development in Football Manager according to level.
Suffer poor training facilities and coaches? Train youth in the first team and offer as much game time as possible
Enjoy great facilities & U18 coaches? Train youth in the U18's with schedules to prioritise physical attributes & general training
Generally speaking; physicals develop by 24, technicals around peak years and mentals mid career onwards
Use individual training to target these attributes further
Beware of fatigue, over worked youth will not develop as well
Aim for high potential youth, the higher their ceiling the faster they will grow to reach it
Look for youth with personalities rich in professionalism, ambition and/or determindation
Personalities can be improved through mentoring
Training facilities are the only part of your infrastructure to impact development, youth facilities are for Newgens (invisible to you and I)
That is all for today folks, I hope this guide has helped and please feel free to jump in the comments with any questions. If you would like to relive the development of the wonderkids featured today, why not binge watch my 'SEADOGS CAN FLY' series on Youtube.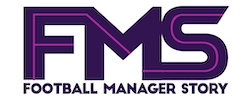 Subscribe to our Newsletter