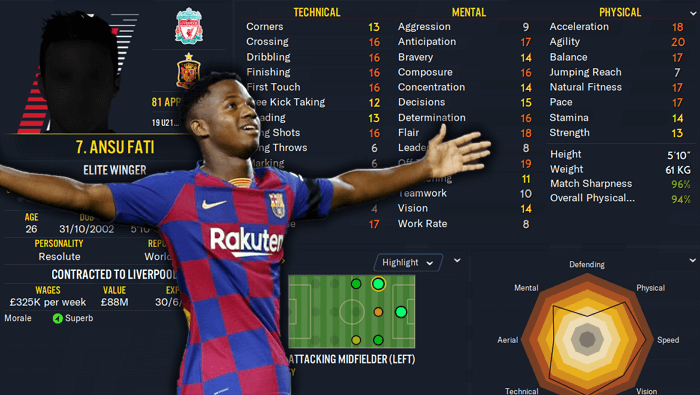 Ansu Fati
Age: 16
Position: AML/ST/AMR
Role: Inverted Winger, Inside Forward, Winger
Club: Barcelona
Nationality: Spannish
Value: £3.4 million
Price tag: £75 million (patch 20.4)
Hidden Potential: CA: 125 / PA: -95 (160-190)
---
Ansu Fati profile in 2019 (after starting new game, 20.4)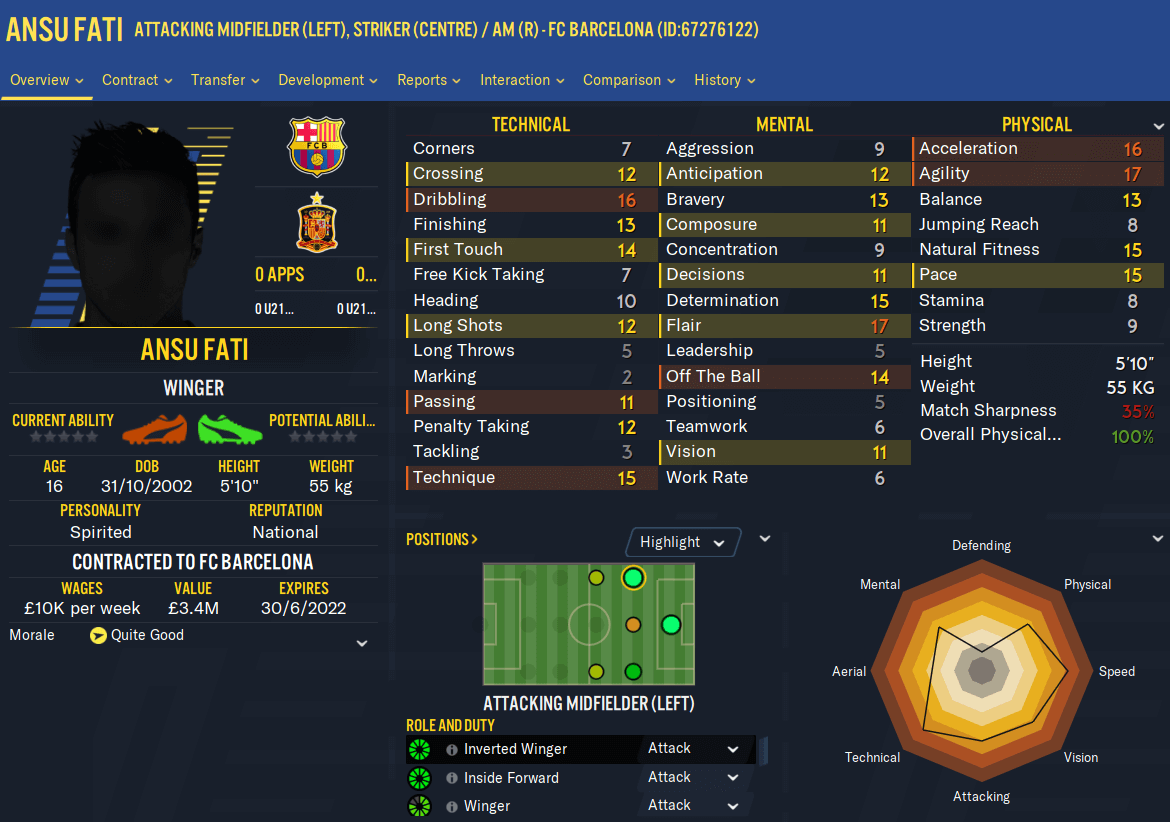 Ansu Fati profile aged 26 in the year 2029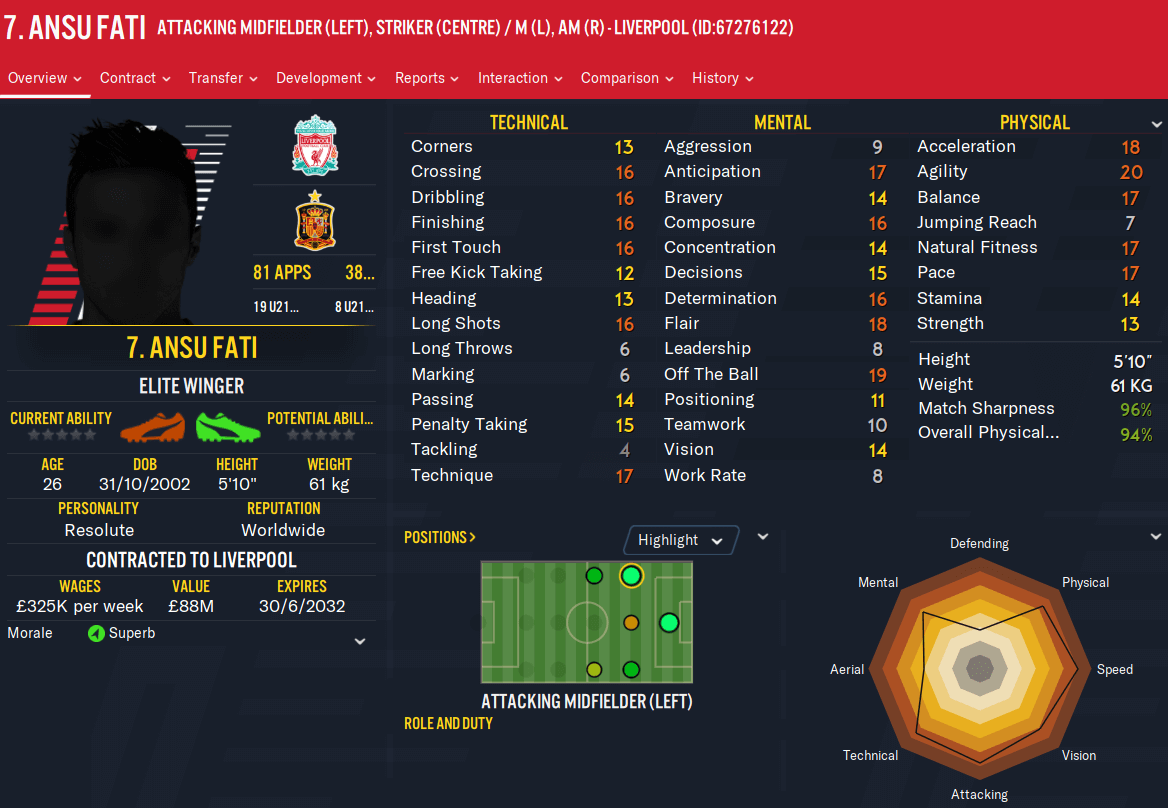 ---
Want to develop monster wonderekids? Find out which player personalities aid development here
---
Ansu Fati career history until 2029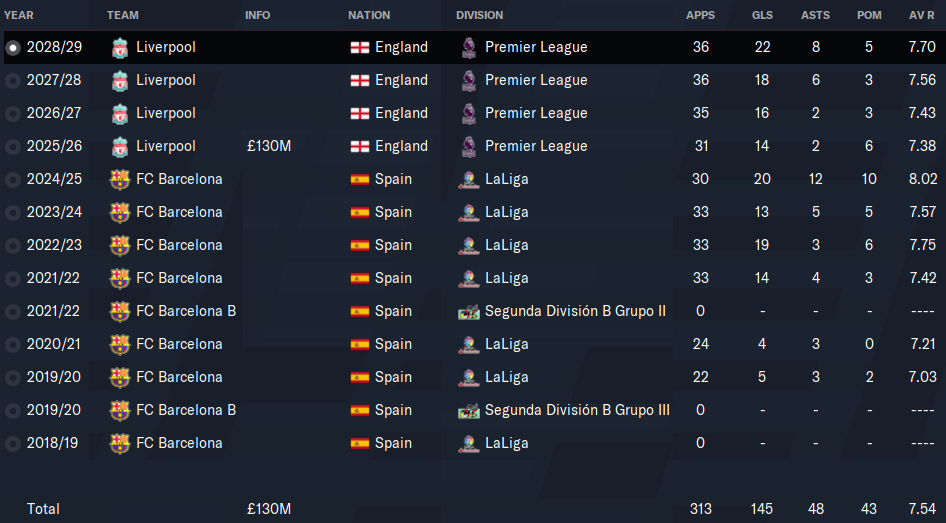 Pros
Potentially best player in the World

Lightning fast

Flair and ability on ball

Hard to dispossess

Good technique

Very high potential

Spirited personality

Can play either wing or False 9
Cons
High asking price

Does little defensively
---
Need an FM20 tactic? Try Concerto, an attacking 4-2-4, we won the Premier League with Everton, just click here.
---
Summary
Ansu Fati is one of few FM20 wonderkids boasting -95 potential ability, meaning he could one day attain 190 out of 200 current ability. This kid regularly develops into a worldclass player capable of lifting the Ballon d-Or and is capable from either wing. Best used from the right Fati can cut inside with insane speed, skill and technique while excellent off the ball movement give Ansu an edge.
When a player develops 17 and above for agility, balance, pace, acceleration, technique and flair he is gauarnteed trouble. Add 16 and above for dribbling, crossing, finishing, long shots and composure and it becomes clear how Fati has won the Ballon d'Or in my save. Liverpool paid £130 million during 2025/26, a large sum re-paid in spades with 70 goals, 18 assists and an average rating of 7.52 from 138 appearances.
Should you need the best carrier of a ball in football Manager 2020, capable from either wing and capable of first team Football from the age of 16 Fati's your man. Now how to raise £75 million…


Subscribe to our Newsletter