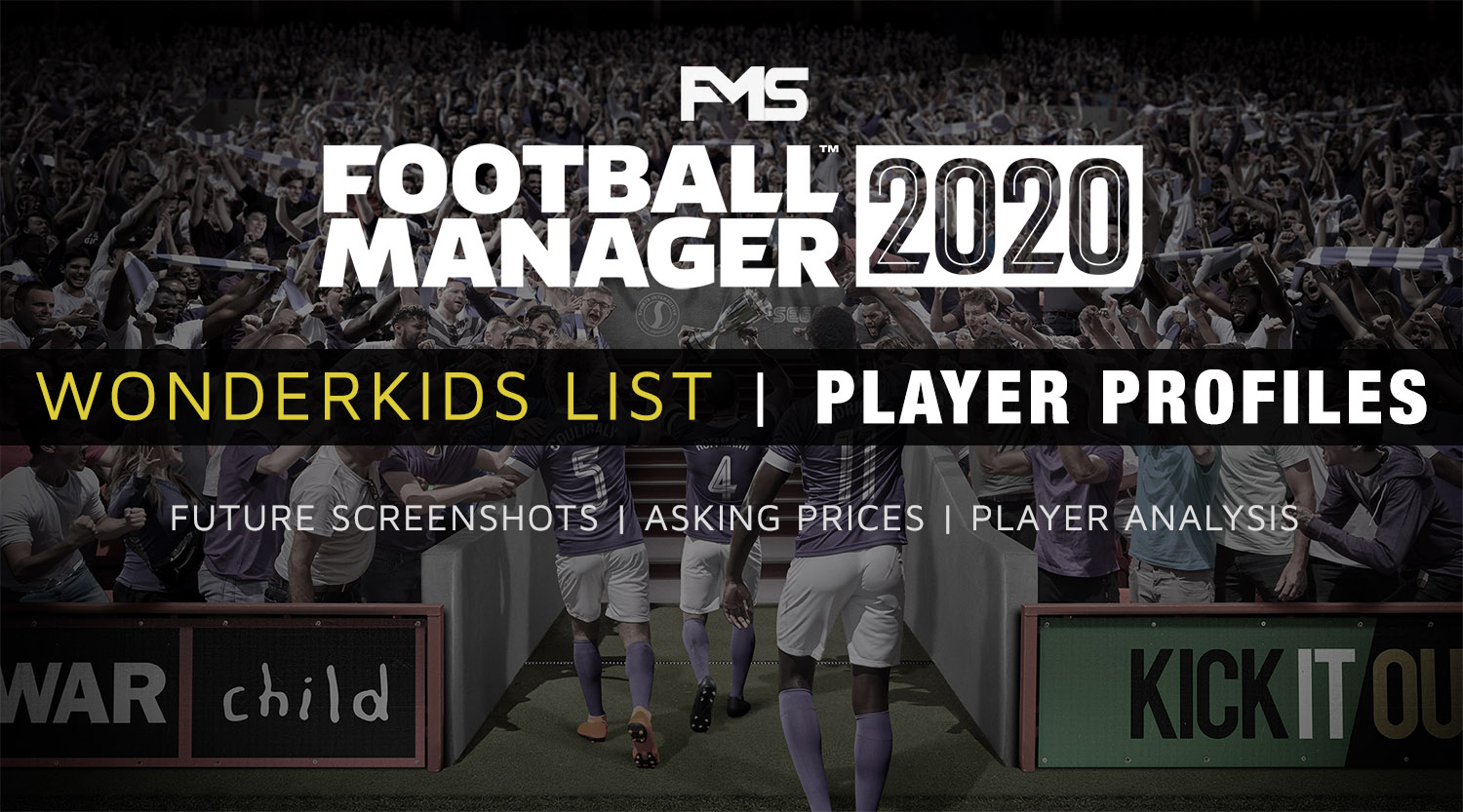 Welcome to the best FM 2020 wonderkids list. We go into great detail on every Football Manager 2020 wonderkid, including asking prices, future screenshots and what to expect from your new talent. Sort the table by asking price or position, its completely interactive. Scouting those FM20 wonderkids has never been so easy.
---
Need an attacking FM20 tactic, try Knap's BEOWULF 4-4-2, we won the top flight quadruple with York City, just click here.
---
Click on each players name to view their comprehensive player profile. We will add to the best Football Manager 2020 wonderkids list every week so feel free to bookmark this post for future reference. Each player profile is packed with information as listed below.
Our opinion and advice for every FM20 best young player including their best role.
Official FM20 wonderkids current ability and potential ability, as seen in the games editor.
future screenshots from 2022 and beyond.
I'm sure you appreciate how much work goes into each and every FM20 player profile. Naturally, this list will take time to populate so bookmark the page and keep checking in. We will add profiles every day.
Have you tried the search feature yet? Just type in a position like 'AMC' to filter the list down. This is situated above the table and helps you nail down the best FM 2020 wonderkids by position.
---
Remember this list will grow every day, it takes time to create quality. Fancy 165 wonderkids in one instant Download instead? Try our best FM 2020 Wonderkids Shortlist, by clicking here.
---
Please remember that all asking prices and details are subject to who you make a bid with. We make all our bids during the first week of a newly loaded save, with the large database loaded, including England, France, Germany, Italy, Spain, Argentina and Brazil loaded as playable. If you don't do the same, then chances are the asking price will vary.
Best FM 2020 Wonderkids
| Player Name | Position | Asking Price £m | Age | Club | Nat. | Rating |
| --- | --- | --- | --- | --- | --- | --- |
| Camavinga, Eduardo | DMC/MC | 32 | 16 | Rennes | | |
| Aouar, Houssem | MC/AMC/ML/AML | 48 | 20 | Lyon | | |
| Haaland, Erling | ST | 29.5 | 18 | Red Bull Salzburg | | |
| Mejbri, Hannibal | AMC/MC | 60 | 16 | Manchester Utd | | |
| Arp, Fiete | ST | 12 | 19 | FC Bayern II | | |
| Berge, Sander | DMC/MC/AMC | 21 | 21 | Genk | | |
| Pellegri, Pietro | ST | 30 | 18 | Monaco | | |
| Tonali, Sandro | DMC/MC | 25 | 19 | Brescia | | |
| Ajer, Kristoffer | DC/DMC/MC | 20 | 21 | Celtic | | |
| Olmo, Dani | AMC/MC/MRL/AMRL | 21.5 | 21 | Dinamo | | |
| Esposito, Sebastiano | ST | 18 | 16 | Inter Milan | | |
| Almada, Thiago | AMC/AML/ST | 6.0 | 18 | Velez | | |
| Riccardi, Alessio | MC/AMC | 9.5 | 18 | Roma | | |
| Verschaeren, Yari | MC/AMC/AMR/AML | 13 | 18 | Anderlecht | | |
| Bellingham, Jude | MC/AMC/AMR/AML | 3.0 | 15 | Birmingham | | |
| Anderson, Andre | MC/AMC/ST | 5.75 | 19 | Lazio | | |
| Palacios, Exequiel | MC/ML | 10 | 20 | River Plate | | |
| Gouiri, Amine | ST/AML | 13.5 | 19 | Lyon | | |
| Reinier | AMC | 15 | 17 | Flamengo | | |
| Onguene, Jerome | DC | 14.5 | 21 | Red Bull Salzburg | | |
| Cherki, Rayan | AML/AMC/AMR/ST | 1.5 | 15 | Lyon | | |
| Unuvar, Naci | AML/AMC/MC | 0.9 | 16 | Ajax | | |
| Pedrinho | AMR/AMC | 7.5 | 21 | Corinthians | | |
| Guimaraes, Bruno | MC/DMC | 15.5 | 21 | ATP | | |
| Armini, Nicolo | DC/DL | 0.9 | 18 | Lazio | | |
| Da Silva, Florent | MC/AMC | 4.5 | 16 | Lyon | | |
| Macias, Jose Juan | ST/AML | N/A | 19 | Club Leon | | |
| Salcedo, Eddie | ST/AML/AMC | 1.3 | 17 | Inter Milan | | |
| Lodi, Renan | DL/WBL/ML | 16 | 21 | Juventus | | |
| Arezo, Matias | ST | 0.9 | 16 | River Plate Mont. | | |
| Lyanco | DC | 13.5 | 22 | Torino | | |
| Galeno | AML/AMR | 7.5 | 21 | Braga | | |
| Trincao, Francisco | AMR/AML | 1.8 | 19 | Braga | | |
| Ait-Nouri, Rayan | DL | 10 | 18 | Angers SCO | | |
| Serrano, Nico | MR/AMR/AML/ST | 2.0 | 16 | Athletic | | |
| Samardzic, Lazar | AMC/MC/AML | 0.77 | 17 | Hertha Berlin | | |
| Montes, Cesar | DC | 5.5 | 22 | Monterrey | | |
| Antony | AMR/ST/AMC | 8.75 | 19 | Sao Paulo | | |
| Solet, Oumar | DC/DMC | 17 | 19 | Lyon | | |
| Leonardo, Marcos | ST/AML | 0.6 | 16 | Santos | | |
| Bettella, Davide | DC | 3.9 | 19 | Atalanta | | |
| Solomon, Manor | AMR/AMC | 13.5 | 19 | Shakhtar | | |
| Pellegrini, Luka | DL/WBL/ML | 38 | 20 | Juventus | | |
| Franco, Alan | DC/DMC | 5.75 | 22 | Independiente | | |
| Kenneh, Nohan | DMC/DC/MC | 0.7 | 16 | Leeds | | |
| Millico, Vincenzo | ST/AML/AMC | 5.75 | 18 | Torino | | |
| Farinez, Wuilker | GK | 2.5 | 21 | Millonarios | | |
| Vignato, Emanuel | AMR/AMC | 3.2 | 18 | Chievo | | |
| Gil, Bryan | AML/AMR/AMC | 6.0 | 18 | Sevilla | | |
| Almendra, Agustin | MC/MR | 5.0 | 19 | Boca Juniors | | |
| Kluivert, Justin | AMR/AML/MR/ML | 9.5 | 20 | Roma | | |
| Majer, Lovro | AMC/MC | 2.9 | 21 | Dinamo | | |
| Buitink, Thomas | ST/AMR/AML | 14.5 | 19 | Vitesse | | |
| Torres, Pau | DC | 5.0 | 22 | Villarreal | | |
| Vera, Fausto | DMC/MC | 6.0 | 19 | Argentinos | | |
| Sosa, Borna | DL/WBL | 3.0 | 21 | Stuttgart | | |
| Chalov, Fedor | ST | 9.5 | 21 | CSKA Moscow | | |
| Ortega, Francisco | DL/WBL/ML/AML | 5.0 | 20 | Velez | | |
| Bowen, Jarrod | AMR/AML/MR/ML | 14 | 22 | Hull City | | |
| Aguirre, Brian | AML/AMR/ST | 0.6 | 16 | Newell's | | |
| Senesi, Marcos | DC | 9.25 | 22 | Feyenoord | | |
| Connell, Luca | ML/MC | 4.9 | 18 | Celtic | | |
| Mokoena, Teboho | MC | 0.4 | 22 | Super Sport Utd | | |