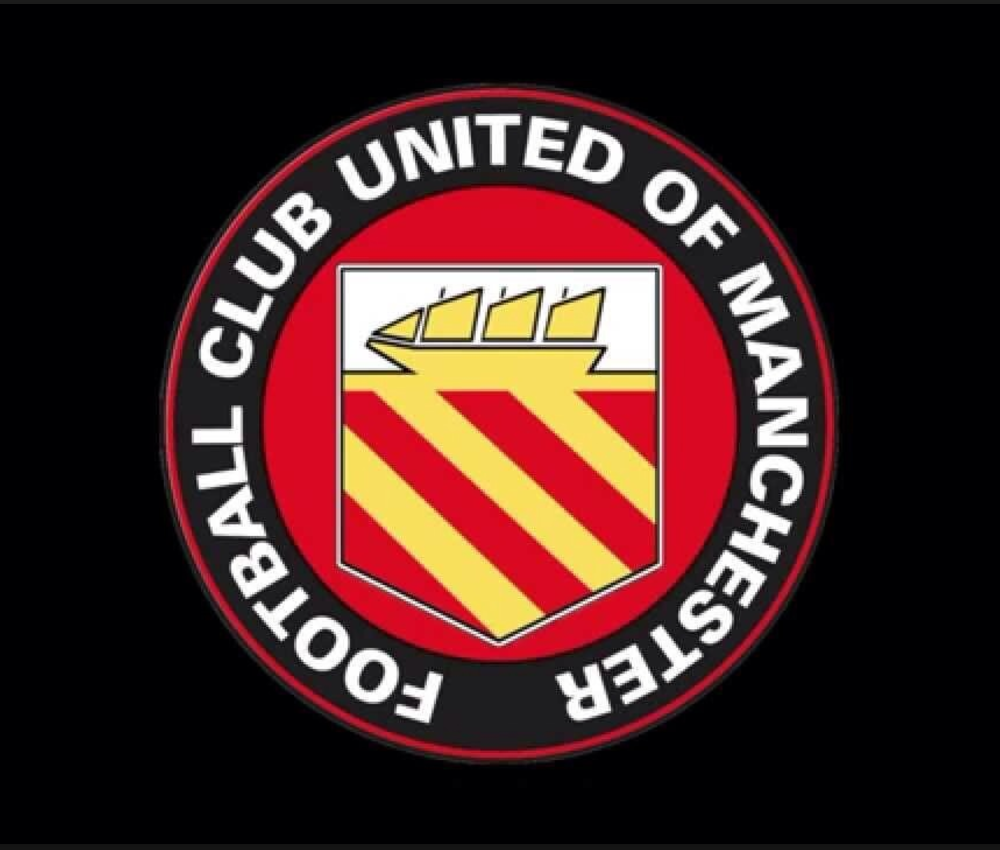 Before we take a look at the latest chapter of Ian's story, let's have a little recap of what happened previously.
Recap *spoiler alert*
Ian took over at FC United of Manchester at Vanarama North in July as he hoped to take the club to glory. The Spanish-born manager wanted a new challenge and felt that Manchester was the perfect place for him.
After a complete rejuvenation of both the squad and the backroom staff, FC United had an impressive first half of the season, in first place by Christmas, things were looking good for Ian Martin and his future at the club.
Now for the new chapter…
Cups
Ian Martin's first season at FC United of Manchester is over, with the Spaniard impressing both the fans and the board. Before we take a look at the league, we will have a quick look at FC United's cup results. As you can see, they were not the most impressive, with an embarrassing FA Cup Second Qualifying Round defeat to Ilkeston and crashing out of the FA Trophy in the Third Round to Hungerford. Despite this, they pulled off an impressive 3-0 win at home to Tranmere, which will go down as one of the best results of the season for Ian.

The league
The league was a different story however, with impressive wins against Altrincham, Alfreton and Boston United in the first half of the season leaving them top at Christmas.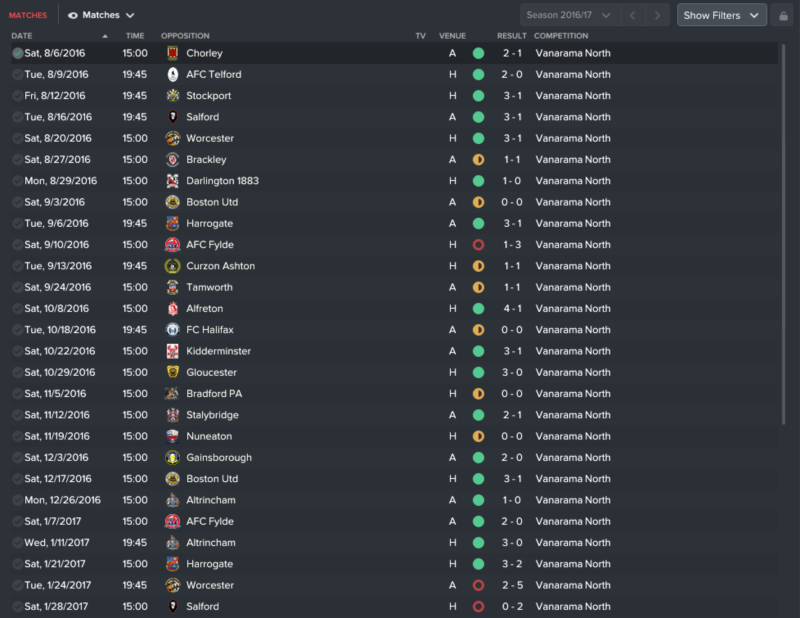 … and an amazing unbeaten run in the second half, stretching from the end of January until the end of April, when the season came to a close. This was highlighted by 4-1 victories against Telford and Brackley, and an impressive 4-0 home defeat of Kidderminster in March.

The League Table
So, with just three defeats in the league all season, FC United finished top of the Vanarama National League North and were crowned as Champions, finishing 18 points clear of second-placed Altrincham, who ended up losing in the play-offs.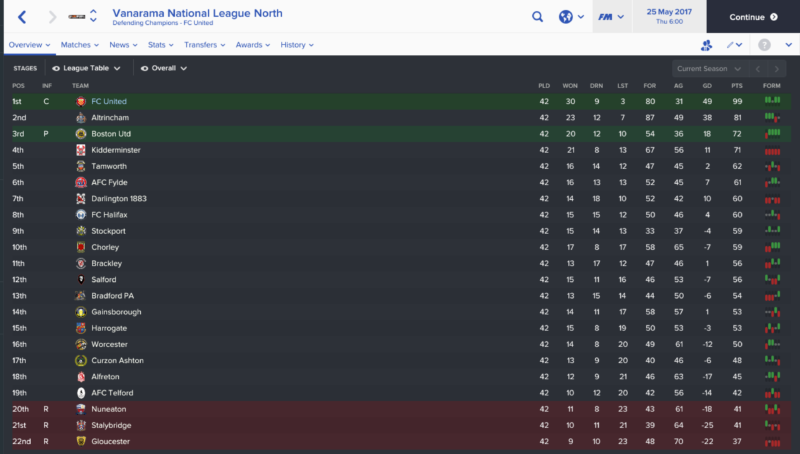 The Squad Stats
The squad were delighted with how they performed, and their morale shows as such, with every player at 'Very Good' or 'Superb'. Nearly every player in the starting XI finished the season with an average rating of 7.00 or more, with just a couple of players missing out. In reflection, Ian Martin has stated in press conferences that the club will be looking to sign a new right winger, striker and central defender before they hope to mount any challenge in the Vanarama National League, and these will be the areas that Ian will look to improve.

Best Players
The highest rated player of the season was David Ferguson, a natural Left-Back who was forced to play at the left midfield position, and he impressed, scoring 12 goals and picking up 8 assists. It is unclear as to whether or not Ferguson will be played in his natural left-back position next season, and if so, whether or not he impresses as much as he did this time round.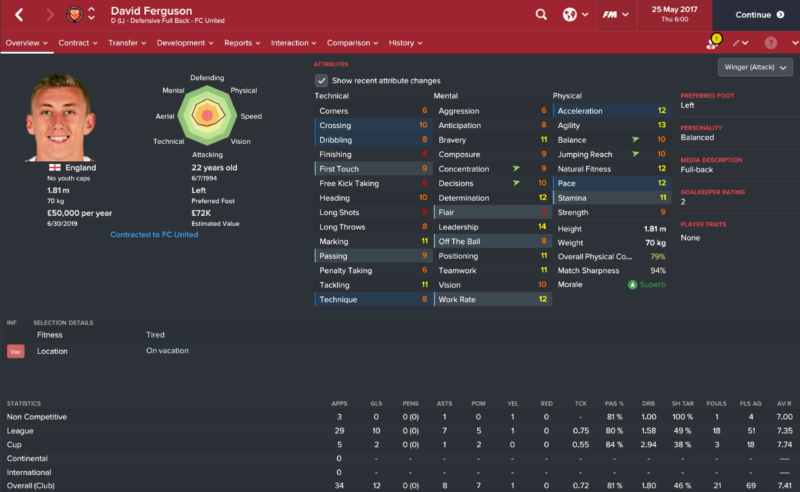 Player of the season and captain, Mateusz Halambiec, had an excellent season, controlling the midfield and scoring 17 goals and assisting a further 8. He achieved an average rating of 7.37, one of the highest in the squad and this was all down to his amazing contribution in helping the team get crowned as champions of the Vanarama National League.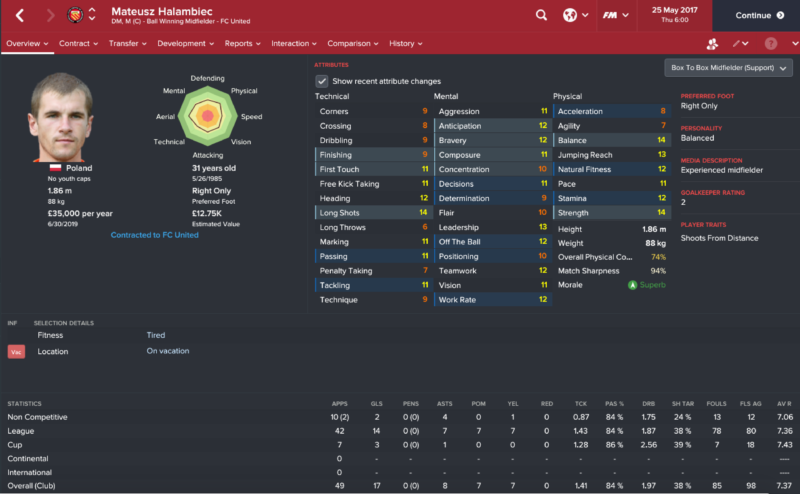 FC United's top scorer this season was the 22-year-old Jason Gilchrist, who played at a false 9 position and picked up an impressive 20 goals, assisting another 6. He impressed greatly and will be hoping that his age and record so far will put him in good stead for becoming a stalwart of this FC United side for years to come.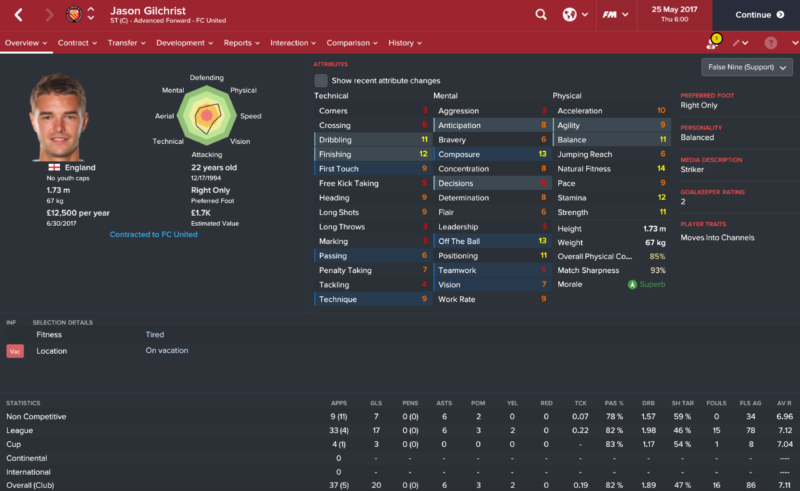 George Thomson was another vital part of FC United's success, scoring 16 and assisting 6 in just 28 starting appearances. He was dropped to the subs bench for the second part of the season, but still managed to impress, grabbing another 4 assists from 8 substitute appearances.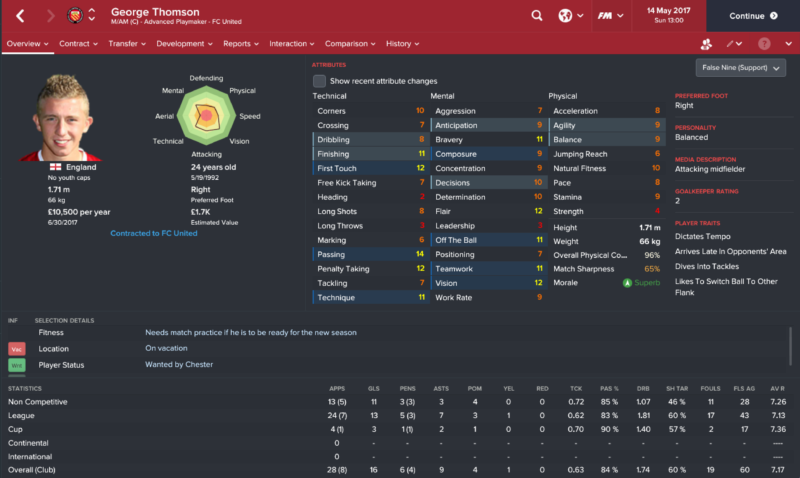 The top assisters in the FC United squad this season were Louis Rowley and Perry Cotton, two young full-backs who picked up 11 and 10 assists respectively. As they are both young, they will be looking to become a vital part of FC United for years to come, with room for improvement for both players.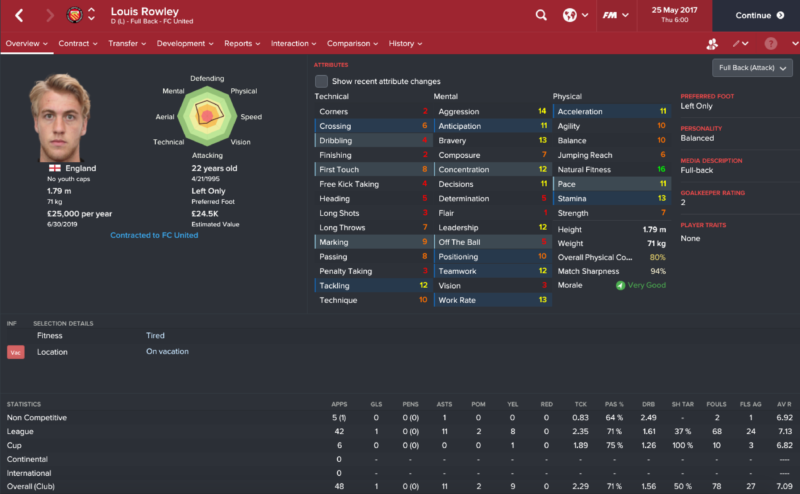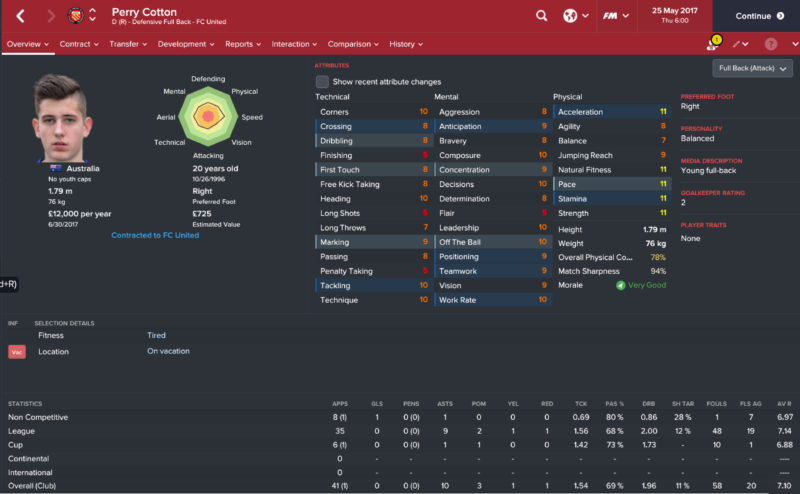 The Transfers
Mateusz Halambiec was Ian Martin's signing of the season, costing the club just £24,000 but becoming integral to their success and leading the club as captain. A couple of additional loans were brought in in the second half of the season, Gwion Edwards from Peterborough and Tom Rosenthal from Burton.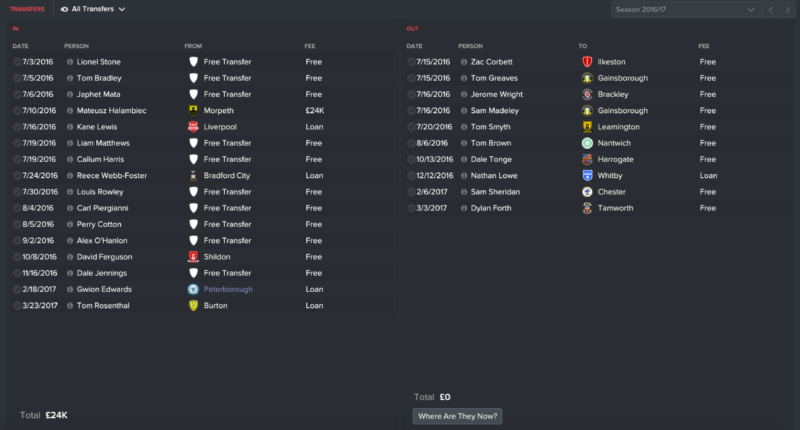 Finances
As for their finances, FC United are looking good, with £10,000 remaining of their transfer budget, and a spare £220,000 a year being saved on wages. They have £79,641 in the bank overall, making a £65,000 profit over Ian Martin's first season in charge.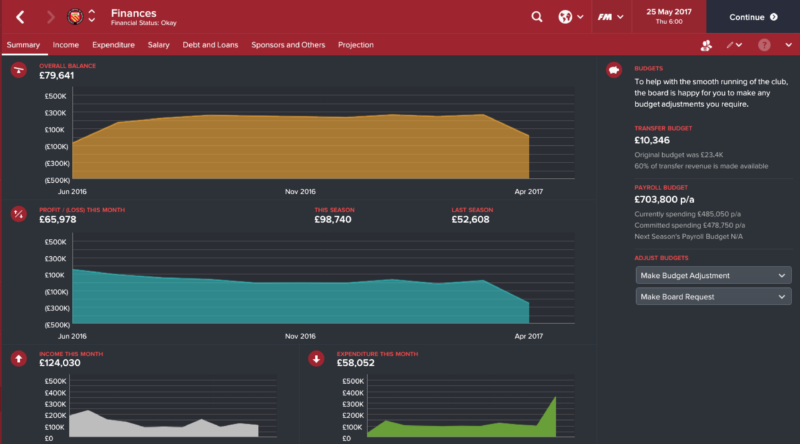 New Contract Offered
After being impressed with Ian Martin in his first season in charge, general manager Andy Walsh offered Ian an extension on his contract, paying the Spaniard just over £22,000 a year. It is a one-year extension, with the board excited to see how Ian does next year in the Vanarama National League. He accepted the proposed extension and is excited to be managing the club for another year.
Board Confidence
The board was delighted with Ian's work at the club this season, after expecting them to finish in just 14th, he impressed greatly, leading the team to the title, and promotion to the Vanarama National League.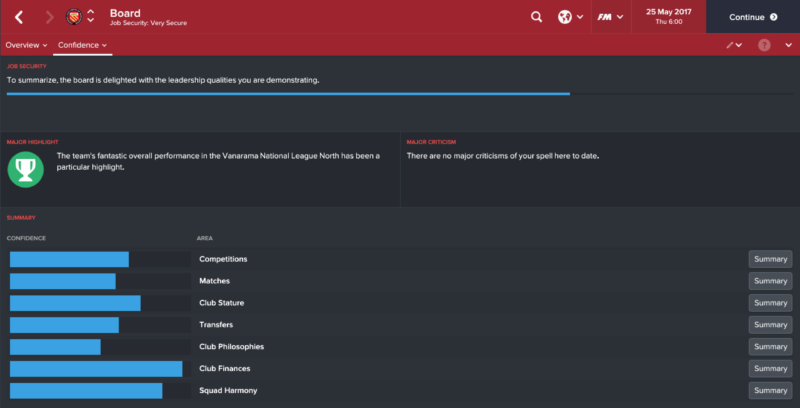 Staff
Brede Hangeland, ex-Fulham and Crystal Palace centre-back, impressed as Assistant Manager and is currently studying for a Continental Pro License. He has been a vital part of FC United's league success and Ian Martin will look to keep him at the club for years to come.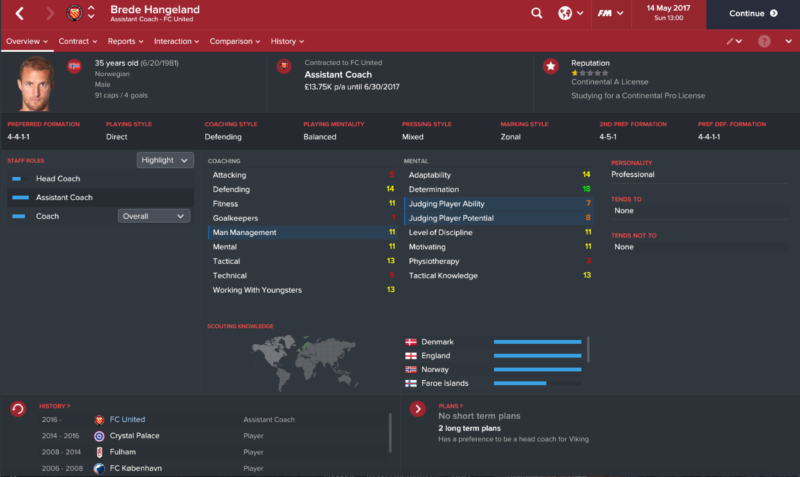 The Formation
Finally, this is the formation used by Ian Martin, which will be published as a tactic soon, which led his team to glory in the Vanarama North.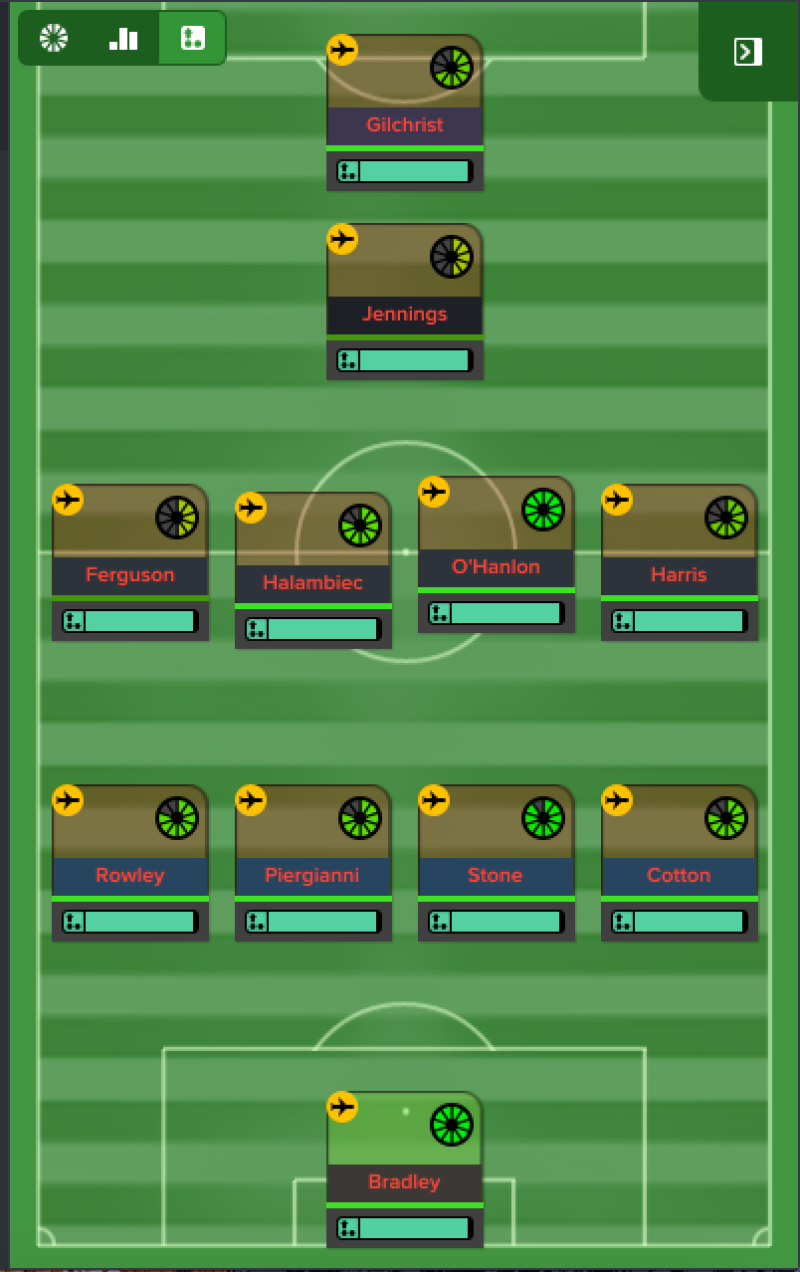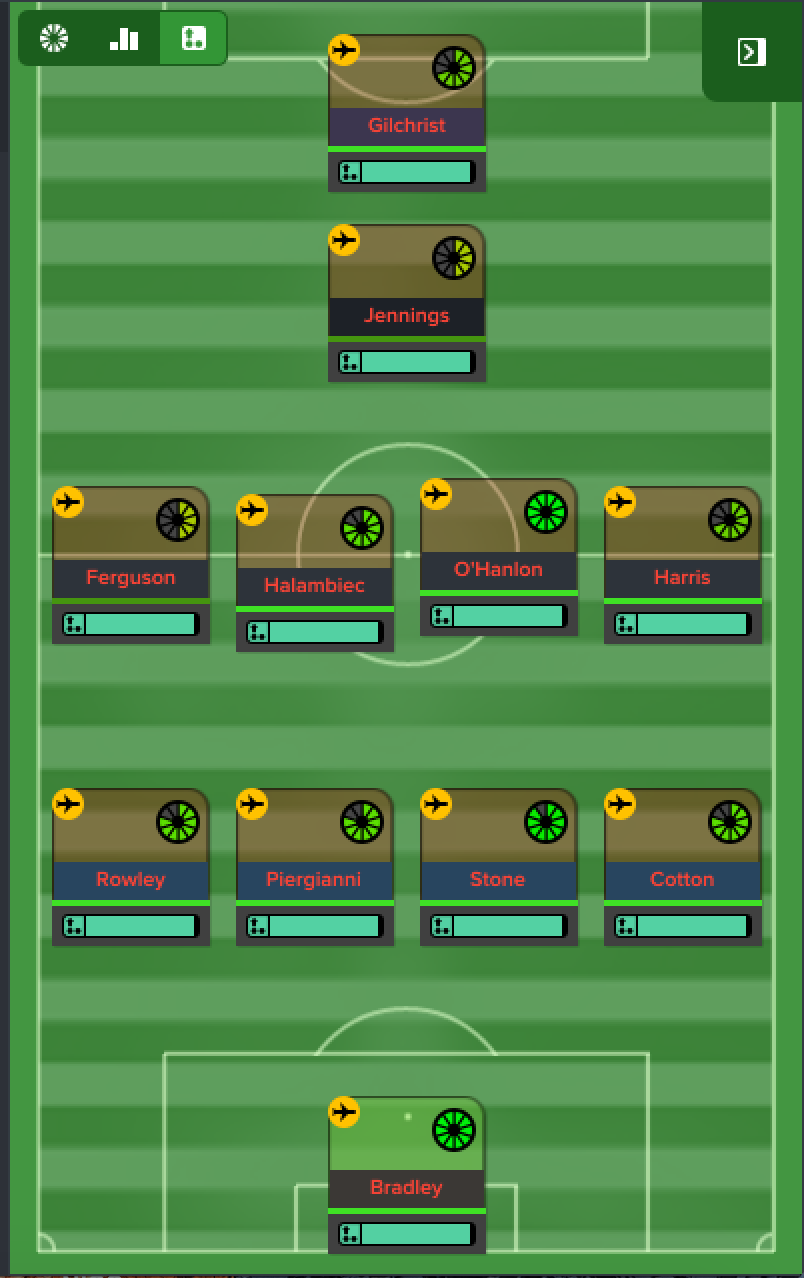 And finally, an excerpt from BBC News…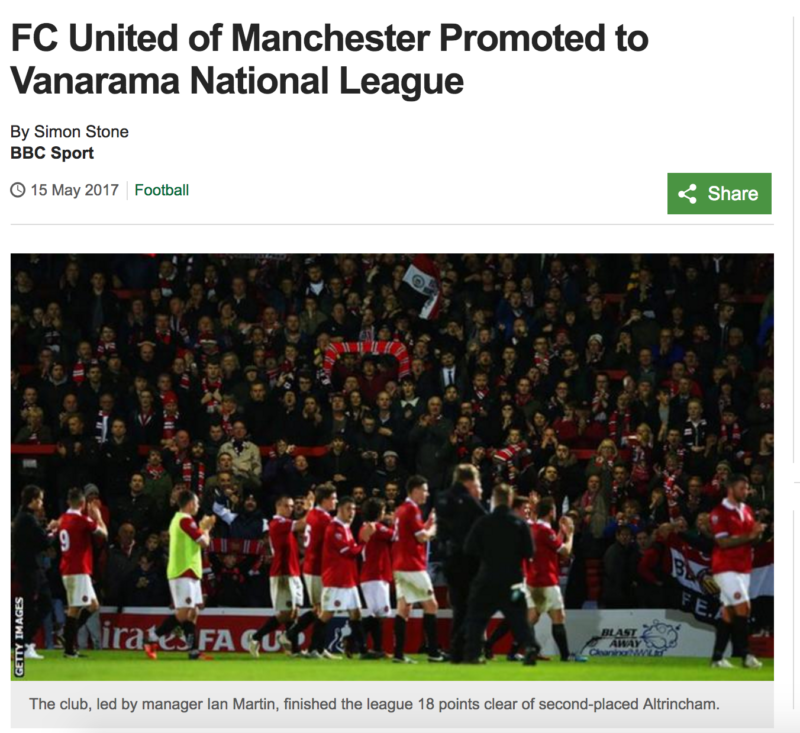 How's Ian Martin's FC united going to do next season in Vanarama National?
Will he get relegated?  Promoted?…………
Some of this season Fc United's best goals using Ian Martin's acclaimed 4-4-1-1 formation tactic….

Subscribe to our Newsletter