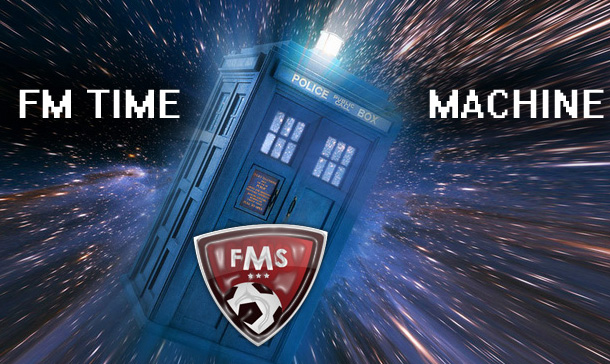 The 2008 movie called "The Curious Case of Benjamin Button" tells the story of a man who starts ageing backwards, and that leads to bizarre events and consequences. Now I'm going to tell you the story of Arsenal's Alex Oxlade-Chamberlain through Football Manager 2013, it somehow resembles what happened to that man in the film.
Alex Oxlade-Chamberlain is probably one of the top young talents in English football, Arsenal paid around 12 million pounds to buy him from Southampton back in 2011. His initial profile in FM 13 is consistent with the tag of "promising youngster":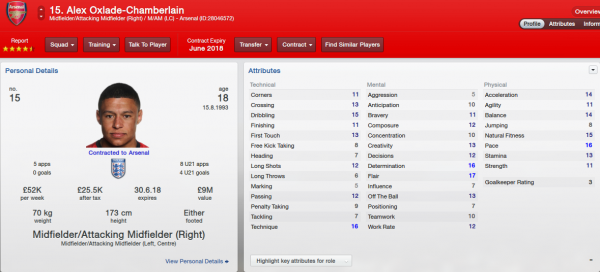 Nothing strange so far, a talented 18-year old player with a bright future ahead of him. Or maybe not. Here's how he ended up in my FM 13 save, in the year 2019: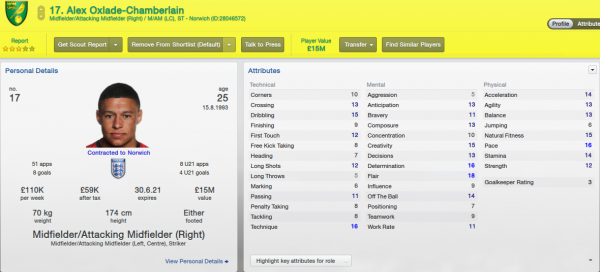 Norwich? Yeah, that's exactly what I said too. First I thought Norwich might have become a force in English football but that wasn't the case, their best finish in the Premier League was 7th from 2012 to 2019, slightly better than in real life but not extraordinary. They did manage to win the League Cup in 2018, with Oxlade-Chamberlain in the squad, but the lad played just two games in the competition and was an unused substitute in the final.

As you can see Norwich had to break the bank to sign the player, 22 million pounds. But his stats are not really worthy of that huge sum of cash. He never managed to take his season average rating above seven, the best year was right after joining Norwich when he came close, 6.99 average rating with 3 goals scored and 10 assists. It's true that he never seemed to get enough first team football at Arsenal, the numbers show he was always a fringe player. By the way, Arsenal won the Premier League title in 2016 and the Europa League in the same season.
His 2012-2013 Premier League season stats, compared to real life, show a pretty big difference: 13 apps in FM 13 compared to 25 apps in real life, 1 goal in both cases, 5 assists in real life versus just 1 in FM 13.
Then I thought Alex Oxlade-Chamberlain might have had some injury problems but that was not the case either, the worst injury he had in all those years was a groin strain which kept him out for just two weeks.
His 2018-2019 figures are not very impressive either:

Just 15 starts in the Premier League, won less than half the matches he played in, a terrible 52% pass completion ratio, which is disastrous for a midfielder, and just 31% successful crosses, which is a total flop for a winger.
But let's get back to his initial vs future profile to see something really curious, pretty similar to ageing backwards:
As you can notice his finishing, first touch and passing deteriorated, the finishing actually went down by two points, from 11 to 9! The mental attributes did improve with age though, except teamwork and work rate, but some of his physical attributes also took a hit, agility, stamina and strength went up but he lost some points on jumping and balance. The lack of first team football in the first few seasons might have something to do with all this but it can't be just that.
He's a versatile player, that's a good quality to have, but it can also be a curse I think.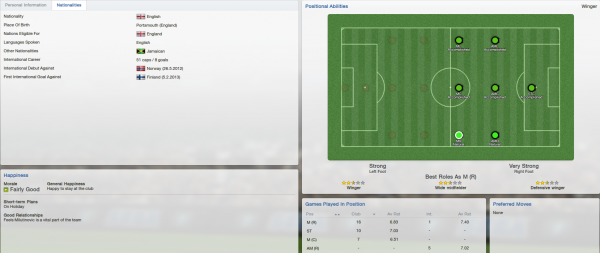 The screen shot above shows the positions he has played in during the 2018-2019 season. As you can see he was all over the place. He played as a MR/AMR for England, but at the club he was employed on the right wing, but not as a AMR, as a central midfielder and as a striker too!
These are the facts and the clues, now it's your turn to try to explain "The Curious Case of Alex Oxlade-Chamberlain".

Subscribe to our Newsletter