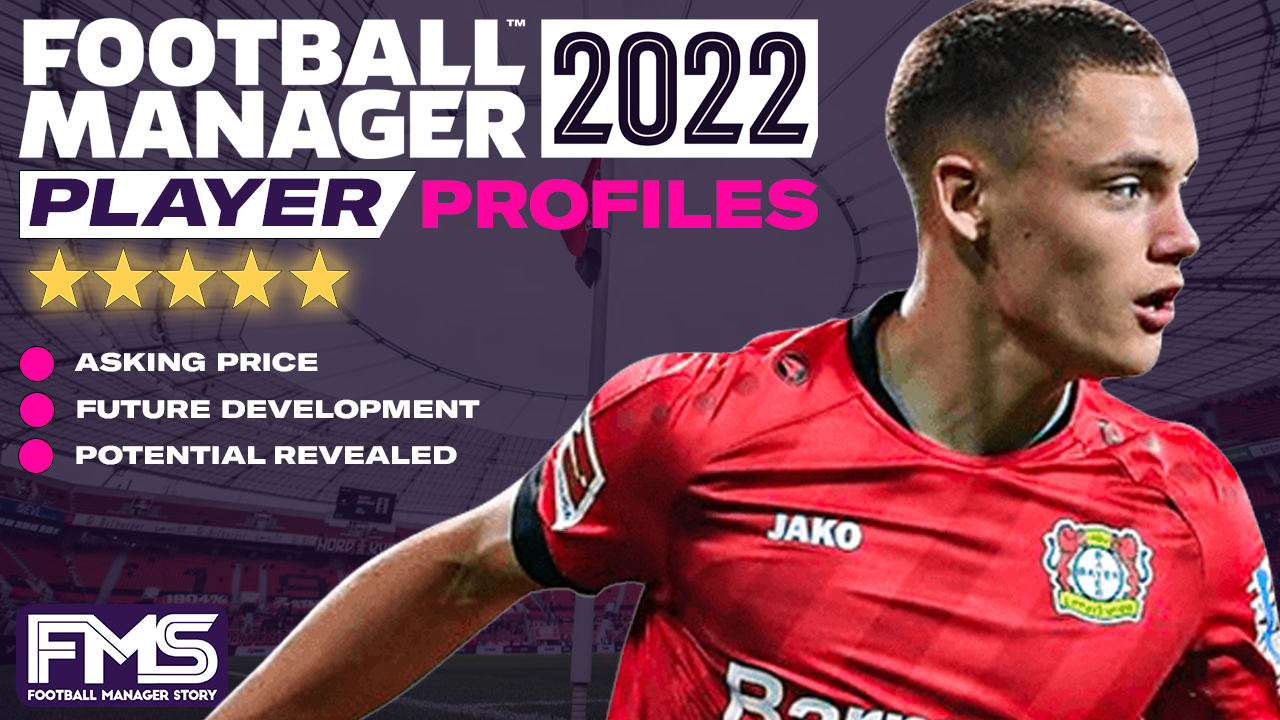 Hidden Potential: PA: 150-180
If you have not had the pleasure of controlling Florian Wirtz of Bayer Leverkusen in Football Manager, FM22 should be your year.
In FM22 Florian Wirtz, if he hasn't already, is set to exploded. He played 29 teams in the Bundesliga last year, adding five goals and six assists.
Leon Bailey has left Bayer, and now it is time for the 18-year-old to truly fly and spread his wings.
With 60 Bundesliga appearances under his belt and a place in the German national team, he has gained a lot of experience for a teenager, which is only going to help his development, both IRL and in Football Manager 2022.
With Thomas Tuchel in charge at Chelsea, the links to Stamford Bridge are natural. Real Madrid have also been mentioned with a £85 million bid, perhaps making him the leader of the next stage of Galacticos and replacing the likes of countryman Toni Kroos.
Florian Wirtz FM22 profile (2021)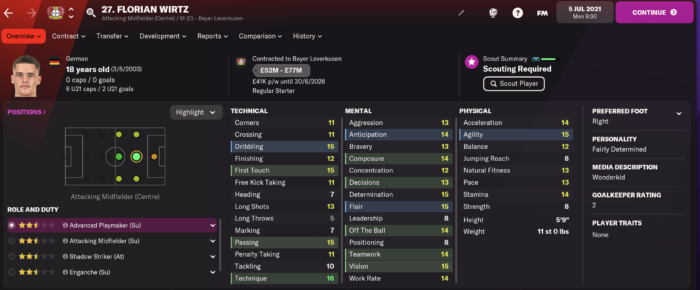 Roles: Advanced Playmaker, Attacking Midfielder, Shadow Striker, Engache, Mezzala, Deep Lying Playmaker, Central Midfielder
His Dribbling, First Touch and Passing all start at 15. Technique is up at 16. With Vision 15 and Agility 15, he is well placed to develop into a superstar.
In Bayer Leverkusen's favour, his value is between £52 and 77m, so you may have to break the bank to land him.
Although AP is the top position, with Finishing of 12 and Composure of 14, it seems a waste to not instruct him to get into the box. I would be playing him as a SS or AM on attack. If you are playing him deeper, the Mezzala and CM on attack would be perfect.
Florian Wirtz FM22 Wonderkid 2026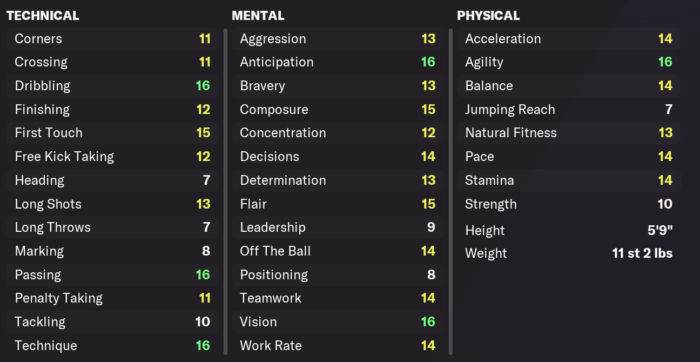 When you look at his numbers, it's not a massive surprise to see the midfielder still in Germany. He hasn't kicked on as much as he could – spoiler his PA was down near the lower level, not close to the version you could get in your save.
16 for Dribbling, Passing and Technique is good if not great. With nothing above 17, he is going to find it hard to justify his elite status.

---
For all the best Football Manager 2022 wonderkids click here, from cheap bargains to world class prospects.
---
Summary
In 2026, the German international has maxed out his potential at just 23 years old. In other saves, it is almost guaranteed he will be better. With starting attributes at 15, with the right development, you are looking at a player with at least 18 for passing, vision, first touch etc.
That would see him ranked as one of the best in the world.
Add the Killer pass trait and he would be a menace to all defenders.
There are still few downsides to his game. His mentals and physicals are good. You would just hope to see more from a player touted to get to the top.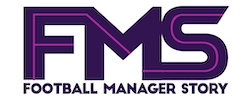 Subscribe to our Newsletter