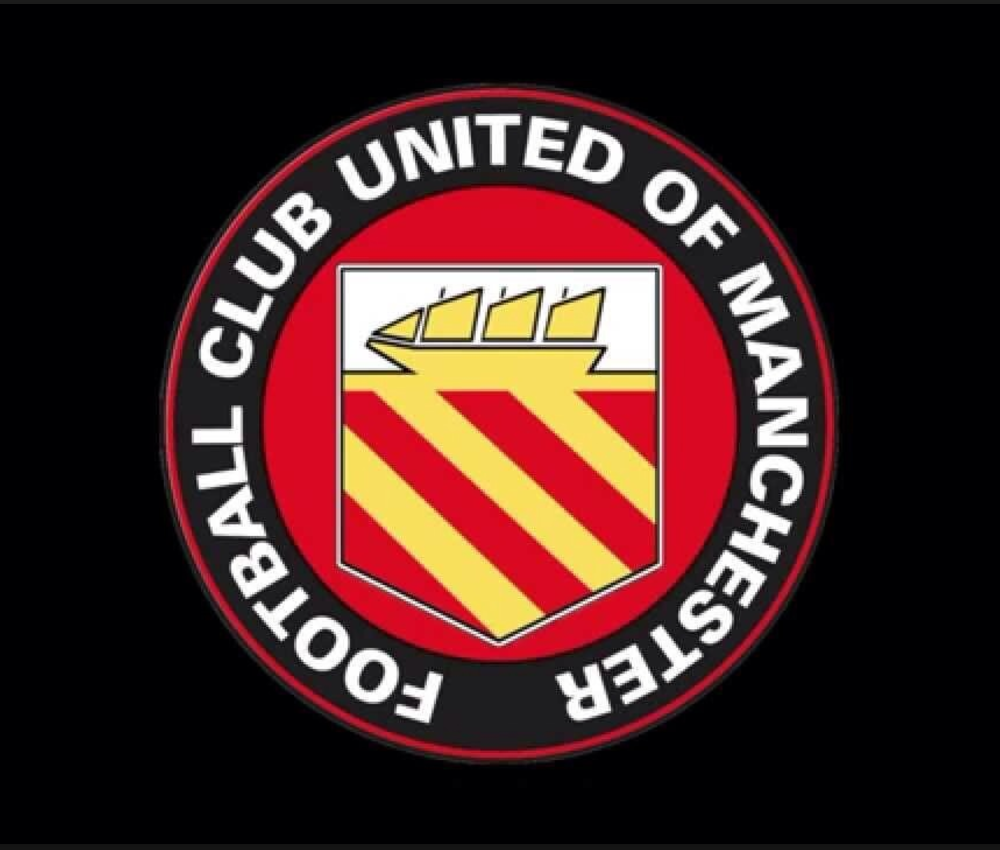 FM Story Recap:
After 21 games in charge, half-way through the main season, Ian Martin's FC United lie in 1st place. They have won 13 games so far using Ian's 4-4-1-1 formation tactic, drawing seven and losing just one. This is an impressive place to be in as the Christmas period draws closer and with four points behind FC United and 2nd placed Altrincham, things are looking good for the Spaniard's side. They've conceded just fifteen goals, the best record in the division, scoring 38, the second best for goals scored.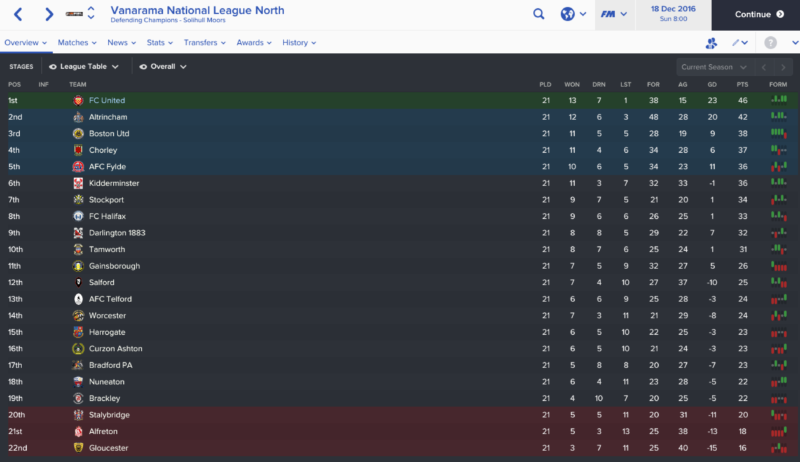 Halambiec and George Thomson have been FC United's top scorers up until this point, with the Polish midfielder scoring thirteen and the Englishman up front netting an impressive twelve. Perry Cotton, Louis Rowley and Callum Harris lead the way with assists, with Cotton bagging 6 and the other two picking up five. Goalkeeper Tom Bradley has received the lowest average rating so far this season, whilst David Ferguson and Mateusz Halambiec have the highest. The team's morale is high and nearly all of the players have been impressing in their last five games.

Pre-season was a success for Martin's FC United team, going unbeaten and winning nine out of the ten matches. They particularly impressed in a 1-0 win over Airbus UK, yet the 0-0 draw with Lancaster in front of the home fans was disappointing. The side carried this good form ahead into the start of their Vanarama North season, with five wins in their first five games, yet a 1-1 away draw at Brackley threw a proverbial spanner in the works. After this draw, the team went on to draw four and lose two of their next eight games, including a disappointing replay defeat to minnows Ilkeston.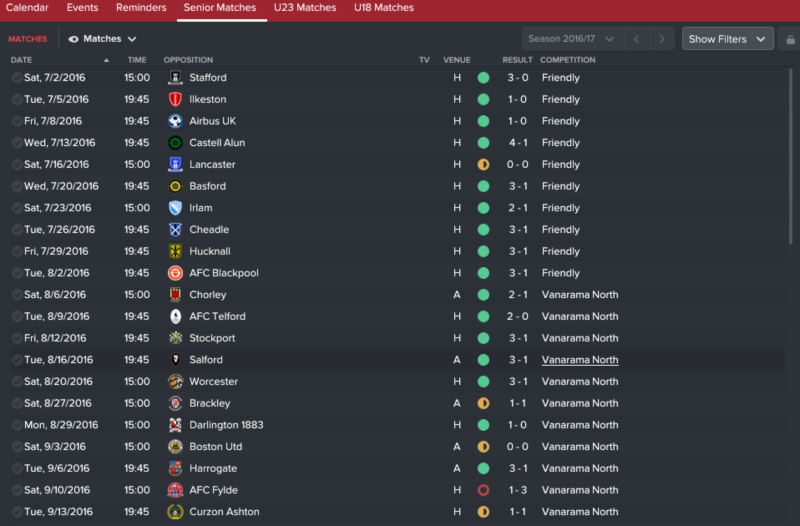 Ian was unhappy at his team's performance in the FA Cup Second Qualifying Round against Ilkeston, in which they drew 2-2 at home. These two sides met in a pre-season friendly which FC United comfortably won 1-0. Then, when FC United travelled to Ilkeston for the replay, they succumbed to a rather unfortunate 2-1 defeat, sending them home. However, it seems that Mr Martin's stern words in the dressing room after the game somewhat jolted his side back to life, with the team going thirteen games unbeaten after this, including impressive an impressive 3-1 away victory at Kidderminster and two victories in the FA Trophy against Gloucester and Solihull Moors.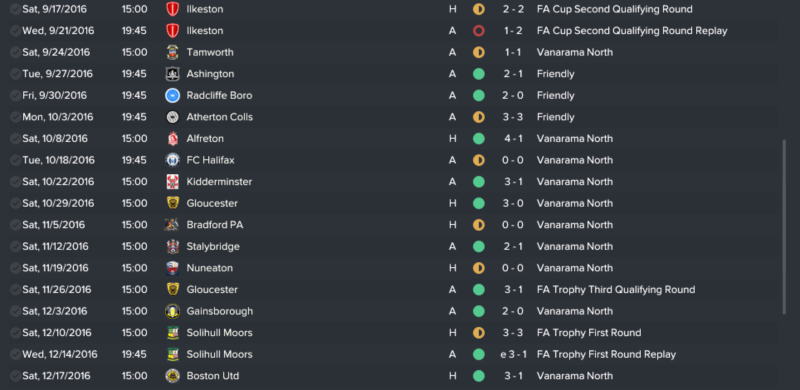 Ian Martin revamped the backroom staff a bit, bringing in legendary Irish full-back and winger Kevin Kilbane and ex-Fulham centre-back Brede Hangeland as Assistant Manager. Ian was greatly disappointed at the state of FC United's backroom when he took over as manager and has done everything in his power to bring a few well-known faces, as well as top quality coaches into the side as replacements. Hangeland handles the bulk of training, leaving the rest to fitness coach Wayne Richardson and goalkeeping coach Andy Collett.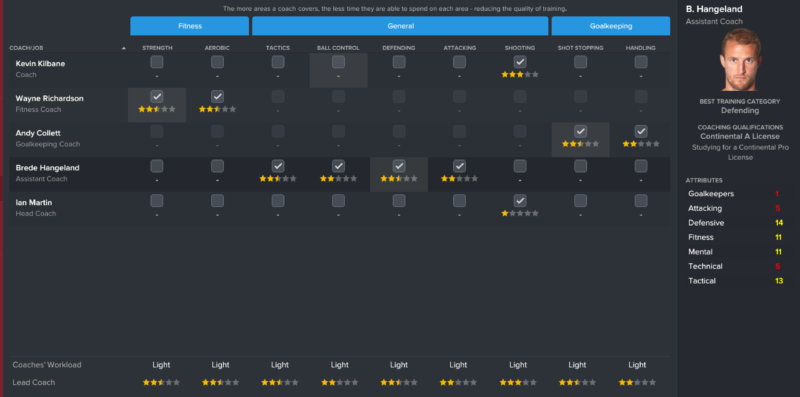 Ian Martin had a complete shakeup in terms of the squad, believing that there was a lot of dead-weight and players who were not going to make the cut. The more high profile transfers saw Jerome Wright leave on a free to Brackley, whilst Dale Tonge transferred to Harrogate. What Ian Martin did do, however, was bring a number of high quality players into the club. The most noteworthy was the £24,000 signing of Mateusz Halambiec from Morpeth, and the arrival of David Ferguson from Shildon on a free transfer. Additionally, Ian managed to secure the loans of Reece Webb-Foster from Bradford and Kane Lewis from Liverpool.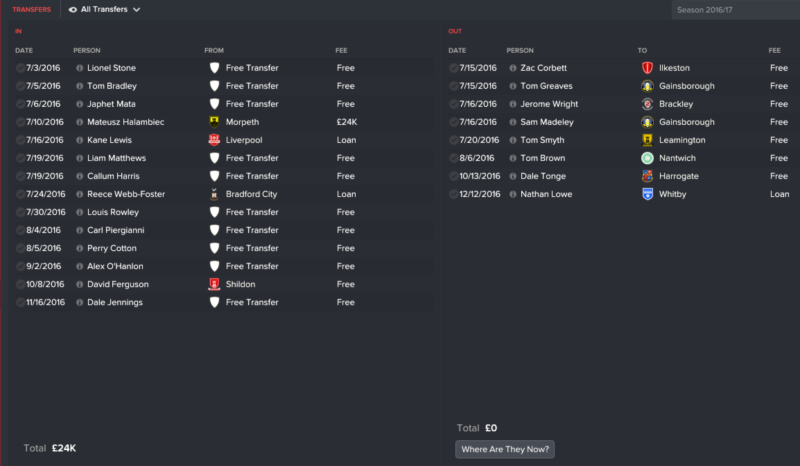 Player To Watch: Mateusz Halambiec
After signing for FC United for £24,000 in July, Mateusz Halambiec has become an integral part of the team. After making 26 appearances, he has scored 13 goals and picked up 3 assists as the centre-midfielder has greatly impressed both the boss and the fans in the first half of the season. He has some good all-round stats, with an impressive set of physicals and some good technical and mental stats for a sixth-tier player.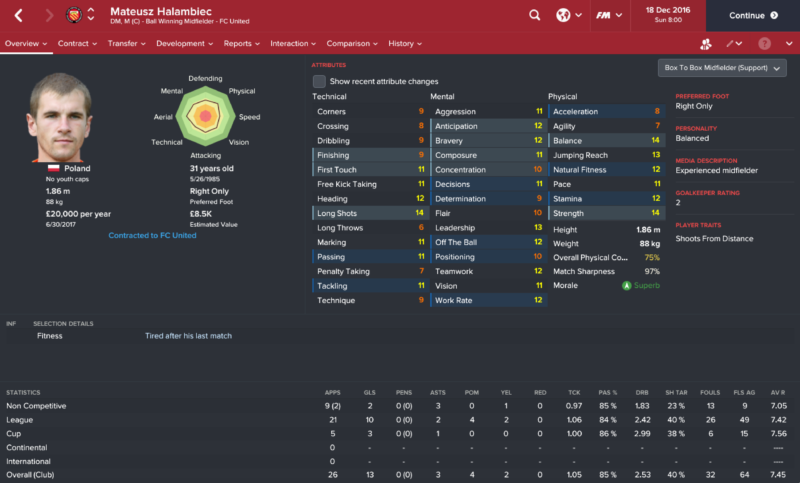 Player To Watch: George Thomson
Thomson was already a FC United player when Ian Martin came to the club, he has proved vital to the manager's plans, picking up twelve goals and six assists in 24 games this season. Although he lacks strong physical stats, he has some good technicals and boasts some pretty high mental stats as well. At just 24 years of age, Thomson could become a vital player for FC United as they start to climb up the league pyramid.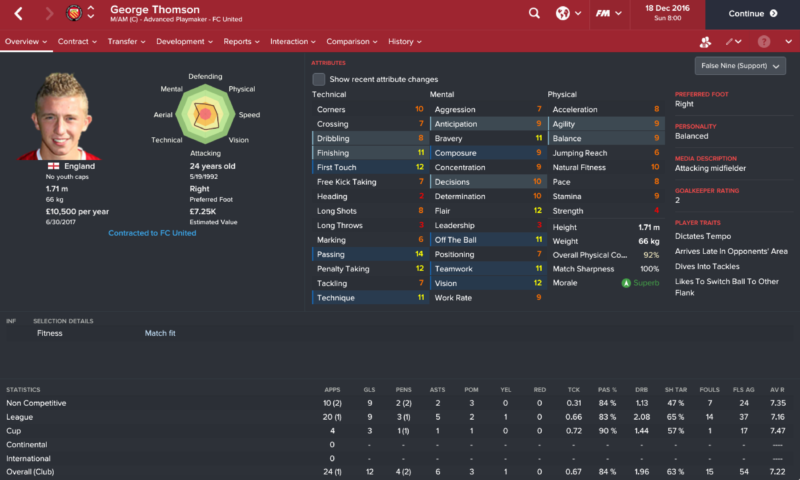 Goals of the Chapter:
#3 – This impressive team goal, finished by Jason Gilchrist.
#2 – George Thomson's finish against Radcliffe Boro
#1 – Beautiful team passing play, Halambiec's first goal for the club.
Can Ian Martin's FC United keep up the good form for the second half of the season? 

Subscribe to our Newsletter