Hello my friends! As I promised, this post will be about my Euro 2024 campaign with England. The hosts for this edition of the tournament are Spain. The defending champions from Euro 2020 held in Belgium (which I did not participate in) are France.
So first things first, the qualification:

Great! We were handed quite a straightforward group. We are ranked 4th in the World, while Bulgaria are 31st, Bosnia & Herzegovina are 44th, Armenia are 107th, and Malta are 189th.

We breezed through qualification, with Jack Wilshere and Lee Rooney particularly impressing.

Top of the group, the way it should be :P Here are the other qualifying groups: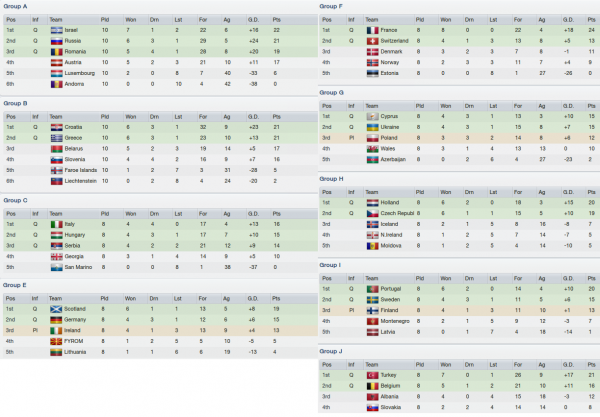 For those who may have forgotten, the the number of teams qualifying for the Euros is being expanded starting with the 2016 tournament, from 16 to 24.
A note on history in the game: England won Euro 2012, Spain won Euro 2016 held in France, and as mentioned, France won Euro 2020 in Belgium. This year Spain is hosting the competition.
Here are the groups for the tournament: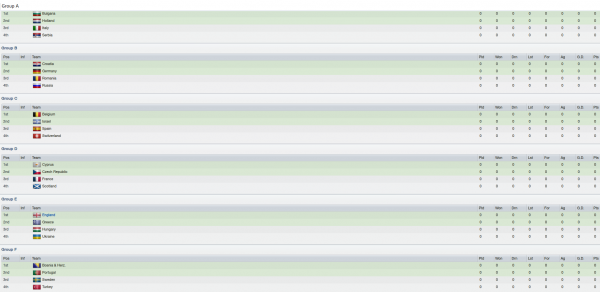 Again, we got a kinder draw, though not quite as Spain or France's groups. Greece are ranked 14th, Hungary are ranked 50th, and Ukraine are ranked 23rd.

Wow, there was a serious chance that England were not going to get to add a second Euro to the cabinet right after the group stages. Here is how the knockout round qualification panned out: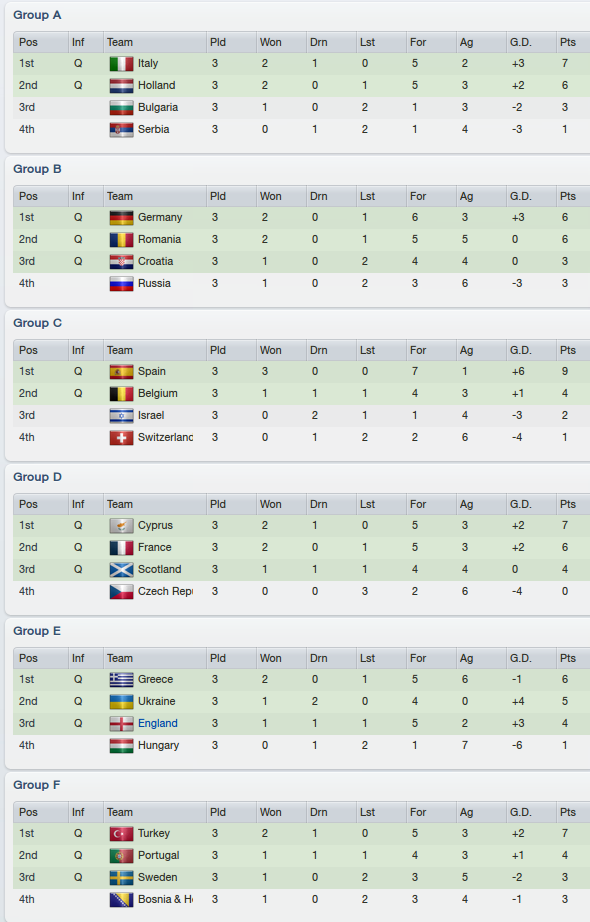 Thanks to the expanded Euros, we made it to the knockout stages. The only major team to be left behind are 9th place Russia. Sadly for us, we lost Olly Kenney, one of our stars, due to a heinous injury he suffered in the game against Greece.
For the round of 16, we will be playing 12th place Spain. They are tough opponents and I have a bad feeling about this . . .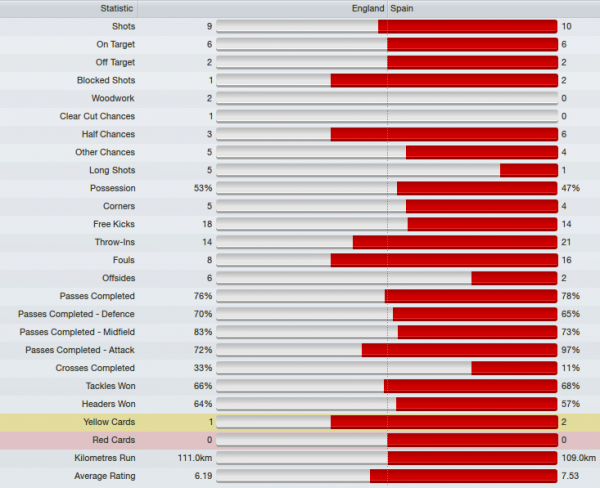 Well, the hosts demolished us at a ground where I am all too familiar with the pain of losing: the Estadio Santiago Bernabeu. It has been the site of many slaughters of my Valencia at the hands of Real Madrid and now Spain have claimed England's scalp. We had some decent chances but the problem was we couldn't break down they defense so there weren't too many good opportunities.
Here is my squad and ratings for those who are curious: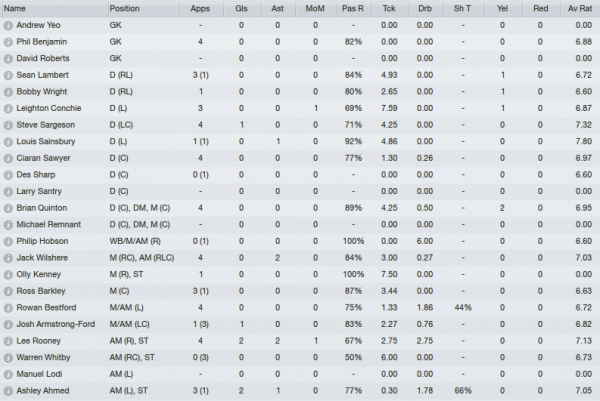 And here is how the tournament ended: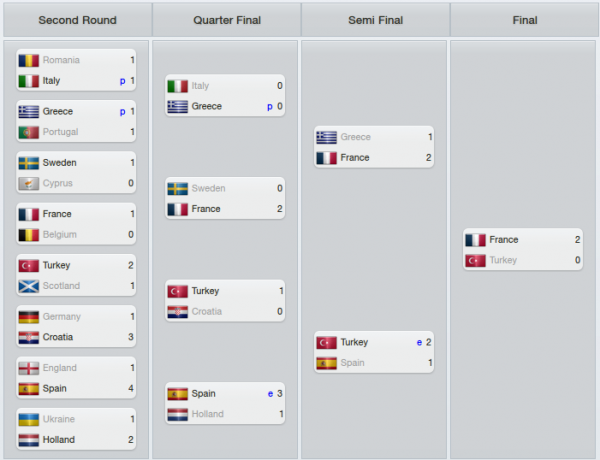 France are now the most successful Euro team, now having won 4 championships. They also become the first nation to defend the title (since England won 2012 in my game).
For England, this is the third consecutive tournament where they have gone out at the round of 16. I am pretty disappointed in the team but some of the blame is obviously mine. It seems my England players don't have the best determination about them. I am sorry I could not provide you with a better update, but some time this week I will be posting another season with Valencia that should be a little less sad ;) I decided to step down from my post with England. I want to take control of Russia since they have yet to win the Euro or World Cup. Hopefully I can produce better success on the international stage with them. My top priority is still completing my challenge, however, especially with FM13 looming on the horizon. Till next time, my friends and I look forward to reading your comments.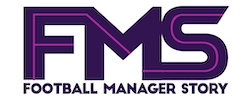 Subscribe to our Newsletter