Hello friends! My apologies for the unimaginative title but I couldn't come up with anything better . . . Without further ado, let's dive right into this promised update!
So to recap, the transfer window just ended with me clearing out a good chunk of the Cagliari squad. Here is a quick overview of the squad: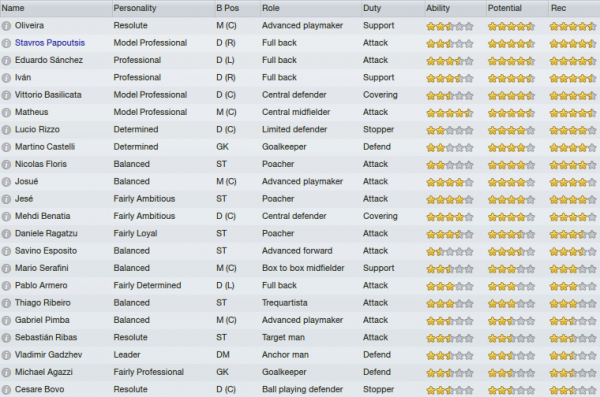 And here is the table at the end of January: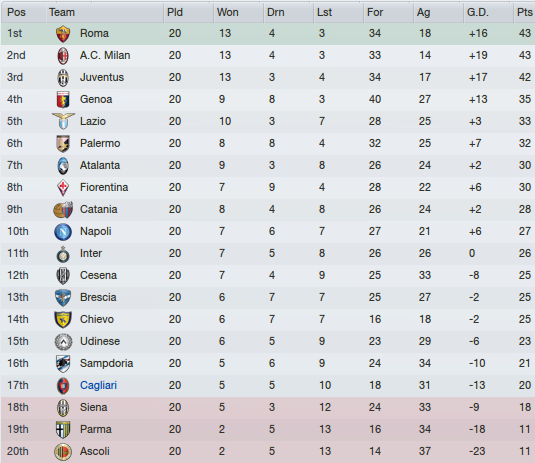 February
So I will be changing the format of this part of the post, tell me what you guys think.
At Udinese: So a very close match against one of my potential employers and a fellow under-performing team. The game could have gone either way but a moment of magic from our captain and defensive midfielder, Gadzhev, gave us the win. At 38 minutes he surged forward and collected a pass in the box from our striker Ragatzu and slotted home.
VS Catania: Our first emphatic win! And if came in front of out fans against a team in the top half. We were helped by Catania's terrible discipline; they received 6 yellows! Josue opened the scoring and Jese followed him with a brace. Ribeiro played his super-sub role beautifully and completed the rout at 72 minutes.
At Atalanta: They are a surprisingly strong team, led from the front by Lenny Nangis who is currently leading the Serie A in goals. At half-time we held them to only one goal, but once the break ended we collapsed. Benatia, my best defender had himself sent off, which led to two goals, one from Nangis. We then gave away a penalty which put us 4 down. Super-sub Ribeiro pulled one back for us before Ivan deflected the ball into our own net. Our defense was just terrible today! Ribeiro scored again but Nangis neutralized it. Ribeiro capped off the game with a late goal 2 minutes from time but it didn't matter.
VS Ascoli: The weakest team in the league, I was disappointed that we didn't do better. Jese scored within 2 minutes and after that we were the better team for the rest of the game, though not dominant. We had a lot of shots, 15, but only 3, including Jese's goal, were on target.
At Fiorentina: A solid side who showed us the importance of concentration. Ribas gave us an early lead but one of their players, Raione, punished us with a quick double brace at the 32 minute mark. He cut in and scored and repeated the same exact goal. The final nail was at 70 when our keeper was betrayed by the back four, who let the opposition waltz through and chip the keeper (who himself should have done better).
March
After a ho-hum February, I wanted a strong March.
VS Chievo: So a team that is around us on the table — an important match in the middle of the pack. The Rossoblu dominated in a way that I have missed. 60% possession and whopping 22 shots, 15 of which were on target. Despite our dynamism, it wasn't until the second half until our Spaniards, Josue and Jese, put us ahead. Our third Spanish-speaker (he is Colombian, though), Armero, decided to tackle terribly in the box and gave away a penalty and earned a red card. The keeper blocked the penalty and kept the clean sheet.
At Parma: I was hoping for a repeat performance at lowly Parma, but I guess the home advantage helped them stave us off. Again, we needed to wait until the second half until Josue gave us the breakthrough. Otherwise, it was an easy game. At this point in time, Josue is our best player.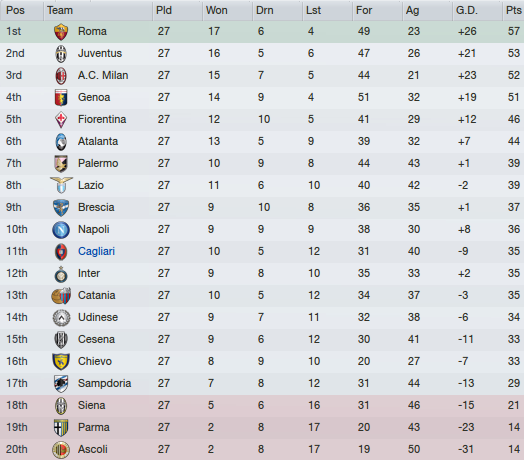 Here is the table for your consideration. As you can see we are performing as the media said we would, which is pleasing because we've gotten away from the relegation zone.
VS Lazio: So we are hosting a Lazio that is on a run of bad form. At the end of January they were in 5th but have only earned 6 points in seven games. We extended their bad streak thanks to goals from Jese, Benatia, and the suspended Armero's stand-in, young Eduardo Sanchez.
At Genoa: A road game against a very good Genoa team — they have quite a few names on the page that shows the top players in each category. This was a terrific game for us considering statistically we were the worse team. We hurt them over and over on the break. I started super-sub Ribeiro, and he didn't disappoint by getting a brace, after which Jese matched him. Two minutes from time we piled on the misery when Matheus, our best player, grabbed his first goal under me. What a funny game! I feel bad for Genoa to lose like this in front of their own fans but you won't see me shedding any tears :P
VS Inter: Inter are slowly but surely getting better and they decided to end our four game winning streak. Jucilei, who you might remember from the early issues of Martin's Anzhi story, scored early into the game and early into the second half, perennial Manchester United link-ee and (in-game) captain of Inter, doubled their lead. It was an easy game but we lacked the finishing edge and fouled way too much.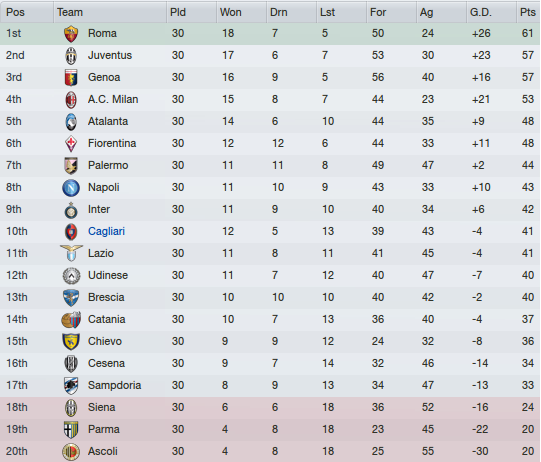 April
We had some bad news before we even had any of our games. Matheus, our best player, sprained his ankle during training and we'll be missing him for 2 months . . . His season is done.
At Brescia: Not much to say. Pretty even game, we took the lead early on thanks to Jese. We couldn't do much else because every time we would get near the box, we would be fouled. They ended the game with 8 yellows.
VS Napoli: Another important middle-of-the-pack game. Pretty even game, but we took our chances well and by half-time we had it wrapped up thanks to a brace from Ribeiro, who is leading our scoring charts, and a goal from Ragatzu.
AT Juventus: A tough away game. We took the lead right before the break thanks to a penalty from Josue. Right before the games conclusion a potentially famous victory over the Old Lady, they got us from a corner and snatched a point. Unfortunately, we had another problem during the game. Gadzhev strained his calf during the game and will be out for a month. Of my 3 best midfielders, I've now lost 2. I hope Josue can keep healthy :(
VS Cesena: I went in thinking "Great! we're facing a team near the drop zone. Should be pretty simple." Unfortunately I had to field a weaker team because several players weren't fully fit after the Juventus outing. I didn't think it would be too much of a problem because they are not nearly as good as us but they had other plans in store as they embarrassed us with a dominating performance in front of our own fans. My back-up players aren't quite ready for this level . . .
At Siena: So Siena are a team in the drop zone and I was hoping for 3 points, especially since I wanted revenge on for that terrible 6 – 0 thrashing they gave us during my first game. It wasn't to be as for the second time in a row a weaker team outplayed us.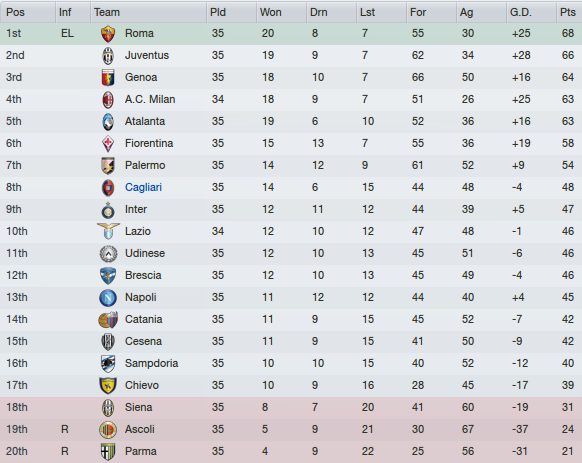 Even with our current rough patch, we are in 8th place! If we can finish our last 3 games with some style we can stay in the top half! And considering where we came from and what our media prediction is, that is way more than I could ask for. Let's go Rossoblu!
May
At Palermo: Ouch, 3 straight losses and 4 games without a win. We fouled too much and did not keep possession well. We had some good shots but couldn't beat their keeper.
VS Roma: I knew Roma were going to come out with full force. Any points from us would seal their season. Despite our best efforts, the Sant'Elia became the location of their fifth Serie A championship. We were definitely the better team but I can only describe as a miscommunication led to the incredibly talented Erik Lamela grabbing a goal. Jese pulled one back but a second goal wasn't on the cards.
At Sampdoria: Well, I didn't want to extend the record to 6 games without a win but strugglers Sampdoria took advantage of my team's poor morale (something a team meeting only made worse because Benatia decided to be a jerk and disagree with me) and hit us on the break a minute after we scored. We absolutely dominated the game — 65% possession — but we could only end our season with a draw.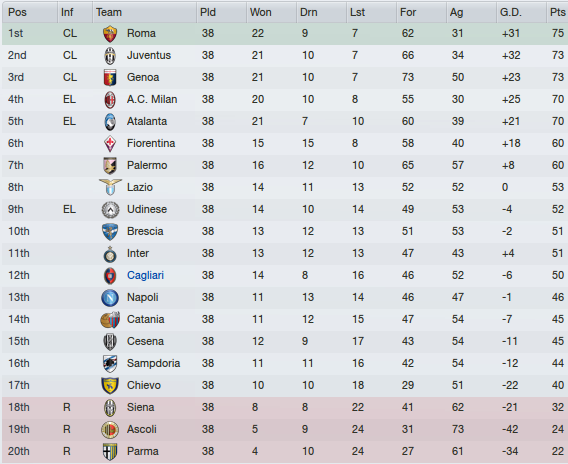 So, injuries to key players at a crucial time in our season caused us to end poorly. Cagliari's progress has somewhat stalled — they came in 11th the past 2 seasons and because of their terrible start this season and terrible finish, I could only manage a 12th place finish which earned us
If I had started at the start of the season I am confident that we would have done better. So next season I will really get to show off what I can do to the rest of Italy, so they should all beware!
We didn't win any post-season awards but:
I hope our 3-star facilities will at least get upgraded to 4, which will go a long way to developing my youngsters.
Here are my player ratings: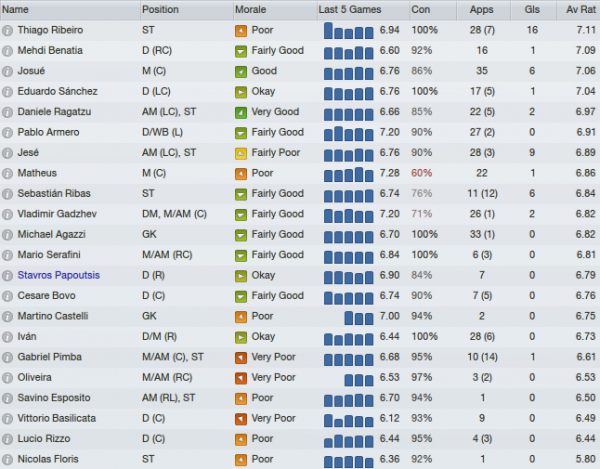 Not very good . . . only four players broke 7 and as you can see, Ribeiro led with 16 goals and rating of 7.11. This off-season will have a lot of changes., but I will admit I am not too disappointed with my first season in Italy.
Stay tuned for a special World Cup issue! Can I replicate the success Darren had with Brazil? We will find out in the next issue!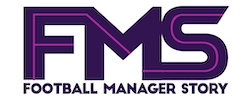 Subscribe to our Newsletter