Hi guys and welcome back (finally) to my Ultimate European Challenge and a sunny pre-season in Spain. That's right, I am still with Atletico Madrid. They have a great squad and there were no managerial positions of interest after the Copa America. I may well leave come the seasons end, but for now my focus is in Spain. Retaining the La Liga crown will be tough, but my board have already offered a helping hand.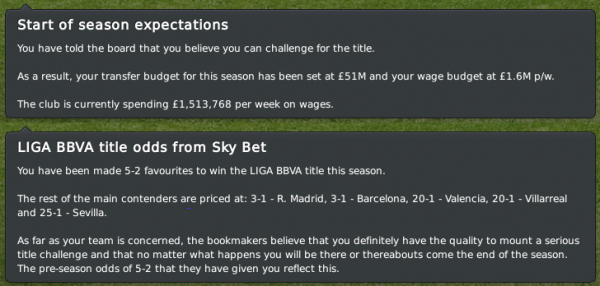 £51 million has been freed up for transfers. This war chest will be more than enough. I have also received £87K extra for wages. I plan to sell some players in order to up this budget and we'll see who is available in the transfer market. Atletico Madrid may have won La Liga last season, but I was shocked to be named favourite for the title. Real and Barcelona will obviously be in and around the title race, but teams like Villarreal and Valencia could turn up a shock too.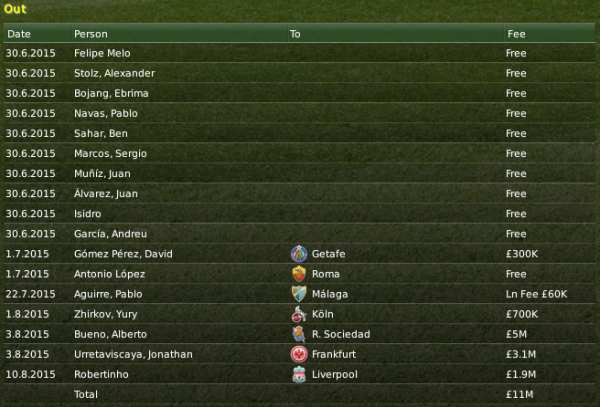 A fair few players left during pre-season. In Spain, you can't register more than three non EU players. Now this rule is bent based on the amount of years a player has been in Europe or from what age. I don't fully understand how it works, but some foreign players were OK to register without crossing over this rule. Either way, I decided to lose Urretaviscaya because of his nationality. All the others just didn't fit in to my squad or had to leave because of value for wages. I managed to raise £11 million from these sales, very welcome considering my transfer targets. :)

Most of the above names may not mean anything to you. But for the keen eyed readers you'll know three for definite. The first is obvious to all, Bojan, the former Barcelona striker. Now for the not so obvious ones, Millemaggi and Gonzalez. They are both stars from my Argentina squad, these regens are brilliant, but we'll see more in a bit. I spent £47.5 million in total, the majority came in midfield, but I also treated myself to Bojan after seeing him transfer listed.
Bojan – £5 million from Barcelona

After making just 13 appearances per season, Bojan decided it was time to leave Barcelona. During the Copa America group stages I saw the 24 year old was transfer listed. Barcelona made me pay £500K above their initial value but I wasn't too bothered. Bojan is extremely talented and his attributes don't do him justice. I think some first team football will get the striker scoring again soon.
Nahuel Millemaggi – £24.5 million from Inter Milan

One of my favourites within the Argentina squad. Millemaggi is such a great player in every area. He can pass, shoot, tackle, dribble and even has good physical and mental stats too. £24.5m is a lot of money, but this midfielder is simply brilliant.
Claudio Gonzalez – £8.5 million from Valencia

Gonzalez is another regular from my Argentina side. This regen can play in central midfield on from the left wing. I plan on using Gonzalez in a rotation system with both Sanchez and Dzagoev. After searching my national side I noticed his minimum fee release clause and had to snap him up.
Mirko Barocelli – £9.25 million from West Ham
Barocelli was sort of a panic buy. After examining my squad, a lack on the wings became apparent. I couldn't afford my main targets and anyone under £8 million wouldn't have been worth buying. I decided to take a risk on the Italian. His physical attributes highlighted caught my eye.
The squad of 2015/16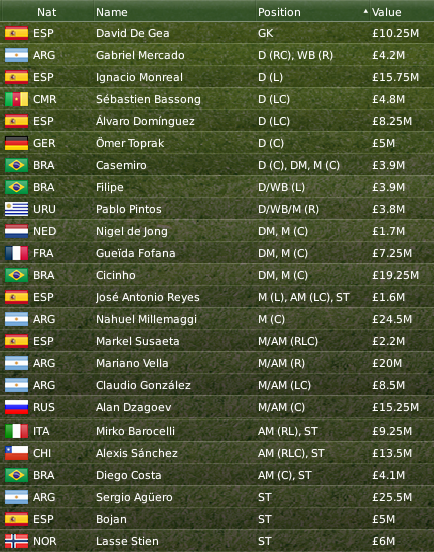 You'll notice 5 Argentines within my main squad. All of which tend to feature within my starting XI. I am well covered in almost every area, but injuries can always change that. The transfer window was extremely successful in my opinion and I think the squad is far stronger than last years. My first competitive match of the season is against Barcelona in the Spanish Super Cup. This is held over two legs and would offer me a great chance to see the new boys on action.
Spanish Super Cup 1st leg – Barcelona vs Atletico Madrid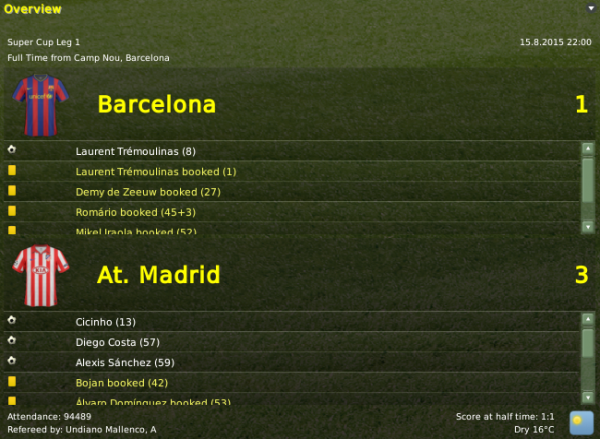 A fantastic first leg saw my boys walk all over Barcelona. We used a 4-5-1, with counter strategy. In truth Barcelona paid for a flurry of misses during the first 13 minutes. After an incisive break away and great finish from Cicinho, the match belonged to At Madrid. This is probably the first time I have controlled a match against the Spanish giants. The tie wasn't over though, Barcelona were bound to throw everything into the second leg. Lets see the highlights.
Spanish Super Cup 2nd leg – Atletico Madrid vs Barcelona
This tie would have made a great watch. Full of drama and the scenario kept changing with every goal. Lukaku caused me some stress from the off, as my defence just fell apart. Barcelona kept pushing after their goal but a silly foul gave Vella the opportunity to equalize from a good free kick. Vella then showed even more determination to get on the end of a cross for his second. I had no time to relax though, Iraola scored twice in the space of two minutes and just one minute after Vella's goal. I had a finger biting wait, but my side hung on for the victory. :)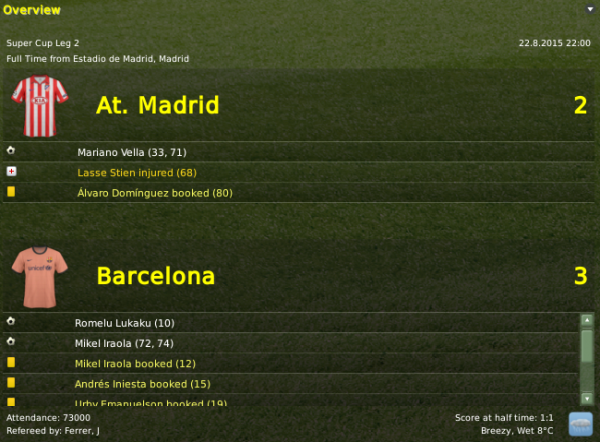 Start of season fixtures
My next post will take us through August to the end of November. I have a light fixture list to look forward to in terms of difficulty. Just a few of those clubs could cause real problems. Hopefully this will give me the ideal opportunity to bridge a gap at the top. We'll have to wait and see who I'm drawn against in the Champions League.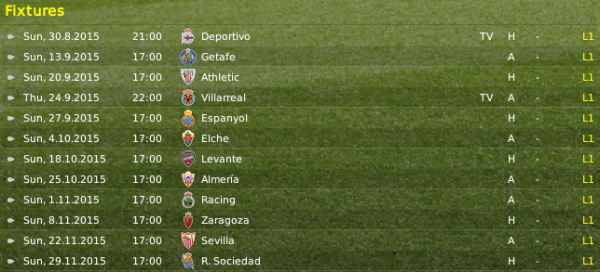 Well friends, that is it for today's update. I hope you'll be back for the next one and thanks for reading. I look forward to your comments as always.
If you want to join us all in the Ultimate European Challenge, please follow the link and read the rules. Its very simple and should get us all into different cultures and styles of Football.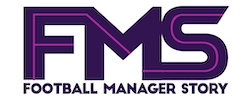 Subscribe to our Newsletter