Hi there!
As promised I've decided to bring you a special London Olympics post which I can guarantee will be more exciting than the actual thing! It's not that I'm not a fan of the Olympics, I just think it's really boring and the way it has been done seems to me like it's not for anyone who lives outside of South-East England…
So I bet you're wondering who I got in my group? Well I got Iran, Fiji, and Brazil so a group that I think Team GB have a realistic chance of winning but before we move onto the games I suppose I should show you my chosen squad.
Joe Hart – English – Goalkeeper – Over 23yrs Allocation 1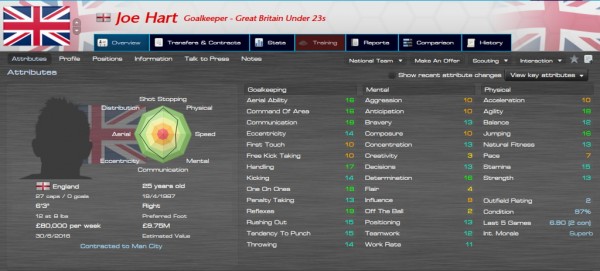 Wayne Hennessey – Welsh – Goalkeeper – Over 23yrs allocation 2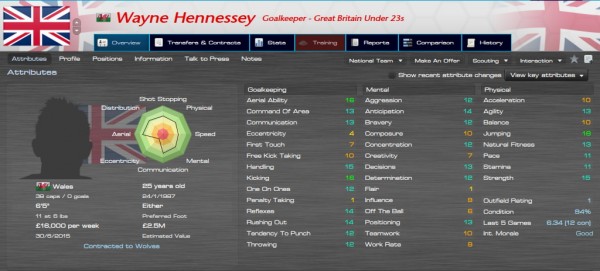 Adam Matthews – Welsh – Full Back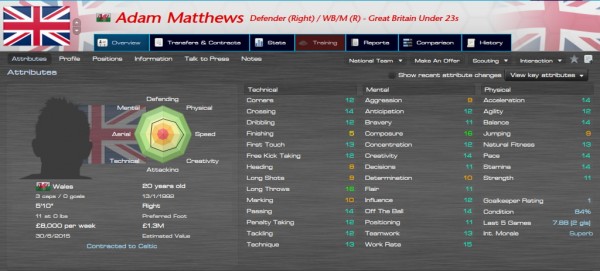 Kieran Gibbs – English – Full Back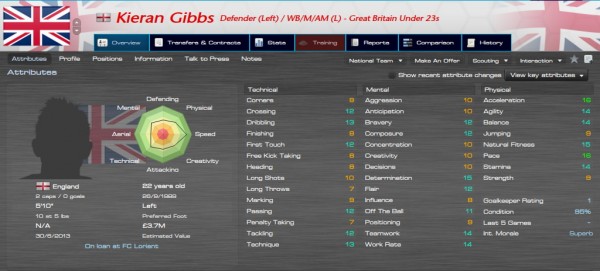 Craig Cathcart – Northern Irish – Centre Back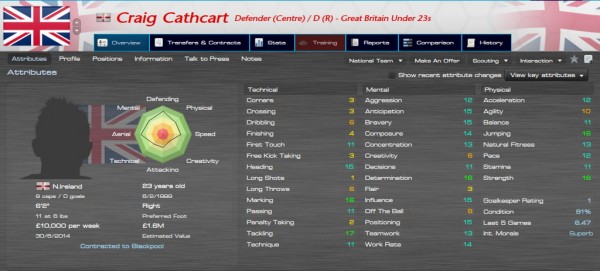 Phil Jones – English – Centre Back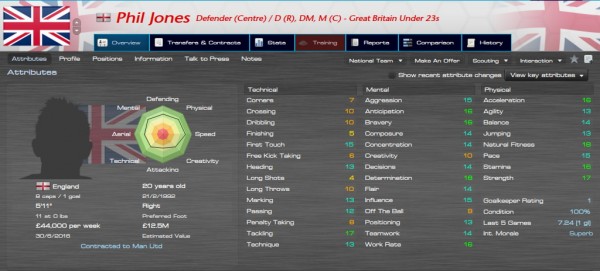 Chris Smalling – English – Centre Back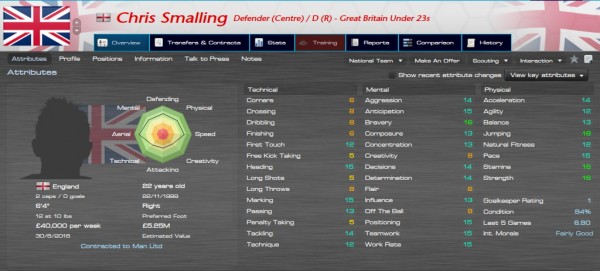 Danny Wilson – Scottish – Centre Back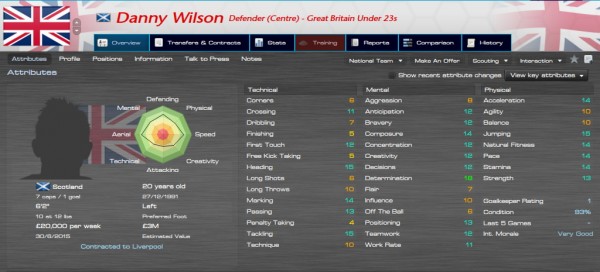 Joe Allen – Welsh – Central Midfield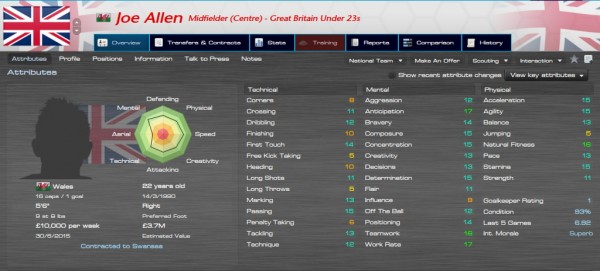 Tom Cairney – Scottish – Central Midfield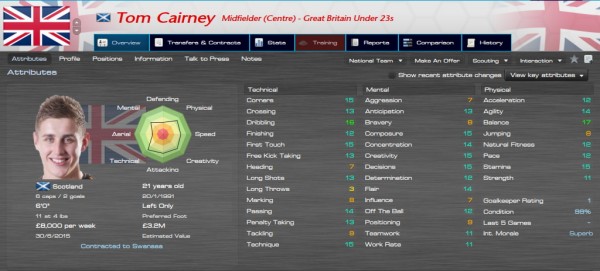 Jamie Ness – Scottish – Central Midfield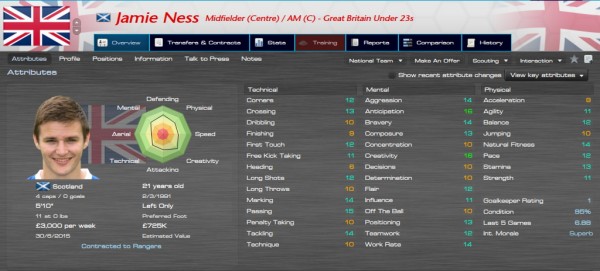 Aaron Ramsey – Welsh – Central Midfield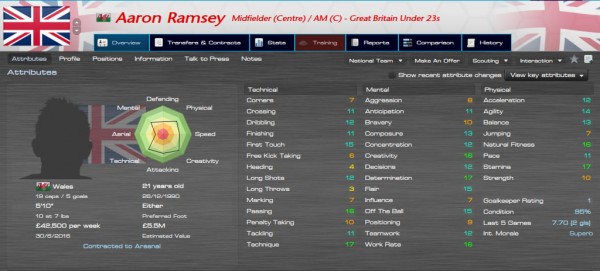 James Forrest – Scottish – Winger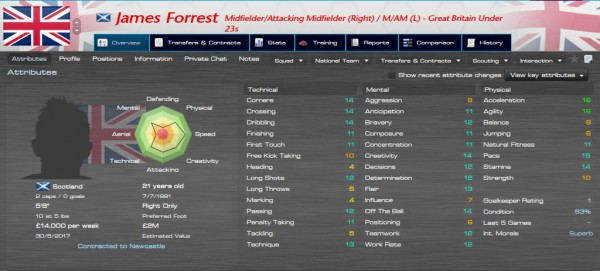 Alex Oxlade-Chamberlain – English – Winger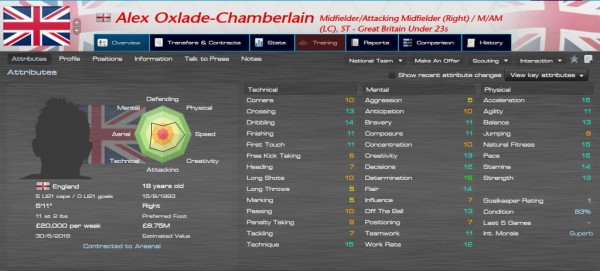 Gareth Bale – Welsh – Winger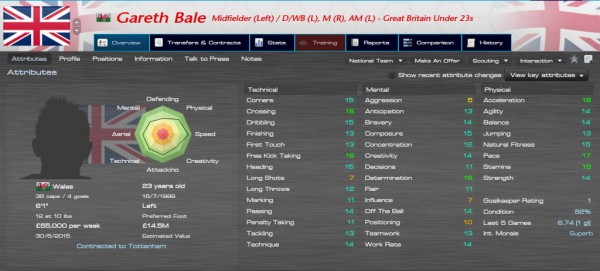 Daniel Sturridge – English – Striker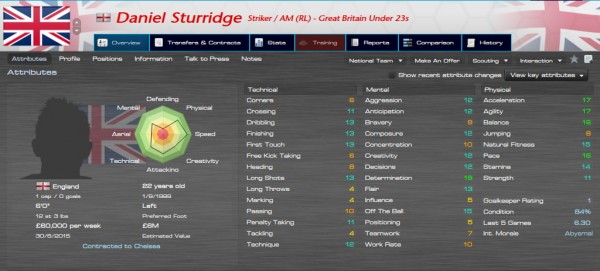 Danny Welbeck – English – Striker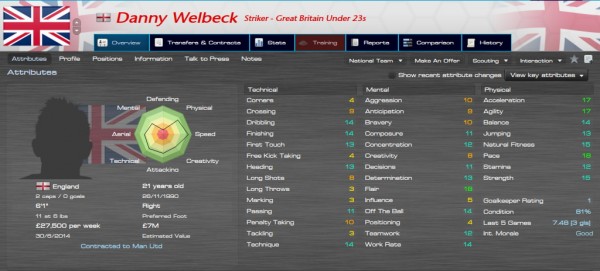 Wayne Rooney – English – Striker – Over 23yrs allocation 3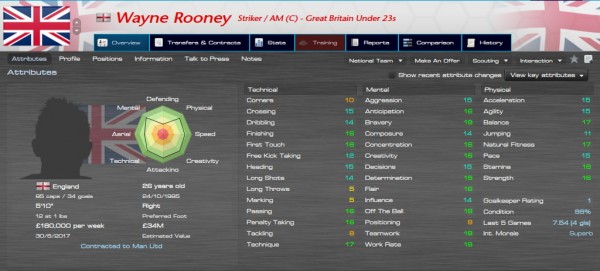 I left out Rodwell and Wilshere purely by accident in case anyone noticed. It wasn't until after the tournament that I actually realised but I guess in leaving them out I've just created a more diverse squad which is a good thing! All in all my squad contains 8 English players, 4 Scotsmen, 5 Welshmen, and a Northern Irishman. To any Northern Ireland fans reading I did try to find more it's just there wasn't a great amount of quality in your squad, sorry…
The Olympics – Group Stage – Iran vs. Great Britain
So the group stage of the worlds oldest sporting event got under way and the first opponents we invited to Coventry were Iran. We somehow managed to be the away team in this fixture despite it being on home soil but hopefully it wouldn't count against us.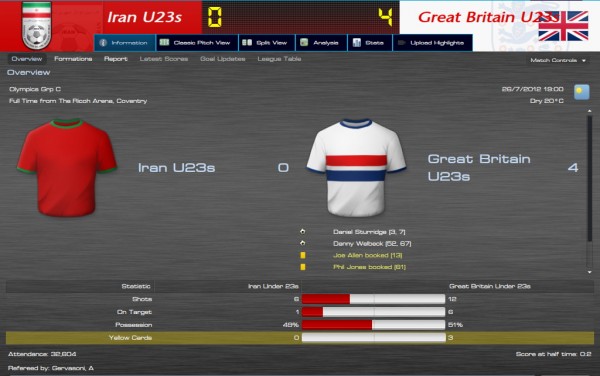 It didn't matter at all as we brushed a vastly inferior side away. They only had 1 shot on target and that really summed up their performance as we put 4 past their keeper. At this point I thought we would be top of the group until I remembered that Brazil were playing Fiji, they won 10-0 which put them top on goal difference.
The Olympics – Group Stage – Great Britain vs. Fiji
This was a game I was looking forward to! Brazil put 10 past Fiji 3 days earlier and I was hoping to do the same!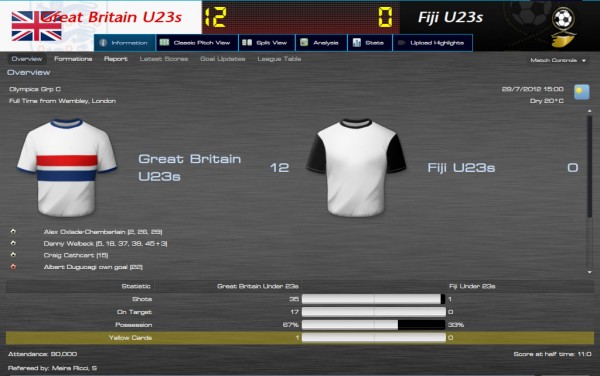 Demolition doesn't quite do this result justice. 35 shots, 17 on target, 67% possession, 11-0 by half time! It probably should have been more than just 12-0 really! Fiji's keeper must have wanted to cry, he didn't touch the ball until the second half other than picking it out of the back of the net.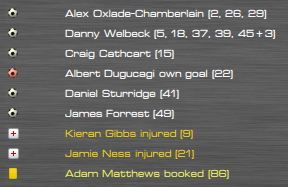 Here's the list of goal scorers that didn't fit into the screen shot above! A great game for Oxlade-Chamberlain as he bagged a hat-trick, but he was overshadowed by 5 goal Danny Welbeck who left this match with a 10.0. As you can see however we suffered 2 injuries to both Kieran Gibbs and Jamie Ness, both of which had been playing well so far so this was a bit of a blow.
In their place I gave calls ups to these 2:
Martin Kelly – English – Centre Back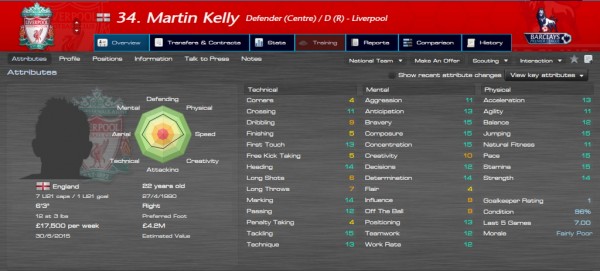 Corry Evans – Northern Irish – Central Midfield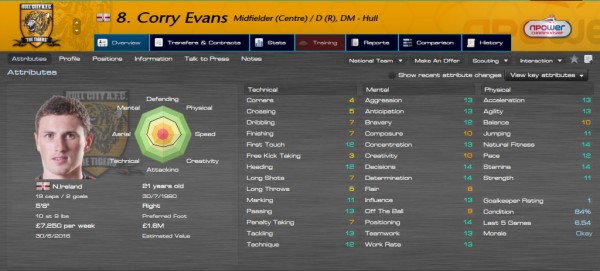 Looking for Gibbs' replacement made me realise something too, there's a serious lack of left full backs in Great Britain! Anyway, I believed these 2 could do the job and they were likely to be thrown in at the deep end as our next opponents were ready for us.
The Olympics – Group Stage – Brazil vs. Great Britain
Along with Spain I believe that Brazil have the best U23 squad in the tournament and we were lucky enough to be playing them in the group stage. It was a winner takes all match, our 4-0 and 12-0 wins gave us 6 points and a goal difference of +16. Brazil had beaten Fiji 10-0 and Iran 2-0 giving them 6 points and a goal difference of +12. All we had to do was not lose!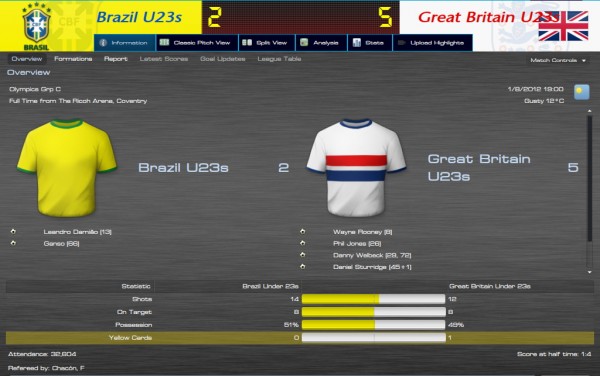 And we didn't! In fact we won impressively leading the Brazilians 4-1 by half time. In a very even match it was our much superior finishing and Wayne Rooney's attacking instinct in both passing and shooting was key. After half time Ganso scored a screamer but we finished them off with another Danny Welbeck goal. This kid is now firmly on my radar with Newcastle, even more so when I realised he was in Man Utd's reserves!
So we made a clean sweep of our group and managed to finish top after that great result against the South Americans.

As you can see we finished convincingly top of the group with Brazil quite a way behind if you take goal difference into account. As for Fiji, they lost 5-0 to Iran and I think may just give up on this sport after this.
The Olympics – Quarter Finals – South Korea vs. Great Britain
For a home tournament we seem to be playing away a lot but never mind that. The draw was very kind to us since we drew 2nd place in Group D after finishing top of Group C and that team was South Korea. This draw also meant that I could get Brazil in the semi finals should I progress.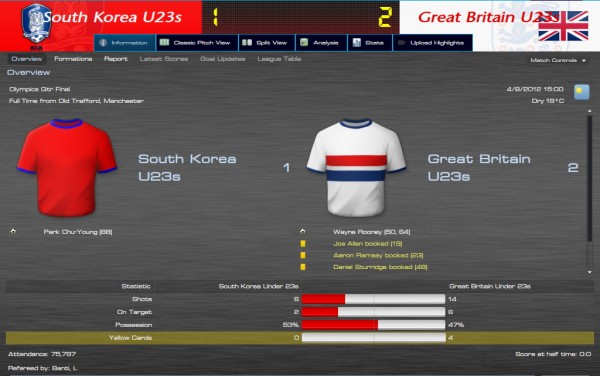 Who would have guessed that South Korea would be such a hard game? We lost the possession battle and our shooting wasn't great. There were times when I feared we would lose this match but a brace from Wayne Rooney settled my nerves and we ran out 2-1 winners although South Korea had nothing to be ashamed of.
The Olympics – Semi Finals – Great Britain vs. Brazil
As I had expected we welcomed Brazil, this time to Wembley, for our semi final match and this time I expected a much tighter match. The semi finals are where you can finally start to dream of that big day out in the final.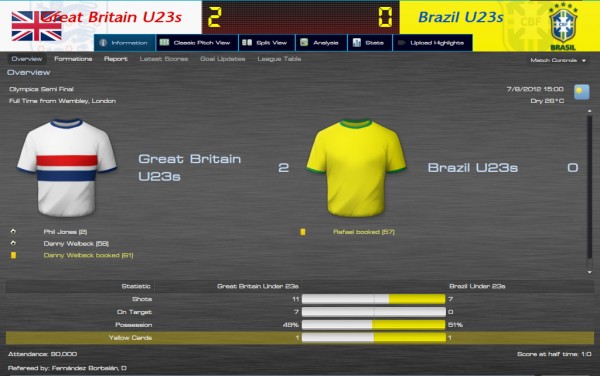 This wasn't what I expected at all! We beat them even more convincingly than we did in the group stages preventing them from even having a shot on target. Possession was very even but in Tom Cairney Great Britain (and Swansea who have signed him for just £3.4million) have a great playmaker and his passing was deadly. So far the only teams to put the ball past Joe Hart had been Brazil (group stages) and South Korea, and for the final I intended to keep it that way.
But then I saw who our final opponents were…
The Olympics – The Final – Great Britain vs. Spain
The powerhouse of European football had reached the final of the Olympics too! If they could beat me here then I'm pretty sure that they would be the only team for a long, long time to be champions of the world, their own continent, and Olympic gold medallists all at the same time.
The battle lines were drawn, their over-23 players were Casillas, Pique, and Fabregas, as well as possessing the Bojan up front and a host of other quality talent…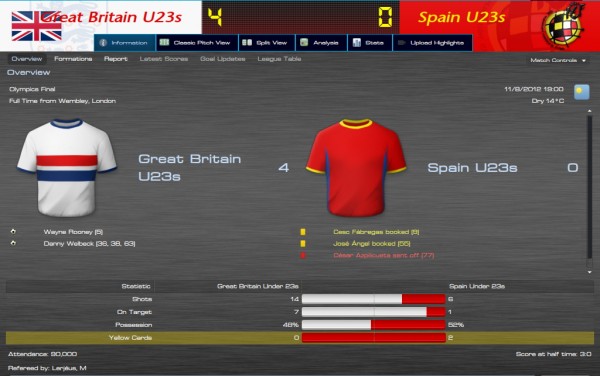 I did not expect this at all! We crushed them! Annihilated them! We won! Yipee! It had to be really, the one and only time Team GB will appear on the Olympic football fields, our one shot at glory and we didn't pass it up! Danny Welbeck grabbed another hat-trick after Wayne Rooney scored a great poachers effort inside the first 5 minutes.

There was a distinct lack of celebration and to be honest I can understand it. The domestic season kicks off literally the day after the Olympics final where my Newcastle team face Manchester United in the Community Shield. Even my mind was firmly on that game rather than the Olympics final but it's nice to place myself in history. :)
Other than our results I thought you guys might be interested in seeing how the other teams who qualified for the knockout stage did…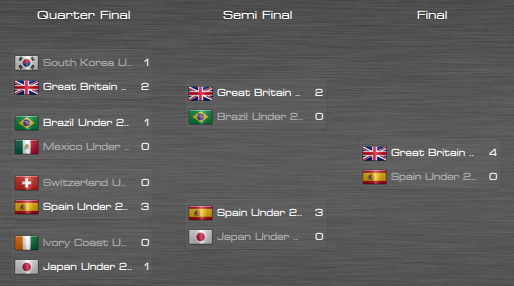 After seeing their results, beating Switzerland and Japan 3-0 it is really something to beat Spain 4-0 in the final. In case you were wondering Japan beat the Ivory Coast 2-0 in the Bronze medal play-off and the Ivorian U23 manager lost his job as a result.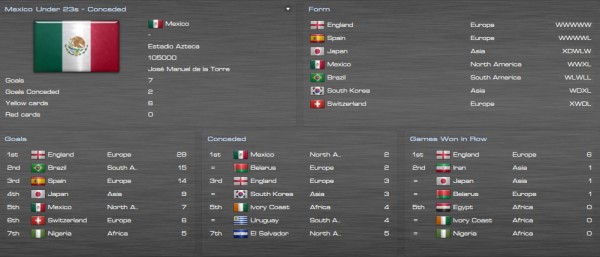 As you can see we were by far the best team in the tournament winning all of our games, scoring by far the most goals, and only conceding 3 goals and since we got further in the tournament than Mexico and Belarus that's a good achievement too.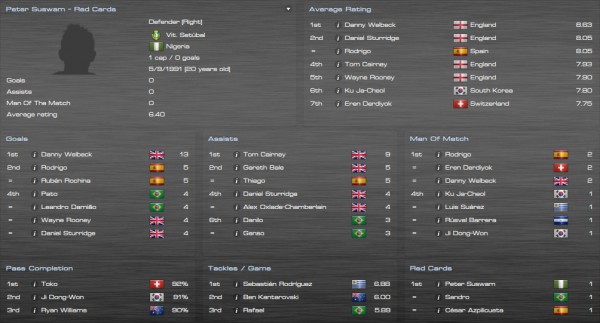 I'm not sure why the average ratings show England while the rest show Great Britain but anyway, Danny Welbeck scored the most goals by far but Rooney and Sturridge make that list too. Cairney was amazing with the amount of assists, averaging 1 a game and Bale, Sturridge, and Oxlade-Chamberlain also did their fair share. No surprise to see Welbeck crowned the tournaments best player quite a way ahead of 2nd place Sturridge. Tom Cairney and Rooney also deservedly make that list which rienforces just how good we were.
The tactics I used for this tournament also allowed me to test my new Newcastle tactic on the big stage and hopefully it works that well domestically! I'll go into detail on my pre-season post but as you just saw, it creates plenty of chances and seems to force the opponent into numerous long shots.
With all that out of the way there was only one thing left for me to do…

On the same day we were crowed Olympic Gold Medal winners I handed in my resignation. I was given a task and I completed that task and now look forward to what will hopefully be a big season with my beloved Newcastle United.
Thanks for reading!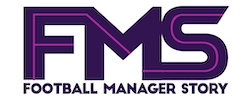 Subscribe to our Newsletter