Hello friends! I hope you all had a wonderful Valentine's Day and there weren't too many neglected SO's ;) So here we are at the beginning of my first full season with Cagliari Calcio. Last season I came in during the winter  break and managed to guide the team up from 17th place to a 12th place finish, one lower than they had achieved the previous season and one lower what the media predicted us to finish at. This season I am hoping for greater things especially because I want to redeem myself after my poor World Cup.
Pre-Season

Quite a nice transfer kitty. Maybe I am being a little optimistic, but last season we barely missed out on a top half finish so I think the boys have it in them this year.
Media believes we will finish in 11th — the same prediction as last year. But I think we can change that since I have a habit of proving the media wrong, whether it's good or bad as you saw with my Brazil campaign ;).
We are in a healthy place financially. I really like watching that line go up.
And the transfers: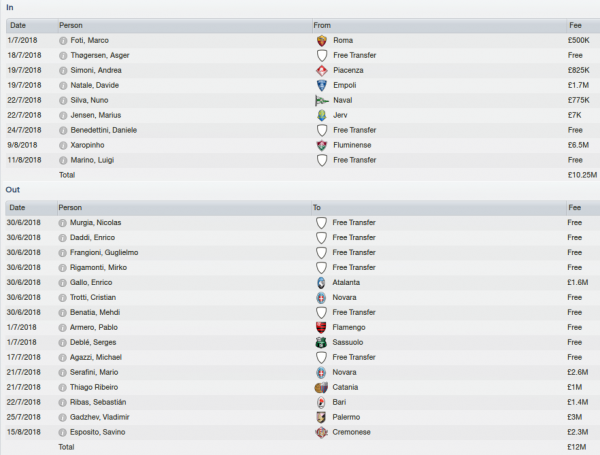 I sent a decent number of veteran players packing. They were getting to that age where they would start declining and I want to usher in a new era at Cagliari. We have no one over 30 in the squad anymore:
GK: Martino Castelli and Asger Thogersen
Castelli was the back-up last season but with Agazzi hitting 34 and frankly not doing that well, I decided it was time to give the youngster a shot since he has grown quite a bit, which is why I included his picture (but it's him at the end of the season, sorry).
DC: Eduardo Sanchez, Vittorio Basilicata, Lucio Rizzo, and Andrea Simoni
Sanchez was my back-up left-back last season, but he quickly came to challenge for the first team spot. Easily one of my best purchases, I decided he would be able to help the team better by being a center-back, which he is actually adept at playing. Basilicata and Rizzo were my back-ups and both will have a chance to shine. Simoni was a co-owned player who I managed to buy and he has a ton of potential. I am very happy with this position because after Sanchez, the other 3 are essentially equals.
DL: Marius Jensen and Nuno Silva
Part of the reason I moved Sanchez to the center is because of Silva. He is another high potential player and I am quite surprised I got him because I had to face of Olympique Marseille for his signature. Jensen will alternate with him because I am not quite sure he is ready to jump into the first team.
DR: Ivan and Martino D'Aqui
I promoted D'Aqui from my reserves.
MC: Marco Foti, Josue, Matheus, Davide Natale, Oliveira, and Gabriel Pimba
Not much change. Foti and Natale were co-owned and I bought the rest of both of them, officially making all Cagliari players exclusively owned by Cagliari. I am especially excited by Natale.
ST: Jese, Daniele Ragatzu, Nicolas Floris, Xaropinho, Daniele Benedettini, and Luigi Marino
Benedettini and Marino are decently skilled youngsters. I kind of brought them on board because I wanted to see how well I could develop an average player, not to say I don't think they won't contribute. Xaropinho. I broke the club transfer record for him. He is incredible. Several teams were looking at him but I swooped in and captured him. He is such a bright talent. I cannot adequately describe how excited I am to watch him play. I think Xaropinho has the skill needed to become my best player.
Also, I have a new assistant manager, West Brom's defender Liam Ridgewell, who retired at the end of last season. His stats are phenomenal.
Check out the next page!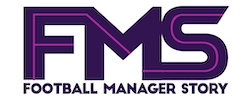 Subscribe to our Newsletter