Hello my friends! First of all I must profusely apologize for my absenteeism from this wonderful community over the past two months. For those of you who are unaware, I am a college student in the end of my 3rd year, which is possibly the most crucial. The past two months have been extremely busy particularly in the realm of finding a job and housing for this coming year. In addition, I've had to balance some tough classes. Sadly, this meant that I only played FM over the weekends and only for an hour or two at that. In addition, something happened after Steam updated the game and most of my screenshots are lost. As a result this update will be very different from past ones because I cannot go into the same level of detail because all the visuals are gone and I can only present the screenshots I took at the season end.
League
For those of who don't remember, Cagliari won the Italian League last season with 75 points; one point over Atalanta.
From last season to this season there was only one major transfer. Kazbek Valeev, my brilliant Russian left winger had his £20mil release clause activated by Liverpool and joined them. To replace him I brought in Kabir Monday for £25mil from Monaco.

Above are the results of the season. The team really dominated the competition this year, something I chalk up to the fact that it stayed almost entirely the same. All of our 4 draws and 2 losses could have gone our way as well. So we could have actually won every game of the season, particularly if we were a little luckier in the injury department — an unhappy result of the number of trophies we were trying to win. Let's take a look at the league table: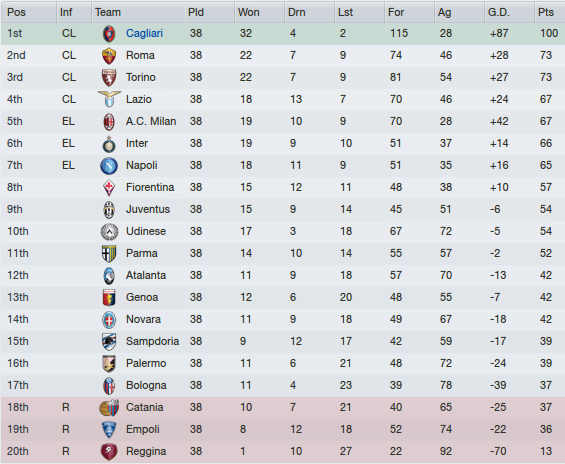 I would have been shocked if after our dominance we didn't end up winning the league. And we did it by a record number of points — 3 more than Inter's 2006-07 season.
We also dominated the end of season awards. Castro won Defender of the Year, Xaropinho won Foreign Player of the Year, Player of the Year, Fans' Player of the Year and Top Goalscorer (with a whopping 46 goals in 34 games and 11 assists), Oliveira won Goal of the Year, yours truly won Manager of the Year (my first seasonal award =D), and Alisson Ramses Costa Nascimento won Young Player of the Year. We also had 8 of our players named to the Team of the Year. In addition, Xaropinho easily captured the European Golden Boot and the European Player of the Year awards. Overall, Xaropinho scored 63 goals this season — 10 less than Messi did in real life this season. Lastly, two of our players (Xaropinho and Eduardo Sanchez) made it to the World Team of the Year. Sadly, Xaropinho came in second for the Ballon d'Or and the FIFA World Player of the Year.
Cup

Last season we won the Italian Cup and this season we almost defended it and completed another double. Sadly, we faltered at the final hurdle, losing to Milan on penalties. We were actually the worse team in the final. Milan took the lead through a 32 year old Pato in the middle of the first half and we couldn't equalize until the 88th minute when Oliveira bombed in one of his trademark longshots. It would have been nice to win it again but after having dominated the league so thoroughly I don't feel too bad.
Italian Super Cup

Sadly I can't provide full match details because they are no longer accessible according to the game, but we won the Italian Super Cup quite easily. Note that this was the Super Cup at the start of the 2020-21 season, the one for which we just won the Italian League. I did play through the Super Cup of the next season as well:

We exacted our revenge over Milan for that cup final defeat.
Champions League

So the reason I stayed on at Cagliari for this extra season is mostly because I believed this team would have the best chance in the Champions League. And even with an unkind group stage draw, we still steamrolled over our opponents. I think that this is a signal to the rest of Europe that Cagliari are here to challenge the status quo and bring down the perennial powerhouses.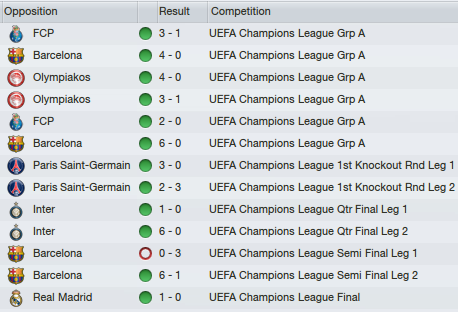 As you can see, the results came quite easily to us. In the semi-finals we met our group stage rivals Barcelona and they thrashed us 3 – 0 in the Nou Camp. But I was so proud of the way the boys responded in the Sant'Elia in front of our fans. I had them come out swinging and as a result we got to travel to the Champions League Final. I think the semi-final win over Barcelona ranks as my greatest ever win. As you can see, we won the final against Real Madrid, denying them their 11th Champions League title (they won the 2012 edition in my game). I wish we won the Italian Cup to complete Italy's second ever treble. But this was still a stellar achievement and eliminates the hardest part of my European Challenge. I am glad that my greatest ever team in my entire FM career pulled it off. Also, Xaropinho won the award for the best player of the tournament and the top scorer of the tournament with 12 goals. We had 9 players named to the team of the tournament.
European Super Cup

So I stayed on for part of the 2021-22 season since I wasn't getting any offers from England or Spain, my last two nations. The European Super Cup was a trophy I had the privilege of winning. It's another cup to add to the collection.
Wrap-Up
I ended up leaving Cagliari in early November because I got an offer that really caught my eye — I couldn't say no! This ends what became my favorite chapter so far of this story because of the sheer talent I was able to accrue. I feel a little bad for leaving at such an awkward time and I didn't have a chance to try winning the Club World Cup (that will hopefully come later in my career). Italy treated me well and I hope Cagliari maintain their excellence. Sadly, Evian dropped into the Ligue 2 and Gladbach haven't been able to finish higher than 3rd. But I have a good feeling about Cagliari and it looks like I've left them with some fond memories.

I might not be a legend but hopefully they will keep me on that list. In any case, I left them in a good position — sitting top of the table with 11 games played. Cagliari will have a tough time replacing me =P and Liam Ridgewell who followed me out.
England
Before we end, I wanted to give you guys a heads up about my international career. After the failed Olympic Qualification I quit my job with America's U23 and decided to take a break from internationals. However, in the middle of the season England made an approach for me to lead them through World Cup qualification and through the tournament itself. England being my international team, I couldn't say no and had to give it a try.

So we qualified. Not as comfortably as I would have liked, but we qualified nonetheless. And Belgium are a tough team. They have Eden Hazard who is an absolute beast in my game and the current Ballon d'Or and FIFA World Player of the Year winner. Let's hope that I can have a stronger showing in Qatar than I did with Brazil in Russia 2018.
Final Thoughts
 That's all I have for now. I hope you guys will excuse my prolonged absence. I promise you will not have to wait so long for my next update — expect to see it sometime next week only because I am busy with end of school year stuff and my move into my new apartment. I hope you guys enjoyed this post and my time in Italy as much as I did. I look forward to reading your comments and will reveal my new team in the next update. I will leave a hint: I am travelling to Spain!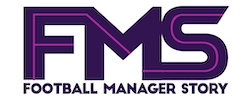 Subscribe to our Newsletter