Hello friends! I would like the start off by sincerely apologizing for not having posted in so long. It has been exam time at my university, so I've been throwing myself into that, which hasn't left me too much time for Football Manager :( But exams are finally over (it was an awful 2 weeks) and now I have a week to indulge in FM! So, without further ado, let's jump into my third season with Cagliari, after we recorded a 10th place finish last season. We are at a turning point in this tale. First of all, we finally bought our stadium, the Sant'Elia. Furthermore, we have finished upgrades to our youth and training facilities — they are 5 stars now. All of this is one part of a new era here on the island of Sardinia.

Friends, life for the Rossoblu is good. We are rolling in the money. And I made great use of my gargantuan transfer purse.
Now the press don't know what I have up my sleeve: a massive squad overhaul. I scoured the World and was able to buy some of the hottest prospects in football. In addition, I made my own tactic, which will serve as my new starter. Johnny's Barcelona tactic has served me very well over the past 9 seasons, but I want to give my own tactic a try.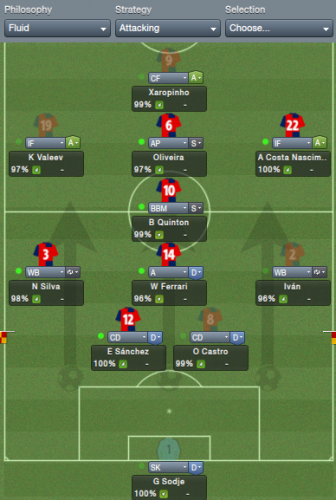 Strange? I know. I pretty much left the style of play and whatnot alone from the Barcelona tactic. This also means that I am still using Darren's set-pieces as well (from his Stoke tactic). But I have radically changed the formation based on some observations and ideas that I had. I left the sweeper keeper and the central defenders (although I contemplated making them a limited defender and ball playing defender pair for a while). The first big change comes from switching my full-backs to wing-backs. I have noticed a steep rise in wing-backs in the game and in real life as well, wing-backs like Evra and Dani Alves are all the rage, so maybe I should give them a try. The next step is the midfield. I opted for an anchor man on defensive duties because I noticed that the team did very well when playing a 5-1-3-1, so I felt that he would be able to drop back and aid the center-backs when we're being hit with a counter-attack for example. In front of him, a box-to-box midfielder on support duties. The anchor man will be my main supply man, but you can't have a Xavi without an Iniesta, and that's what I hope this center-midfielder will become. In front of him, an attacking midfielder with support duties as well. He will be essentially a ball-holder in the final third to lay it off to either the inside forwards on the wings (they will thunder down the side and cut in and the wing-backs will provide them supply and defensive cover) or to the complete forward (who will hopefully wreak havoc in their box). So this formation is supposed to be another very possession-heavy tactic, which deals entirely with supply chains. We will see how it works (which is why I haven't provided it for download, in case it is a dud).
So this meant I had to really change my squad and luckily I had so much money to spend and that's precisely what I did!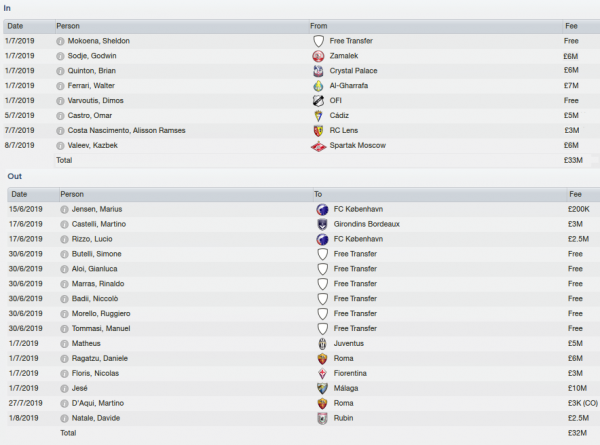 My most extravagant spending spree, but I almost entirely covered the costs because so many big names had to leave thanks to the formation change. There were a few for whom we received offers that were too tempting so we let them go, most notably Jese! But in their stead we brought in absolute monsters. Take a look:
GK: Godwin Sodje and Asger Thogersen
Sticking with the same backup but I decided to bring in Sodje. The guy is an absolute monster and with some polishing he will really become a top-class keeper. He is already firmly Nigeria's number 1!
DC: Eduaro Sanchez, Omar Castro, Vittorio Basilicata and Andrea Simoni
Moving Sanchez to the center of my defense was a great idea. Basilicata was a very solid player last season and while Simoni wasn't as good, he was still a reliable player. Rizzo, a member of their cohort and who was possibly the best of the three, had a terrible season and I decided I needed a new defender. In comes Castro, who was over in Spain. He is young and an absolute monster. I have no trouble playing £5 million for him, just look at his stats! He and Sanchez will be my starters, but Basilicata and Simoni will serve as excellent back-ups. I had to turn down quite a few offers for all three of them, which should give you an idea of their quality.
WBL: Nuno Silva and Sheldon Mokoena
Nuno Silva made me very comfortable with moving Sanchez to the center. He really came into his own last season. When I purchased him, he was raw and had tons of potential and now he has realized it. He is an absolute phenom and I had to fend off many transfer proposals. Mokoena is an extremely physical South African regen who will serve as a good backup.
WBR: Ivan and Martino D'Aqui
Ivan has really come into his own. He has been a top performer at right-back and D'Aqui didn't really get much time last season but he played well when he got a run out.
DM: Brian Quinton and Marco Foti
Foti was a high potential youth who I promoted and he performed satisfactorily. That's why I am willing to keep him on as a back-up. Now Quinton, he will be my midfield maestro. I bought him from Crystal Palace, where he was by far their best player. He was doing quite well in the English Premier League and I think he will adjust quite easily to life in Italy.
MC: Walter Ferrari and Josue
Josue has been one of my top performers. I wanted to move him on because I found Ferrari but no one was willing to give me a reasonable offer. Josue is still a top player, no doubt, but Ferrari is in a new league! He made waves in the MLS before he moved on a big money transfer to Qatar, where he dominated the league. I have the pleasure of bringing him to top level football but it's at the expense of Josue. Still, the Spaniard will be a very valuable player.
AM: Oliveira and Gabriel Pimba
Oliveira has been training and developing very nicely. He played a decent amount thanks to all the injuries and he really impressed last season as evidenced by:
Yep, my old team really wanted him and they tried quite a few times but I just refused to budge.
Gabriel Pimba was surprise performer at the tail-end of last season. I'll let the old boy run out his contract.
RW: Alisson Ramses Costa Nascimento and Daniele Benedettini
This kid, Nascimento, was an absolute steal. He had a 7.81 rating last season with Lens and they gave him for only £3 million?! I have the next Ribery on my hands (that's what his bio says as well) and he will be an absolute terror on the right. He will probably be my best ever player since he is already an all-star winger at 18. Benedettini didn't really do anything last season but he trained well so I'll let him have a chance this time around.
LW: Kazbek Valeev and Dimos Varvoutis
Valeev is the top Russian prospect and signing him was really tough because quite a few teams wanted him. But I got him and all his explosive speed. He will cause lots of trouble down the left for our opponents. Varvoutis was free and seemed like a decent backup player so I decided to give him a chance.
ST: Xaropinho and Luigi Marino
Xaropinho is currently my best player and could have been my top scorer last season. He has exploded on the scene with a terrific ability and is now establishing himself with the Brazilian national team. I have a real gem on my hands. I didn't really give Marino a chance so maybe this season will decide his fate.
So, new season, new finances, new tactics, new players and hopefully massive success! Go to the next page to start seeing how they fared!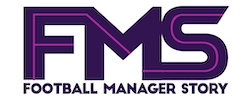 Subscribe to our Newsletter