Hi everyone, welcome back to my Bury story. After winning the Premier League last season, the 2nd time in my reign, I didn't know where to buy players this pre-season. I looked at my team squad, and what I noticed was that my team lacks strength in depth. So this pre-season i decided to strengthen my subs bench!
The chairman decided to pump some of his own money into the club. ABOUT TIME!!
But… As the title says, we suffered a transfer shock:


So, Paulino is gone, after 6 months of joining the club and winning a PL medal. Arsenal sign another worldclass Bury player :-( I did say I will never sell to them again but my chairman accepted the offer! I don't blame him for accepting such an offer though! 74m! The problem I have is that this deal was done 3 days before the end of the window, so there wasn't enough time for a replacement to be signed. Luckily we have Antonio Quimbamba, not great but teams would prey all day for replacements like him already in the team.
Start Of Season Expectations: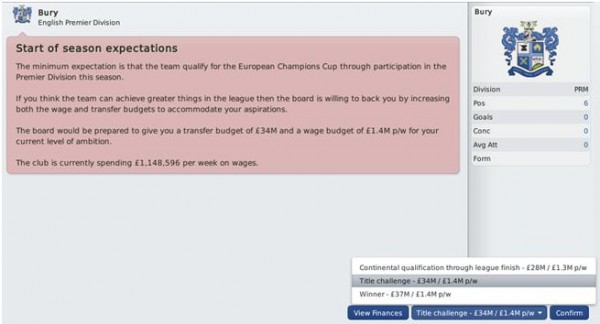 So before the Paulinho saga, the board asked told me their expectations for the coming season. I chose title challenge again, I'm too scared to choose winner lol.
Transfers Out

Kevin Lorenz left as planned, I'm suprised we managed to recoup some of them 18.5m spent on him. We also made a nice profit on youngsters. Stojanov was signed for 250k, making a 7.25m profit. Iribarren made a 1.5m profit. Molina made a 5.75m profit. Sepulveda made a 8.5m profit :D
And last of all, Paulinho made a 51m profit! :D
Transfers In
As you can see all my transfer business was done by the end of the first week of pre-season! I felt I would be soo prepared for the coming season, and then Arsenal steal Paulinho.
Anyway the players signed:
Emiliano Bazan
Like I said we needed to strengthen our back ups and this transfer will help us do that. Cost us 26.5m and could easily start games, I plan to use him in the big games as my first team doesn't exactly have a good holding midfielder.

Al Hasan Meliani
Now this is what I call an out an out holding midfielder. One we don't have in our team. Comes for a good price and plenty of potential. Too cheap to ignore also. I plan to retrain him to the CB position also. Would be good to bring off the bench when we're winning and need to hold on.

Vitor Pedro
One place where we struggled last season was when Boyomo picked up an injury. We didn't have a replacement anywhere near his calibre and I'm hoping this will change with this signing.

That ends our dealings….

Bury vs Man City (CS FINAL)
The Teams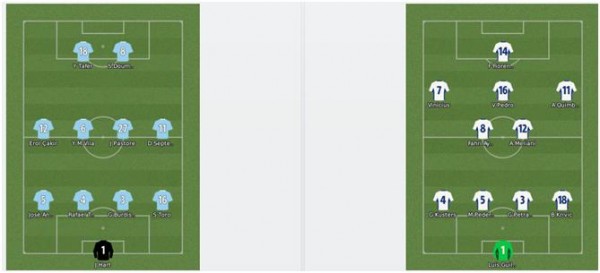 Teams news before the game was that the spine of my team was away at the olympics (grr) so new signings Vitor Pedro and Al Hasan Meliani started:
RESULT: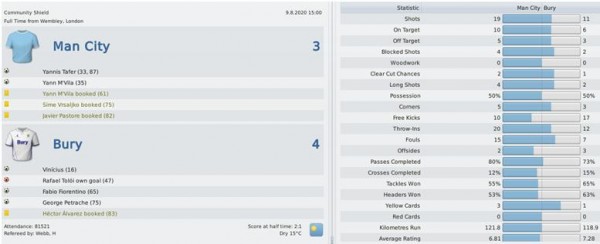 WOOOOO! We won the CS, despite being 2-1 down at half time!
Anyway, thanks for reading, I'm a very frustated manager at the moment, my RW problem was only solved for 6 months. Then again, I feel rich! ;-)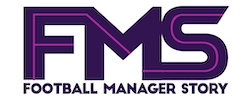 Subscribe to our Newsletter