Hello my friends and welcome to another episode of my adventure with the Blyth Spartans! The first season had a miraculous ending for us, we earned an won promotion to Blue Square Premier although at the start of it all nobody believed that we could achieve something like this. The board was quite happy with the result and with my performance as a manager and they offered me a new contract which would expire in 2012. I agreed to sign it and to try to make a solid club out of the Blyth Spartans.

The club had no transfer money to give me but the wage budget was slightly increased with the hope that we could avoid relegation…

The bookmakers also thought that we should prepare for a relegation battle. The media prediction at the start of the season was also quite discouraging, they think we will finish… 24th out of 24 teams!

I had to build a better squad to face the solid teams in Blue Square Premier so I decided to let go 14 of my players, for one of them I got some money too, a fabulous amount: 1000 euro!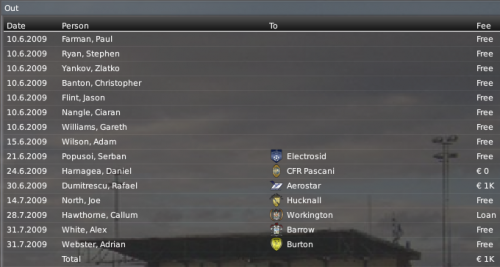 I brought in 17 players on free transfers instead, most of them were released on a free by Premier League or Championship teams. I also chose to sign mostly very young players, 18, 19 or 20 years old, because I want to try to build a squad that can evolve in the future.
Perhaps the best prospect of the players that I signed is Kris Paterson, a 19 years old left back from Scotland. He was released on a free transfer by Blackburn although he plays in the Scottish Under 21 team.

Another good prospect for the future is versatile midfielder Jimmy Derbyshire, also 19 years old, released on a free transfer by Manchester United. I'm going to employ him as a central midfielder and I hope that he will become the box-to-box midfielder that I desperately need.
Last but not least, my new goalkeeper! His name is Elliott Parish, he's only 18 and he was released on a free transfer by Aston Villa. I think that he will do well for us although he is not very tall or strong, but he has good reflexes and he often closes the gap between our defence (we play with a high defence that uses the offside trap).

Maybe the other players that I signed will prove to be better than these three that I chose to present, but on a first look these ones seem to be the hottest prospects.
The friendly games that we played gave me some hope that the team will do well in the new season, we won 4 out of the 6 games and we lost only to way better teams, Swansea and Everton Reserves. I was also quite happy that we didn't concede too many goals, that was our main weakness last season.
Our fans were very curious to se the team play in Blue Square Premier, so the season tickets sales went very well, we sold almost four time more tickets than last year.

That's how our pre season went, I'm eager to play my first games in Blue Square Premier and see how my lads will perform. The team will need a little bit of time to gel and to get used to the new players but I hope that we'll be a surprise package again.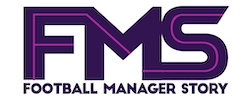 Subscribe to our Newsletter