Hello my friends, sorry for not being able to keep the daily posts schedule lately. I've been quite busy and tired and I still am, but hopefully things will get better in a few days or maybe weeks. But let's get back to Football Manager 2009 and to my Blyth Spartans story. We were in 4th place in League One at the end of January with 2 games in hand, so the chance to fight for promotion were still pretty high. Unfortunately we had quite a few players injured and that was causing me some problems. I had only one striker available for the first game in February, away at 12th placed Scunthorpe, so I couldn't use the new 4-4-2 tactic. I switched back to the 4-2-3-1 tactic for this game, with Bulgarian striker Atanas Apostolov in the first eleven. I had no choice but I was lucky, Atanas solved the game almost all by himself by scoring twice. Another important win in the bag and another 3 points.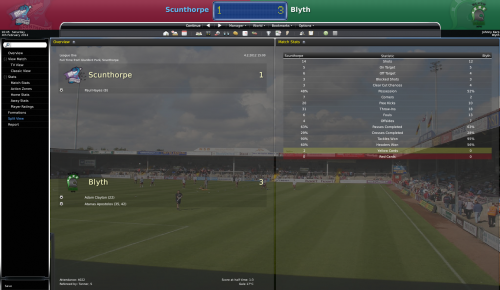 The next game was one of the two matches that were previously postponed, away at 19th placed Brighton. We could climb up the table with a win here but at the end of the game I was happy to get a draw. It was a very difficult game, with both teams creating several chances to score so the final 1-1 scoreline was the deserved result.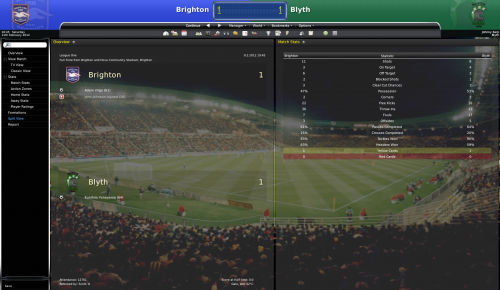 The team was not playing as well as I would have wanted, the players were tired and I was forced to rotate the squad frequently. In the home game against Norwich our top goalscorer, Romanian striker Laszlo Csongor, was finally available after more than two months. He was severely injured, fractured ribs, and we have missed him a lot. I gave him the chance to play again in the second half and he celebrated by scoring a late goal that brought us the 2-0 win!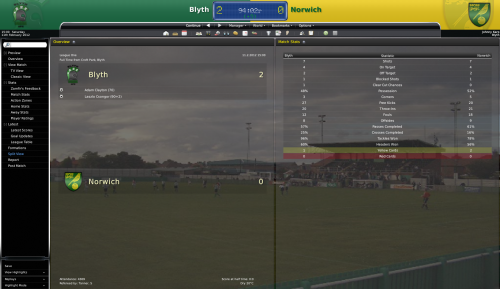 The morale of the players was good and I expected no problems in the next game, at home against Bristol Rovers. We controlled the first half easily but we only scored one goal. After half time Bristol took control of the game and after scoring an equalizer I feared that we would crumble. Fortunately for us we played very well in the last 15 minutes of the game and brought home an important 4-1 victory.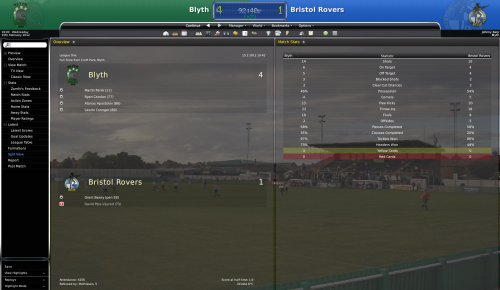 Next up, an easy game away at relegation threatened Charlton. We dominated the game and I expected to win by a bigger margin but at the end of the day the three points are all that matters. With this win we finally climbed up in 2nd place in the League One table, only one point behind the leaders, Leeds United! Despite that I still was a little bit worried because the team wasn't producing the flamboyant football that we showed in the first half of the season.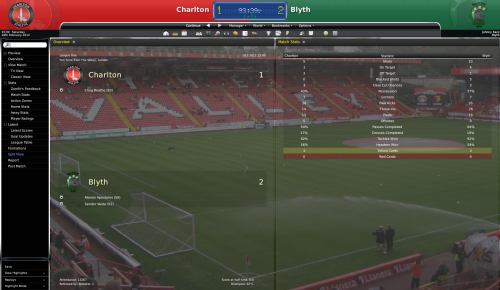 We were unbeaten in 8 League One games but I felt that we would get a setback sooner or later. It was sooner… 14th placed Carlisle United punished us drastically for our defensive errors, they scored twice in 3 minutes after half time and my lads lost their heads completely. We lost our first game in February but we were still flying high towards the top of the table.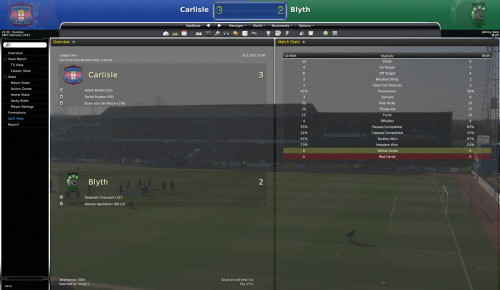 We absolutely had to win the last game of the month, at home with 13th placed Rochdale. We didn't play too well but we kept cool in front of their goal and converted the few chances that we had. A 3-0 win that is important for the league table but we were not playing like real promotion contenders… And Atanas Apostolov got injured, he'll be unavailable for around 6 weeks, just what we needed :(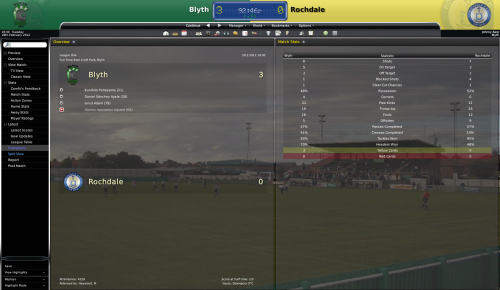 The League One table was incredibly tight at the top, any of the first five teams could fight for the top two spots. We were in 3rd place with 11 more games to be played. I think that a playoff place is almost already in the bag but it would be a shame not to get at least the 2nd place and automatic promotion.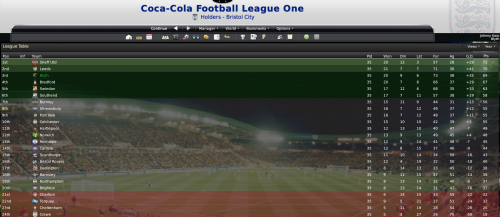 My recently injured striker, Atanas Apostolov, was declared February League One Player of The Month, a great achievement for him as he played very well for us throughout this month. He scored 10 goals for us this season but unfortunately he'll be available again only in April, so the season is almost over for him.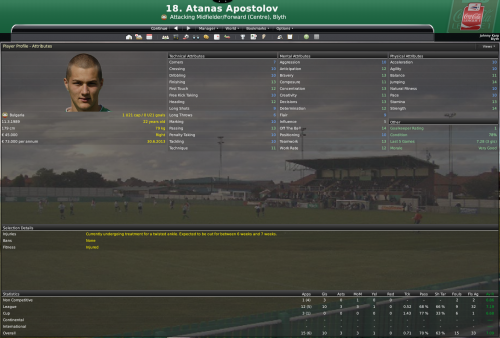 So far so good, we still have 11 games to play and maybe a few more if we get to the playoff. I hope that my players won't get injured in these last two months of the season, otherwise it will be an uphill struggle for us. What do you think, will we be strong enough to achieve promotion to Coca-Cola Championship this season?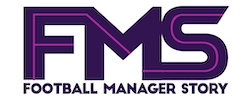 Subscribe to our Newsletter