I couldn't have wished for a better start this season, we had 10 straight Premier League wins at the end of October, my Blyth Spartans were looking unbeatable. We also had three straight wins in the Champions League group but things were getting tough, we had to play both Real Madrid and AC Milan away from home.
The first test was at Santiago Bernabeu, I was hoping to get a draw. We didn't play well at all in the first half, Real Madrid were deservedly leading 1-0 at the break. Unfortunately they made it 2-0 right after half time and although we played a bit better in the second half we couldn't avoid it, our first defeat this season… That meant that we had to battle to get the qualification to the first knockout round at San Siro against AC Milan…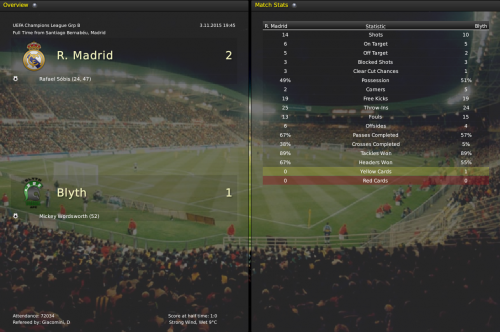 But until then we had the Premier League games to worry about. First up, Chelsea were coming at Croft Park, they were in 5th place and showing good form lately. We kept the game under control and won it without too many problems, I didn't expect such a good game to be honest :)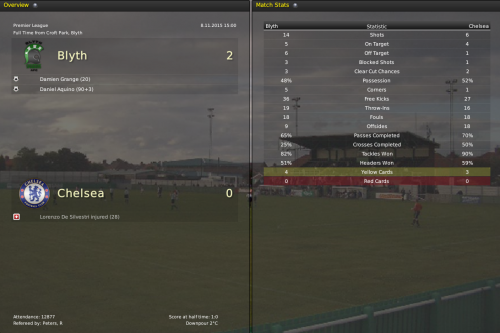 I had a chance to send in some backup players in the next game, at home with Championship side Huddersfiled in the Carling Cup. I was happy to see Simon Vukcevic scoring his first goal for the club after being out injured for two months. Otherwise the game was quite easy, we dominated it and got a deserved win without spending too much energy.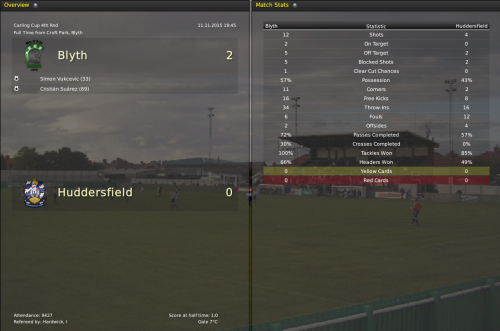 We had a much more difficult game coming up, away at 3rd placed Arsenal. They were on a five match unbeaten run and we never managed to beat them at Emirates Stadium… The game was extremely boring, we looked a bit more lively but if you ask me none of the two teams deserved to win it, maybe both of them deserved to lose it… However, we had a big chance to win it, we were 1-0 up after scoring from a corner kick but we conceded in the last minute of the game, also from a corner kick…
Next up, another tough one, away at Tottenham. The Spurs dominated the game, looked very determined to get a win but we punished them with our quick counter attacks. Aquino scored a beautiful double, Asenjo kept a clean sheet with a couple of great saves and that was it! I guess Tottenham were frustrated at the end of it, they played very well, but that's football, you have to score in order to win.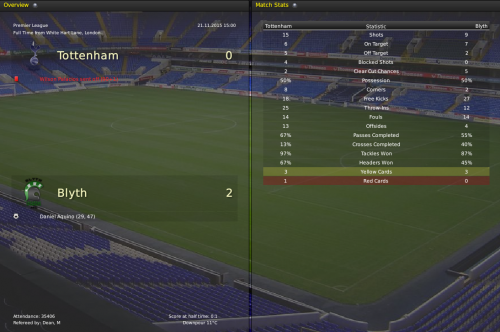 The big game at San Siro was coming up, we had to get at least a draw, a defeat would have placed us in a very bad position in the group table. We played very well in the first half and we should have been 2-0 up at half time but Milan took advantage of a huge goalkeeping error and scored. We played pretty well in the second half too, we were very close to getting a great win but another defensive error gave Milan a late equaliser. However, it was a good result but we came so close…
The qualification was almost in our bag, we only had one more game to play, at home with Helsingborg, a game that everybody expected us to win.

The last game of the month was at home with 14th placed Reading, anything less than a win was out of the question. Nicao was not in a forgiving mood, he had to end a 560 minutes goal drought and he did just that with a nice double. We could have scored a lot more but I was happy with the performance, we didn't give Reading any chance.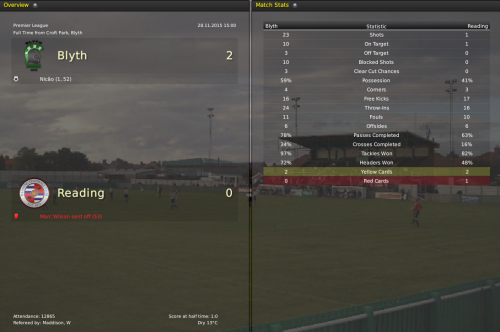 Fourteen games and 13 wins, not bad at all. We were top of the table with Arsenal 11 points behind us!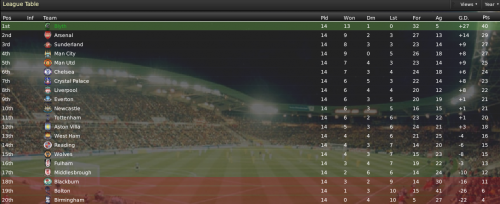 We'll be quite busy in December, eight games to be played and quite a few tough ones.

That's about it, I'm thrilled with the way my team played so far, the players look confident and strong and I hope to keep the unbeaten record in the Premier League at least until January :)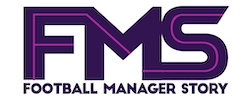 Subscribe to our Newsletter