Here we go again, the Blyth Spartans were chasing everlasting glory after bringing home another trophy in February, the Carling Cup! We were still undefeated in the Premier League and I definitely hoped to continue the good run and win the title as soon as possible.
The first game of the month was a tricky one, at home with 6th placed Everton. We won the last game against them 2-1 away from home in October but Everton were showing pretty good form. We played pretty well in the first half and we were unlucky to be 1-0 down at the break. Young striker Pablo produced a penalty kick in the second half and right back Damien Grange confidently converted it. Then centre back Tiberiu Radulescu banged in his 15th goal of the season to give us an important win.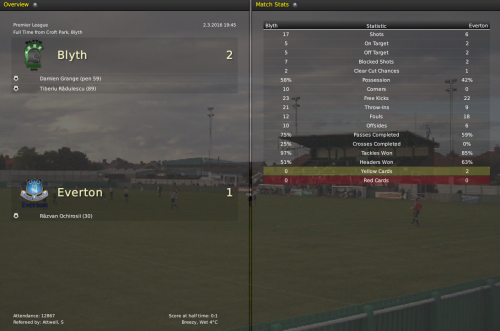 Next up, a difficult FA Cup clash with Liverpool. After the Carling Cup success I wanted to go as far as possible in the FA Cup and we took advantage of Liverpool's poor form. Pablo gave us the lead with a magnificent solo effort and it was all easy after that… We were through to the semi finals, the trophy was getting close.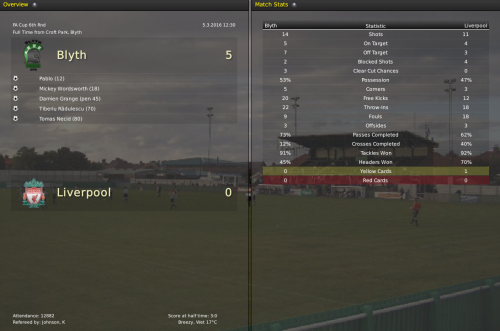 But there was still a long way to go and we also had the Champions League on our mind. We defeated Roma 1-0 at Olimpico but I warned my players not to get complacent, these Italian teams are strong and vicious, they can punish you quite severely if you don't give your best on the pitch. They understood the message and played very well in the first half, our centre backs dominated the game in the air and scored two goals before the break. Roma dominated the second half but we kept cool and didn't allow them to create anything special. Through to the quarter finals, I was pleased with that achievement :)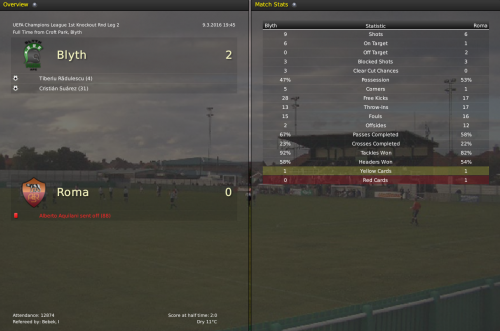 We couldn't hope for any "easy" opponents at this point but I hoped we wouldn't get Barcelona or Real Madrid. We got Barcelona… The first leg will be played at Croft Park, so that's a slight disadvantage for us, but I'm confident that we will make Barca sweat :)

Back to the Premier League, we had an easier game ahead of us, away at last placed Birmingham, the weakest team in the league. We didn't play too well but my right back, Damien Grange, had a fabulous afternoon. First he whipped in a free kick from 25 yards out, then he converted a penalty kick and finally completed his hat-trick with a free kick shot from 20 yards out!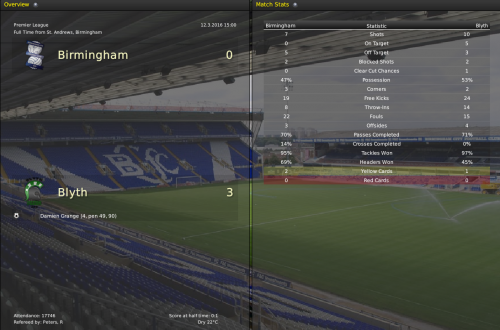 Our next two Premier League games, against Blackburn and Chelsea, were postponed due to international call-ups, so we had only one more game to play, at home with Tottenham. I still had 5 first team players away on international duty but we played pretty well even without them. We dominated the game but we were unlucky to concede a late corner kick goal…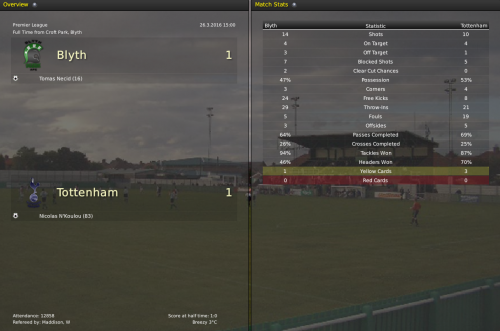 But one point was enough, Manchester City got a draw too so we were the champions! The second title in a row, with 8 games to spare!
We didn't have much time to celebrate though, we still had the FA Cup and Champions League games to worry about. The good thing is that I will be able to rest my important players before the big Champions League and FA Cup games, that's a big advantage. I also hope that my backup players will be able to keep our unbeaten league record but that's not very important at this point.

Barcelona, here we come! Messi will have to deal with my Spartans, it won't be easy for him :)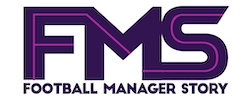 Subscribe to our Newsletter