Hello mates and thanks for reading my Football Manager 2009 story. We are in the last month of 2011, a decisive month that will show if my Blyth Spartans have what it takes to fight for another miraculous promotion. At the end of November we were lying in 5th place in the League One table with a game in hand, so things were going quite well for us.
We were facing a tough test right in the first match of December, a home game against Sheffield United, a very good team that was in 2nd place back then. Unfortunately for us my best centre back, Daniel Sanchez Ayala, got injured after 15 minutes and I decided to take him off to minimize the risks to his health. It was a bad decision because we lost our defensive balance and that allowed Sheff Utd to score easily. Honestly we were no match for our opponents, they won the game without problems although a draw might have been fair. Our 6 games unbeaten run came to an end but the worst thing was that Ayala was going to stay away from the training ground for a full month :(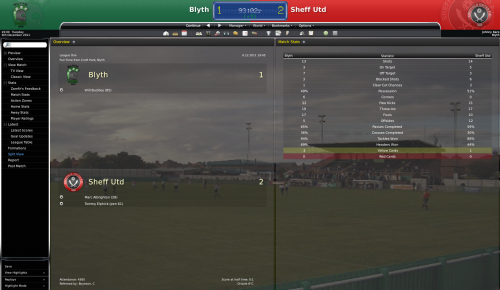 The next game was against a team we knew very well from last season, our fellow newly-promoted Torquay. They were having a disastrous season so far and they were in 23rd place before the game. We had no problem beating them, it ended 5-0 but I lost both my strikers due to injuries. And my top goalscorer, Laszlo Csongor, picked up quite a nasty knock that will keep him away from the pitch for two months! That might be quite a blow for us :(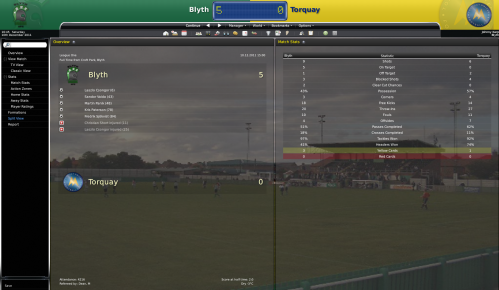 With none of my favorite strikers on the pitch we could only get a draw at 15th placed Northampton and I can say that we were lucky to get that draw. We simply didn't have enough strength upfront anymore and that was showing on the pitch.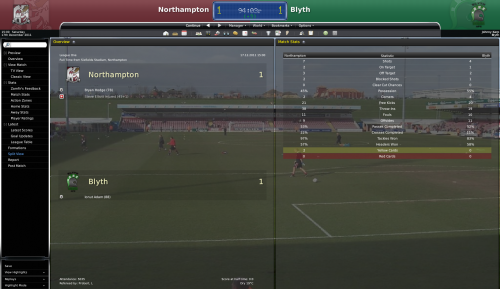 Next we had to play the game that was postponed a couple of months ago, away at Norwich. If we won the game we would have climbed up the table in 4th place but although we created loads of chances we couldn't get more than a draw. We also missed a penalty kick…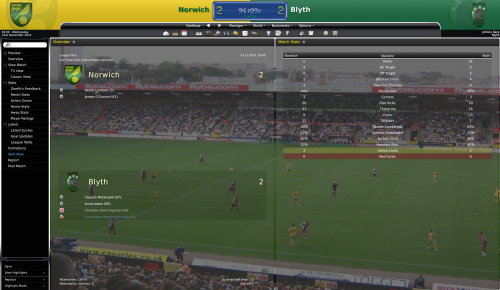 However, we were still in 5th place and the next game was a good opportunity to consolidate our position. We had to play at home against the last placed team in League One, Crewe. They had a good attack but their defense was absolutely lousy, so it's no surprise that we won 4-2. We finished the game with only 10 men on the pitch because I made all the three substitutions just before my central midfielder got injured in the 64th minute.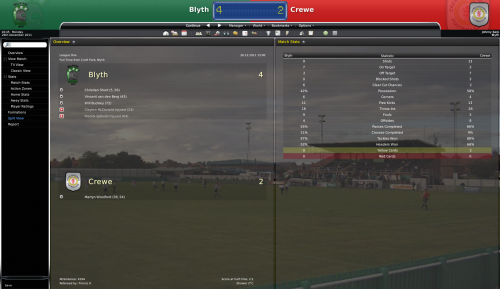 We had only one more game to play in 2011, a very important one against 2nd placed Leeds United. Unfortunately the rain and the poor facilities that we have at our stadium made the game impossible to be played.

After I canceled the link with Middlesborough my board finally agreed to search for a new parent club and the best one from the ones they recommended to me was Bolton Wanderers. They were in 6th place in the Premier League and I hope to get some reserve players on loan from them soon.

At the end of the year we were in 5th place with the game against Leeds still to be played. I guess the position is very good for a newly promoted team and I even hope to improve it in the future because the squad is beginning to show signs of progress.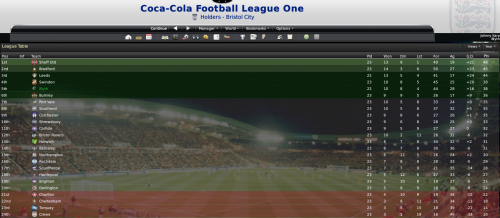 One of the best players for us so far was the Hungarian left winger that I signed for free last summer, Sandor Vaida. He scored 5 goals and made 8 assists so far this season, causing all sorts of problems to the opposition right backs. He is one of my favorite players and he is already a transfer target for bigger clubs like Q.P.R. I hope he won't leave us too soon though ;)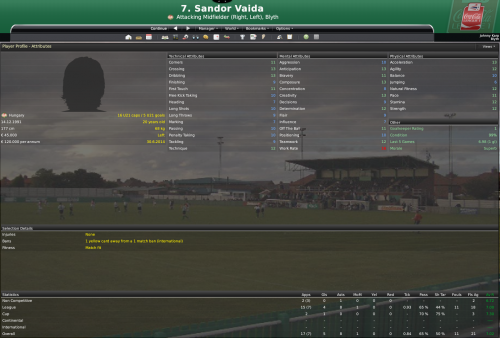 So that's how it went… Now I want your help a little bit. What do you think about the new month by month approach? Should I stick with it or go back to the half season posts? Or maybe should I try something in between the two? Since you're the ones that I'm writing for I really want to know which way you thing I should go. Let me know! ;)

Subscribe to our Newsletter