Hello friends, here's the last post of my fourth season with the Blyth Spartans. The first three seasons of my Football Manager 2009 story were almost like a fairytale, taking the poor Blyth Spartans from the slums of Blue Square Northern to League One… Now we were fighting to make another dream come true, achieving promotion to Coca-Cola Championship against all odds. Although the media predicted at the start of the season that we would finish last, we were in 3rd place at the end of March with only 5 more games to be played! We had our chance and we wanted to fight for it till the last drop of blood.
The first battle was at home against a good team, Swindon Town. They were in 6th place and they were fighting for a playoff place, so I expected to have a tough game. In the first half of the game I was left staring at the pitch like I didn't understand anything anymore. My players looked like they were on some kind of sedatives, an absolutely disgraceful performance. Swindon took advantage of that and they were leading 2-0 at half time! It looked like our dreams would be shattered right from the first game of the month.
My lads came out all guns blazing in the second half and made me forget the poor performance of the first 45 minutes. They were shooting from all the possible and impossible positions and finally achieved a superb comeback, absolutely thrilling! We won the three points in the 88th minutes with another great header from our Spanish centre back, Daniel Sanchez Ayala.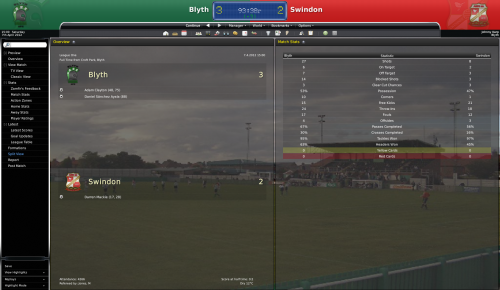 Here's how the top of the league table looked like with 4 more games to be played:
1. Leeds – 84 points
2. Bradford – 83 points
3. Blyth – 82 points
4. Sheff Utd – 81 points
We were still out of the automatic promotion positions but with 4 more games to be played anything could happen. Our next game was against newly promoted Torquay. They were in 21st place, fighting to stay clear of relegation, so I expected a hard fought game. We dominated the first half and one of their defenders, confused by all the pressure, put the ball past his own keeper before the break. The game was heading our way but after half time our striker managed to get two yellow cards in 3 minutes and he was sent off! And guess what, the second yellow card was for… diving! With only 10 men on the pitch we were under pressure but my Irish centre back, Ryan Carolan, banged home a header from a corner kick to make it 2-0. Our goalkeeper took care of the rest, saving every ball that came his way. Torquay finally scored in the 87th minute but it was too late for them, we left with another 3 points in the bag!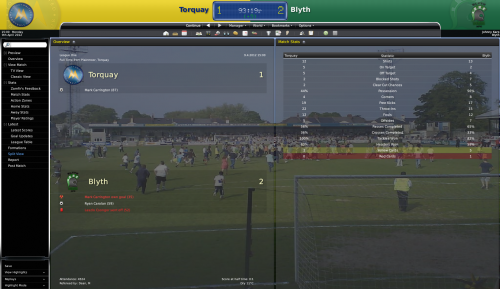 No major changes in the league table though, we were still in 3rd place but tied with Leeds.
1. Bradford – 86 points
2. Leeds – 85 points
3. Blyth – 85 points
4. Sheff Utd – 84 points
Next up, our last home game of the season, against 15th placed Northampton. It was a chance that we couldn't miss so my players took the game to our opponents right from the start. Their penalty area was literally under siege but somehow they escaped, we couldn't score although we had a lot of chances. The second half was the same, with us piling up the pressure and them trying to strike on counter attacks. We finally scored in the 69th minute and the last 10 minutes of the game were a true nightmare, with their keeper coming to our box for the corner kicks! We survived the final dash, a hard fought win and another 3 points, much more difficult than I expected.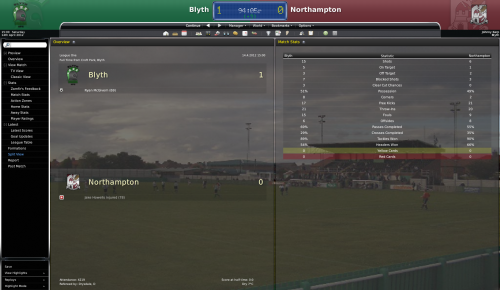 At the end of the game we received some good news from our rivals too, Bradford played away at Sheff Utd and drew 1-1 while Leeds drew at home against Swindon! And guess what, we were the new League One leaders!
1. Blyth – 88 points
2. Bradford – 87 points
3. Leeds – 86 points
4. Sheff Utd – 85 points
Things were still pretty tight but everything was in our hands, we had to get another 3 points from the next match and hope for the best! And our next match seemed to be an easy one, away at Crewe, the last placed and weakest team in the whole league! On the other hand, I thought that the Crewe players have nothing to lose wile we have all the pressure on our shoulders, so the game might not be as easy as it looked.
We were quite lucky to get an early goal, a beautiful shot by Swedish midfielder Fredrik Sjokvist from the edge of the penalty area. I thought that the Crewe players would crumble and that we would have an easy game ahead of us but what happened after that left me absolutely shocked! The Crewe players were attacking like there was no tomorrow, like they were fighting to win the damn Champions League! Fortunately for us things were a lot more quiet after the break, we controlled the game and gave them no more chances to score. It wasn't a beautiful win, but who cares, the three points are all that matters.
Immediately after the final whistle I went to check the other League One results, hoping that our rivals didn't manage to win their battles. Bradford won easily, 4-1 at home against Torquay, so they were still in 2nd place, only 1 point behind us. The first good news came from Northampton, they managed to beat Leeds 2-0! That means that Leads are out of the battle, they were 5 points behind us now! The only one remaining was Sheffield United, but what happened, they lost too! They lost 2-1 away at Port Vale so they were now 6 points behind us with only one more game to be played! We were promoted! Another miracle, another fairytale!
We even had a chance to hand on to the 1st place in the table but with all the promotion celebrations we were not able to get anything out of the away game against Leeds. The outplayed us from the first whistle to the last. Bradford won their away game at "our friends", Crewe, so they climbed up to the first spot.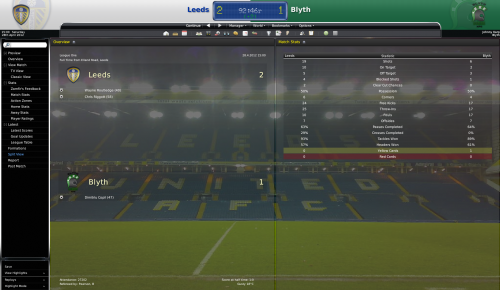 But I didn't regret losing the 1st place, not for one second. We were promoted to Coca-Cola Championship, that's all that matters!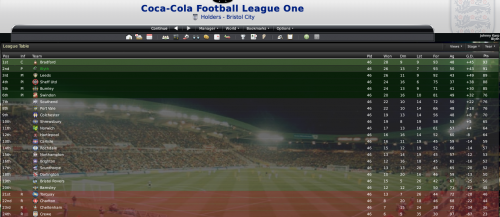 From the four playoff teams I thought that the best one was Leeds but surprisingly enough, they were knocked out in the semi final by Swindon. And guess what, Swindon defeated Sheffield United in the final, 2-0!
But let's get back to my heroes, the Blyth Spartans. Here's how the best eleven of this season looked like. There's one thing that I find important, 7 players of the best eleven played for us last season too and so far I don't see why they wouldn't play for us next season too. The only "new" players were the keeper, Ayala, the centre back, and the wingers.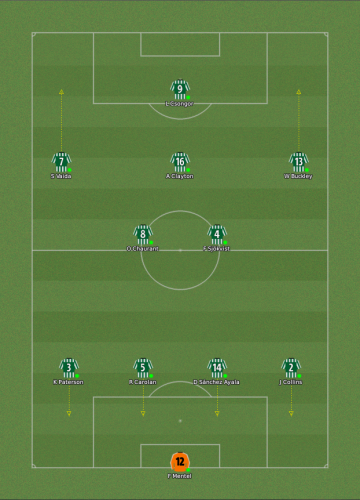 Our top goalscorer was once again Laszlo Csongor, our Romanian striker. He had a bad injury right in the middle of the season but he recovered well, scoring 16 goals for us. He's one of the leaders of the team and a favorite among the fans.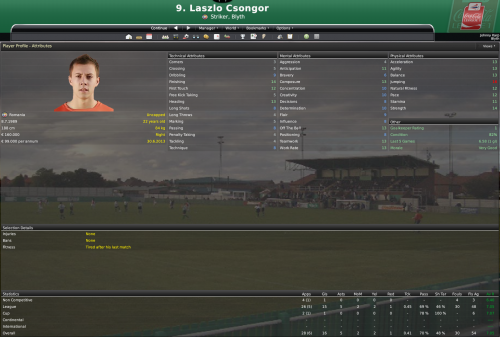 Sandor Vaida, our new left winger from Hungary, set a new record for our club – 19 assists this season! He also scored 8 goals, a very important player for us. And he's only 20 years old!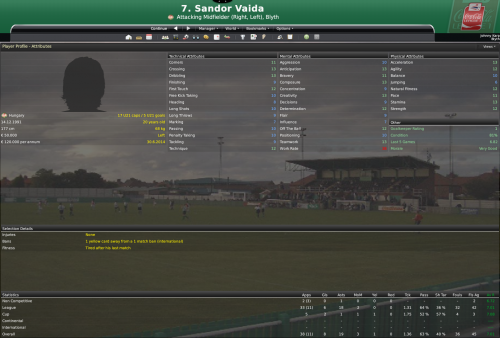 Centre back Daniel Sanchez Ayala was the main man in our defensive system, he played very well throughout the season and he made his presence count in the opposition penalty area too. He scored 9 goals with his powerful headers from corners and free kicks! If he only had just a bit more pace he would become a superstar. He got his first Under 21 cap for Spain this season, that makes me very proud.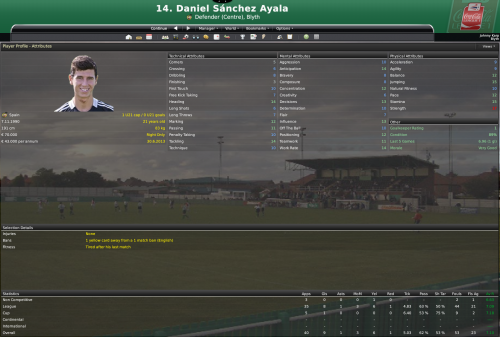 And finally I'd like to present a player that might do very well for us in the future. He's a Czech regen left winger, Martin Panik. I signed him on a free transfer last summer. He already played 21 games for us, scoring 4 goals and making 14 assists! His problem is that he can't play the whole 90 minutes, he gets tired after 40 – 45 minutes, but that might improve in the future. Otherwise, his pace and technique caused our opponents a lot of problems so far.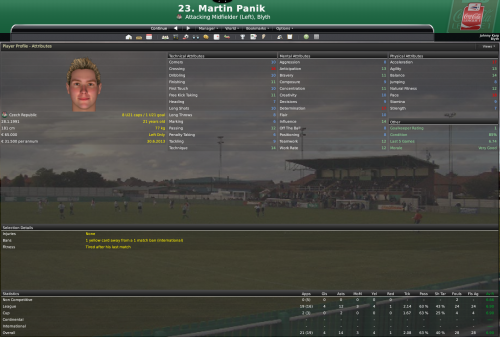 That's about it folks, another miraculous promotion and another beautiful season for my Blyth Spartans. Our financial situation is not very good right now, we're 500K in debt, but hopefully with the Championship TV rights I'll get a decent transfer budget next season. I really don't know what we'll be able to achieve in Coca-Cola Championship, it depends a lot on the new players that I'll bring to Blyth and that depends on the money… What do you think, will we get relegated right away? And do you know any good players that might also be very cheap? :)
P.S.: Curt asked me to upload my saved game, so here's the download link if anybody else might be curious enough :)

Subscribe to our Newsletter