Hello my friends and thank you for following my Football Manager 2009 story! After the first half of my third season as manager of the Blyth Spartans we were in 2nd place in League Two, 4 points behind the leaders, Bristol Rovers, but with a game in hand. Unfortunately after looking at my squad at the end of 2010 I noticed that 6 of my first team players were injured, the situation wasn't looking good at all.
The first game of 2011 was the FA Cup 3rd round match against League One team Southend. Not only we lost that game without even putting up a decent fight, but during the match two more players got injured! With eight first team players injured we lost another two league games in a row, it was looking like we were heading down the table pretty fast!
Fortunately for us some of the injured players began to recover, so we concluded the month of January with another 3 wins, 1 draw and one defeat. I was fearing a lot worse to be honest after seeing the way my team was playing at the beginning of the month, it looked like we were heading for disaster. We were also a bit lucky because the other promotion contenders didn't do particularly well either, so we finished the month in 2nd place, only 2 points behind Bristol Rovers, the 1st placed team.
With all those injuries I had to go to my parent club, Middlesbrough, and ask them for a few players. Unfortunately only two of their reserve players agreed to come on loan to Blyth, left back Joe Bennett and left winger Nathan Porritt. They don't seem to be better than my players but they will provide some backup for the less fortunate situations.

After we showed some signs of recovery at the end of January we were finally beginning to play like we did in the first half of the season. We won the first four games in February without conceding and we drew the last game 1-1 at Bury. The former league leaders, Bristol Rovers, were not playing well at all, so we finished the month in 1st place, 5 points over the second placed team, Luton! Bristol Rovers were down in 3rd place! And I also won the Manager of the Month award :)

We continued to play well in March and we notched up another 3 straight league wins. We also drew the away game at Luton 1-1 and since Bristol Rovers surprisingly lost their home game against Chester we finished the month in 1st place, eight points over Bristol Rovers and with one game in hand! We were already sure of a playoff place, but it's obvious that I wanted to win the championship at this point.

The first two games in April were only a dressed rehearsal before the game of the season, the battle with Bristol Rovers. We got one win and a draw from the first two games, so before the decisive game we were 11 points ahead of Bristol with 5 more games to be played. That means that if we won the game we were going to be crowned as champions four games before the end of the season!
My attacking midfielder, Adam Clayton, got injured before the game so I had to bring in his Bulgarian replacement, Atanas Apostolov, a player that I brought last summer from Bulgarian side Beroe. A couple of weeks before this game Atanas complained that he wasn't getting too many chances to play for the first team and I told him that he has to be patient and to prove that he is worthy of a first team place. Well, I was forced to bring him into the first eleven in the most important game of the season and he took his chance! He scored two fantastic goals in a game that we dominated and won 2-1! We were the League Two champions, four games before the end of the season!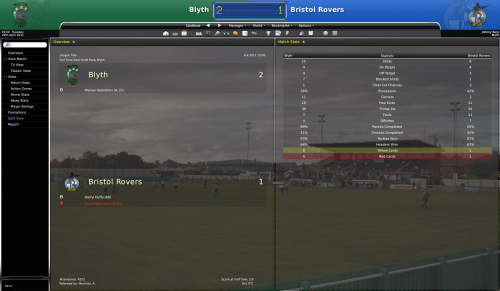 Our hero, Atanas Apostolov, only scored three goals before this game! He did have a few chances to play for the first team but most times he was disappointing, so I kept him as a reserve and thought about letting him go at the end of the season. Now it seems that I have to think about that again…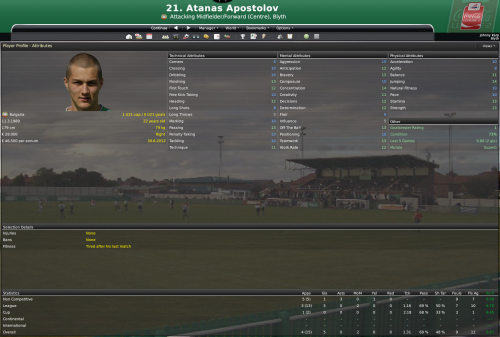 Although it seemed unbelievable, the league table was pretty clear – we were the League Two champions!

The fans were thrilled and they even began to talk about building me a statue! :)

In the last four games of the season I gave more chances to play to the lads that played less during this season, so we lost three of the four games. We only won our last home game, a superb 4-0 win over Chesterfield.

And for the record, here's how the entire league table looked like at the end of the season.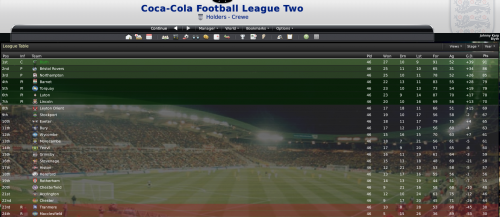 Now I'd like to present my best eleven and tell you a few things about each of the players. Let's begin:
1. Martin Hansen – goalkeeper, 22 years old
I brought him on a free transfer last year in January after he was released by Liverpool. He already played more than 50 league games for us and he also has 15 caps in the Denmark Under 21 squad. Although he makes a few errors now and then he's a solid goalie and I think that he will stay with us for at least another season.
2. Jordan Collins – right back, 22 years old
I signed Jordan for free from Gillingham last summer, but he made his debut in football with Aston Villa. He played well for us this season, 42 league games with an average rating of 7.01. I think he's one of the players that will wear the Blyth Spartans shirt in League One next season.
3. Kris Paterson, left back, 21 years old
Kris is one of the players that brought us from Blue Square Premier to League Two last season, and he also has 5 Under 21 caps for Scotland. He was released on a free transfer by Blackburn before coming to Blyth and I can say that he's one of my favorite players, a lad that made significant progress since he came at Blyth.
6.Clayton McDonald, centre back, 22 years old
He's a towering centre back and he did pretty well for us this season. I signed him for free from Milwall last summer and I'm still not sure if he'll be able to face the better strikers in League One. I'll have to think about it.
5. Ryan Carolan, centre back, 21 years old
Ryan is another of my favorite players. He basically grew up with my squad in Blue Square Premier. He has recently played his first Under 21 game for Ireland and he scored an impressive 9 goals for us this season! He has very good heading ability along with decent pace. And last but not least he can also play as a left back, so I think he'll definitely play for us next season too.
18. Harry Arter, central midfielder, 21 years old
Harry was a constant presence in our midfield throughout the season, a solid hard working midfielder but a little bit injury prone. I signed him for free last summer from Charlton and I'm still thinking about his future with us.
30. Oswaldo Chaurant, central midfielder, 26 years old
Oswaldo is the most experienced player in my squad and the most expensive transfer I made so far. We paid 10,000 euro to his former club in Venezuela, Trujillanos FC, but he's worth every cent. He will definitely be with us for at least another couple of years. I'll tell you more about his season at the end of this post.
10. Dimitriu Copil, right winger, 21 years old
He's the only player in the best eleven that played for the Blyth Spartans since my first season in Blue Square North. He played more than 100 league games for us and he's one of the favorites among the fans. But I'll tell you more about him later.
7. Ionut Adam, left winger, 23 years old
I brought him at Blyth at the beginning of my second season from a Romanian lower league team and he did very well right away. He was touted as a big talent when he was younger, he was a target for the big Romanian clubs at some point but then he went through very rough times, with injuries and several problems. Now it seems that he has finally found a place where to express his talent.
16. Adam Clayton, attacking midfielder, 22 years old
Adam was one of the best transfers that I made last summer. I brought him on a free transfer from Hartlepool and he played well overall although he had several injuries that made him unavailable quite often.
22. Laszlo Csongor, striker, 21 years old
The young Romanian striker is a bet that I made with myself and won. I needed a striker at the beginning of the season and since I didn't have too much money I chose to buy him for 2,000 euro from a Romanian second division team. He scored 21 goals in 42 games for us this season and I hope that he will become a better player next season although my assistant manager is telling me that he's not likely to improve in the future :(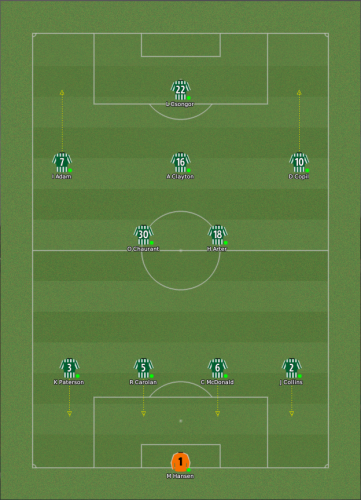 As I promised earlier I'll tell you more about two of these players. First, my number 10, Dimitriu Copil. He was bought by Scottish side Heart of Midlothian for 140,000 euro in 2006, he was only a kid back then. He spent three years in Scotland but he didn't adapt well so when his contract expired he went back home in Romania. That's when I brought him to Blyth and it seems that he's adapting pretty well. He scored 15 goals this season, made 11 assists and played in three different roles: right winger, attacking midfielder and central midfielder. I like the way he's playing but maybe he has reached his full potential already, so I'll have to think about letting him go :(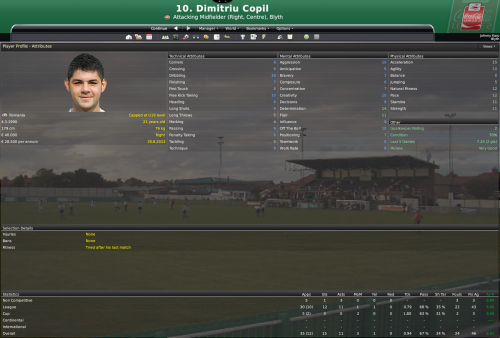 The other essential player this season was Oswaldo Chaurant, my versatile midfielder from Venezuela. He scored 12 goals and made 13 assists this season, he's an experienced player that can teach the youngsters around him a few things. Several Championship and League One teams are beginning to send in transfer offers for him, so I hope I'll be able to keep him for another season or two.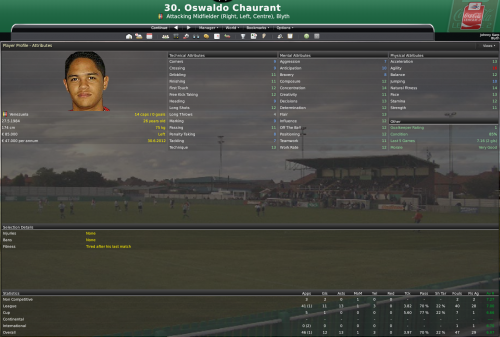 That's about it, I'll have to prepare my team for another difficult challenge, the League One season ahead of us. I still don't know if I'll have a decent transfer budget next season but I'm afraid I'll have to search for free players again. I'll also try to find a new parent club, maybe one of the bigger clubs like Liverpool or Arsenal that have many good reserve players that could come to us on loan.
I had three awesome seasons so far with the Blyth Spartans, so I hope for another brilliant one but I think it will be getting more and more difficult as we go closer to the Premier League. And now over to you… What are your thoughts, suggestions, advice? Let me know!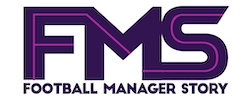 Subscribe to our Newsletter